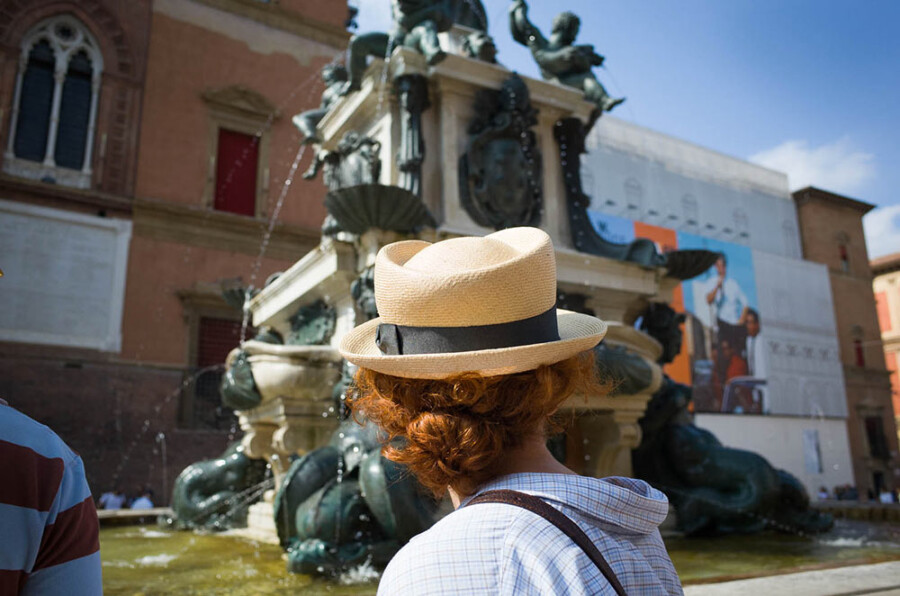 Somebody said that travelling together is all about the art of compromise. That's why, sometimes, it's wonderful not to.

I'm a solo traveller sometimes and I enjoy my total freedom in making plans and turn them upside down.
It's fun to think about your own city as a solo traveller. But I figured out that Bologna can be one of the best cities in the world if you want to spend some quality time with yourself.
Take a walk up to San Luca Sanctuary like local Bolognesi do every Sunday. On maybe run? [photo @Giorgio Minguzzi]
What to do
Take a walk
They call it Bologna la rossa, because of the colours of the walls and roofs. (Then the political orientation came, but I will tell you this story another time, maybe). The soil around here has always been full of clay, perfect to get terracotta tiles for roofs and paint with warm colours.
My tip is to stroll under
Bologna porticoes
and explore the parts just outside the Roman city centre.
Start from the two towers and take Strada Maggiore, Via Santo Stefano or Via Castiglione. Here you can find some of the most fascinating corners, such as Piazza Aldrovandi, Via Rialto, San Giovanni in Monte.
See Bologna from the top
There are some magnificent ways to have a look at the city from the top, too.
Climb the steps to reach the rooftop and play the bells of the tower of
San Pietro Cathedral
: especially during sunny days, the view is breathtaking.
​If you feel like walking a bit, follow the world's longest portico to reach
San Luca Sanctuary
. This is so far one of the
best walks you can have in Bologna
.
Or make your way to
San Michele in Bosco
, a former convent and then one of the first specialized hospitals in Europe in the early 1900s. During the daytime, the historical part of the hospital is open to visits.
​No spoiler but look outside the window at the end of the corridor on the first floor.
Info
Santuario di San Luca
Via di San Luca, 36 (Bus n. 20 until Arco del Meloncello and then follow the portico)
Opening times: 7.00 - 12.30 / 14.30 - 19.00 The portico is always open, but the sanctuary area closes at night.
San Michele in Bosco
Via Pupilli, 1 (Bus n. 30)
Opening times: 9.00 - 12.00 / 16.00 - 18.00 (church)
You can go also by night, just follow the street on the right and enjoy the view.
San Pietro Cathedral bell tower
Via Altabella, 2/4, 40125 Bologna BO
Tel. +39 051 222112
Opening times: Saturday 2pm 4:30pm
Ticket: 5€
Visit Archiginnasio library and its creepy fascinating anatomical theatre [photo @Angel de los Rios]

Explore the University

Explore the University No Botticelli's Venuses, no Monna Lisas, no Guernicas. You won't find famous and overcrowded museums here, but still, Bologna is the paradise of culture-passionate.

Bologna's University is the oldest in the western world, and one of the few that keeps the facilities in the city centre. You shouldn't miss Archiginnasio, with its creepy anatomical theatre.
And why not take advantage of the fact that you own your time schedule, and request for consulting one of the many manuscripts of the library?
At the end of Via Zamboni, you find
Palazzo Poggi
. It's one of the strangest museums in Europe and surely one of the
best museums in Emilia Romagna
.
XVIII century students didn't care too much of how creepy their work looked like.

They studied everything: from the inside of the insects to the inside of the humans, that they represented carefully in a series of anatomical waxes. And then dioramas, warships models from the struggles against pirates, paper globes, and pretty much everything your science fantasy could ever imagine.

University wasn't the only important school in town. W.A. Mozart himself cheated on the entry test for Bologna's Conservatory. Apparently, Father Giambattista Martini made some corrections on the exam-sheets and let the young Austrian genius come in.
Martini's collection of musical instruments and charts are now in
Museo della Musica
, located in delightful Palazzo Sanguinetti.
Even if you're not a music expert, the beautiful garden at the entrance and the curious XVII century horns are worth the visit.
Info
Biblioteca Comunale dell'Archiginnasio
Piazza Galvani, 1, 40124 Bologna
Tel. +39 051 276811
Opening times: 9.00 - 19.00 closed on Saturday afternoons and Sundays.
To access the library, check the rules on
www.archiginnasio.it
Museo di Palazzo Poggi
Via Zamboni, 33 40126 Bologna
Opening times: weekdays 9.00 - 16.00 / weekends 9.00 - 18.00, closed on Mondays
sma.unibo.it/it/il-sistema-museale/museo-di-palazzo-poggi
Museo Internazionale e Biblioteca della Musica
Strada Maggiore, 34, 40126 Bologna
​Tel. +39 051 275 7711
Opening times: 10.00 - 18.30, closed on Mondays
www.museibologna.it/musica
At Cineteca di Bologna you can watch amazing movies in original language [photo @Lorenzo Burlando]
Enjoy the show
They call it "the most beautiful cinema in the world", and it is definitely true for me.
Every summer, starting from the half of June to the half of August, Piazza Maggiore turns into an
open-air cinema
, and movies of all kinds are projected on a big screen just in front of
San Petronio
façade.
You could be as lucky as to be there the night when the silent movie and live Orchestra are scheduled to play together. All the movies are in the original language, with subtitles. Plus, they're totally free.
During the rest of the year, the programming continues at
Cinema Lumiere
. Movies are selected by Cineteca di Bologna, usually one or two best new releases and a bunch of old classics. Still no dubbing allowed.
At Cantina Bentivoglio you find great
live jazz music
, as well as a good bowl of homemade
tagliatelle al ragù
.
Locomotiv, Covo Club and Estragon are the best rock and
indie clubs
, in my order of preference.
Info
Sotto le Stelle del Cinema
Piazza Maggiore, Bologna
From June to August, every night at 21.45
www.cinetecadibologna.it/sottolestelledelcinema
Cinema Lumiere
Via Azzo Gardino, 65/b - 40122 Bologna
Tel. +39 051 2194810
www.cinetecadibologna.it
Locomotiv Club
Via Sebastiano Serlio, 25/2, 40128 Bologna
Tel. +39 348 083 3345
www.locomotivclub.it
The inside of Ragù, a small place to take away fresh pasta
Where to eat
Wondered how we developed the art of cooking?
We had to feed hungry students and professors coming from all over Europe to study at University. You'll never feel strange while you share your dinner with your book in Bologna. They've been doing that for almost a thousand years.
For sure you won't feel alone at
Osteria dell'Orsa
. The queue begins a few meters from the main door and it's a good way to make new friends. Big tables to share with the students and simple local cuisine. Cheap prices too.
Speaking of queue
Sfoglia Rina
has nothing to envy.
Ask for a place at the counter and watch the lively street outside while you try your tortellini in brodo, or
passatelli
with seasonal vegetables. Or both. There's nobody around to judge you, after all.
​No time to sit? Check the menu of
Ragù
.
The tagliatella will do only 3 steps: from the cutting board to the stove, from the stove to the carton. Then to your mouth.
Osteria dell'Orsa
Via Mentana, 1, 40126 Bologna
Tel. +39 051 231576
www.osteriadellorsa.com
Sfoglia Rina
Via Castiglione, 5/b, 40124 Bologna
Tel. +39 051 991 1710
www.sfogliarina.it
Ragū
Via Goito, 9/b, 40126 Bologna
Tel: +39 051 268585
www.ragubologna.it
Alberto Pallone is both hostel and osteria
Where to sleep
Bologna is a really safe town, for everyone, everywhere, so you can choose your accommodation in every area.
Maybe the
hotels in Bologna I suggest
are not your first option.
Try a
hostel
and you will never feel alone: big common rooms where to find new friends, relaxing gardens with chairs and tables where to fill your sketchbook, shared bikes to explore the city with.
Albergo Pallone
is young, close to the city center and with an osteria inside. The newborn
WeBologna
is just on the back of the train station, in the lively Bolognina area.
Airbnb in Bologna
is becoming more and more popular in Bologna, so you have a wide choice.
Book an entire apartment if you want to enjoy your solitude as its best, or a room in a house if you prefer to meet some locals.
Bolognese people are known to be very warm: ask for the recipe of ragù, it will be the beginning of a beautiful friendship!
If you prefer
traditional hotels
, my personal advice is to choose between the ones with a rooftop, like Hotel Metropolitan, in Via Indipendenza, or Hotel Touring, close to Piazza San Domenico.
To look at the city from the top of a roof is the best way to understand why they call it "Bologna la rossa". Spoiler: it's not for salame. Not only.
Albergo Pallone
Via del Pallone, 4, 40126 Bologna
Tel: +39 051 421 0533
www.pallone.lapiccolacarovana.net
We_Bologna
Via de' Carracci, 69/14, 40129 Bologna
Tel: +39 051 039 7900
https://www.we-gastameco.com/
Hotel Metropolitan
Via dell'Orso, 6, 40121 Bologna
Tel: +39 051 229393
www.hotelmetropolitan.com
Hotel Touring Bologna
Via dè Mattuiani, 1, 40124 Bologna
Tel: +39 051 584305
www.hoteltouring.it
---
---