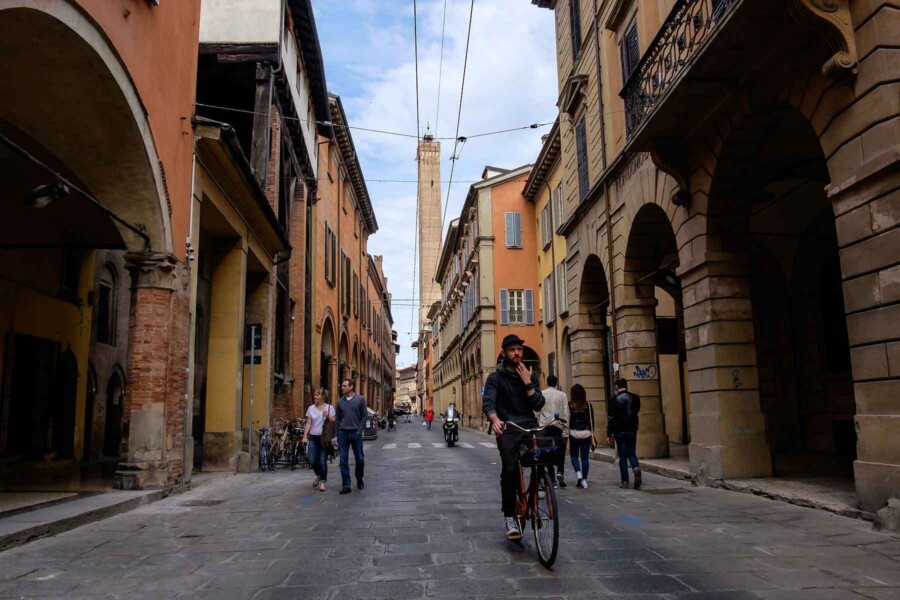 Let's say it loud and clear. Bologna is not Berlin, Amsterdam or Copenhagen.
The cycling routes are a few, mostly tight, on uneven cobblestones and sometimes they suddenly disappear.
But Bologna by bike is amazing. You can find hidden towers, look at the shadows of the porticoes, follow old canals.
Follow my tips for not professional cyclists to slowly enjoy Bologna on a bike.
Filled up your tires? It's time to go.
Tip 1: Bicycle ride From Certosa to Talon park

The one and only.
This path is how cycling routes should be: dedicated, far from cars, large and safe.
Start at Certosa Cemetery, with a view of San Luca Basilica and Dall'Ara stadium.
Then follow Reno Canal and pass through parks, watch kids playing basketball, admire old men relaxing in bowls clubs.

Sounds amazing? The best has yet to come.

The last part of the ride is inside Parco Talon, one of the best parks in Bologna. Keep cycling between farms houses and vineyards or park the bike and chill on the grass.

This easy and relaxing itinerary is perfect for families or everybody who loves cycling.
Why take this road
It's simply the best you can get in Bologna.
It shows you a part of the city easy to miss and it's perfect every season.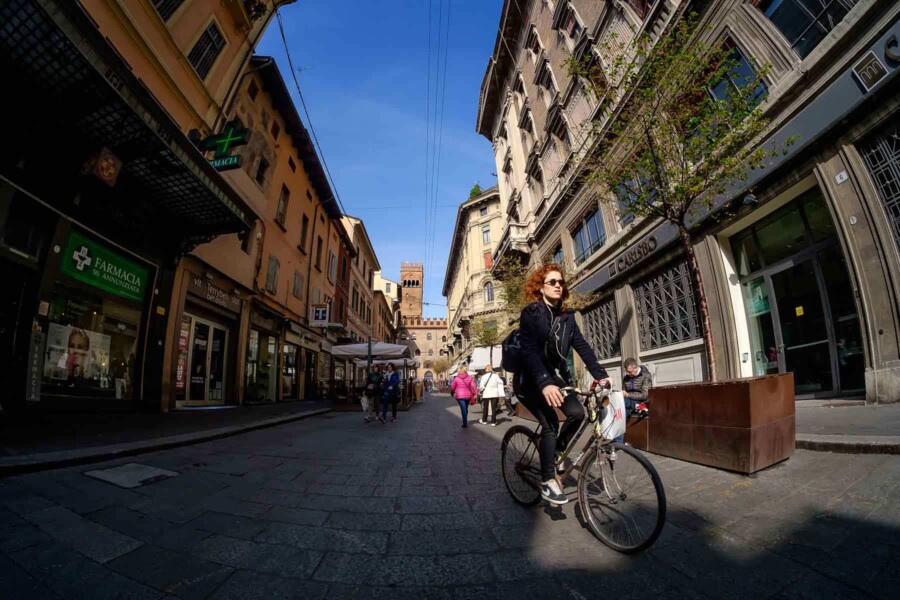 Tip 2: Follow the waters of Navile canal
This bike ride is a perfect mix of history and nature.

Start from Villa Angeletti, the huge park next to the train station.
Then follow Navile canal, the old navigable canal that used to connect Bologna to the sea, and jump back in time.
After the fascinating Battiferro floodgate, the countryside absorbs Bologna. You'd feel far away from towers and porticoes, but you're not.

The ideal end of this path is Ponte della Bionda, a romantic brick bridge built in the 17th century.

This bike path is on a gravel road, so I recommend not to use a city bike or even worse a MoBike.
Why take this road
Need for motivation?
At Da Sandro al Navile you can stop for a bowl of great tortellini.
Visit Industrial Heritage Museum to learn about the industry of Bologna, from silk mills to the packaging valley.

Tip 3: Use the bike tangenziale
Ok, this is not scenic.
But very useful.
Tangenziale delle biciclette is a circular bike ride that connects all the gates of Bologna.
The most part of it it's between the car lanes of the so-called Viali. Not the best for your lungs, I know. But it's the fastest and safest way to move in Bologna by bike.
The Tangenziale is quite large and always paved.
Why take this road
You're staying in an Airbnb in Porta Saragozza and need to reach Mercato Ritrovato food market?

You are in Porta San Vitale and want to relax at Giardini Margherita?

Use Tangenziale to move from gate to gate.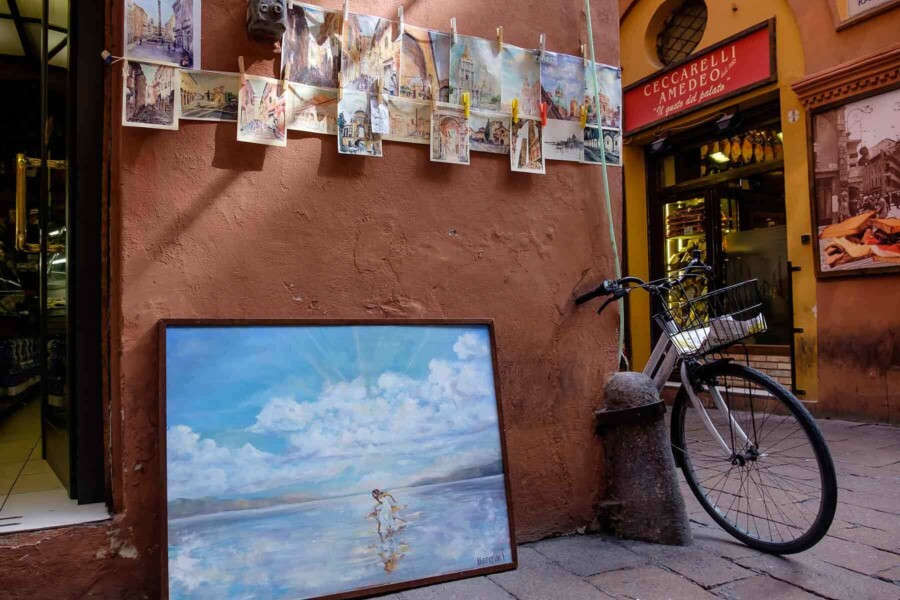 Tip 4: Giardini Margherita bike ride
It's the most popular park in Bologna.
Perfect for jogging, yoga, basketball, aperitivo, dating.
And for cycling of course.

Ride through the perimeter or cross it and stop on the bridge with a view of the lake.

Are you an athlete?
Exit the park on Porta Castiglione and rise up to the hills.

Need some rest?
Park the bike for a spritz at the Serre dei Giardini Margherita.
Why take this road
To take a breath from the noise and chaos while still in Bologna city centre.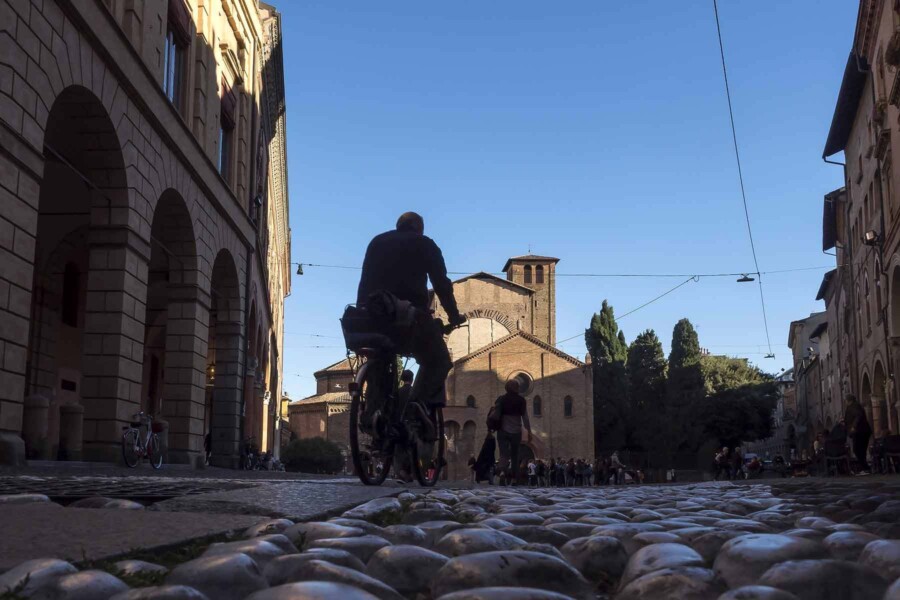 Tip 5: From tower to tower by bike
Bologna city centre is small, with a gentle slope and you can cross it by bike in about 20/30 minutes.
Use a bike to go everywhere: look for the best porticoes, cross the university area or build a towers itinerary.
Start from Santa Maria dei Servi and the hidden tower of Strada Maggiore. Then move to the two towers, ride around the Jewish ghetto and see 3 more towers.
Cross Piazza Maggiore and finish your bike path under the tower of Piazza Malpighi.
Or even better, with a gelato in Piazza San Francesco.
(Bike makes hungry, that's what I always tell myself)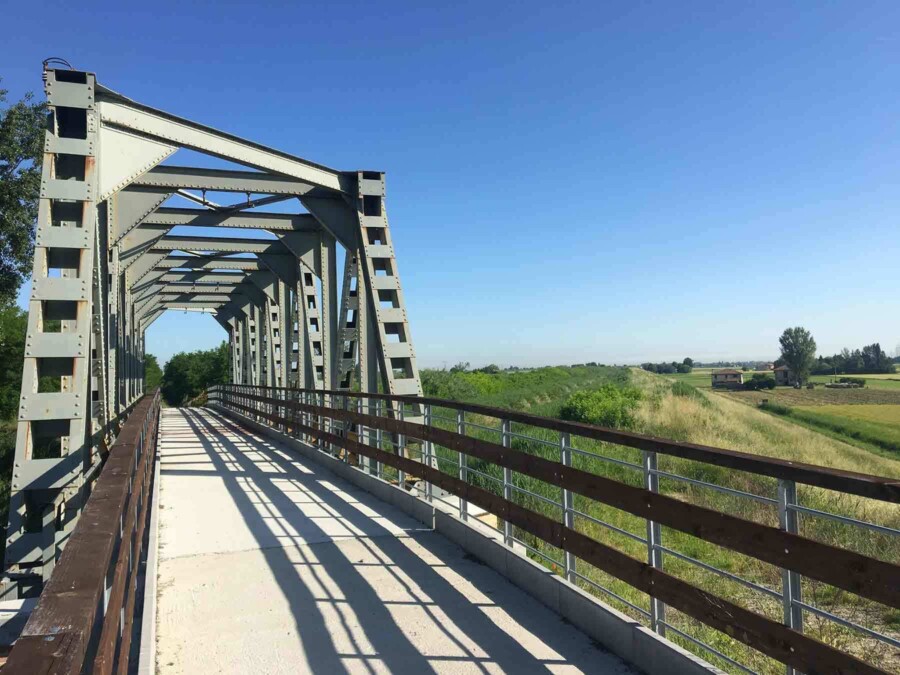 Tip 6: Ciclovia del Sole
On January 7, 2005, on a foggy morning, a regional train collided with a freight train.
17 people lost their lives.
That single-track railway line no longer exists, and in its place today only bicycles ride.
This 46 km cycle path leads Mirandola and Bologna and is part of a route called Ciclovia del Sole. This 7400 km will connect the North Cape to Malta, covering the whole of Italy.
You will cross metal bridges of the former railway, swampy areas with reeds and wet meadows.
You will discover Mirandola, with an octagonal plan thanks to the fact that it was a Renaissance fortress. San Felice sul Panaro, formerly a fief of Matilde di Canossa. San Giovanni in Persiceto, founded by the Lombards, with a medieval civic tower and one of the oldest carnivals in Italy.
Photo credits: Massimo Battesini
---
---