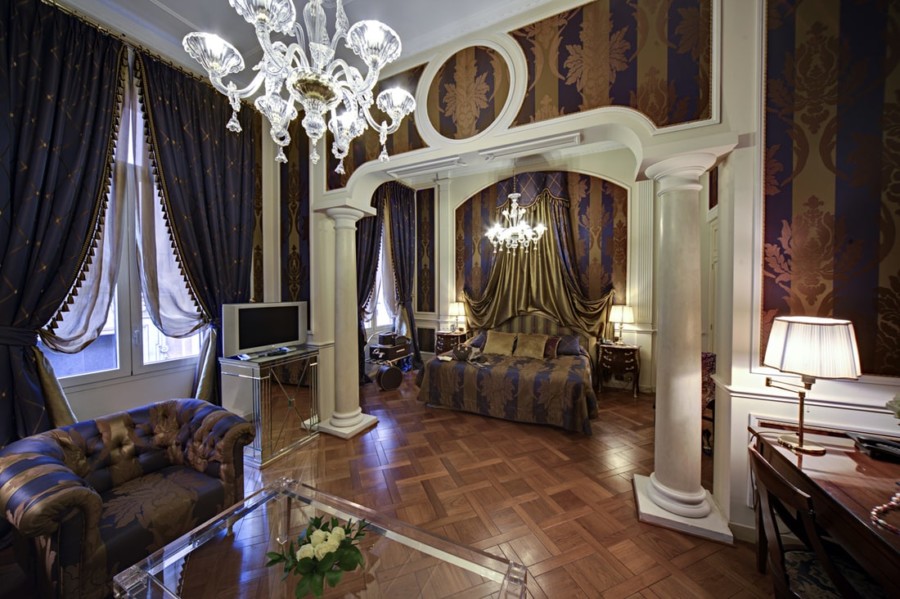 Which are the best hotels in Bologna?
Booking.com and Tripadvisor can give you an answer.
But even if I grew up in Bologna and I've never spent a night in any hotel, I have some suggestions for you.
Here's a not sponsored list of
hotels in Bologna city centre
, split for price range.
And if you are not a hotel person, dig deep into the
best Airbnb in Bologna
.
I Portici Hotel
Price 150-300€
Grand Hotel Majestic (Baglioni)
If someone asks me which is the best hotel in Bologna I don't have to think about the answer.
Located in Via Indipendenza, just a few steps away from Piazza Maggiore, Grand Hotel Majestic (known as Baglioni) is a wonderful and historical building designed by architect Alfonso Torregiani during the first half of the 18th century.
​Luxury, elegance and position, make it the best.
If you can afford it, there are no other options to consider.
And if you're lucky you can meet Bono, Lady Gaga of the Pope.
grandhotelmajestic.duetorrihotels.com
Via dell'Indipendenza, 8, 40121 Bologna - Tel. 051 225445
Price: 300€/night
I Portici Hotel
Another luxury choice.
The perfect balance between modern and classic style: modern rooms with minimal furniture, smooth shapes and simple spaces inside the elegant atmospheres of Palazzo Maccaferri (Art Nouveau).
In addition, this hotel is also famous for having the only
Michelin starred restaurant in Bologna
, located inside an 1899 theatre.
www.iporticihotel.com
Via dell'Indipendenza, 69, 40050 Bologna - Tel. 051 42185
Price: 105€/night
Il Convento dei Fiori di Seta
Set in a quiet area between Via Castiglione and Via Santo Stefano, two of the most lovely and classy streets of Bologna, stands this former nunnery dated back to the 14th century.
All the rooms are different and 4 of them are obtained from the aisle and the apse of an old church.
If you're looking for an elegant and pleasant solution to spend your days in Bologna in a unique context, this is your place.
www.ilconventodeifioridiseta.com
Via Orfeo, 34/4, 40124 Bologna - Tel. 051 272039
Price: 110€/night
Aemilia Hotel
Price 70-100€
Touring Hotel
Right next to St.Dominic Basilica (the one with Michelangelo statues) there's this attractive and small hotel.
Founded in 1950, it has renovated rooms; it's famous for its terrace where you can enjoy a drink or a bath in the Jacuzzi with an amazing view above the red roofs of Bologna.
www.hoteltouring.it
Via de' Mattuiani 1/2, 40124 Bologna - Tel. 051 584305
Price: 80€/night
Aemilia Hotel
Outside the walls of the city centre (about 15 min walk to Piazza Maggiore) but in a quiet location, you find this elegant and modern hotel.
Perfect for business (with its big meeting room), it suits great also if you're looking for a new and stylish hotel.
A few meters from it, there's a great greek fish restaurant (
Delogo
).
www.aemiliahotel.it
Via Giovanna Zaccherini Alvisi 16, 40138 Bologna - Tel. 051 394 0311
Price: 80-90€
Hotel Porta San Mamolo
This charming hotel is in a peaceful and wonderful area, far from the noise of the University and the crowd of the train station.
​
You can have your breakfast inside a big garden full of oleanders, pomegranates and lemon trees, making this place the perfect location to relax in a green oasis of Bologna city centre.
www.hotel-portasanmamolo.it
Vicolo del Falcone 6/8, 40124 Bologna - Tel. 051 583056
Price: 85€
Hotel Porta San Mamolo
---
---
---
Comments
Chanty

Amazing, I do enjoy your Blog, tell you what, I am coming to town this weekend, after reading all.

Andrea - Taste Bologna

I'm glad to hear that Chanty! I'm sure you enjoyed Bologna ;)