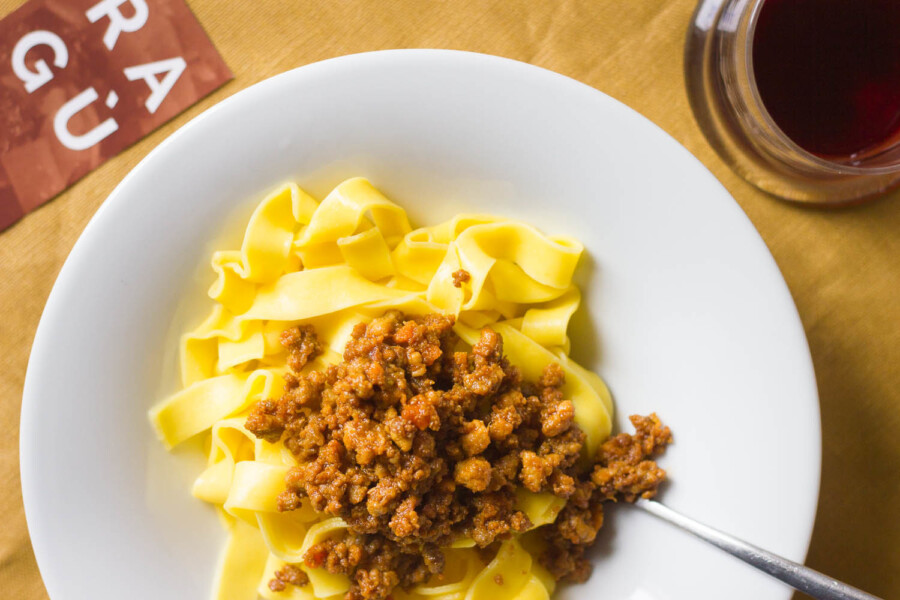 If I ask my friends which are the best tagliatelle of Bologna I always get the same answer: my grandmother's.
It might be true, but maybe emotions sometimes give a better taste.

These are my favorite tagliatelle that you can find in Bologna's restaurants: with ragù Bolognese sauce, of course, but not only.
1. Tagliatelle with porcini mushrooms @Osteria Broccaindosso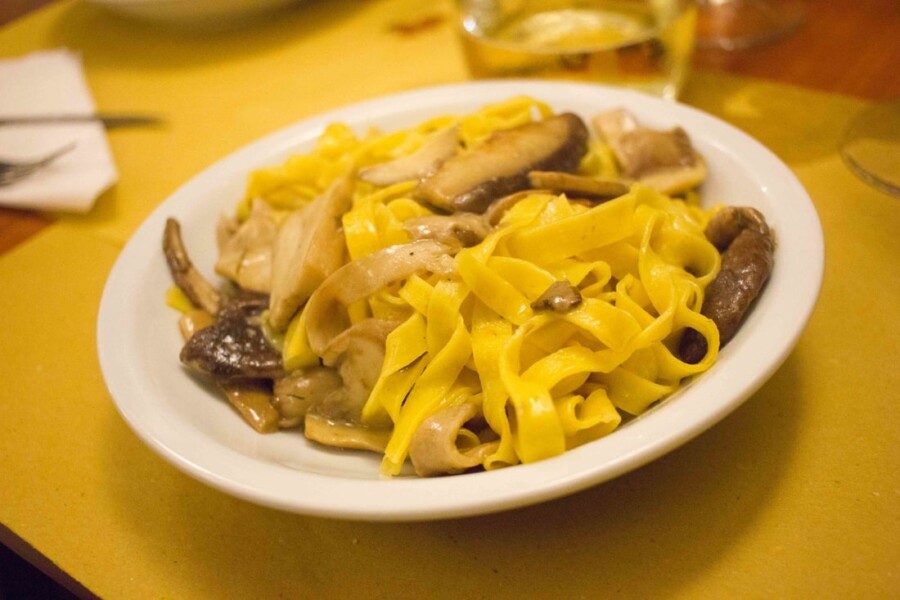 Osteria Broccaindosso is for sure one of the best restaurants for celiacs in Bologna.
But it's also a place that I always recommend to people who wants to try Bolognese cuisine.

Everything in this place, from the selection of the ingredients to the courtesy of the staff, from the informal and cozy location to the quality/price ratio, is as a restaurant is expected to be.
​
Just during end-summer or autumn you can find their tagliatelle with porcini mushrooms (15€) which absolutely deserves the waiting. Also try their passatelli with porcini for an unusual but wonderful combination.

Osteria Broccaindosso
Via Broccaindosso, 7
Tel. +39 051 234153
2. Tagliatelle with bolognese ragù @Trattoria Anna Maria
At Trattoria Annamaria you can have the closest version of my grandmother's tagliatelle.
Annamaria is a 75 bolognese lady who owns her own restaurant in Via Belle Arti since the '80s. Her cuisine is genuine and rough as the real bolognese should be and all the fresh pasta is completely handmade in the lab a few meters from the restaurant.

A few numbers:
8 hours of cooking for the bolognese ragù (the vegetables in her version are roughly cut, as in the old countryside recipe) and only 8 seconds for the tagliatelle.

​The dough is so thin and fresh that it takes that little time in the water to be ready for the mouth. You can have tagliatelle with ragù in probably all the restaurants in Bologna, but these ones for me are unique.

Trattoria Anna Maria
Via Belle Arti 17
Tel. +39 051 266894

3. Tagliatelle with Medicina onion @Osteria Bottega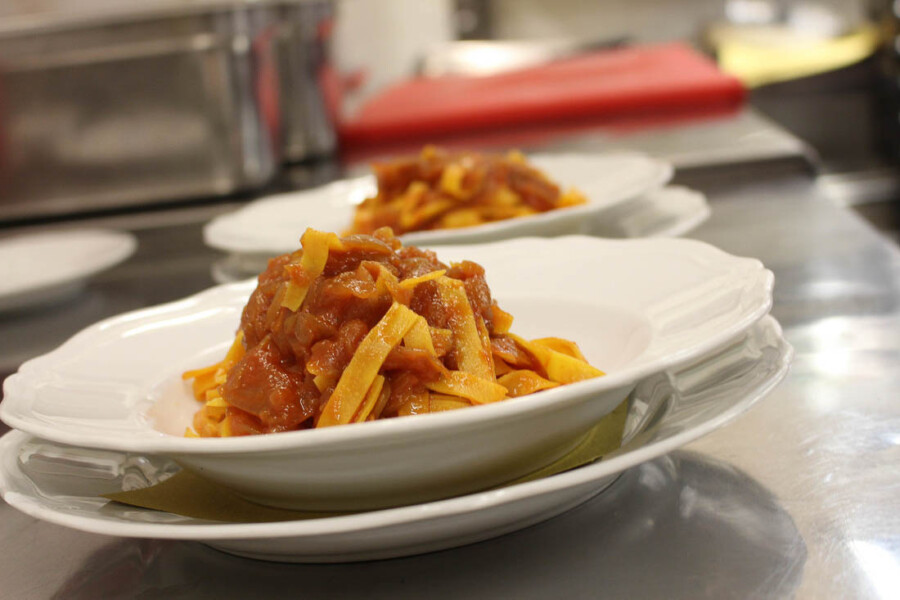 Medicina is a small town in the country area of Bologna, very famous for the quality of its onions.
​Osteria Bottega, a small and elegant restaurant that pays a lot of attention to using the best local ingredients, makes a fabulous version of tagliatelle with that onion and tomatoes.

I went there with my friend Shahab of Emirates Airlines when he asked me to try the best tagliatelle in town: you can judge from his face in the video how great they are.

Osteria Bottega
Via Santa Caterina, 51 Bologna
Tel. +39 051 585111
4. Green Tagliatelle with ham @Trattoria Collegio di Spagna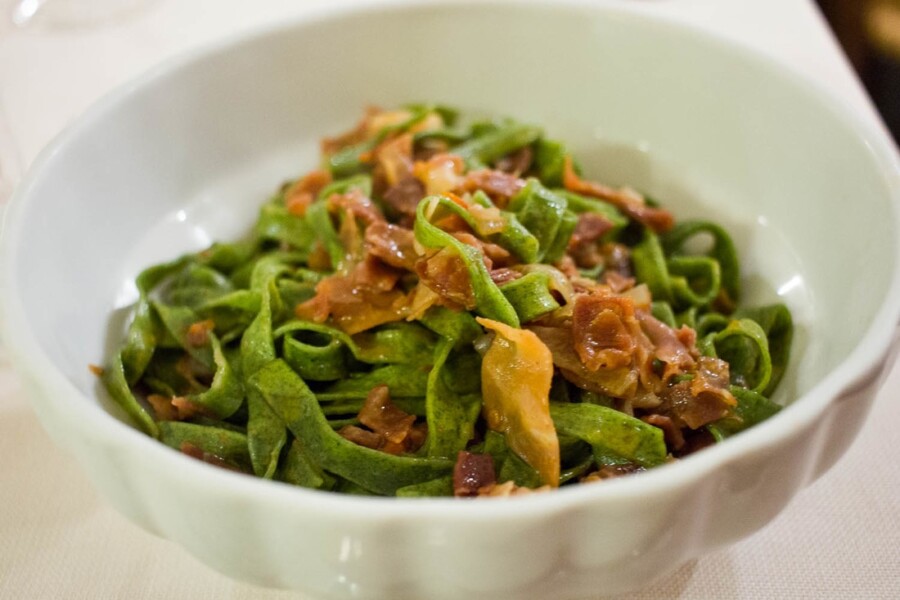 Nettle
is a common wild herb in Bologna's countryside, carefully hand-picked in the field was used by
sfogline
for its delicate aroma and to make egg pasta a little bit lighter.

​This small and cosy trattoria, who takes its name from Collegio di Spagna, a private college for Spanish students founded in 1364 just in front of it, knows well how to use it.

The owner is pure bolognese and you can tell by the menu which follows the real tradition of local cuisine. You won't find tortellini with broth in summer or stuffed zucchini in winter because they chose to use only fresh ingredients by selected producers.


Trattoria Collegio di Spagna
Via Collegio di Spagna, 15, 40123 Bologna
Tel. +39 051 644 8825
5. Pappardelle with porcini mushrooms and black truffle @Caminetto D'Oro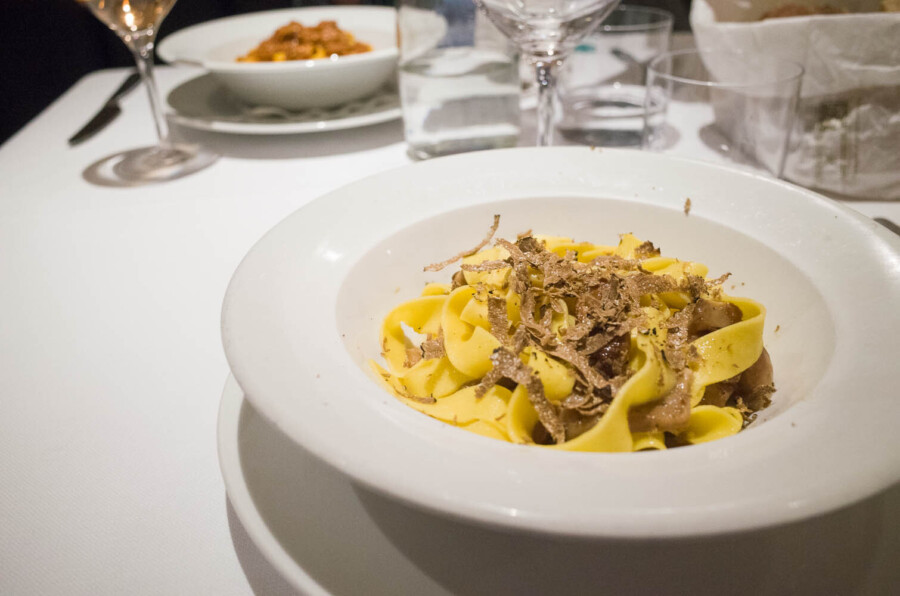 Ok ok, I know these are not proper tagliatelle.
They're wider than the 8mm of perfection, in fact they call it pappardelle.
But how could I not include this gem in this list?

Don't expect to find this pappardelle in June: it's a seasonal dish like porcini mushrooms always must be.
At Caminetto D'Oro, you can prepare your mouth with gently fried sage and porcini (18€).
Then this handmade, rough, this past arrives.
The porcini melt in your mouth.
No garlic nor parsley.
Butter of course, not too much.
And black truffle.

You can't ask for more. Or...well...actually leave space for the creme caramel.

Caminetto D'Oro
Via de' Falegnami, 4, 40121 Bologna
Tel. + 39 051 263494
---
---
---
Comments
Julián

Fantástico blog para ir a Bolonia..........lo que buscaba,

MIl gracias

Andrea - Taste Bologna
Doug

Thanks for this interesting article. I was in Bologna last March, and will be there again this March. I will file this away for future use. I had the Tagliatelle Bolognese at Biagi when I was there. It kind of blew my mind. It was just one spoon of innocuous looking sauce on paper thin pasta and you had to mix it. It was like a flavor explosion. Perhaps a tad salty, but I added Parmigiano. Also it was Sunday lunch and a ZOO. Sunday lunch in Bologna is madness. Any specific recommendations for Sunday lunch? Thanks again. The blog in general is very informative.

Andrea - Taste Bologna

Thanks Doug for your kind words. I just had a great lunch yesterday (Sunday) with a friend a Trattoria Meloncello, not that far from Biagi.

I think you will appreciate the atmosphere if you're not uncomfortable of being the only not Italian in the restaurant.

I will talk more about this place in the next newsletter.

See you soon in Bologna!

Doug

Andrea,

Thanks so much for getting back to me so quickly! I actually almost ate at Meloncello after walking down from San Luca. It was a little early when I passed it so I walked on a little further to Casa Mia. There seems to be a lot of good places to eat on Via Saragozza! I prefer to be the only American in a restaurant. It is always a good sign. I am even trying to learn Italian! I will probably ask more questions before March. Thanks again. Doug