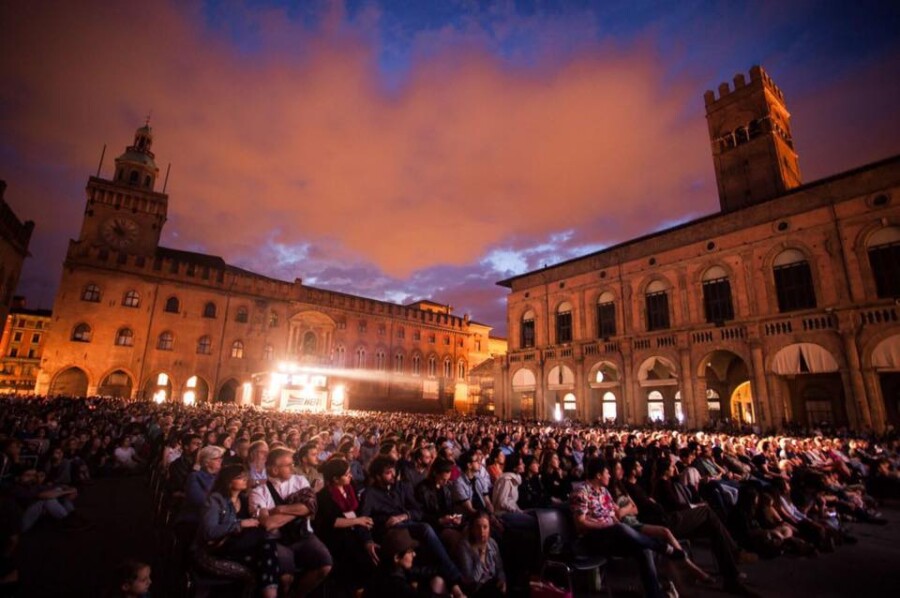 It's easy to fall in love with Bologna, even without money. A picnic in a park and a free amazing cinema? Or a visit to a very unusual museum and a walk under the portici?

​Here are my free 5 suggestions to enjoy Bologna. For free.
1. Watch a movie in Piazza Maggiore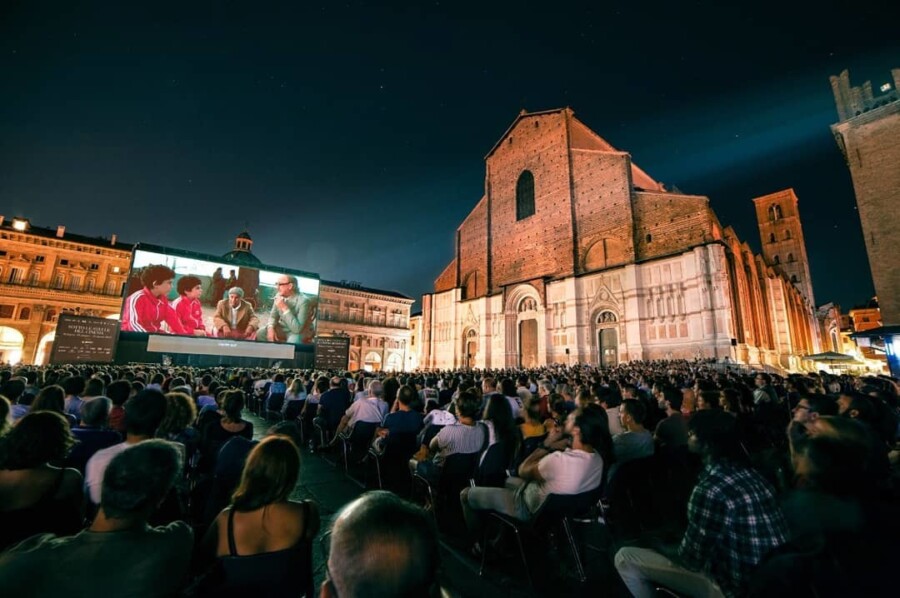 It's hard to describe how proud I feel every time I watch a movie in Piazza Maggiore.

It's a privilege happening every year from June to mid-August, when the most famous square of Bologna became an open-air cinema.

The selection of movies in original language goes from classics to cartoons, from documentaries to mainstream, but always with great care.
​If you're lucky you can watch one of the movies set in Bologna.

​​Be sure to arrive early to find a chair or bring it from home.

Info
Sotto le Stelle del Cinema
Piazza Maggiore, 40124 Bologna
www.cinetecadibologna.it
2. Read a book in Sala Borsa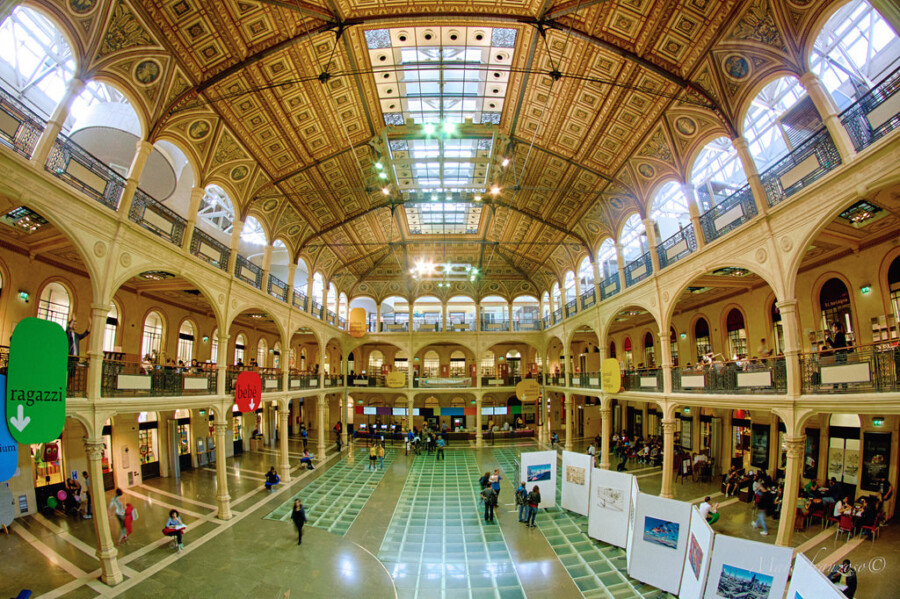 Alice, one of the guides of my food tours in Bologna, usually says that the best part of Bologna is hidden.
Enter Sala Borsa library and you will agree with her.

In the past, it was used as a basketball arena, a bank, a market, a botanical garden and a lot more, but now is one of the best libraries in Bologna with tons of books, magazines and audio/video.

Read side by side with students, have a coffee or take some rest during hot summer days. Or walk through the ruins of the Roman street that you see under the glass floor.
​
Entrance is just next to the fountain of Neptune, be sure to step inside but I warn you: take a look at your clock because hours pass like seconds.

Info
Biblioteca Sala Borsa
Piazza del Nettuno, 3, 40124 Bologna
+39 051 219 4400
www.bibliotecasalaborsa.it
3. Visit Certosa cemetery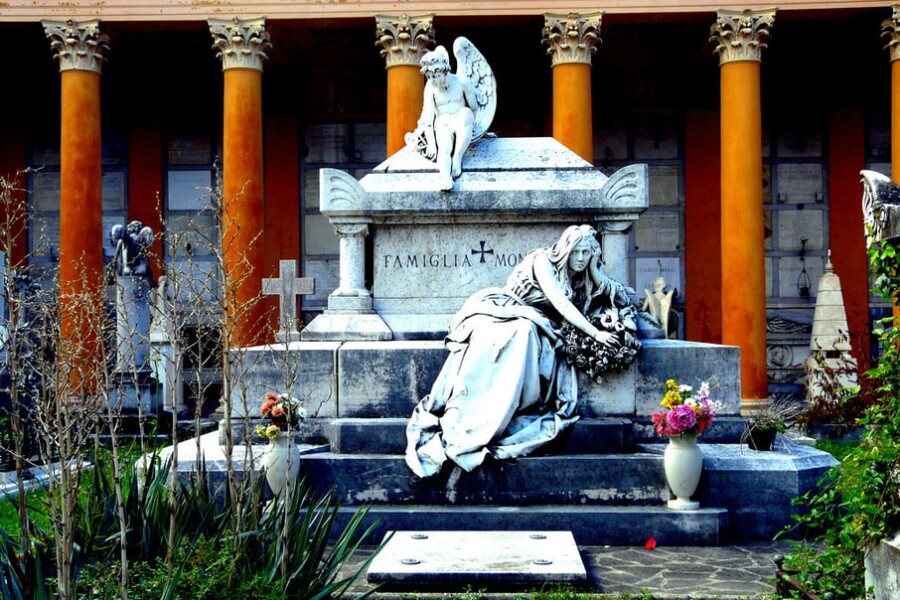 It's hard to explain why you should visit a cemetery without appearing weird. Byron, Dickens and Freud visited it, but it's still not enough I guess.

The fact is that Certosa Cemetery is a lot more than just Bologna's cemetery. It's a city inside the city.
A labyrinth of streets, gardens, porticoes where it's easy to get lost. During your wondering, you meet statues of lion and angels, young nobles and brave soldiers. Don't miss a visit to the church of San Girolamo.

Certosa is an astonishing, silent, free museum that a few people know but deserves to be uncovered.

Info
Cimitero Monumentale della Certosa
Via della Certosa, 16, 40134 Bologna
Tel. +39 051 615 0811
www.storiaememoriadibologna.it/certosa-monumental-cemetery
4. Walk up (or run) to San Luca Basilica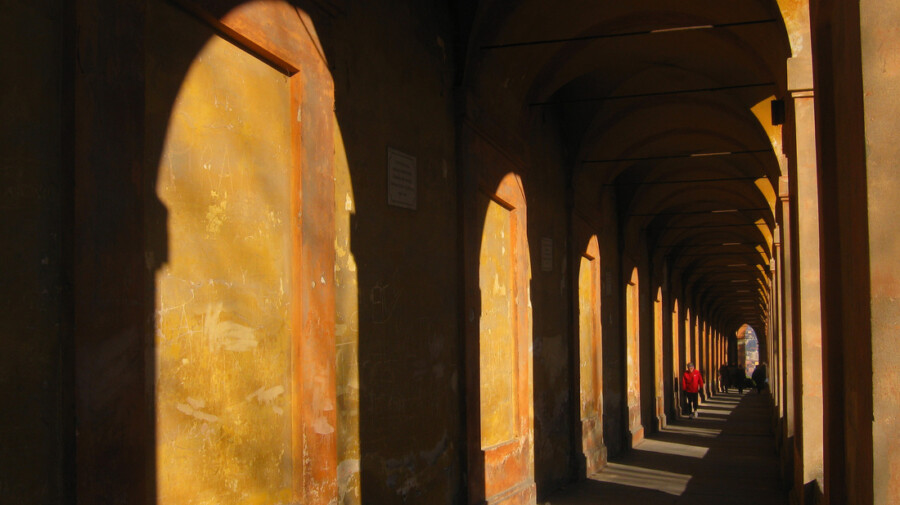 San Luca is a lot more than a church for Bolognesi.
Every time I come back from a journey and recognize the Basilica on Colle della Guardia I feel like home.

A bolognese tradition is to walk up there: start at Porta Saragozza to take all the 666 steps of one of the best porticoes in Bologna. Or get a bus and stop under Meloncello arch to start your rise.

Take your time, it takes about 1 hour if you walk. Or if you had too much ragù put your jogging shoes and run. ​And when you come back maybe stop for a cheap spritz in one of the most traditional bolognese bars: Billi Bar. You deserved it.

Info
Basilica di San Luca
Via di San Luca, 36, 40135 Bologna
5. Relax on the hills of Villa Ghigi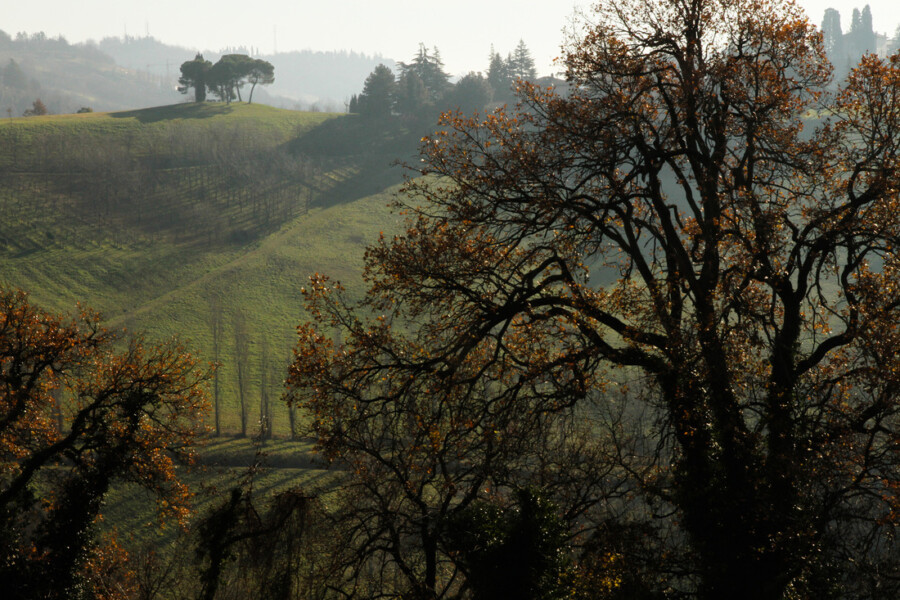 Bologna doesn't seem like a very green city. At least if you just walk around the city centre.
Actually there are many parks and gardens in Bologna.
But do you want to know a secret? The best are hidden inside the buildings.

If you don't want to sneak inside the gates, not far from the city centre there's the park of Villa Ghigi. From there you can rest under a tree, have a picnic and view Bologna's skyline of towers and red roofs.

To arrive at Villa Ghigi, walk about 600m from Porta San Mamolo and when you meet the news-stand start to walk up on your right. Then pass between some blocks and keep going until you see the first vineyards.

​Visit that in Autumn, hand in hand with your lover.

Info
Villa Ghigi
​Via San Mamolo, 40136 Bologna
Tel. +39 051 339 9120
www.fondazionevillaghigi.it
6. Take a deep breath at the Botanic Garden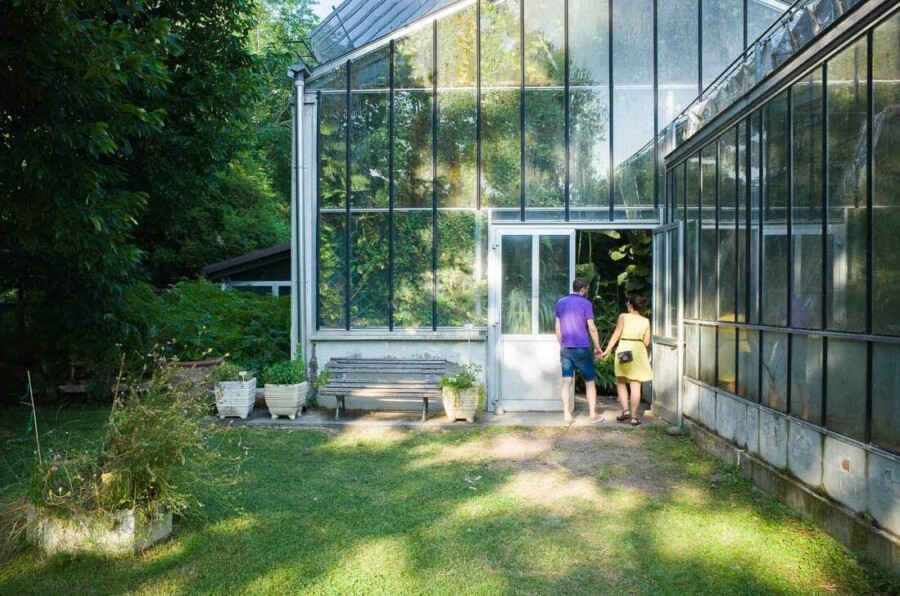 Bologna's botanic garden isn't only one of the oldest in Europe.
It's an
oasis to relax
in the heart of the University area.
+5000 plants from around the world in a park near the old city walls.
Don't miss the
garden of the simples
: a medical plant garden inspired by the first botanic garden created by Ulisse Aldrovandi in 1568.
Take a look at the herbarium, a collection of dried plants from all over the world mounted on paper.
Info
Orto Botanico di Bologna
Via Irnerio, 42 - 40126 Bologna
Tel. +39 051 2091325
https://sma.unibo.it/ortoerbario
7. Watch the towers with an unusual telescope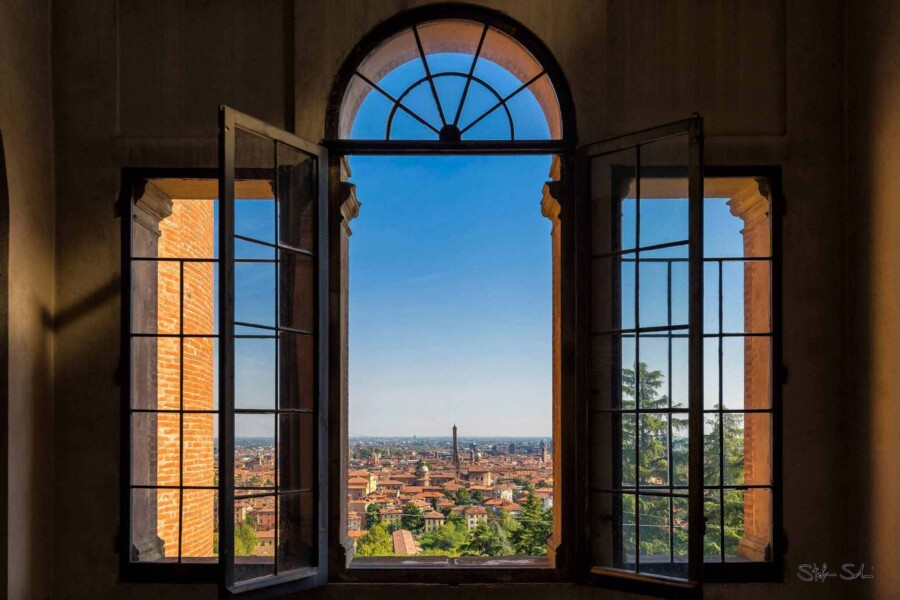 Amongst all the panoramic views of Bologna, this for sure is the strangest.
First, you need to walk on a hill from Porta San Mamolo, direction San Michele in Bosco.
Then you have to enter a former cloister, now used as a hospital.
You walk on the first floor and something really unusual happens.
In front of you stands Asinelli tower. It seems so close, you can nearly touch it.
So you walk towards it but the closer you walk, the more it gets smaller.
No, it's not a side effect of that Pignoletto you had for lunch. It's a natural telescope, built with a window to help feel the monks in better proximity with the city.
Info
San Michele in Bosco
Piazzale di S. Michele in Bosco, 3, 40136 Bologna BO
www.sanmicheleinbosco.org
Bonus Track
Great, so now I've told you how to enjoy Bologna and save money.
I guess you don't like to waste that in tourist trap restaurants that make you pay 20€ for a processed tortellino, don't you?

Read our +300 5 stars reviews on Tripadvisor, or what The Guardian, Phil Rosenthal and Rick Stein told about us and safely book our Bologna food tour to eat only great food for the rest of your visit!
[Photos courtesy of, rebel_yell80, Nikolaos Gea Photography, Marco Franzoso, Mario Ray Borg, Stefano Solmi, Alice Verti on Flickr]
---
---