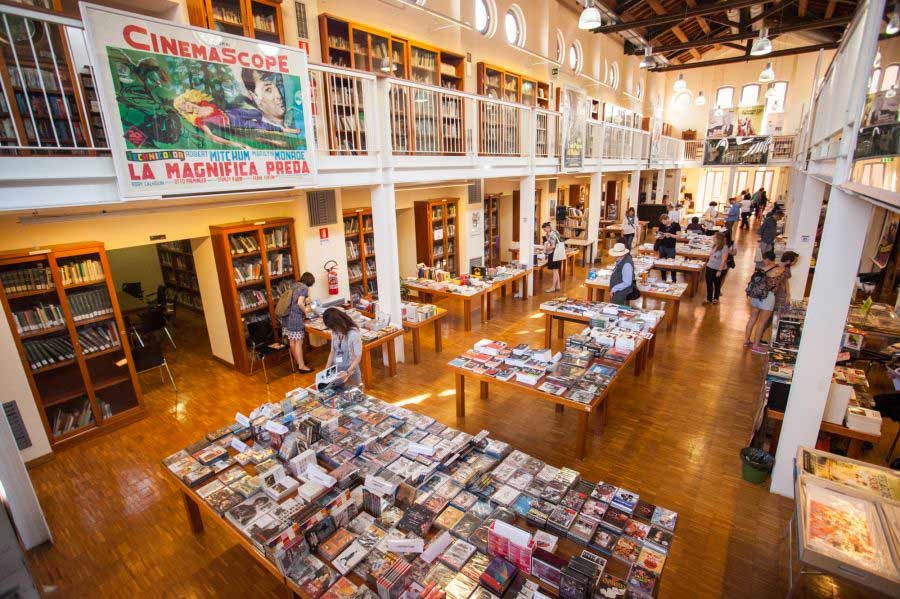 If there's a place where you can find me after a food tour, this is a library. An oasis of silence in the desert of noise, to rest and recharge.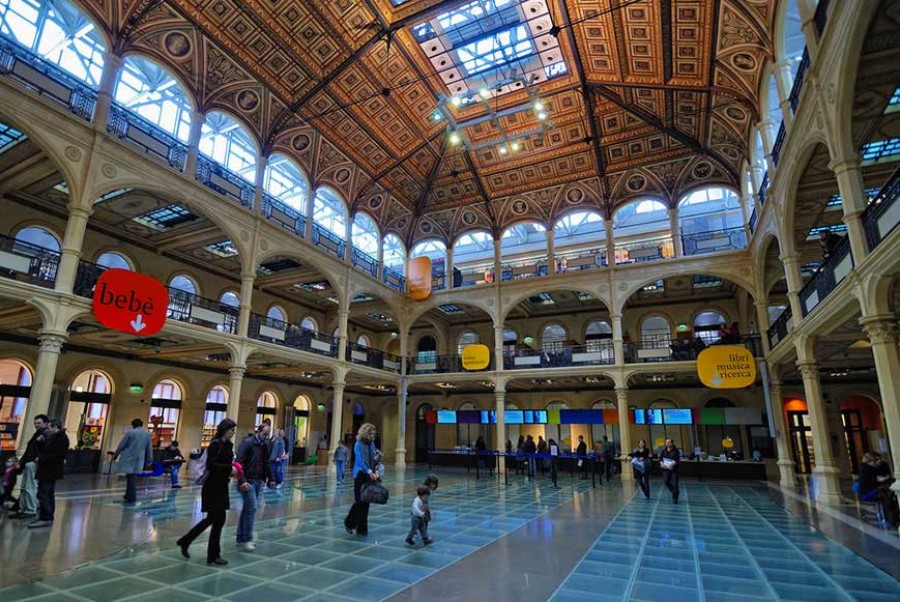 A fortress, a botanical garden, a basketball and boxing arena, a trading center, a restaurant, a bank, a puppet theatre.
This is what Sala Borsa has been during its +2000 years of life.

Now it's a library, probably the most important of Bologna. For its position sure, in Piazza Maggiore next to Bologna Neptune's statue.
​But also for the quantity and quality of books, magazines, music and more, over 3 floors + a basement with the rest of a Roman street.

Info
Piazza del Nettuno, 3, 40124 Bologna
Tel. +39 051 219 4400
www.bibliotecasalaborsa.it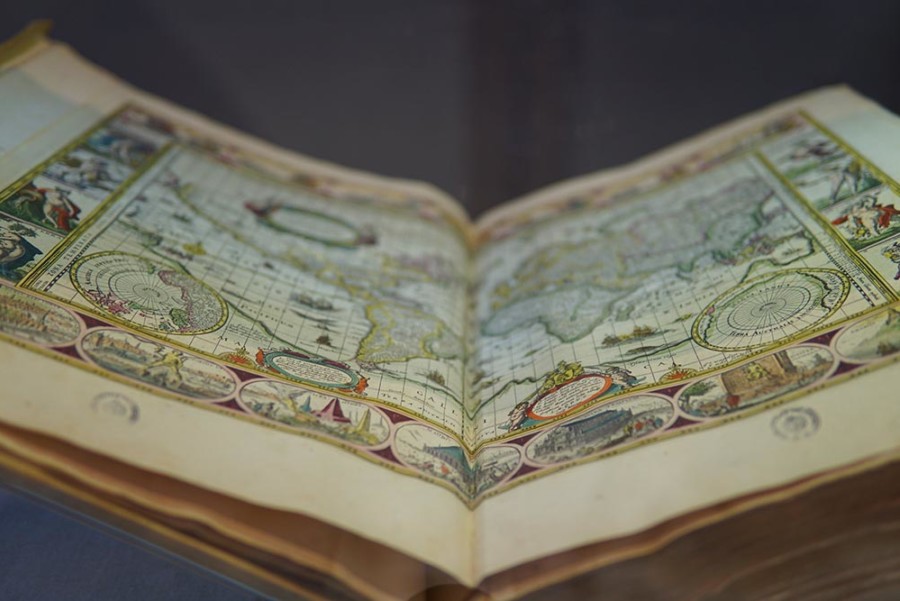 "I don't like books, but I'd come here to read sometimes" said a rebel teenager during a school trip in Bologna.
Archiginnasio conquers even the hardest hearts.

A step inside the gate and you'd be back in a time where students from all Europe came to Bologna to study.

The library is on the first floor, a few steps from the astonishing anatomical theatre.

Info
Piazza Galvani, 1, 40124 Bologna BO
Tel. +39 051 276811
www.archiginnasio.it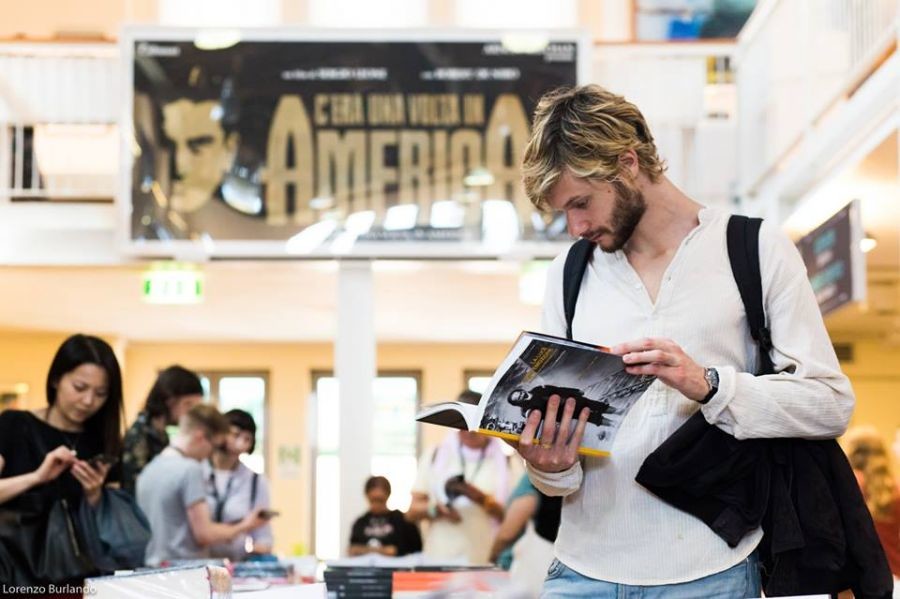 If you're a cinema addicted like me, Bologna is the place to be.
Especially in summer when Piazza Maggiore becomes an open-air arena.

But also every day, if you have time to spend at Cineteca di Bologna and its library. A huge selection dedicated to cinema, photography and all their relatives.
You can spend days browsing Luigi Ghirri's photos in Bologna and Emilia Romagna.
​Or walk on the first floor where you can find retrogames including my first console (Sega Master System II) behind a case.

Vintage movie posters on the walls may distract your study, but warm your soul.

Info
Piazzetta Pasolini, 3/B, 40122 Bologna
Tel. +39 051 219 4843
www.cinetecadibologna.it/biblioteca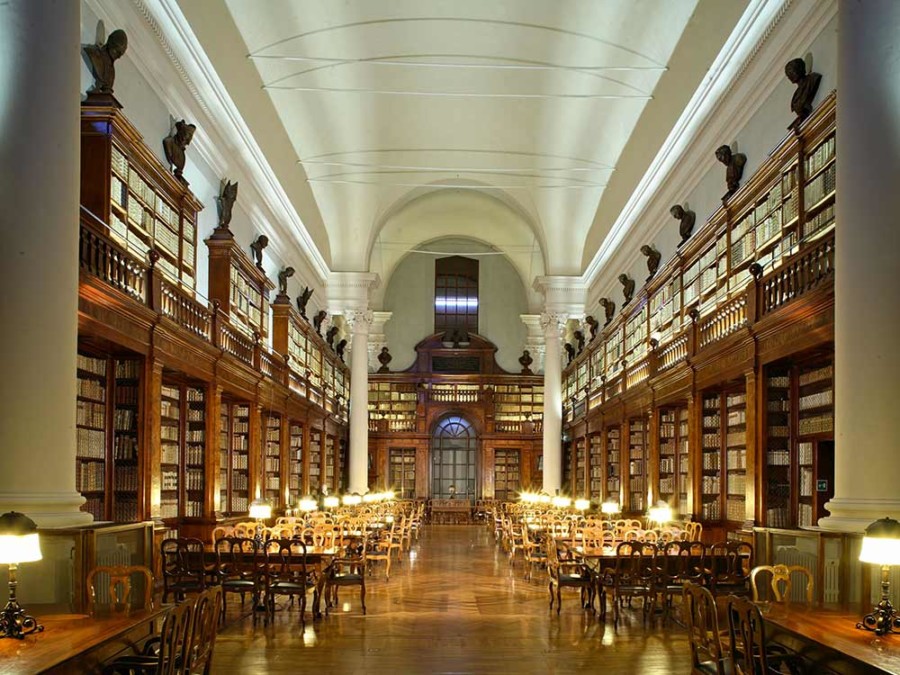 Biblioteca Universitaria is an underrated library in an underrated building of an underrated area.

It's set inside Palazzo Poggi, in the heart of University, since the XVIII century.
You can walk under its portico without notice it, but you'd miss one of the most interesting museums Emilia Romagna, an astronomical observatory and this beautiful library.

​If you want to breathe the authentic academic atmosphere of Bologna, don't make the mistake to forget it.

Info
Via Zamboni, 33/35, 40126 Bologna BO
Tel. +39 051 208 8300
bub.unibo.it/it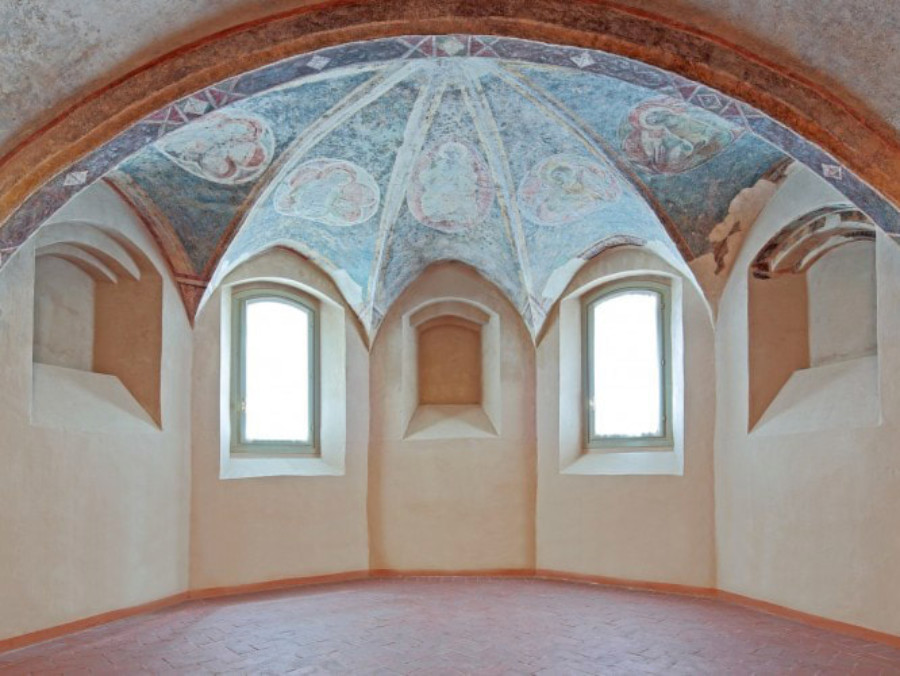 Mr. Gutenberg had no doubts when he had to print his first book. Then it's no surprise that the oldest libraries in Italy are set inside monasteries.

A XIV century Franciscan complex hosts this old library in Imola, a small city between Emilia and Romagna.

After this mystic jump, you deserve a pagan prize. Get a great gelato at Sesto Senso, just near the library.

​On the way back to Bologna, stop for a visit to Dozza, one of the coziest and charming villages of all Emilia Romagna.

Info
Via Emilia, 80, 40026 Imola BO
Tel. +39 0542 602636
bim.comune.imola.bo.it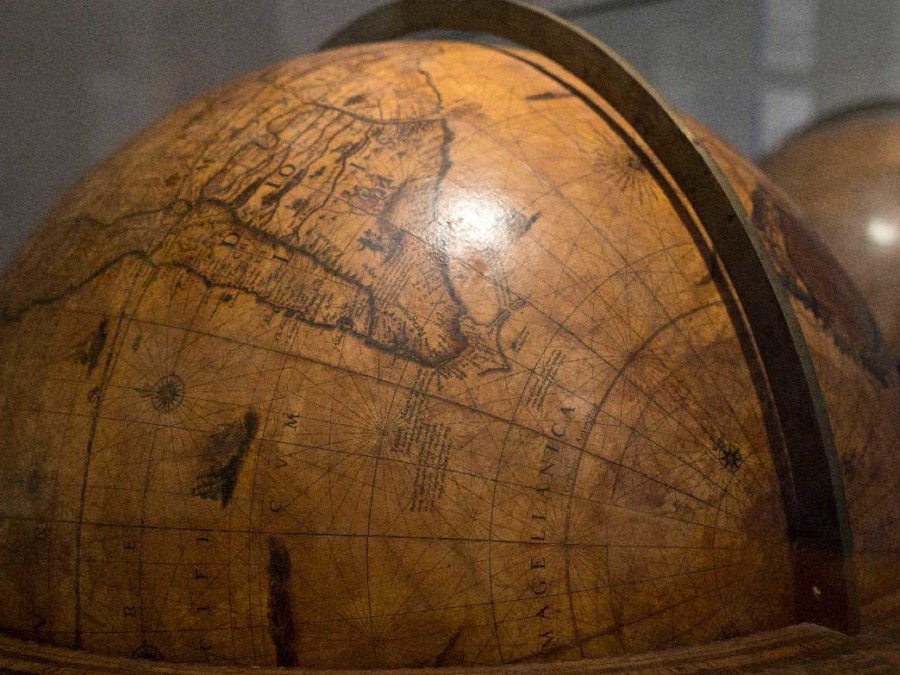 No dragons or dire wolves, but until the unity of Italy, Emilia Romagna was an impressive Game of Thrones.

Biblioteca Estense takes its name from the noble family of Ferrara. When Modena became the capital of the dukedom, the library changed its location.

​Borso's Bible is its best-kept secret. A full gallery in a miniature book that took 6 years of work by masters of Italian Renaissance.

Info
Largo Porta Sant'Agostino, 337, 41121 Modena
Tel. +39 059 439 5711
www.gallerie-estensi.beniculturali.it/biblioteca-estense-universitaria/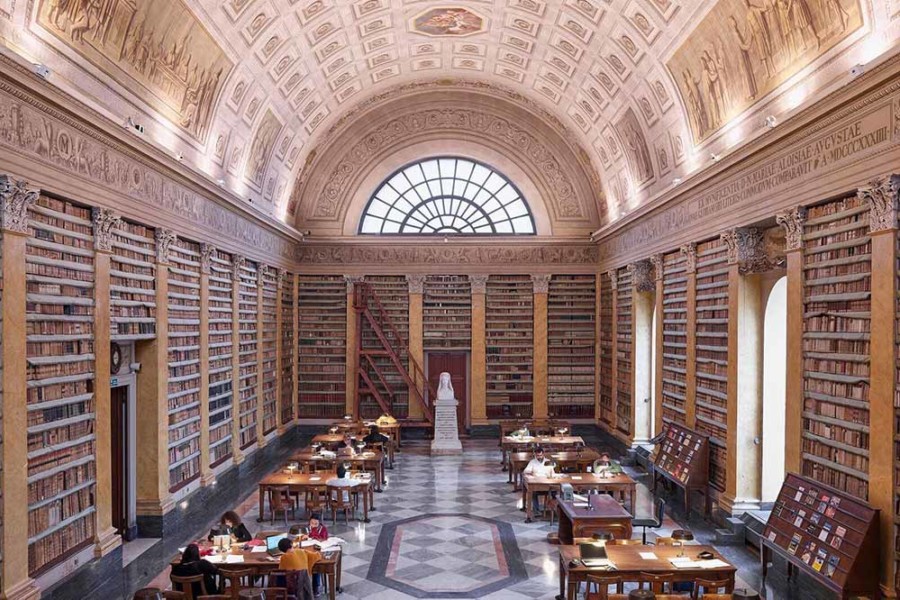 No excuses.
Visit Palazzo Della Pilotta is one of the best things to do in Parma.

A huge wooden theatre, a surprising typography museum and a sketch by Leonardo, THAT Leonardo, aren't enough to convince you?
Ok, Biblioteca Palatina will do the rest.

Created in 1761 has 4 main halls:
- Sala di Maria Luigia, a reading room with 26.000 books
- Sala Dante, to look up at frescos inspired by the Divine Comedy
- Sala De Rossi, with sumptuous furnishings Impero style
- Petitot Gallery, covered of original walnut bookcases.

If you need to relax after the food feast of our Parma food tour, this is a great place.

Info
Piazza della Pilotta, 3, 43121 Parma
Tel. +39 0521 220411
www.bibliotecapalatina.beniculturali.it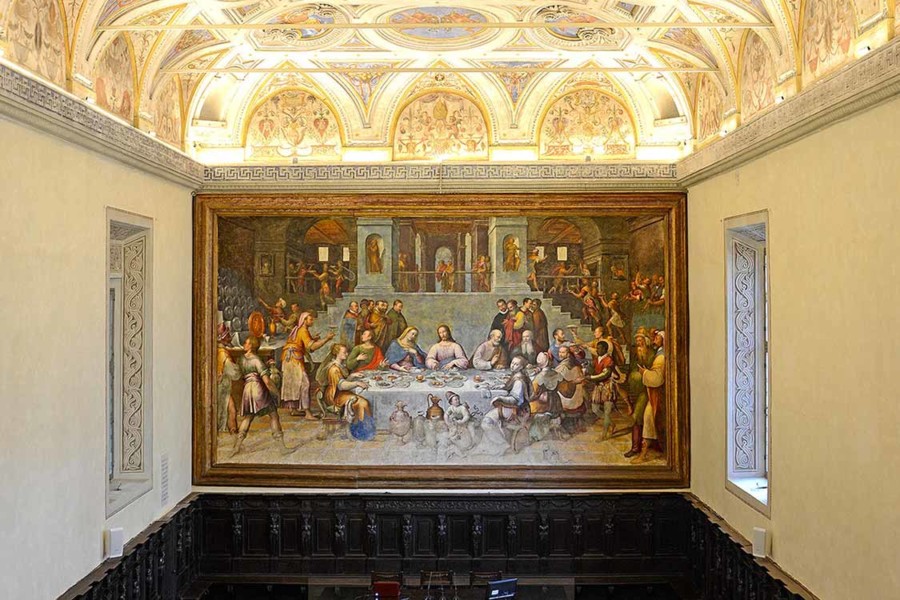 Another monastery, another unique library.

If you're going to Ravenna only for its beach, you'll get disappointed. But if you're looking for art and culture, it's one of the best day trips you can take from Bologna.

Monks spent about 300 years to built Biblioteca Classense.
Aula Magna, decorated with statues, frescoes and finely carved wooden shelves, is its jewel. Then visit the large refectory, the ancient sacristy (Sala Muratori) and the monumental cloisters.

The real gem?
​Raccolta Dantesca, the most complete collection of Dante's works bought from the German bookshop Olschki.

Info
Via Alfredo Baccarini, 3, 48121 Ravenna RA
Tel. +39 0544 482112
www.classense.ra.it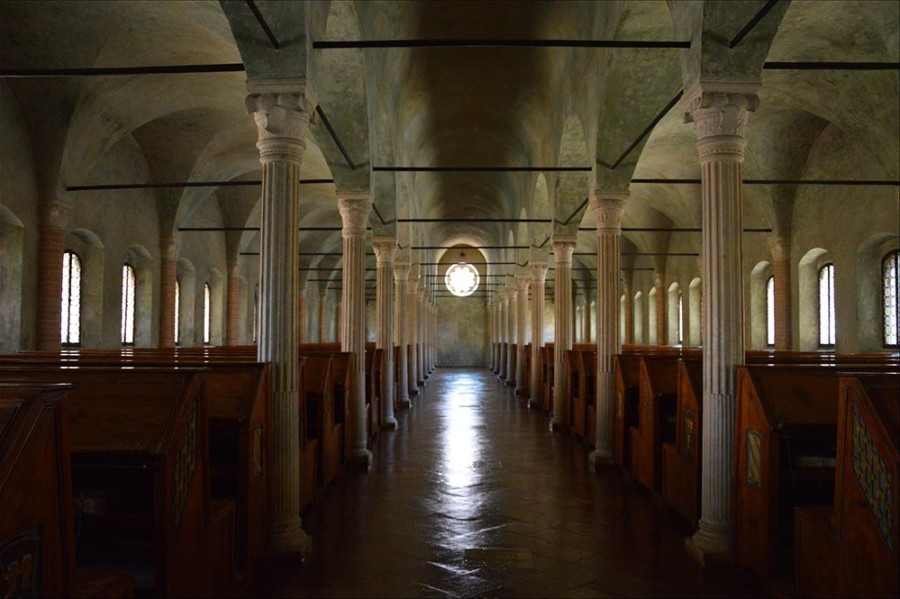 "Indian elephant don't fear mosquito"

It's written above the wooden gate of Biblioteca Malatestiana.
I can't speak for the big mammal with the trunk, but I'm sure that this incredible library isn't afraid of time.

It's the first Italian civil library and the building, the books and the furniture are in perfect shape.
Credits to the architect Matteo Nuti, able to create an environment with a natural air recycle to preserve the books.
For this reason, only small groups with guided tours can enter and for a short time.

​If you have to choose only one library from this list, this is the one.

Info
Piazza Maurizio Bufalini, 1, 47521 Cesena FC
Tel. +39 0547 610892
www.comune.cesena.fc.it/malatestiana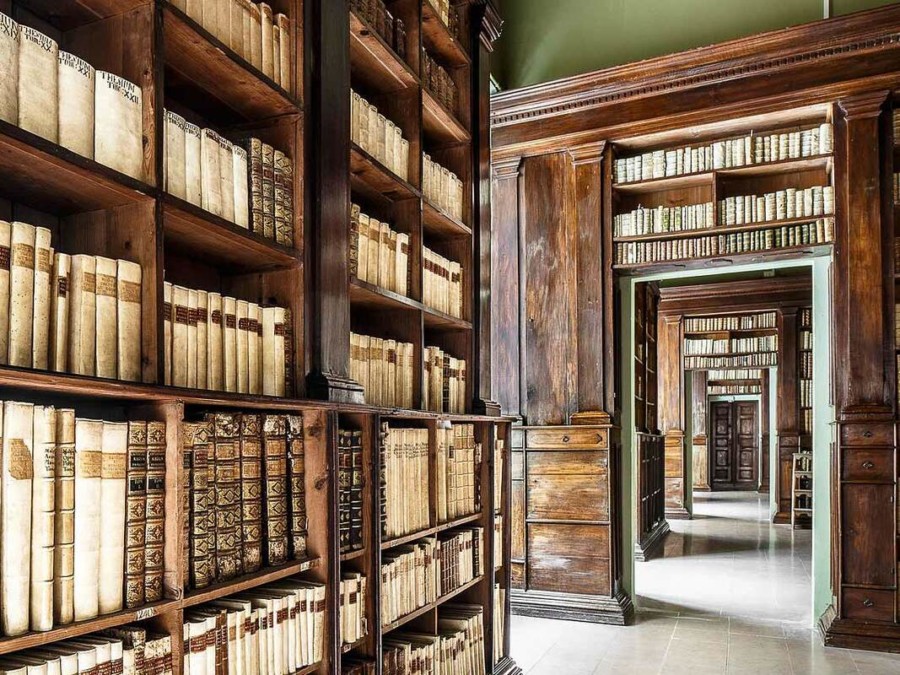 The name of Alessandro Gambalunga won't tell you much.

Humble origins, law degree, married to a noble lady.
He gave to Rimini his family palace with a collection of Latin and Greek classic books.
But his legacy to Rimini goes beyond that.
At his death in 1619, he donated the full library to the city and left money for the improvement, binding and restoring of books and for the librarian wage.
​After 400 years the library still stands there in the center of Rimini with more than 300.000 books. Only waiting for curious readers to look for them.
Info
Via Alessandro Gambalunga, 27, 47921 Rimini
Tel. +39 0541 704486
www.bibliotecagambalunga.it
These are the libraries to put on your travel list. But every small city in Emilia Romagna has a hidden library. Now it's your time to look for it.
[photo credits: Lorenzo Burlando, Davide Alberani, Ivan Ciappelloni]
---
---
---
Comments