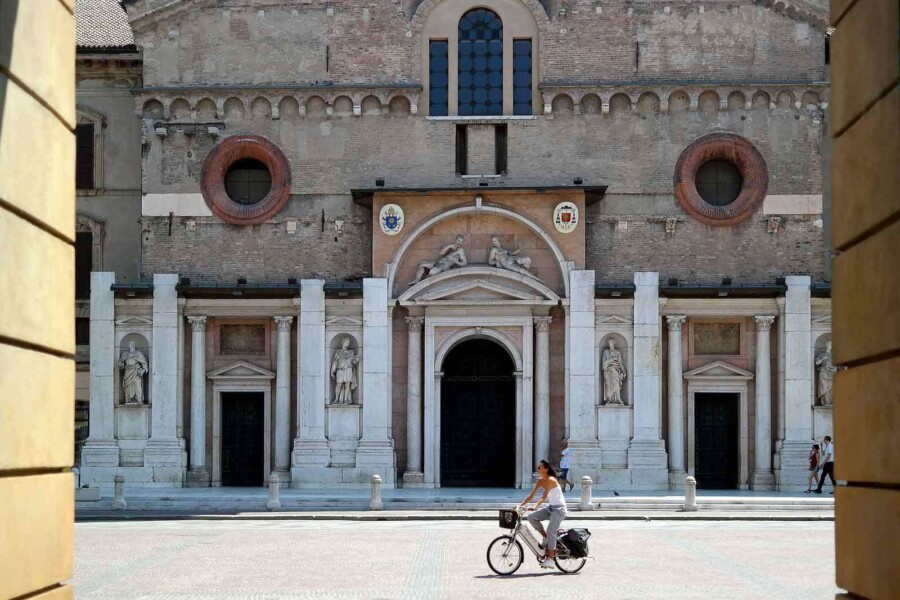 I guess Reggio Emilia isn't on your travel list yet.
This city between Modena and Parma is still a hidden destination outside the tourist's routes.
Read to change your mind, plan your visit and find the best food you can't miss.
What to visit in Reggio Emilia
With only a 40 minutes train, Reggio Emilia is your perfect day trip from Bologna.
But don't expect to visit Reggio in a few hours, maybe after our Parma food tour.
You need to take it slow, because there are so many interesting places to visit. Take a look below.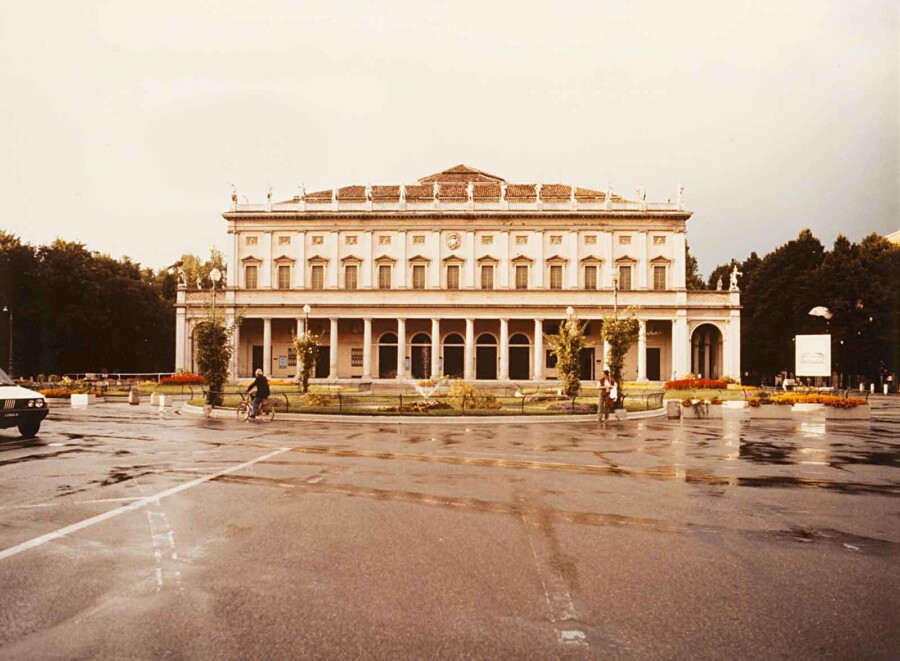 Teatro Valli
If you love theatres Reggio Emilia is your city.
3 theatres frame one of the town's squares.
Teatro Valli is the main one, a classic example of an Italian opera house.
Teatro Ariosto is a politeama, a theatre that used to serve both prose and equestrian companies.
Teatro Cavallerizza is the smallest, the most recent and the most innovative. It's located in a former horse stable used until WW2, then converted into a theatre in 1986.
Info
Teatro Valli
Piazza Martiri del 7 Luglio, 1, 42121 Reggio Emilia
Tel. +39 0522 458811
iteatri.re.it
Teatro Ariosto
Corso Benedetto Cairoli, 1, 42121 Reggio Emilia
Tel. +39 0522 458811
Teatro Cavallerizza
Viale Antonio Allegri, 8/a, 42121 Reggio Emilia
Tel. +39 0522 458811
Musei Civici di Reggio Emilia
Don't expect one of those boring museums where you just take a look and then fly out.
The recently renovated Musei Civici di Reggio Emilia looks like a wunderkammer designed by Wes Anderson.
Start your visit from the ground floor.
There you find the stunning collection by Lazzaro Spallanzani, made up of animals and fish, minerals and plants, arranged on the ground or hung from light threads.
On the first floor, you can walk through the evolutionary stages of Reggio Emilia.
From the Etruscan and Roman finds to the photos of Luigi Ghirri, the music covers of CCCP, the fashion of the Estensi family and Max Mara.
An astonishing trip for a museum not to miss.
Info
Via Lazzaro Spallanzani, 1, 42121 Reggio Emilia
Tel. + 39 0522 456816
musei.re.it
Free entrance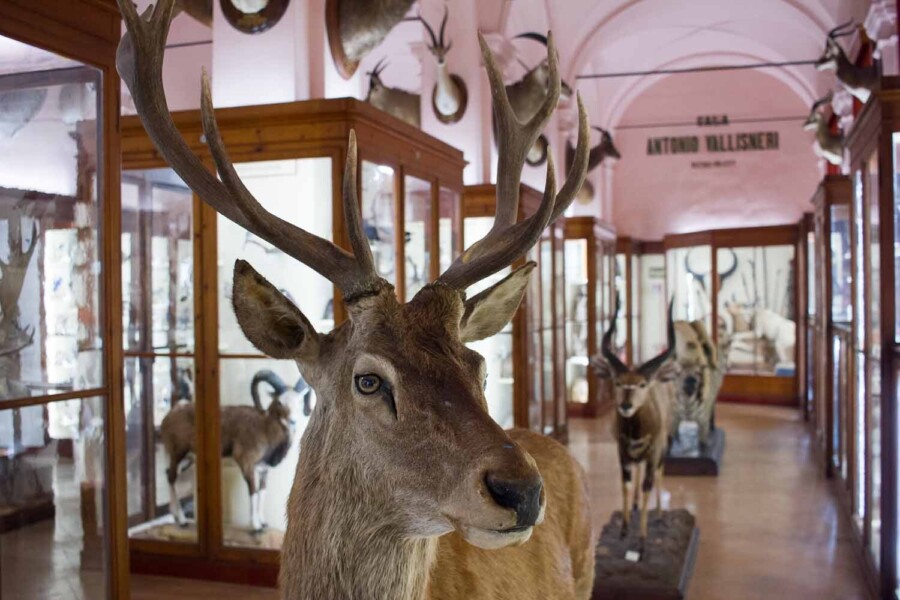 Piazza Prampolini
It's the central, largest and most important square in Reggio Emilia.
Back in time and still today, Piazza Prampolini gather the 3 stronger powers of the city.
The Municipality is the administrative power. Inside you can visit the
Sala del Tricolore
, where you can admire the first Italian flag.
The Romanesque
Cathedral
and the Baptistery are the symbols of religious power.
The former pawnbroker and the banks in modern times represent economic power.
Cross the vaulted passage called Vicolo Broletto to arrive in
Piazza San Prospero
. Another little gem with its church and tower with red marble lions on its base.
Collezione Maramotti
Get bus #2 to meet Basquiat, Bacon and Fontana inside Collezione Maramotti.
This modern art private collection opened in 2007, inside the former headquarter of fashion company Max Mara.
The collection hosts a permanent collection of over 200 artworks as well as seasonal exhibitions.
So if you love art and photography Reggio Emilia is definitely your place.
But what about food?
Info
Via Fratelli Cervi, 66, 42124 Reggio Emilia RE
Tel. +39 0522382484
collezionemaramotti.org
Free entrance
Chiostri di San Pietro
An ancient monastery that was used over the centuries as a military warehouse, then as a Court of Justice and as a boarding school for girls.
This is the dusty past of Chiostri di San Pietro.
The present is full of art, food, work and innovation.
A space open everyday where you can see
exhibitions
, like local designer
Olimpia Zagnoli
or
Fotografia Europea Festival
. But it's also a space for coworking, a lab for start-ups to grow, and a bar to enjoy a cappuccino with
erbazzone
.
In a few words, a place you have to visit.
Info
Via Emilia San Pietro, 44c, 42121 Reggio Emilia
Tel. +39 0522 456233
chiostrisanpietro.it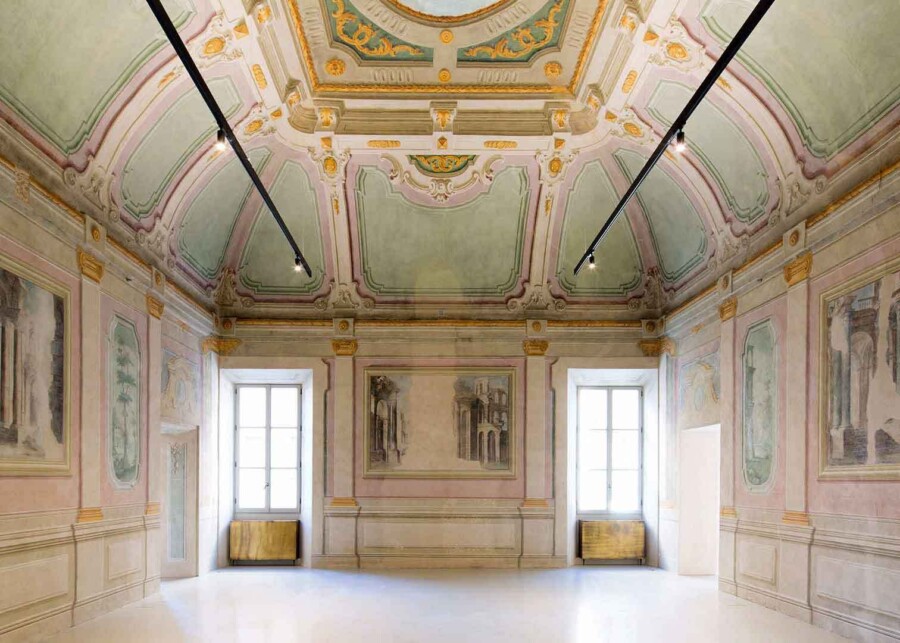 What to eat in Reggio Emilia
Erbazzone
Erbazzone, a thin pastry filled with cooked green leaves seasoned with herbs. Perfect with a cappuccino for breakfast or at any time. It's always delicious.

Gnocco Fritto
This kind of fried dumpling is another must-have. You won't find many differences from the one Phil Rosenthal had during our food tour in Modena. But it's good to make comparisons!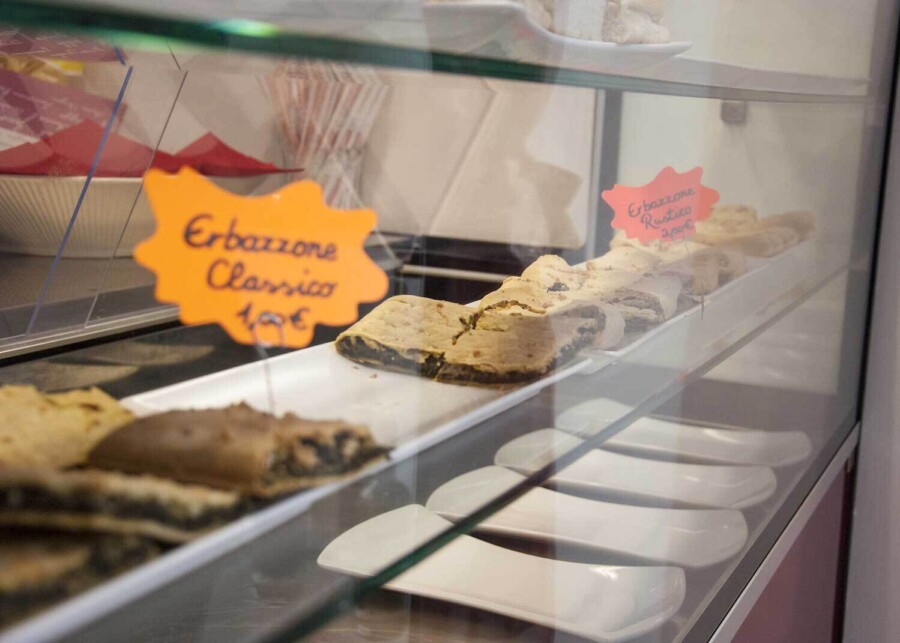 Aceto Balsamico Tradizionale di Reggio Emilia
Another symmetry with Modena.
Even Reggio Emilia makes its own aceto balsamico.
The rules to produce it are similar, like the ageing time. But like almost every food in Italy, the differences with Balsamic of Modena are many.
The only escape is to enjoy them both on a bite of an old Parmigiano Reggiano :)
Pasta
In Reggio Emilia you can choose between cappelletti, tortelli verdi or even tortelli di zucca, filled with pumpkin, Parmigiano Reggiano and crushed amaretti biscuits.

You can have all of them at the classic Ristorante Canossa.

Desserts
Speaking of desserts, you have to meet Romualdo Nazzani.

This master pastry chef opened a cake shop bearing his name in the mid 19th century.
There he created the Bomba di Canossa, a soft gelato cake, and the biscione (the snake), a Christmas cake with an almond paste base with a meringue topping and candied peel.
You can still have them inside the original liberty bar of Hotel Posta.
---
---