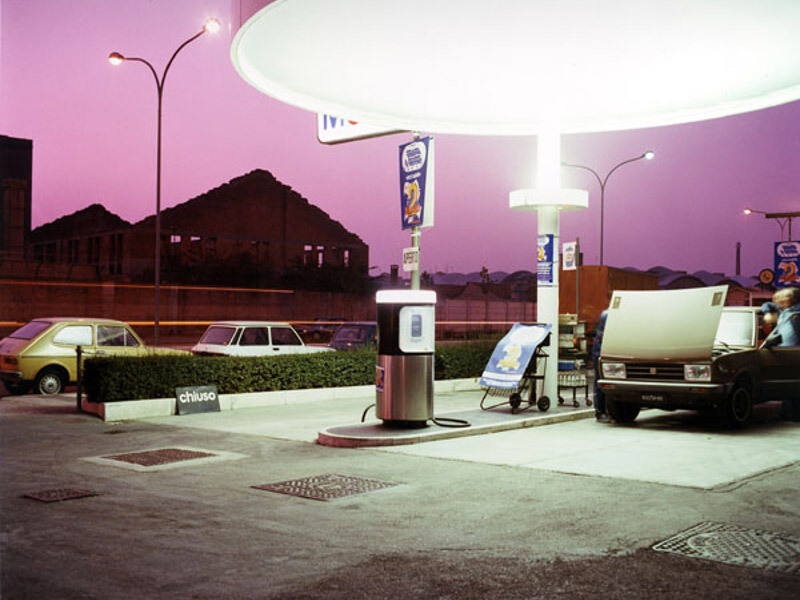 Luigi Ghirri left a deep mark in Italian photography.
By laying his look on daily life, he showed that you don't need to get a plane to India to shot poetic photos.
This is how he observed Bologna through his lens.
Luigi Ghirri: not just another Italian photographer
Perhaps no Italian photographer of the 20th century was more influential, says The New York Times.
He was a master of wit and inventiveness for The Guardian.

For The Economist, he's the grandfather of contemporary Italian photography.

Luigi Ghirri (1943 – 1992) is one of the most important Italian photographers.
You could've seen his works in the best museums around the globe like Reina Sofia in Madrid, Jeu de Paume in Paris or MAXXI in Rome.
He spent his childhood in the countryside near Modena, immersed in nature.
His first photo is a view of Pontevecchio in Firenze, shot during a school trip. That's probably the only black and white photo of Ghirri you'll ever see.
But it's from 1970 that Ghirri starts to explore photography in a new, original way.
The poetry of Ghirri's photography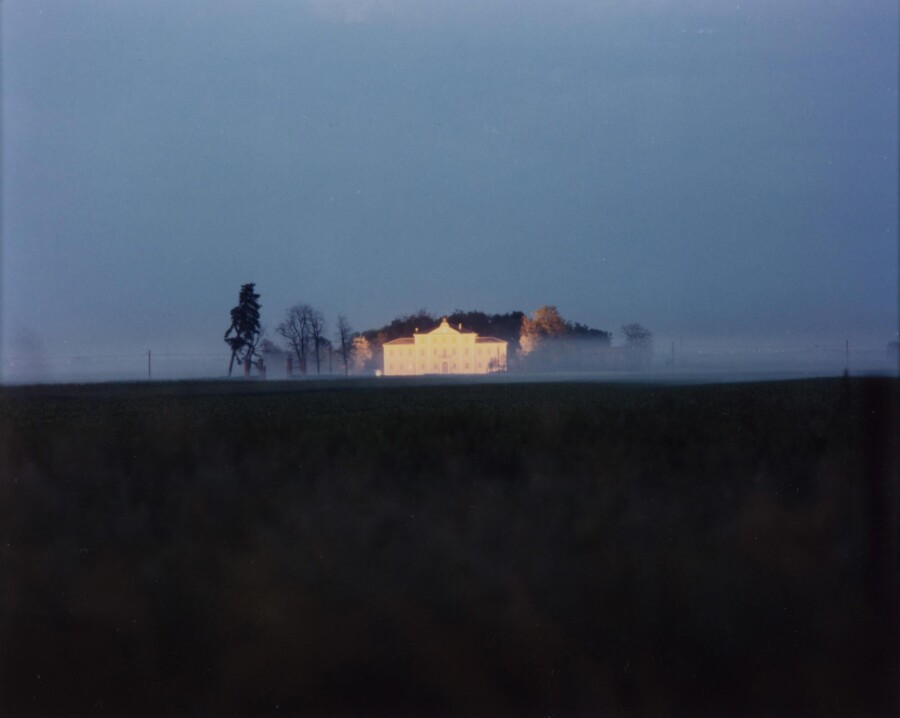 Taking pictures, to me, is like looking at the world in a state of adolescence, renewing my stupor on a daily basis
It's 1968 when astronaut William Anders from the Apollo 8 shuttle shot Earthrise.
The view of the whole planet Earth was a spark in Ghirri's mind.
From that time he started his relentless photographic journey.
Ghirri's idea of photography is to create series or groups of images. It could be posters, signs, shop windows, trees, fragments, portions of the sky or an atlas.
Perhaps places, objects and things met by chance just simply wait for someone to look at them, to recognize and not despise them, casting them to the back of the shelves in a never ending earthly supermarket
Ghirri started to photograph the daily life, elevating it to art.

He shot the thermal baths in Emilia Romagna, the libraries, the funfairs.
He collaborated with architects Aldo Rossi, to photograph his Modena cemetery, and Carlo Scarpa.

He built his own style and language, aside from reportage or art photography.
Luigi Ghirri in Bologna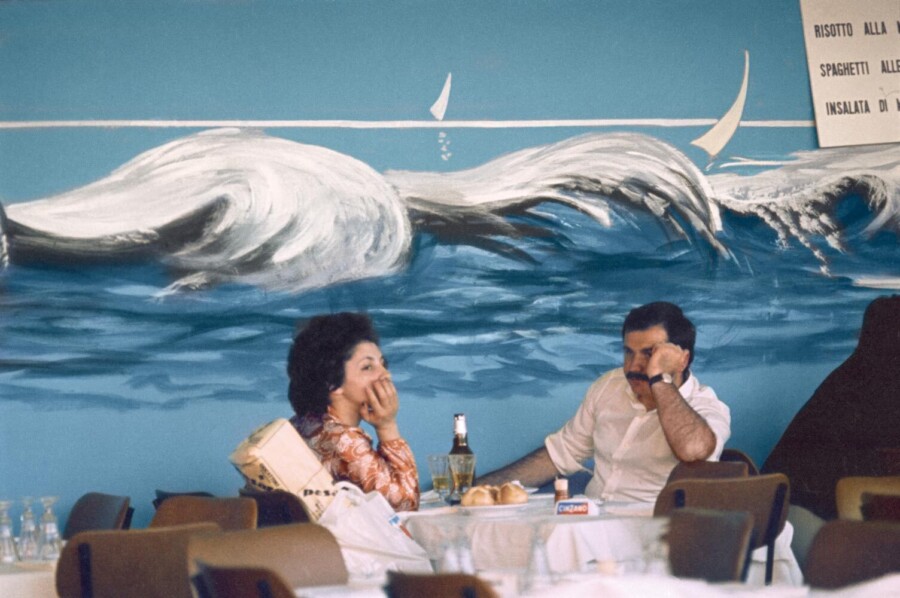 Ghirri's interest was away from the main streets.

So if you look for his photos of Bologna, you won't find what you expect.
No 2 towers, but the sunset of a gas station in Via Staligrando.
No San Petronio but a Villa immersed in the fog.
No tortellini or lasagne, but bored people in a restaurant.
The only sort of reportage about Bologna he made was a project for a Touring Club guide called "Attraverso l'Italia" in 1986.

In that book, you can see his look applied to Bologna daily life, with the portici, the towers, the food markets.

But that wasn't the only time Ghirri and Bologna got in touch.
They found other ways to meet again.
In the house of Neptune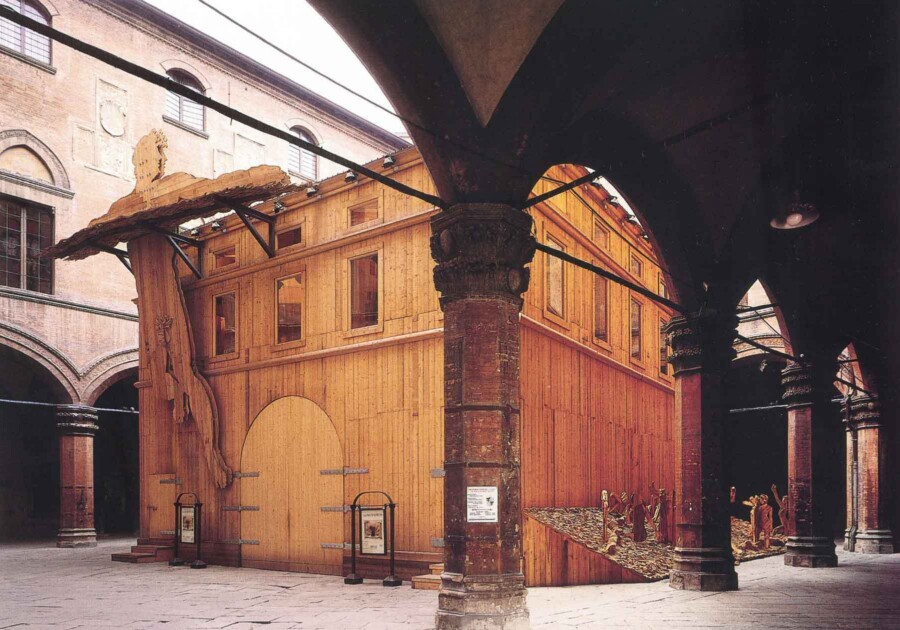 1987.
The Neptune fountain is in a terrible state.
The huge corrosion of the bronze makes the symbol of Bologna in danger and in need of recovery.

But how to keep Neptune away from Bolognesi for months?

The idea is to create a house of Neptune, a wood theatre made by artist Mario Ceroli, open to people who can look at it during maintenance.

Ghirri witnesses this event with his camera. He shoots the angels sitting in the house, the restorators at work, and the house of Neptune under a bright light.

The result of his work ends up in a rare book edited by Electa.

Ghirri and Lucio Dalla: a friendly portrait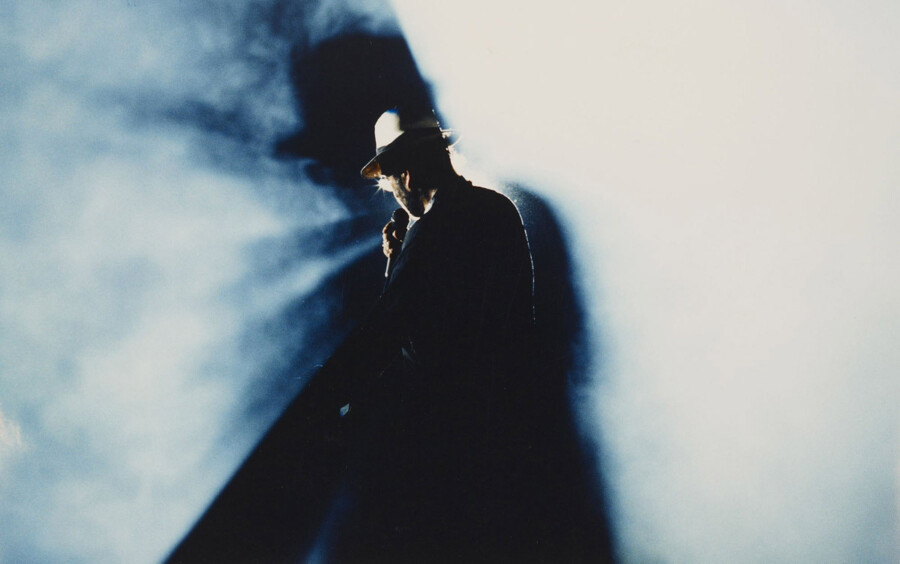 Lucio Dalla is for music what tortellini is for food.
A symbol of Bologna, loved by all generations.
Ghirri has always been a huge music lover, with a collection of more than 4000 vinyl and a crazy passion for Bob Dylan.
Since 1983 Dalla commissioned Ghirri with photographic portraits for his record covers.
It's the beginning of an artistic and human partnership, that will lead the two to share tours and to forge a deep friendship.
Dalla was fascinated by the accessibility of Ghirri's shots:

What remains, and what is striking about your photographs, is that they become a usable product. I feel close to your work because I'm close to the public who listens to me, as you are close to the public who looks at your photographs
Dalla is not the only musician Ghirri collaborated with.

His images appeared on the covers of Italian songwriters like Ron, Pino Daniele, Luca Carboni, Gianni Morandi as well as many classical music records.
One of Ghirri's latest works is the famous album by the Emilian band CCCP "Epica Etica Etnica Pathos".
He shot it at Villa Pirondini, an uninhabited country house near Reggio Emilia.
You can look for one of these vinyl among the vintage markets in Bologna.
Ghirri and Giorgio Morandi: when words are futile devices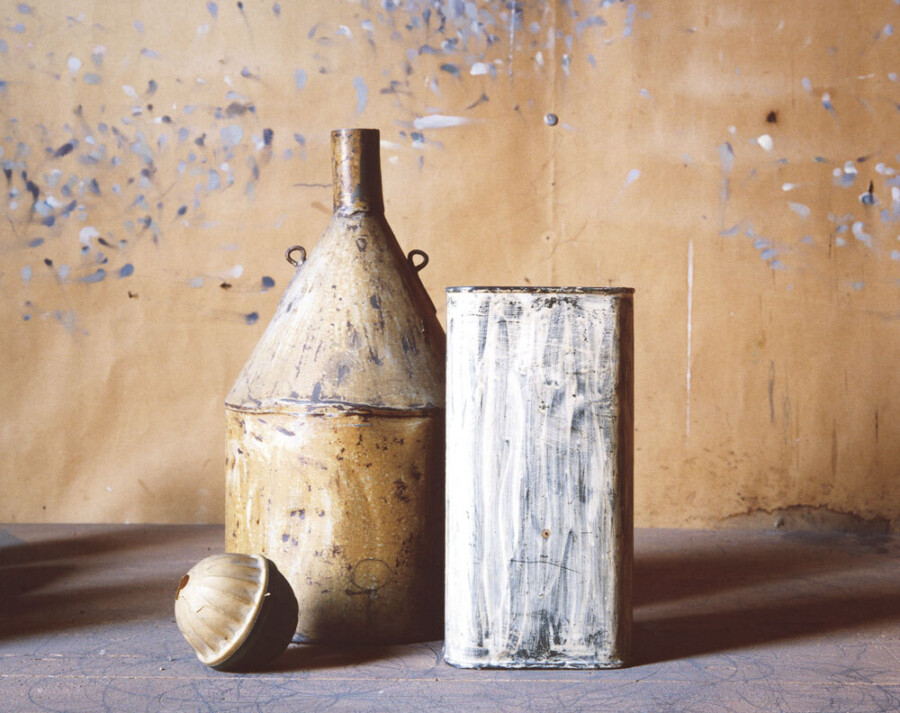 It's shapes, colours, space, light that determine feelings and images. Not the words.
This is how Bolognese painter Giorgio Morandi summarized his art in a rare interview in 1957.
You can describe Ghirri's works using the same words
Ghirri photographed Morandi's house in Grizzana, on the Apennines, and his studio in Via Fondazza, now a museum.
Ghirri shows Morandi's atelier in Via Fondazza as if the painter had just left the house. A warm light on dry leaves, jars, repainted objects, scotch tape, the chair he sat in.
The photos have small imperfections, such as a chair that pops out in a corner. They are deliberate choices, useful for making the shots more human.
"My photography is never an add, but a takeaway. Both from the content of the frame and in the attempt to undress as much as possible to arrive at a form of communication as simple as possible"
You can visit Casa Morandi in Via Fondazza or admire Morandi's still lifes at the permanent collection in MAMBO museum.
Ghirri's inheritance
Ghirri suddenly died on a winter dawn, after his doctor said him he was in perfect shape.
In a time where travel seems a blurry mirage, Ghirri showed fragments of beauty and harmony in small details.
You can find them in your garden or while throwing out the garbage.
Just train your look, open your eyes and mind, and start blowing in the wind.
Photo credits
©Eredi Luigi Ghirri
Sources
Lezioni di fotografia - Luigi Ghirri ,2010
Vista con camera - Luigi Ghirri, 1992
La città di Morandi - Renzo Renzi, 1989
---
---