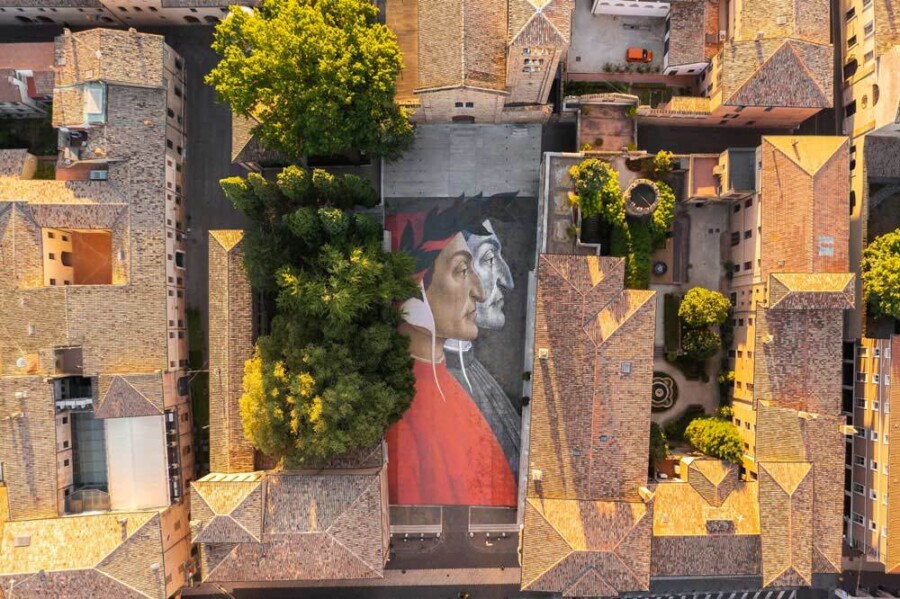 Close your eyes, feel the warmth of the sun, breathe the scent of the pinewood, and a sky full of sparkling stars on your head.
I know if you think of Italy, it's Rome, Florence, and Milan that came to your mind first.
But, trust me, Ravenna is a treat you don't want to miss.
Let me introduce you to the 10 best things to do in Ravenna.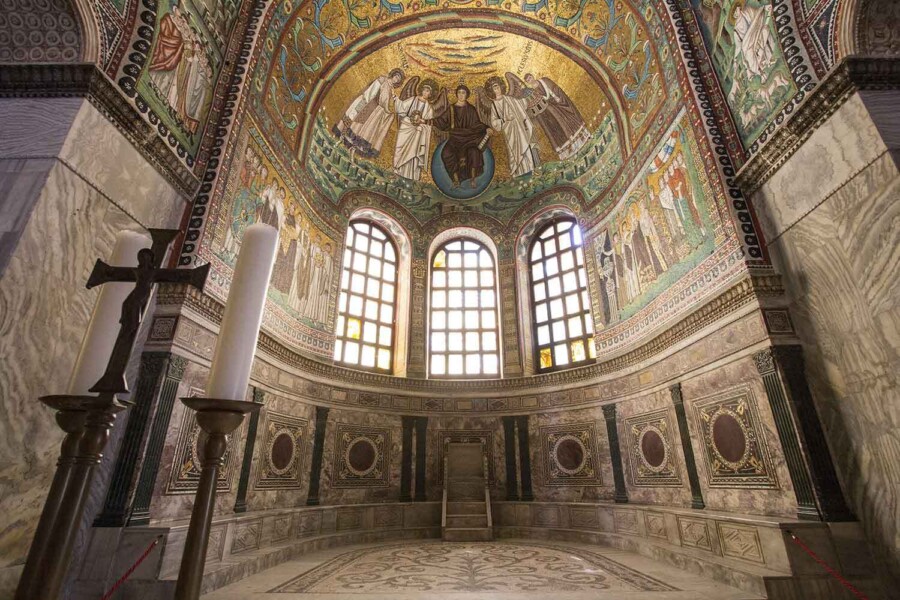 Because of the many influences during the ages, Ravenna hosts amazing historical buildings made of stone and gold.
Need proof, Sherlock?
The city hosts 8 UNESCO heritage sites, nothing less.
So the main reason to jump on a train and visit Ravenna has a name: mosaics.
Small pieces of glittering glass, ceramics and stone that tell stories like an ancient movie and shine like the crown Jewels.
More than decorations, mosaics were the mirror of ancient societies, also a powerful way to spread ideas e values to people who couldn't write.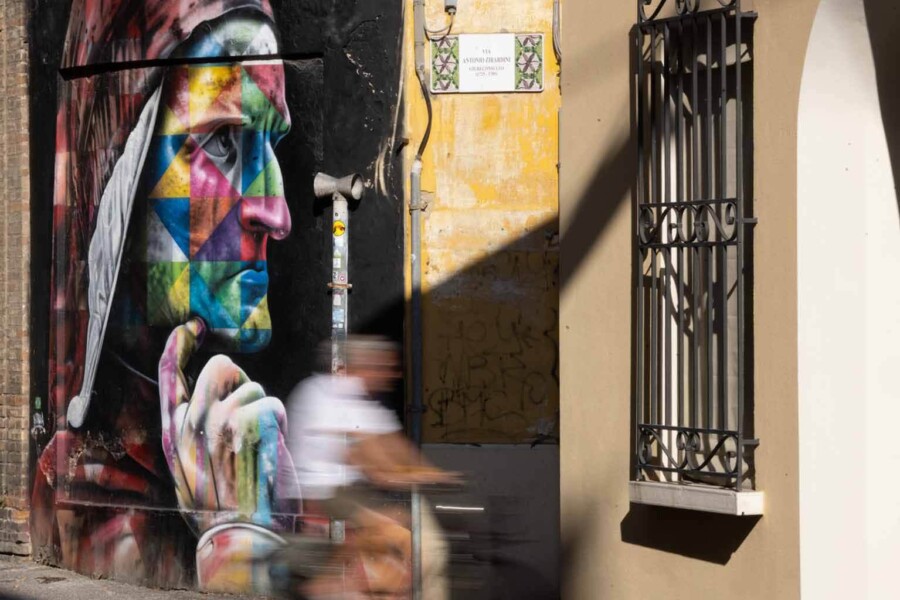 "Midway upon the journey of our life
I found myself within a forest dark
For the straightforward pathway had been lost"
This is the incipit of the Divine Comedy, Dante's masterpiece.
It tells about the journey into hell, purgatory and finally heaven of one of the most famous Italian poets.
In Ravenna there is no dark forest, don't worry, but if you are into literature, is totally worth a visit where the "Sommo" rests.
Dante's Tomb is close to Piazza San Francesco, in a little neoclassic temple, and the poet lies there since 1865.

The fun, maybe not so fun fact is that the body of the poet has been hidden for a long time by Franciscan friars to Florentines, who want him back in their country.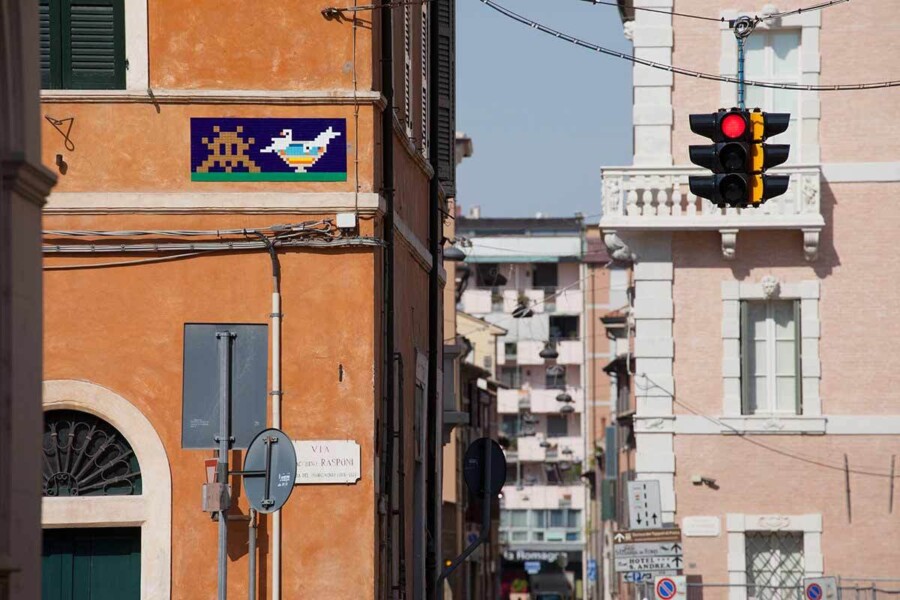 Literally.
By now you have probably understood that Ravenna is a city where you can live every kind of art wherever you are.

Walk around the streets from the Darsena to Rocca Brancaleone to find street art on every corner.
If you are thinking about the scratches left by vandals, forget them. These are real works of art made by important artists including Ericailcane, Bastardilla, Millo and most of all: Invader.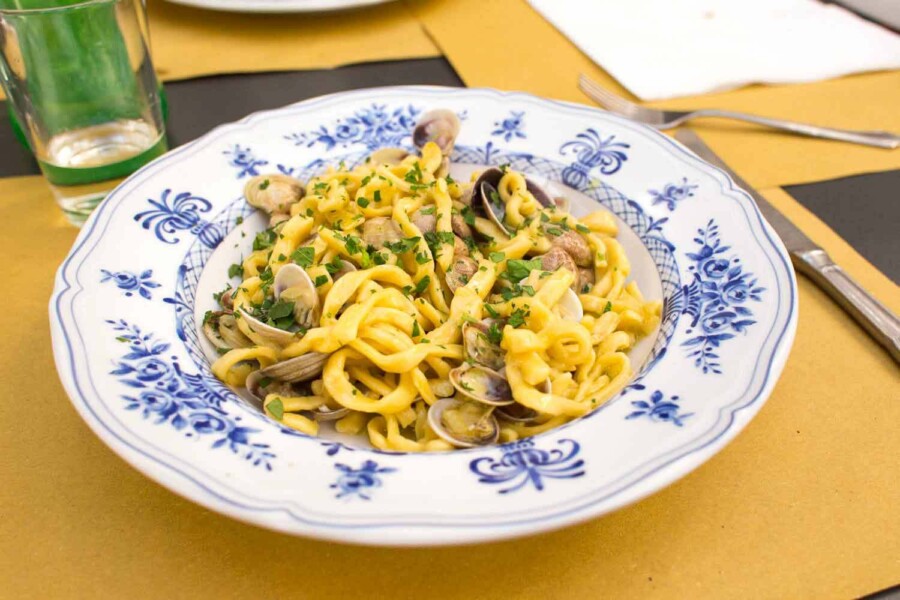 There's one thing you don't ever have to worry about in Italy: food. Every city has its specialities, and it's a kind of moral duty to try it.

From the famous flatbread street food called piadina, to Ravenna's seafood tradition, everything is delicious.
Don't miss the homemade pasta, from tagliatelle to local cappelletti (and please be careful not to confuse it with Tortellino).

If you are mouthwatering, it's ok, it's a natural side effect and if you don't know where to start you can browse my list of the best restaurants in Ravenna.
Or even better you can book a Ravenna food tour to be sure not to lose a bite of goodness ;)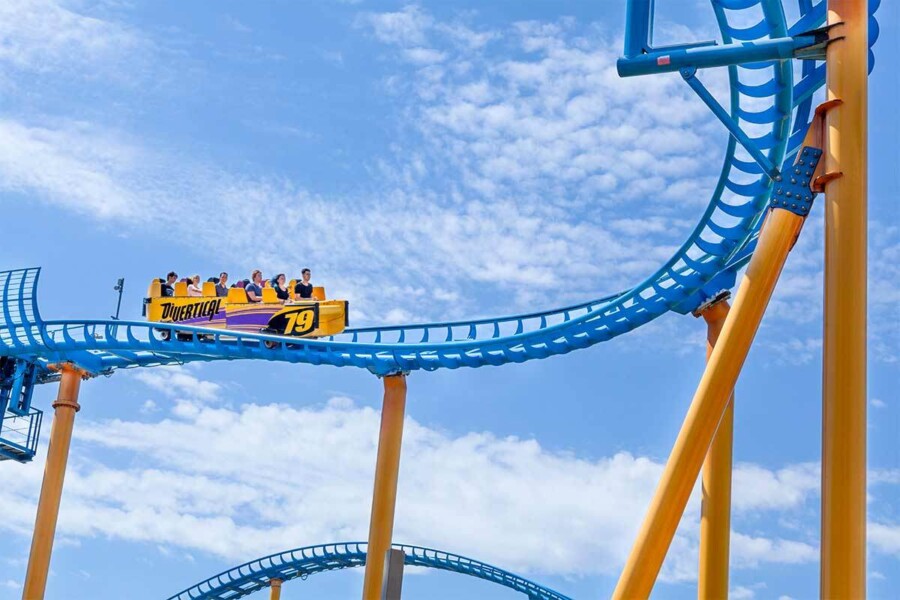 If you travel with kids and teenagers you may want to dedicate some time of the trip just to them.
Here we have a perfect solution to make them happy!
In Ravenna there's a perfect solution to make them happy: Italy's largest amusement park.
At Mirabilandia you can have fun sliding and screaming out loud from roller coasters with no shame at all.

With 850.000 sqm, 6 themed areas, and over 40 attractions it would be a tough run to do it all.
But if you prefer to have a sunbath with a fresh drink in your hand, relax in a pool or lie on the grass: there you can.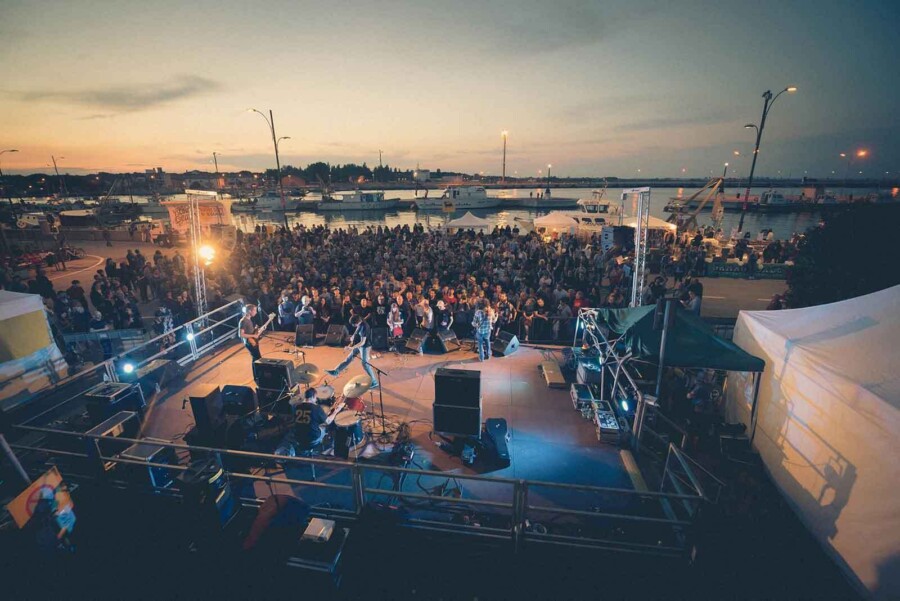 Can you hear this music?
If you are here between June and July, is not unusual to hear melodies through the streets, because in summer Ravenna becomes an open-air theatre.
Expect the unexpected: imagine listening to great music in historical buildings, theatres, public gardens, even in the Unesco sites.
Between Ravenna Festival and Ravenna Jazz, whether you like classic, opera or pop music you'll be fine.
A special mention to Beaches Brews Festival which mixes up the beach with live indie bands from all over the world.

Experience the music with feet sunk in the warm sand, wearing a swimsuit and a fresh craft beer in your hand is something you have to try.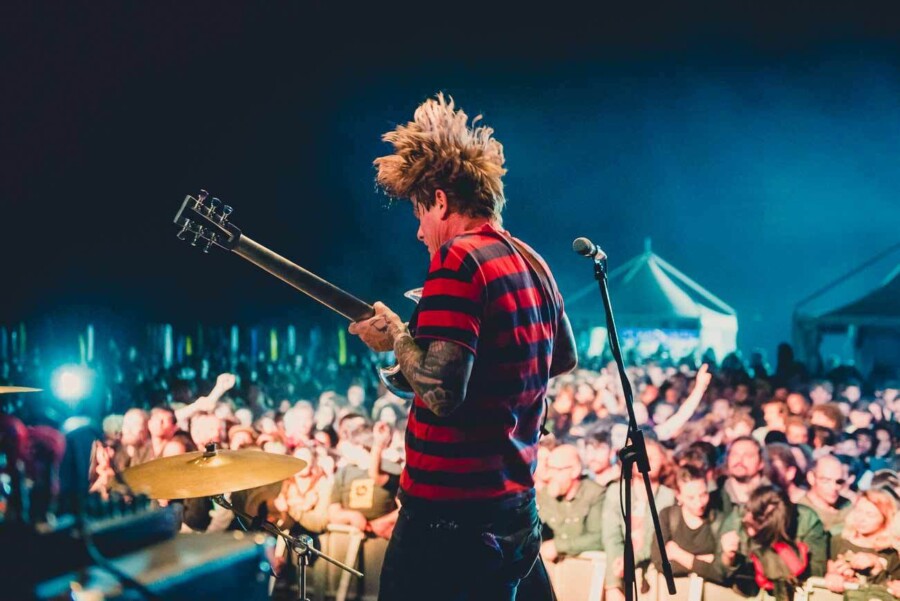 Forgive me for this subtitle, but since we were talking about music Ricky Martin pop up in my thoughts.
Ravenna by night is for everyone.
If you aren't a fan of crazy wild nightlife, the city centre would be more than happy to offer a wide choice of entertainment:
In summer shops stay open 'till 11 pm
In case you hadn't enough mosaics, you can admire them at night from a different and suggestive point of view.
Plenty of pubs and Italian bars, where you can grab a gelato or a soft drink to restore from the summer hit.
But.
If you feel the rhythm of Ricky run through your veins… Marina di Ravenna is the place for you with the beach bar, the lounge bar and the DJ set right on the shores.
So close that the sound of music melts up with the waves of the sea.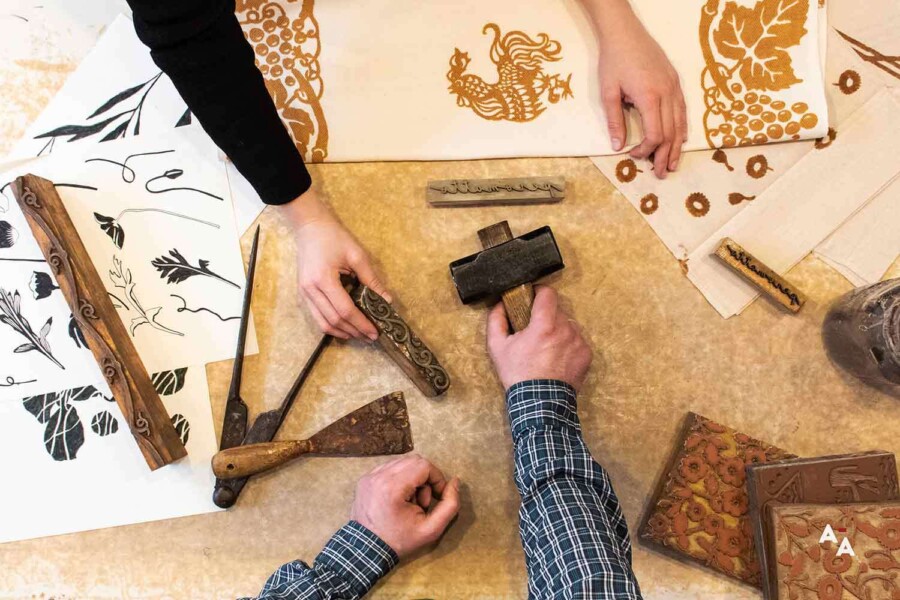 Mosaics, we were saying.
Well, if the visit makes your heart desire to become an artist yourself, here is great news: you can.
At Koko Mosaico you can join a 4 hours workshop to create your own mosaic to bring home with you.
Too tough? You're on holiday after all.
Then at Annafietta you can get Anna Finelli's mosaic creations art to expose in your home.

But Mosaics can be worn too.
Barbara Liverani herself is a polymeric artist who creates fine jewels with mosaics technique.
Not enough?
Ok, then you really should come home with a hand-printed Romagna style tablecloth or towel. Your mum will thank you, I'm sure.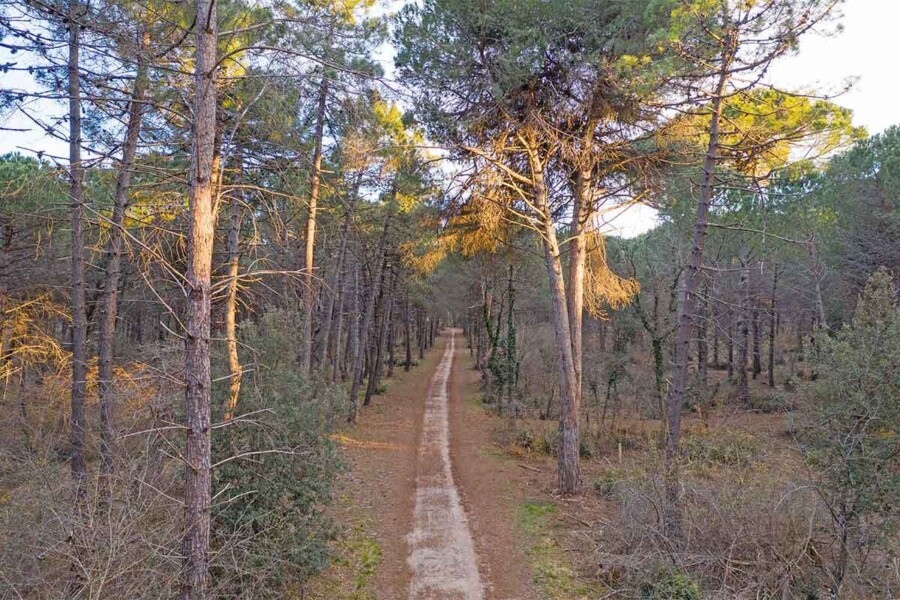 If you love nature, Ravenna might be your happy place.
There is so much variety of landscape that you may even wonder if you are still in the same place.
There is more than 30 km of beaches with services and facilities, sandy shores and not deep water, where kids can swim safely.
Between the beach and the city, there is another beautiful environment: pinewoods.
To be more specific the San Vitale Pinewood and the ancient Pinewood di Classe, are forests of green scented pine where you can take a walk or ride a bike or why not, with a horse.
Also, the city in origin was surrounded by water and what remains nowadays is a spectacular wetland maid by the mirror of water, where you can go for some birdwatching.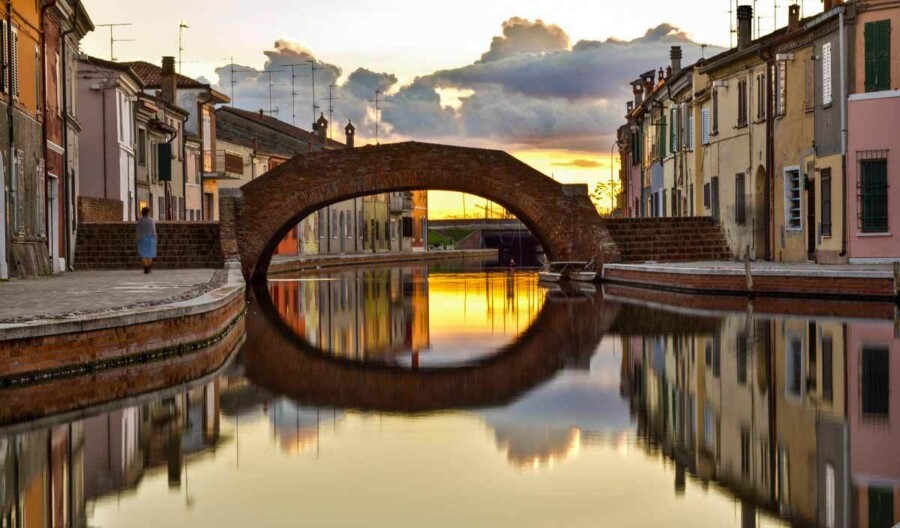 Just kidding, I haven't lost my mind.
Venice is in another region, but not too far from Ravenna, you can visit Comacchio.
A charming little city surrounded by water where to enjoy a little cruise on the Delta of the Po River, eat Anguilla (a fish that looks like a snake and tastes really good) and go to say "Hi!" to the pink flamingos.

Ok now that I've told you what to do in Ravenna for about a week, you can save time and effort and join us in a deep jump into food and mosaics.
During our Ravenna food and mosaics tour, we'll admire the tiny details in mosaics, chill in an ancient osteria with frescos and old men drinking Sangiovese and dig your fork deep into Ravenna's seafood tradition.
Max 8 people per group, come with us?
Photo courtesy of Ravenna Tourism, Francesca Sara Cauli
---
---