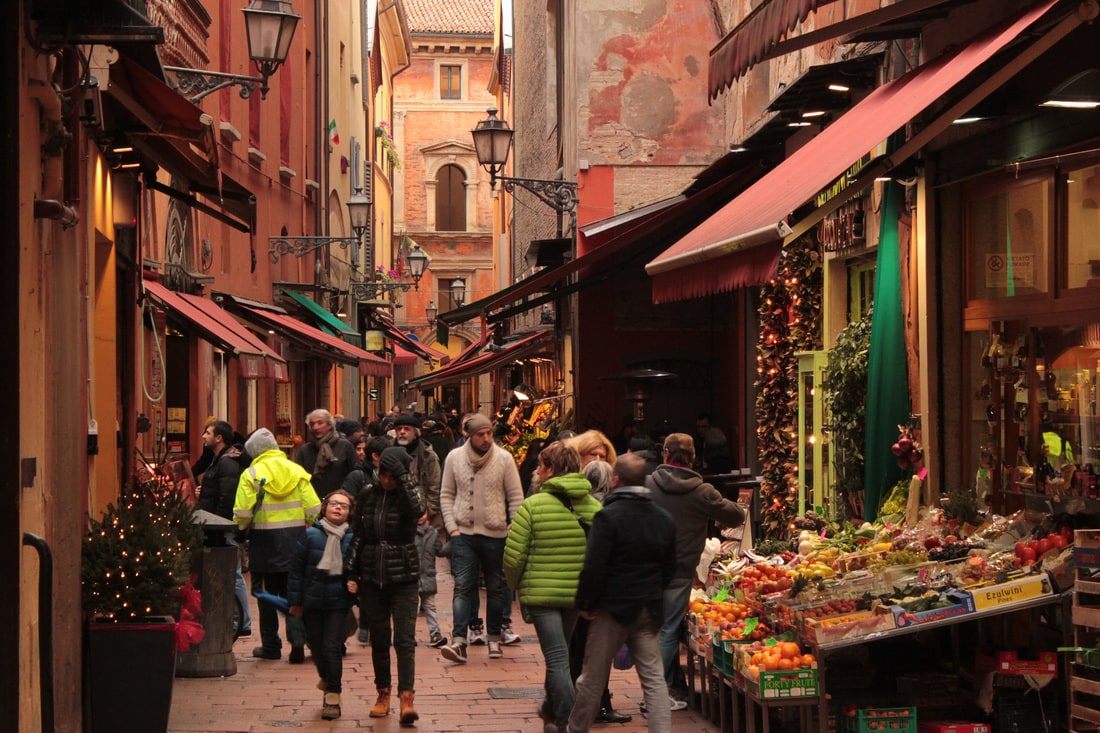 When I travel in a new country or in a city that I visit for the first time, one of the first things I look for are
markets.
I think that walking inside a local food market, like Boqueria in Barcelona or Fatih
Çarşamba
in Istanbul, talking with the shop owners and eating some food directly from the stalls, is one of the best way to find out the real food of that city.
That's why I decided to give some advices about my favorite food markets in Bologna.
Mercato di Mezzo
It's the oldest and the most fascinating market of Bologna and where most part of my
food tours
usually takes place. It takes place every day except Sunday, when most of the shops are closed, in the so called
Quadrilatero,
the medieval area just next Piazza Maggiore. Every streets took its name from the old corporations that were there in the past, like gold producers, drapes artisans, etc. It's the
most turistic
market of the town so the prices are a bit high bit if you know where to look, you can find the best food excellences of Bologna and not only.
What to buy
Fresh fish from Adriatico sea at Pescheria Brunelli; knives and chef tools at Antica Aguzzeria del Cavallo
Where to eat
Have breakfast at Centrale del Gusto by Gino Fabbri with a coffee and a slice of bolognese
rice cake
or drink a glass of Pignoletto wine with your own food at Osteria del Sole
When to go
On weekdays morning, when the stands open, to smell and feel the real soul of this market
Info
Address: The area between Via Rizzoli, Piazza Maggiore, Piazza della Mercanzia and Piazza Galvani
Opening Time: Depending on the shops, usually from 8:30am to 7:30pm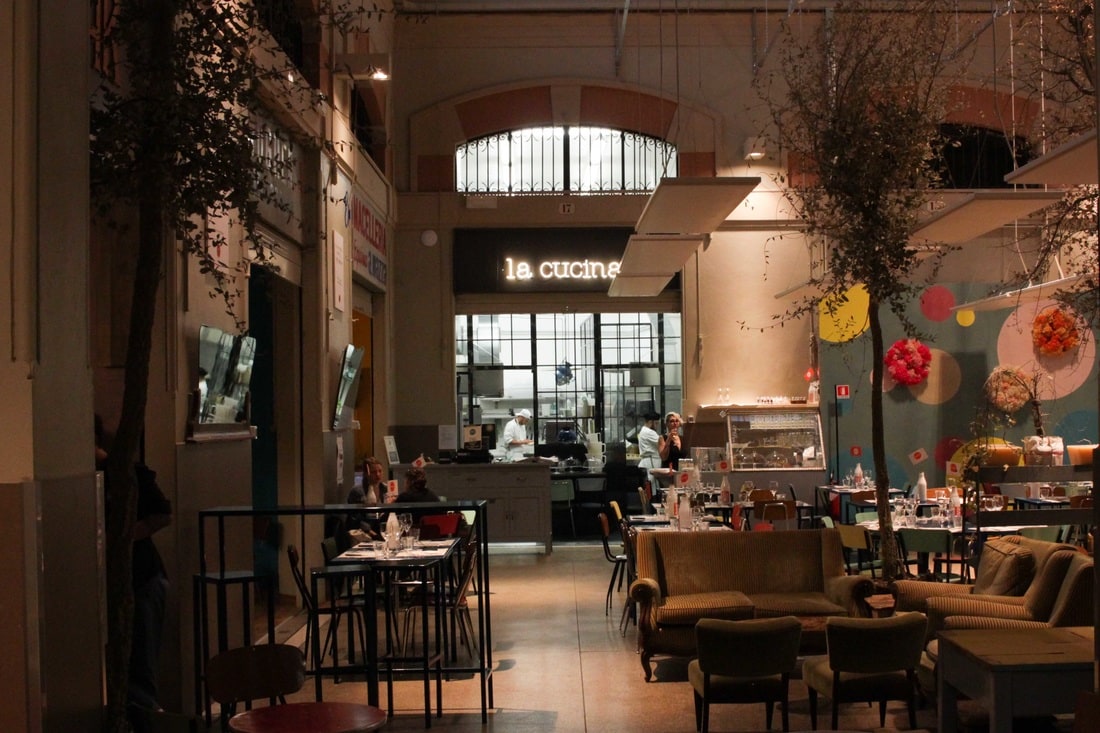 Mercato delle Erbe
Still inside the city centre but a lot less touristic than Mercato di Mezzo, this market is set inside the former San Gervasio barracks that was converted in a market in 1910.
The
structure
is amazing: made of glass and iron, with a high roof and full of stalls and shops in every corner. Mercato delle Erbe was recently renewed: the two outer wings were transformed in open places to with restaurants, bakeries, wine shops etc and became one of my favourite places to spend an evening with friends in town.
What to buy
Burrata and pecorino cheese at Formaggeria Barbieri 1968, horse meat at Macelleria Equina or dim sum at Maichan (yes, it's chinese food, but prepared
al mattarello
by original bolognese pasta artisans)
Where to eat
At Banco 32, one of the
best place to eat fish in Bologna
, you can find some fresh fish dishes that change daily
When to go
At aperitivo time (from 6pm) for a glass of wine and a slice of pizza at "
Altro?
" or in the morning to go shopping with locals
Info
Address: Via Ugo Bassi, 23-25, Bologna
Opening Time:
Monday - Friday 7am - 1:15pm and 5:30pm - 7:30pm Saturday and Thursday 7am - 1:15pm but Altro is open every night but on Sunday until 12pm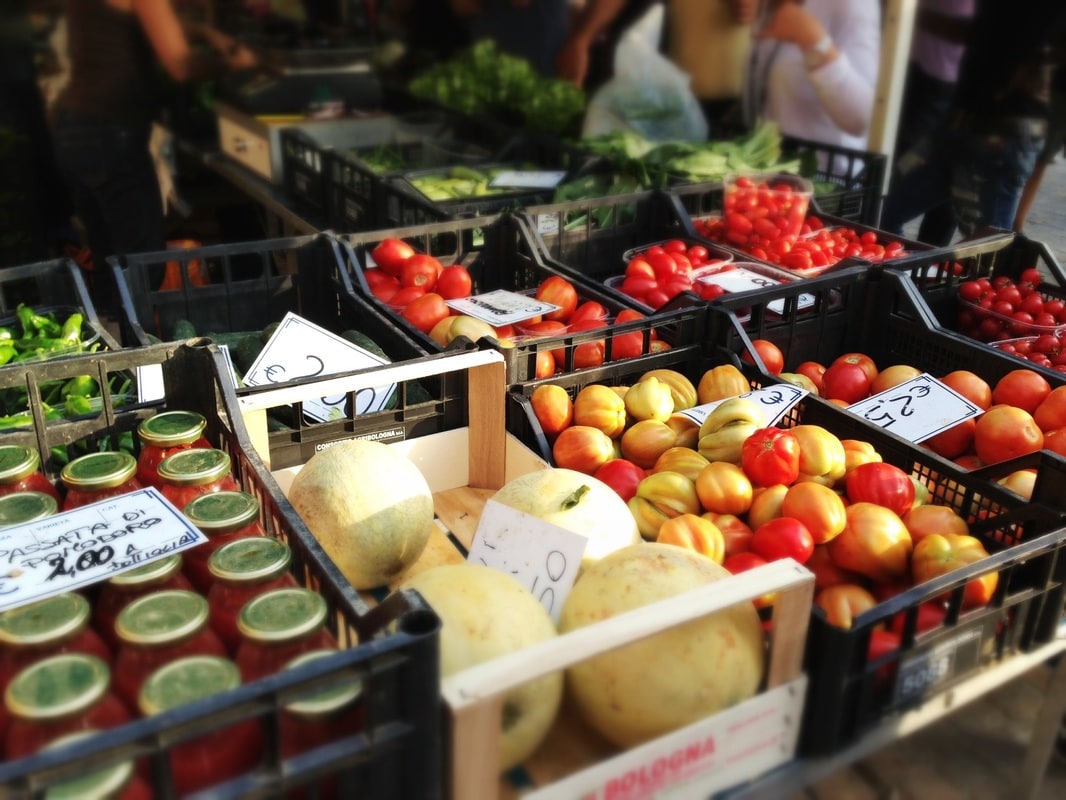 Mercato Ritrovato
This open air farmers market, occurring in the yard of Cineteca di Bologna, is a good way to discover the different productions of Bologna countryside. You can find there some of so called
presidi:
all
local products
, like Mora Romagnola pork or Razza Bianca Modenese cow, about to disappear that some small producers still keep alive. It's a nice place to for a lunch, tasting different foods from all the stalls.
What to buy
Cheeses and butter of White Modenese cow, seasonal fruits and vegetables, wholewheat bread from Forno Calzolari
Where to eat
Try tigelle with Mora Romagnola cured meat or
pesto modenese
or buy roasted and fried fish at
Pescevia
When to go
On a fresh Thursday evening in spring to have a craft beer and eat outside in the garden of Cavaticcio park
Info
Address:
Piazzetta Pier Paolo Pasolini, 40122 Bologna
Opening time: Every Saturday 9am - 2pm (in winter) and every Monday evening 5:30pm - 9:30pm (in summer)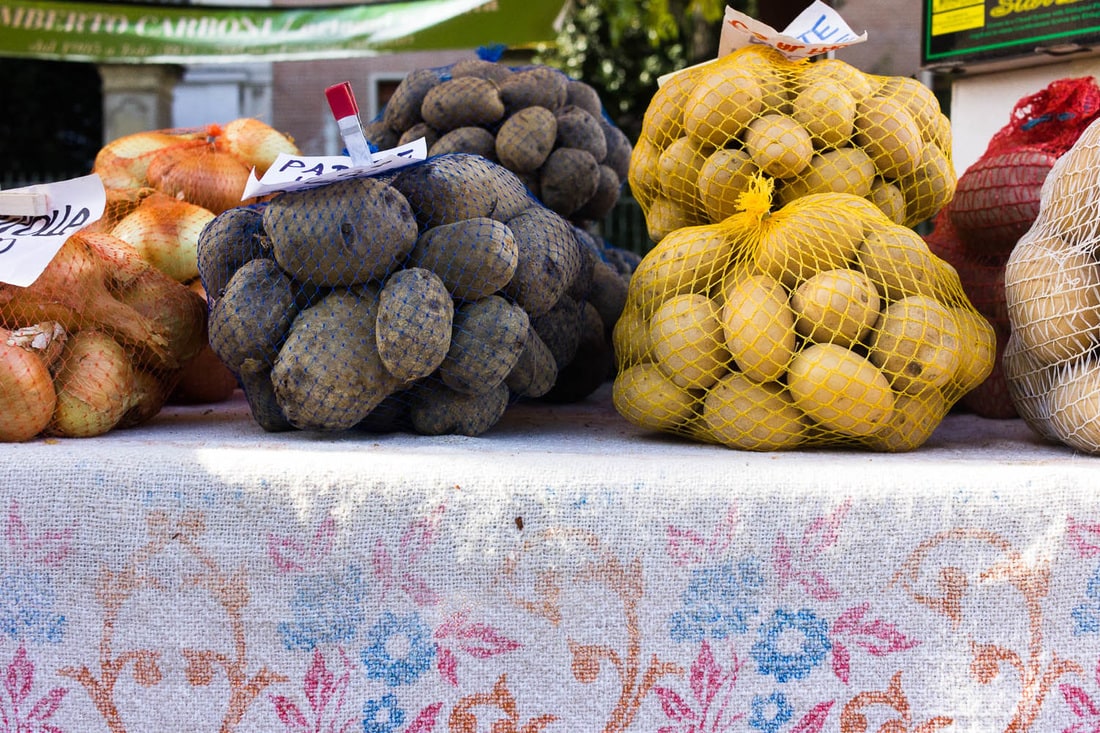 Mercato del Novale di Piazza Carducci
Even if it's set in the beautiful location of Piazza Carducci, at the end of Via Santo Stefano, this is a real and not fancy farmers market to find amazing local quality products with cheap prices.
What to buy
Depending on the season you can find porcini or galletti mushrooms and chestnut in October, fresh cheeses like the local "Caciotta di Castel San Pietro", Pignoletto wine for 2,5€ a bottle, organic meat, local ginger (yes, i was surprised too) or tigelle bread.
Where to eat
When I'm writing this post this is still a small market, perfect for buying some foods and cook at home. You can find some pizza or focaccia at the bakery stall but don't expect tables or chairs, just a few benches to rest.
When to go
It takes place only on Sunday morning. If you're looking for something rare go there before 10am. A lot of times I arrived and the fresh porcini were gone. Shame on my Sunday laziness.

Info
Address:
Piazza Carducci, 40125 Bologna
Opening time: Every Sunday 8:30am - 1:30pm
[photos: Gabriele Tudico, Federico Fetto]
---