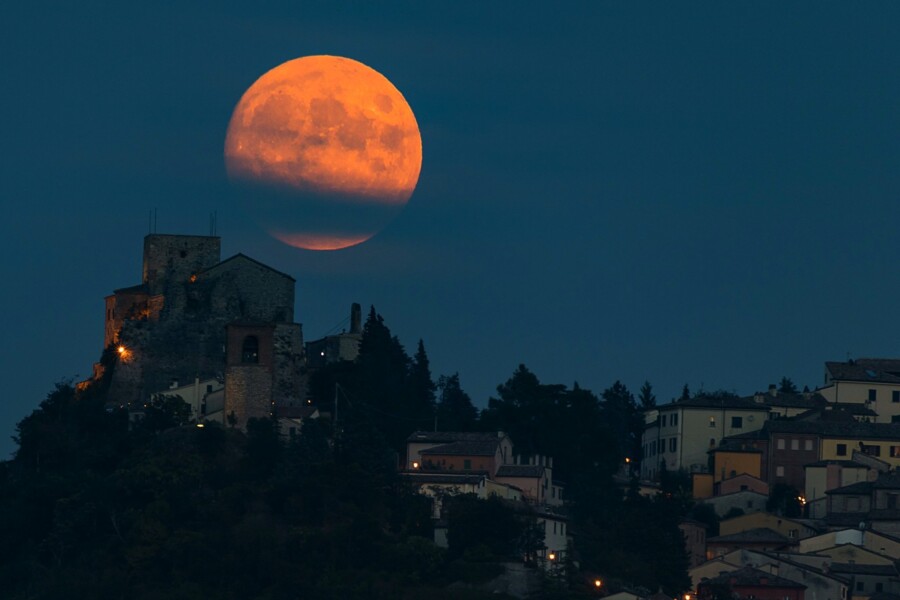 Embark on a journey through the ages of Emilia Romagna's best castles.
Let's step back in time and discover the fascinating stories and legends that surround these magnificent timeless treasures.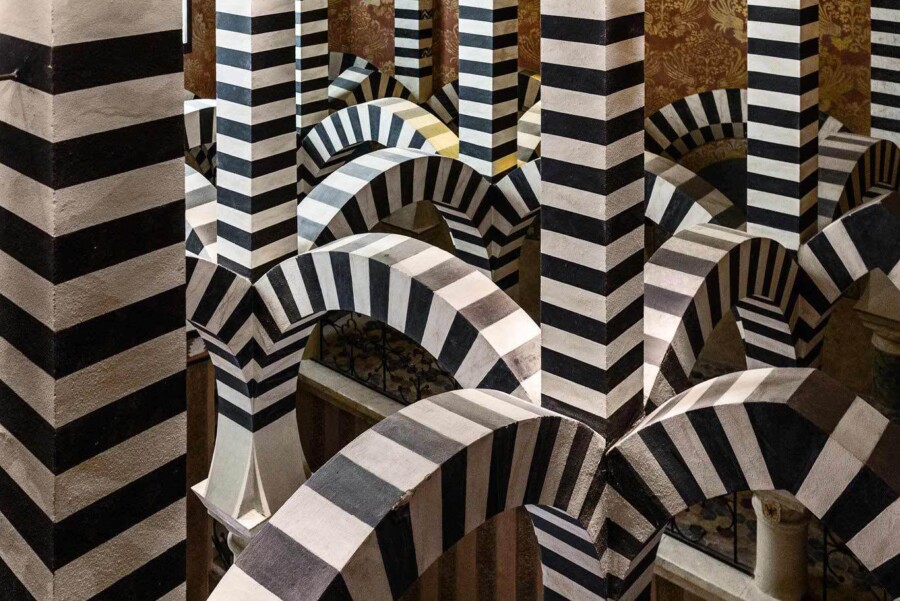 This is not another castle.
This is unique.

The story of Rocchetta Mattei is the one to make a movie from it.
Once upon a time, a nobleman, half doctor half wizard, created this unusual building up on the hills of Bologna. It's a mix of styles and his grave is inside it.
Stop, no spoiler.

If you have time, rent a car, book your guided tour and go there. Alone or also if you need things to do in Bologna with your kids.
You won't forget it, I promise.
Info
Via Rocchetta, 46A, 40030 Grizzana Morandi BO
Tel. +39 051 673 0335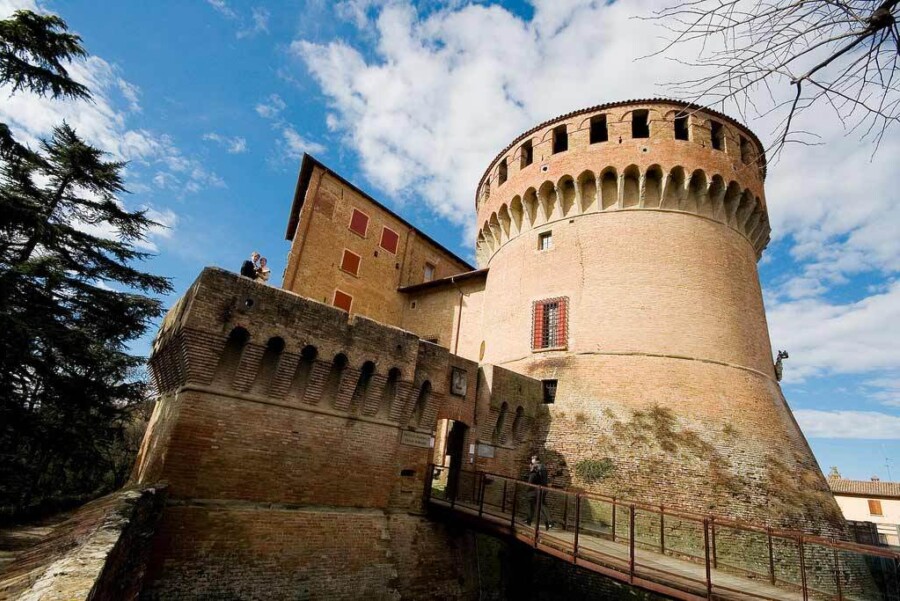 Ehi romantic?
Yes yes, you.

Google "Dozza, Italy", please.
You will thank me later.

That's the place you're looking for the most romantic escape from Bologna.

A small village surrounded by yellow fields and peach trees in flower. Then intimate restaurants, painted walls and a well-kept castle to visit.

You will admire the well-preserved kitchen, a mysterious well and...why not, the Regional wine shop in the basement.

Not bad, huh?

Info
Piazza Rocca, 40060 Dozza BO
Tel. +39 0542 678240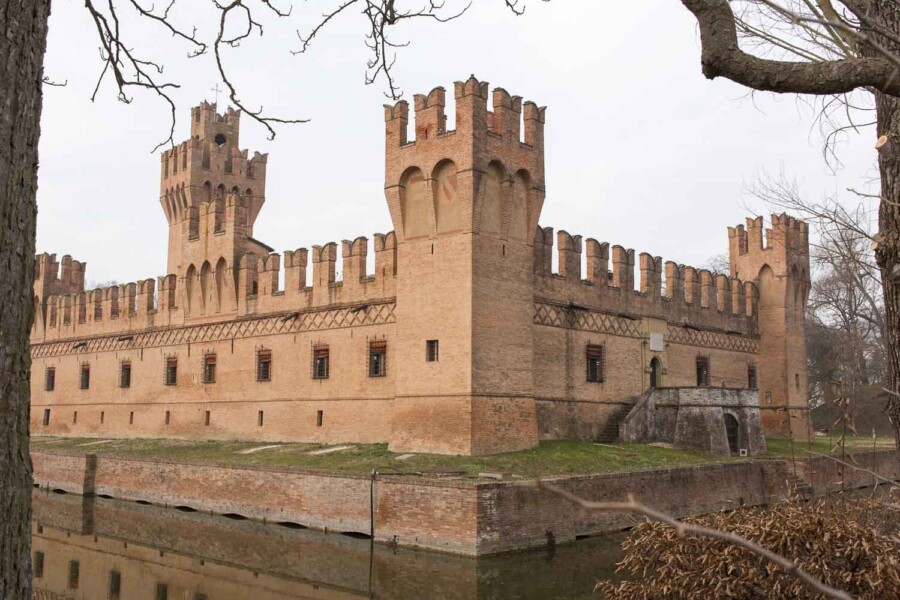 Who's the one looking for the hidden gem?
Gotcha.
15th-century style, 4 towers, 2 drawbridges, a little well-kept village next to it and all around a wood of century-old trees.
And a ghost of course.
It's got it all.
The bad news?
You can visit Castello de Manzoli only a few times during the year.
Info
Via San Donato, 40061 San Martino In Soverzano, Minerbio BO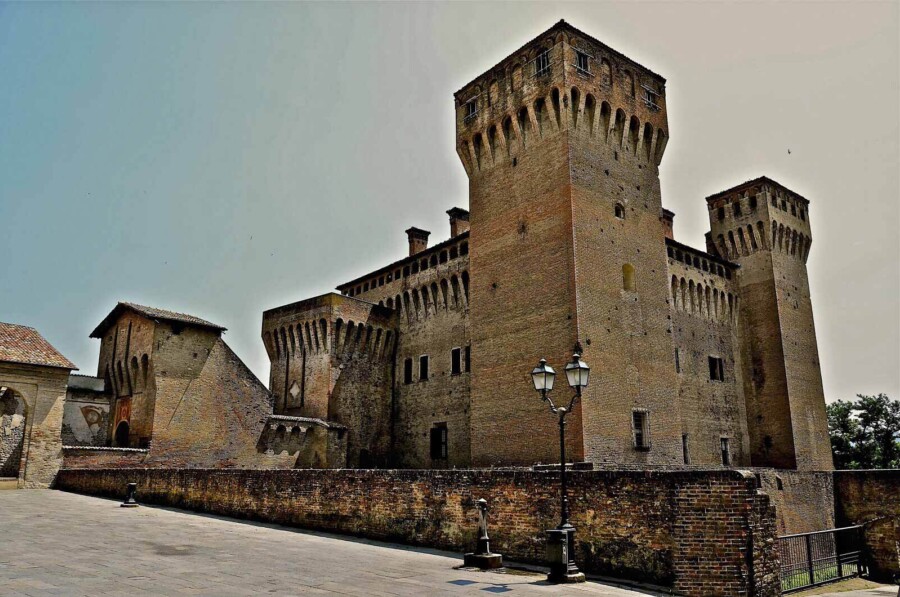 I know, I mention Vignola and you first think of cherries and Torta Barozzi.

How can I blame you?

Vignola's castle, also called Rocca dei Contrari, from the name of its owners, is one of the castles beautiful both outside and inside. Rare species.

You'll enter the room of the lions, the room of the doves, the room of the dog. So yeah, animals are allowed :)

Info
Piazza dei Contrari, 4, 41058 Vignola MO
Tel. +39 059 775246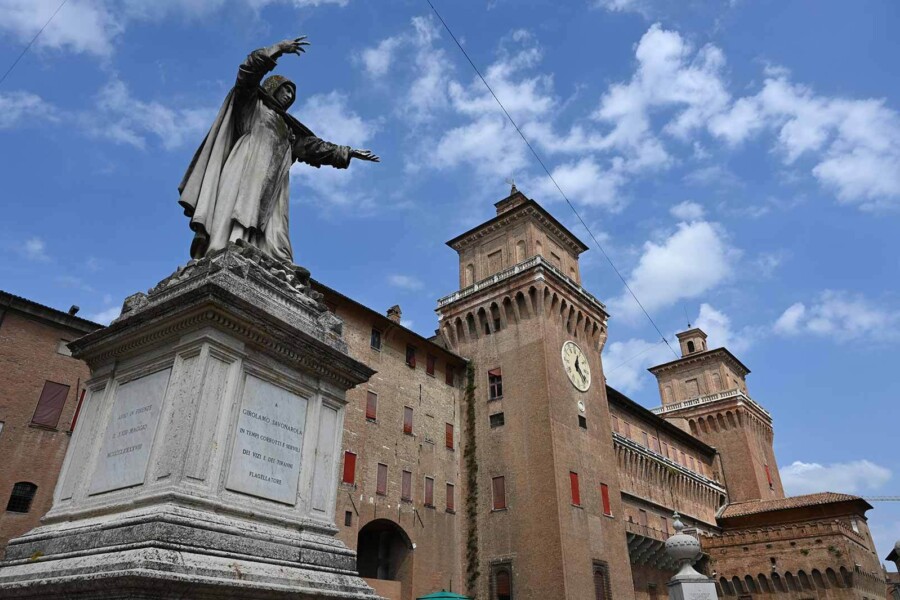 I'm deeply in love with Ferrara.
City of music, bikes and good food.
For the writer, one of the best day trips from Bologna you can have.

Oh, there's a castle too.
One of those with big towers, water in the moat, crocodiles.
Joking (or not?).

When is the best time to visit Ferrara's castle?
Easy answer. New Year's Eve, when the castle is set on fire.
Not joking.

Info
L.go Castello, 1, 44121 Ferrara
Tel. +39 0532 419180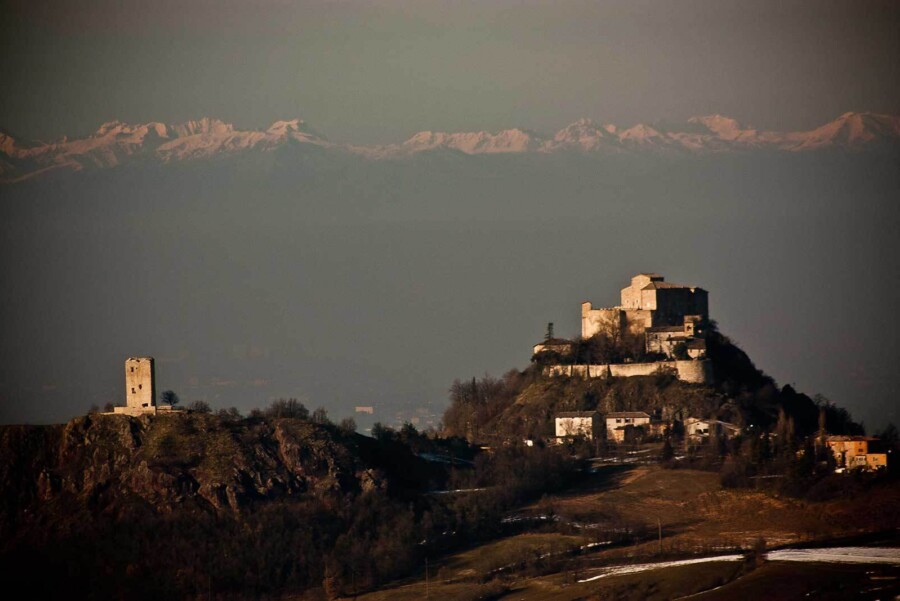 Be ready, this is huge.

Year 950. The great-grandfather of Matilde of Canossa built this massive defense castle on the hills of Reggio Emilia.

Unlike other castles in the area, it has always been inhabited over the centuries. So it has arrived up to today in excellent condition, on a hill with an impressive panorama of the Val d'Enza.
But, surprise!
The castle went for sale in the last years for the huge maintenance and management costs it requires to keep it open.
So if you need a bigger kitchen, go conquer Rossena!
Info
Località Rossena, 27, 42026 Canossa RE
Tel. +39 349 542 0806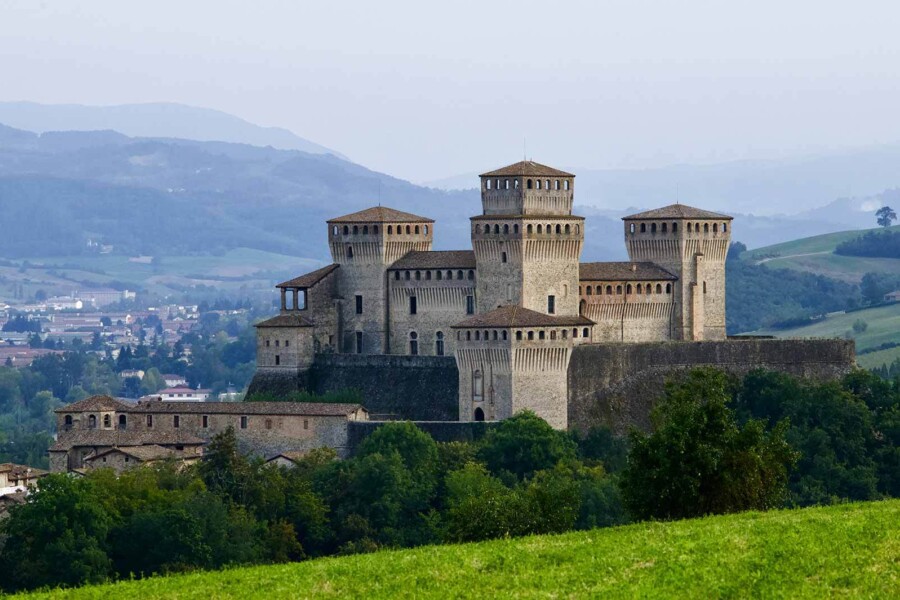 If on your tour of the best castles in Emilia-Romagna, you're looking for one that reminds you of all the fairy tales you read as children, go to Torrechiara.

We are on the hills of Parma, the perfect setting for a love story.
The famous Golden Chamber is dedicated to the passion of Pier Maria Rossi, founder of the castle, and Bianca Pellegrini.

Do you remember Ladyhawke?
A movie about 2 lovers who transformed into a hawk and into a wolf, and they'd never meet again in their human features?
Torrechiara Castle was the setting of part of that movie.
It is also the perfect excursion to digest the culatello, ham and anolini you tasted on our Parma food tour.
Info
Str. del Castello, 1, 43013 Torrechiara PR
Tel. +39 0521 355255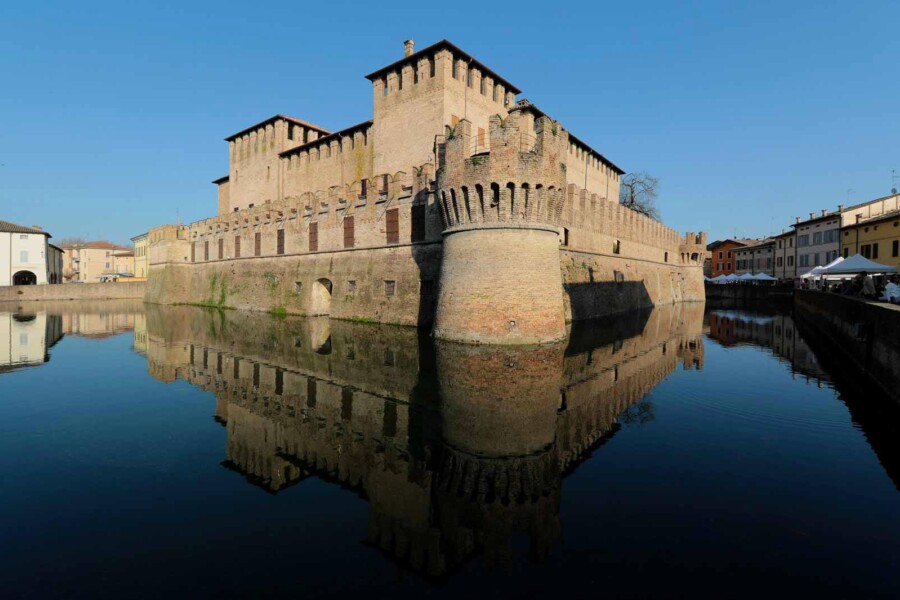 There are many reasons to visit Parma and one is called Fontanellato.

If you, like me, love antiques, go there for the vintage market that takes place on Sundays.

For fairytale lovers and historical dreamers, it would be Rocca Sanvitale.

The outside look stunning, a jump back in time.
The inside of the fortress is a treasure chest.
Don't miss the famous Camera Picta, with frescoes by Parmigianino.

But most of all you'd fall in love with the Optic Chamber. It's the room, at the top of a tower, from which, with a play of mirrors, the count could observe everything that happened in the square below.

Big Brother 1300.
Info
Piazza Giacomo Matteotti, 1, 43012 Fontanellato PR
Tel. +39 0521 829055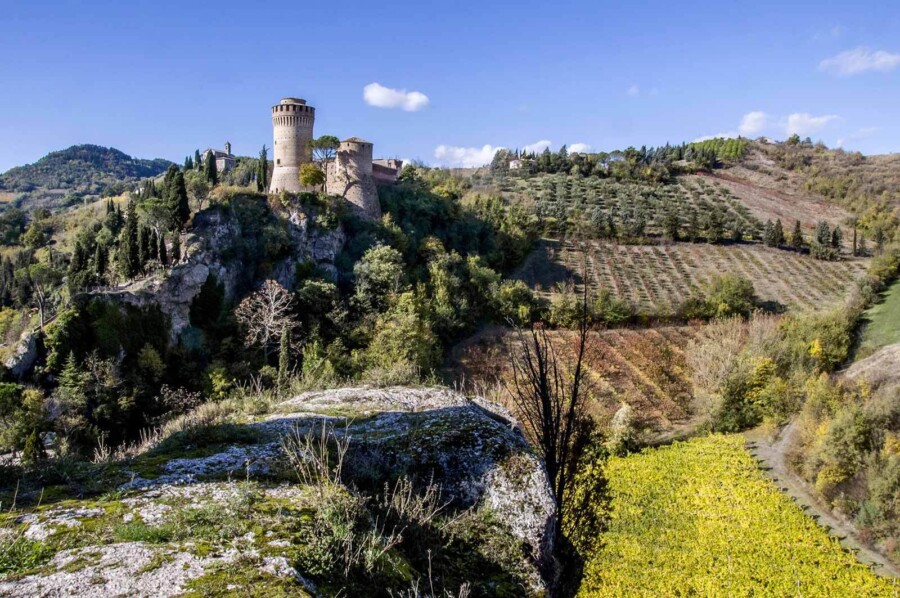 Can you smell the flavor of freshly baked piadina in the air?
Of course, we're in Brisighella, a small village on the hills in the heart of Romagna.

The view from the Rocca is incredible: olive oil trees, green hills, and even the sea if you're lucky.

But most of all you'd appreciate the gentle and lively spirit of local Romagnoli. If you've met them already during our Mosaic Tour in Ravenna, it would be another memorable day in Italy.

Info
Via Rontana, 64, 48013 Brisighella RA
Tel. +39 0546 994415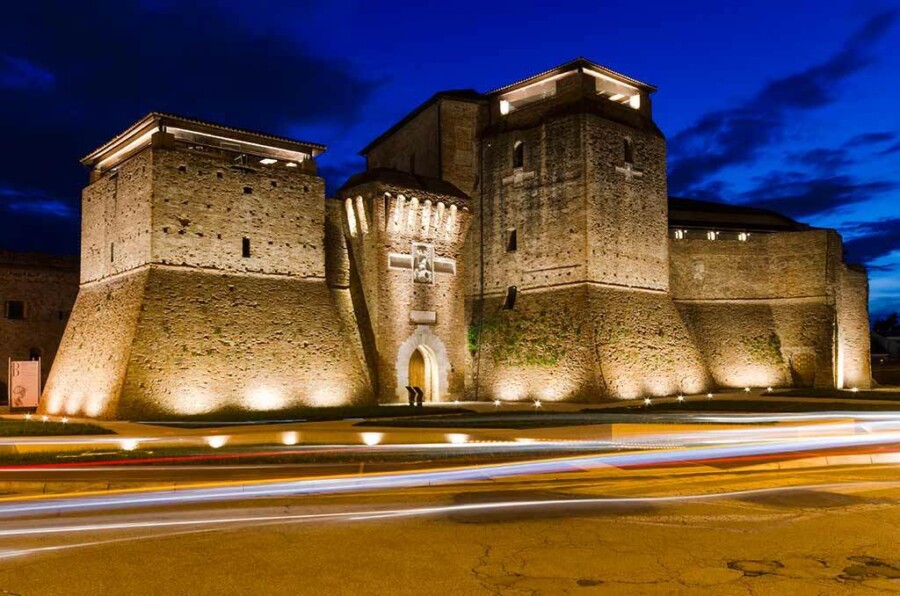 The last of the Emilia-Romagna castles I'd like you to know is the Prince of Rimini.

The square geometries of Castel Sismondo dominate the center of the city. Mr. Sigismondo Pandolfo Malatesta built the castle in the mid-15th century.

For its construction, he asked the advice of illustrious architects and experts, first of all, Filippo Brunelleschi.

Do you need one more reason to visit Sismondo Castle?

Inside you will find the museum dedicated to Federico Fellini, the famous Italian director who was born in Rimini.

At the end of the visit you could say: Amarcord a castle!
Info
Piazza Malatesta, 47900 Rimini RN
Tel. +39 0541 704704
[Photo credits: Cristiano, Vincenzo De Geronimo, Gabriele Cabassi, Roberto Conte, Andrea Righelli, Vanni Lazzari, Simon, Raffaele Pagani, Francesco Pappalardo]
---
---