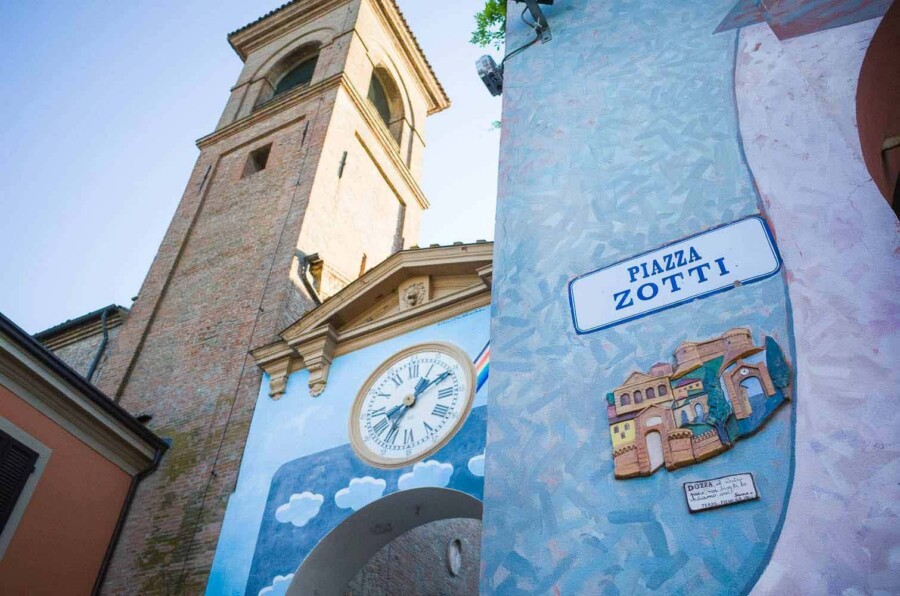 Dozza is a small middle age village near Imola. It's still not known among tourists, even if it's just 35min far from Bologna, and you need a car to go there.
Why is Dozza a hidden treasure?
​
Well, in a few km you have a permanent street art museum to visit day and night, a well-preserved castle that also hosts a winery in its basement.
​
Not enough? Ok, food is great too. Come in to read more.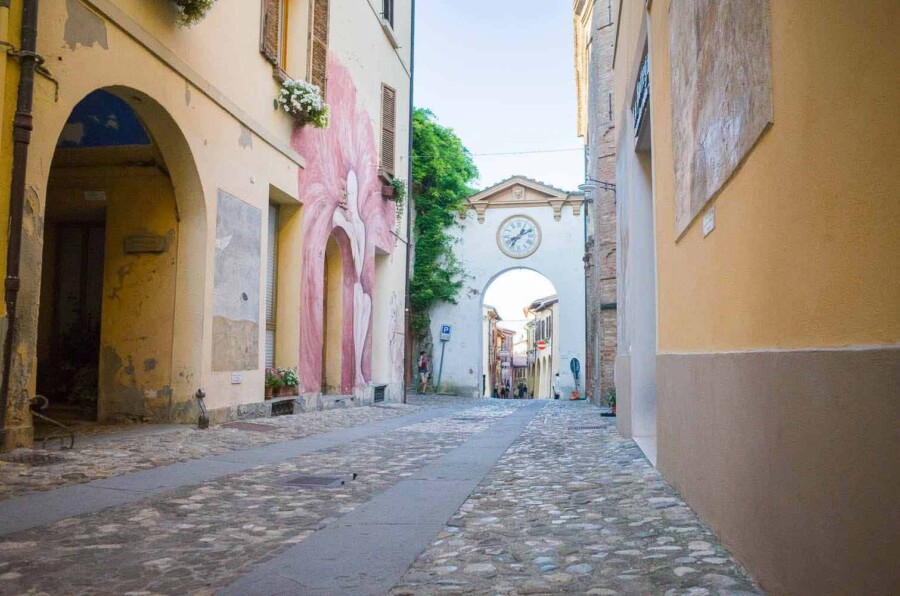 Dozza: a romantic landscape
You arrive at Dozza passing next to farmhouses, peach orchards and Albana's vineyards, a landscape that reminds of the Tuscany countryside, even if it's just a few minutes from Via Emilia.

Leave the car just behind the middle age gate and walk into this out of time village. After a few steps, you start to recognize the perfect balance between new and old.

In a typical Medieval village, art becomes an urban landscape and decorates walls, streets and squares, flooding light and colours in every corner.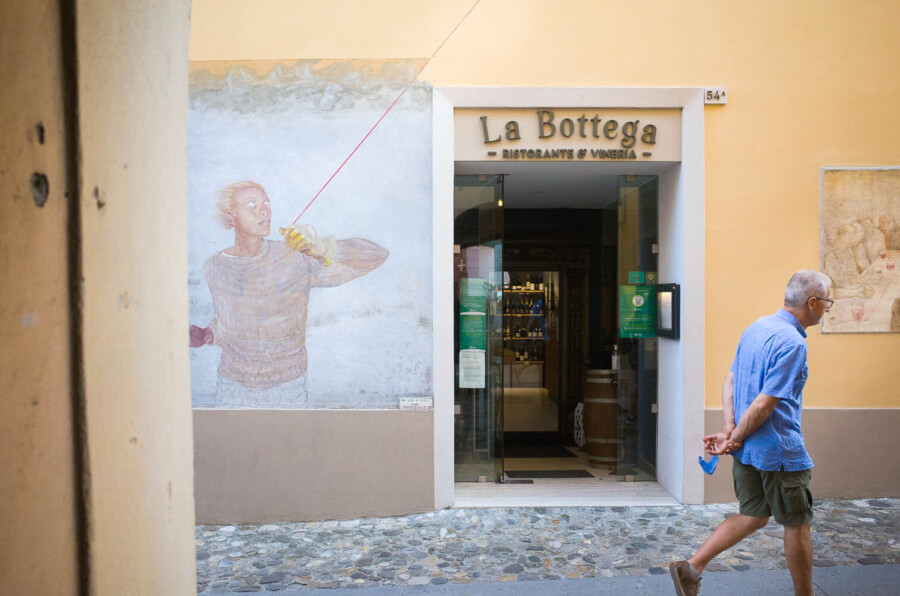 What to visit in Dozza
Dozza is an open-air museum.

You can admire more than a hundred works by prestigious names of contemporary art created for Biennale del Muro Dipinto: an art event started in 1960 that every 2 years brings street artists and painters from all over the world.


But Dozza is not the classic tourist town with souvenir shops and coaches of tourists.

If you visit Dozza on the weekend you will certainly find curious visitors, but it's still basically a simple village.
A small grocery, old local playing cards in a bar, kids who safely play between the colored streets.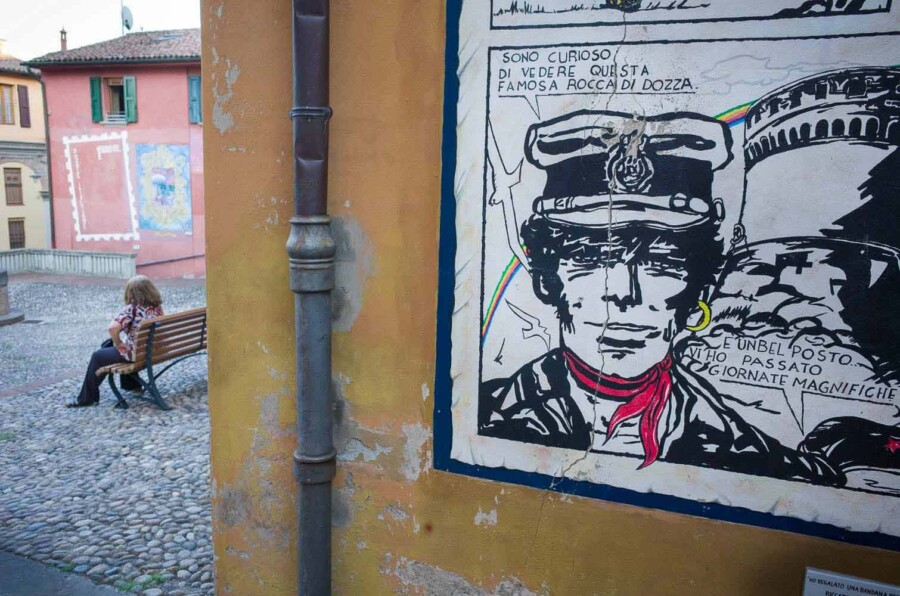 But Dozza is not just the city of painted walls.
There's also one of the best castles near Bologna.
It was built in 1250 we call it Rocca Sforzesca.
Kids will love its mysteries, like the cutting well and the prisons, and foodies will be amazed by the cuisine with vintage chef tools and fireplace.

After the visit, that takes about 1h, what's better than a glass of wine?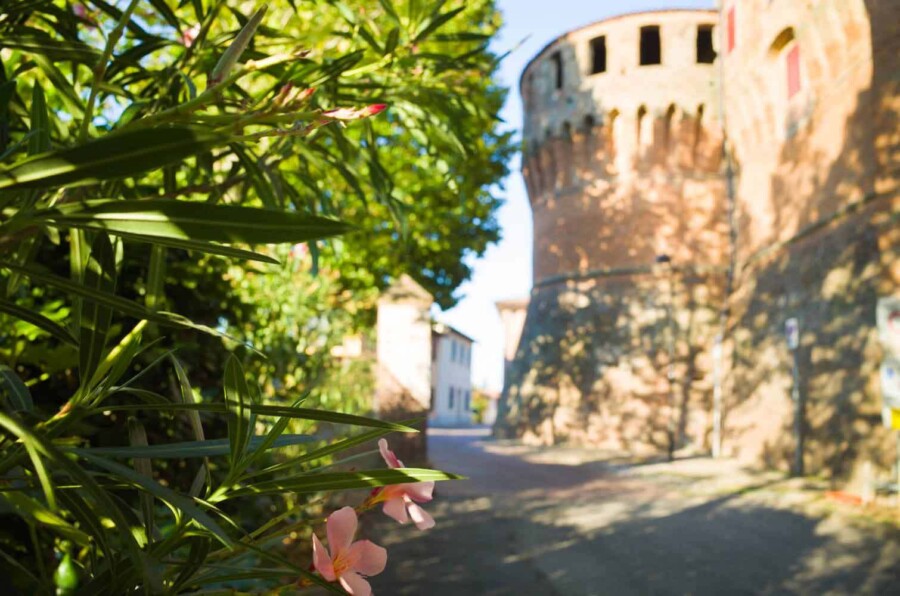 Rocca Basement hosts Enoteca Regionale, local wine promotion board headquarter, where you can find more than 800 labels from all Emilia Romagna.

Albana, Sangiovese, Pignoletto fill the shelves.
A small selection of Aceto Balsamico Tradizionale of Modena and a wine bar with guided tastings complete your journey into local flavours.

Where to eat in Dozza
There are many romantic restaurants in Bologna, but none of them can beat the view on Dozza's castle.

Book a table at Canè, in the main square, and ask for truffles and porcini mushrooms in season.

If you prefer cozy places that care about the selection of ingredients, go to La Scuderia, just in front of the castle.
Try their tagliata steak with Cervia's salt or tenderloin with porcini mushrooms.

La Scuderia
Via XX Settembre, 53, Dozza (BO)
Tel. 0542 678103
lascuderiadozza.it

Canè
Via XX Settembre, 27, Dozza (BO)
Tel. 0542 679200
ristorantecanet.it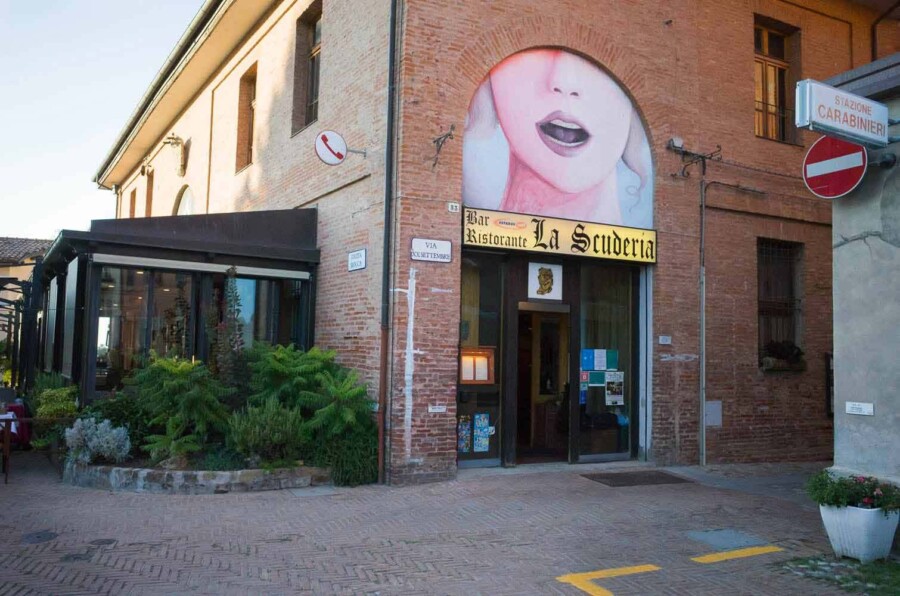 The best way to arrive in Dozza
By car
From Bologna take A14 to Ancona and exit at Castel San Pietro. Then follow to Imola and after Toscanella turn right.

By coach
Get coach 101 from Bologna coach station. Stop in Toscanella and get coach 147 to Dozza. Read the time schedule on tper.it

Looking for a perfect day trip outside Bologna?
Enjoy a tour in Ravenna in the morning and then stop in Dozza in the afternoon for aperitivo or dinner with a view of the hills.
---
---