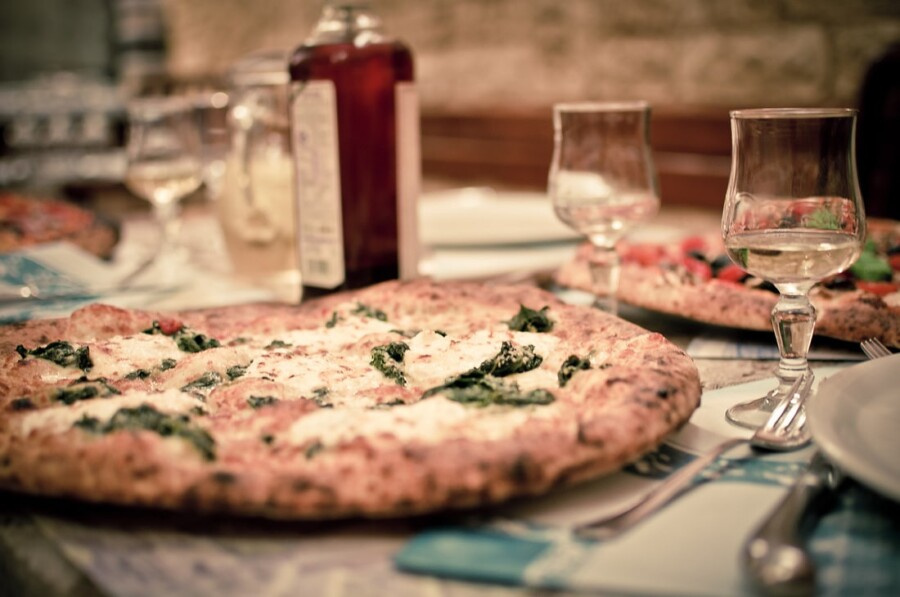 Soft, thick and small. Or large, thin and crunchy? Even in Bologna there are hundreds of different ideas about pizza.
I love it as much that I've even created a food tour in Bologna about it.
Here's the list of my best pizza restaurants in Bologna, always updated.
Berberè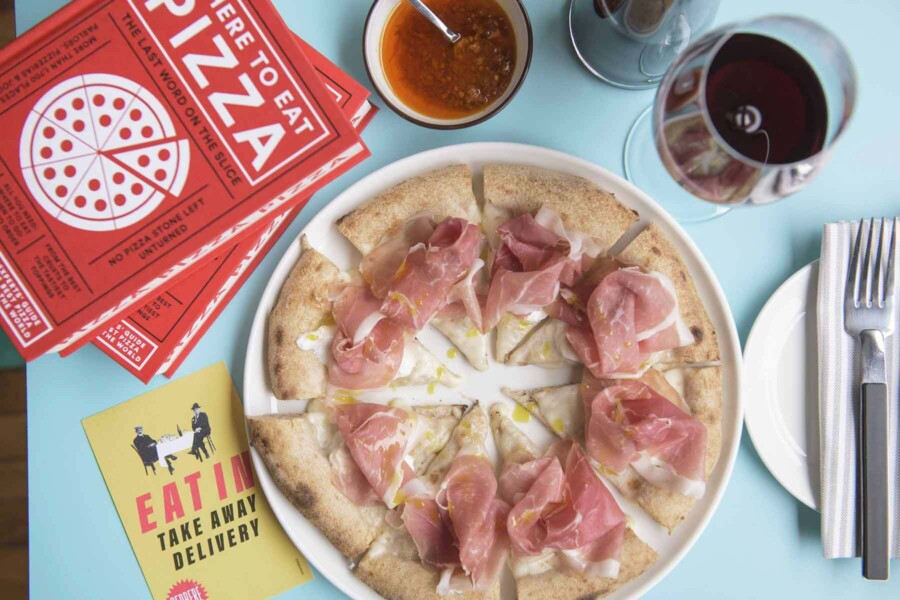 Call it gourmet pizza, pizza for foodies or whatever you like. It's a different way to eat the most known Italian food.

First choice ingredients, 7 different types of flours and 48 hours ripening - through sour-dough born from apple and pomegranate - make it a must for pizza lovers.
Berberè is in the heart of the university area, not the quietest on Friday and Saturday night.

Recommended pizza
Speck, gorgonzola cheese, honey, walnuts and fior di latte cheese. But the menu changes seasonally.
​
Price
25€ pizza and craft beer. But you won't regret it.
Info
Via Petroni, 9/b, 40126 Bologna
Tel: +39 051 2759196
Piazza di Porta Saragozza 6/A
Tel. +39 051 0185193
O' Fiore Mio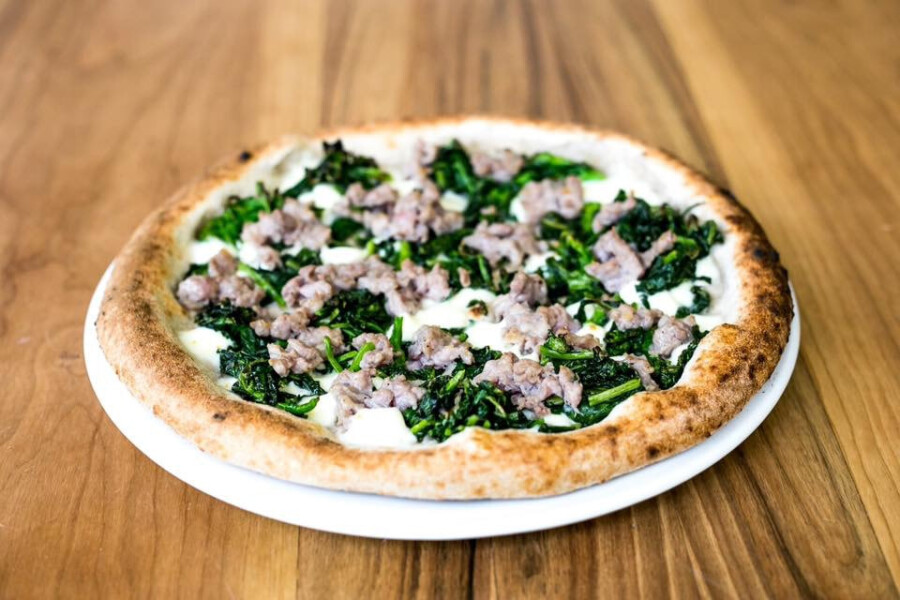 Bologna FC bought Roberto Baggio from Milan in 1997.
O' Fiore Mio opened in Bologna in December 2014.
Both great deals for the city.

Compared to the other places on this list, O' Fiore Mio is different: you can sit inside, but it is more a street food place than a restaurant. The menu is made of 10 different kinds of pizza that constantly rotate.
Some of them also for vegetarians and vegans, like the one with chickpea, lentils and dried tomatoes.
​
If you've been to Bonci in Rome you know what I'm talking about. For a proper dinner, they also make the classic round pizza.

Recommended pizza
'nduja, bufala and tomatoes or zucchini flowers and sardines
​
Price
​15€ for 4 slices of pizza and craft beer
Info
Piazza Malpighi, 8, 40123 Bologna
Tel: +39 051 040 2308

ofioremio.it
Caruso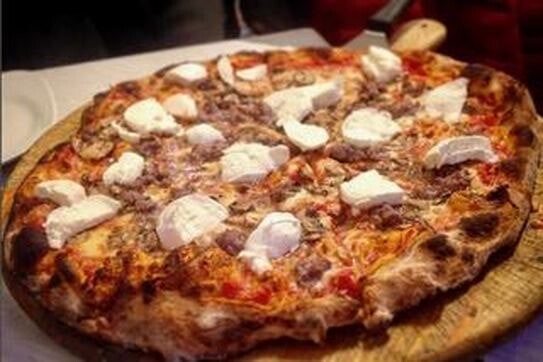 Outside the city centre you find this classic and reliable pizza restaurant.
The dough is soft and tasty but light, and with quality toppings.

Try tagliere, a larger pizza for 2 served on a wood board. Caruso is usually very busy and a bit noisy. In the weekend booking is a must.
They're famous for a good gluten-free pizza and well-made fish dishes.

Recommended pizza
Verace, with sausage and wild broccoli
​
Price
18€ pizza and beer
Info
Via del Parco 13, 40138​ Bologna
Tel: +39 051 531341
La Verace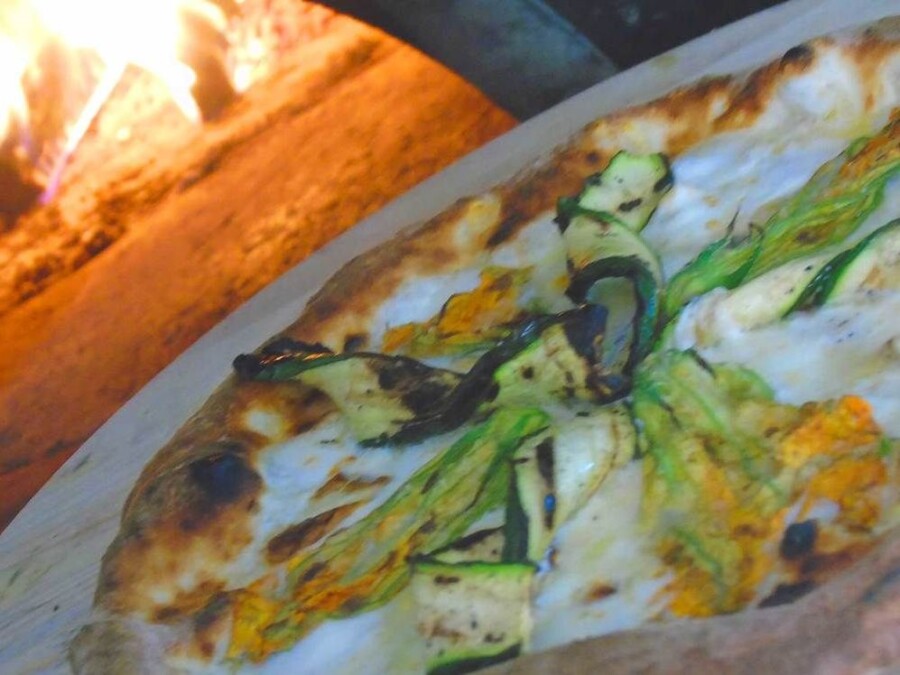 Another classic pizza restaurant, the only in the city centre that is part of the association of real Naples pizza.
Pizza is soft but slightly crispy and very digestible. Margherita with bufala cheese is always a safe choice. The staff is friendly and booking not required.

One of the rooms looks like a cave, but it's as not weird as it seems.

Recommended pizza
Cafona, with sausage and friarielli (broccoli). In summer they use zucchini flowers, even better if possible.
​
Price
17€ pizza and beer
Info
Via Cairoli, 16, 40121 Bologna
Tel: +39 051 588 2700

www.ristorantelaverace.it
Ranzani 13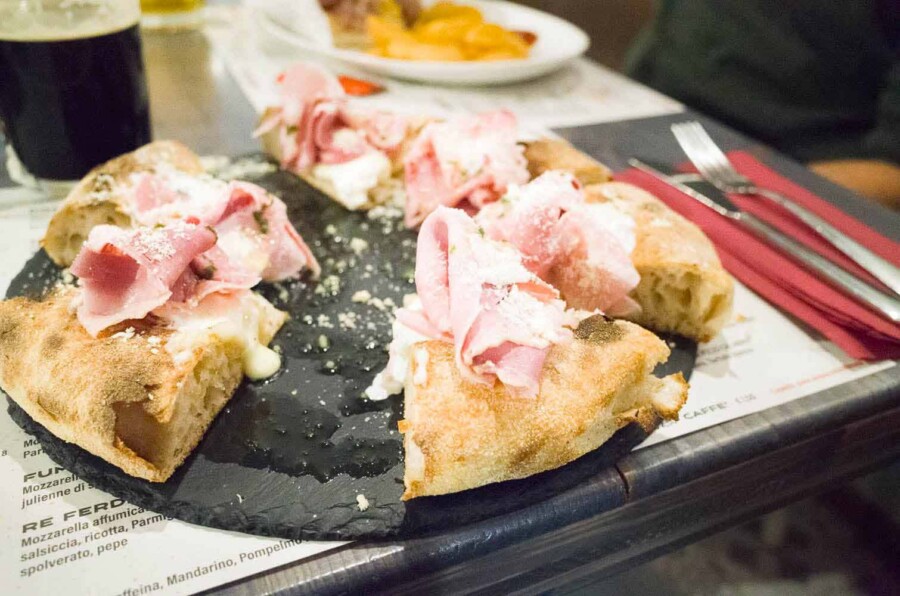 The atmosphere of a pub, with a surprising pizza: this is Ranzani 13.
Organic flour for a pizza very easy to digest and care to the ingredients like San Marzano tomatoes. Great selection of Bologna craft beers on tap.
​Their hamburgers are also remarkable.
Reservation required, but now you can find Ranzani's pizza also at the amazing location of Borgo Mameli.

Recommended pizza
Krotone, with zucchini, smoked provola cheese, bacon, salted ricotta cheese and pepper
​
Price
​20€ pizza and craft beer. Free amaro when you pay
Info
Via Camillo Ranzani, 5/12H, 40127 Bologna ​
Tel: +39 051 8493743

www.ranzani13.it
Mozzabella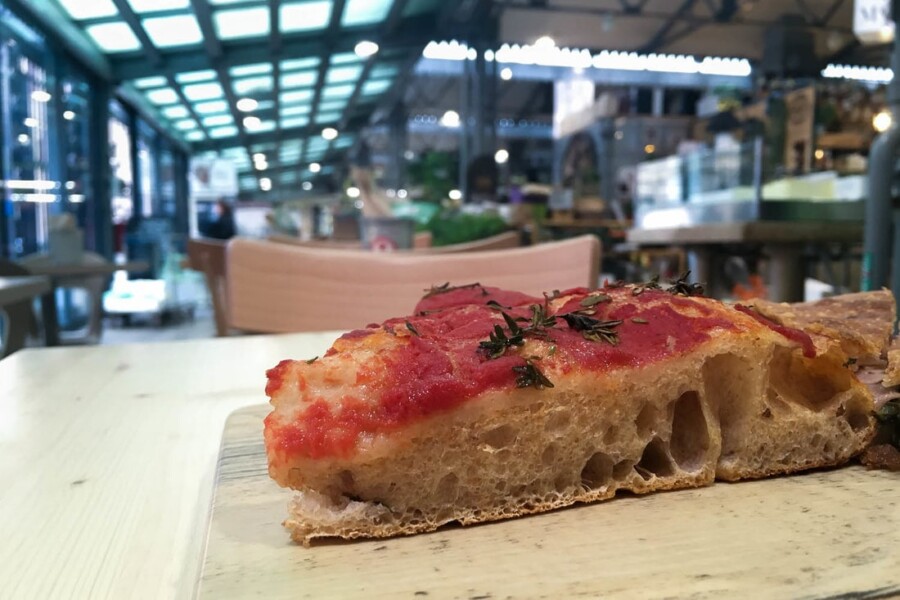 Mozzabella is the Roman Empire of street pizza in Bologna.
First a cosy shop in Via del Pratello.
Then a stall inside Mercato delle Erbe.
And now straight to conquest the heart of our food tour in Modena: Albinelli food market.
What's next? Turkish friends, I'd worry if I were you.

Michele Leo, an award-winning pizza maker, is proud and passionate about his work like only people from Naples can be. Luckily we have him in Bologna and Modena, always busy to create new toppings for his soft pizza.
Tropea onion, potatoes, zucchini and cherry tomatoes, or bacon, pecorino cheese and bean cream, or why not radicchio, burrata, speck and walnuts.
Perfect for lunch or a Bologna aperitivo.
Recommended pizza
Zucchini flowers, ricotta and anchovies. Or just a simple red one with tomato sauce and oregano.
​
Price
​10€ for lunch with pizza and water.

Info
Via del Pratello 65/B 40122, Bologna
Tel. +39 051 550506
Mercato delle Erbe
Via Ugo Bassi 40121, Bologna
Mercato Albinelli
Via Albinelli, 13, 41100 Modena
Certo!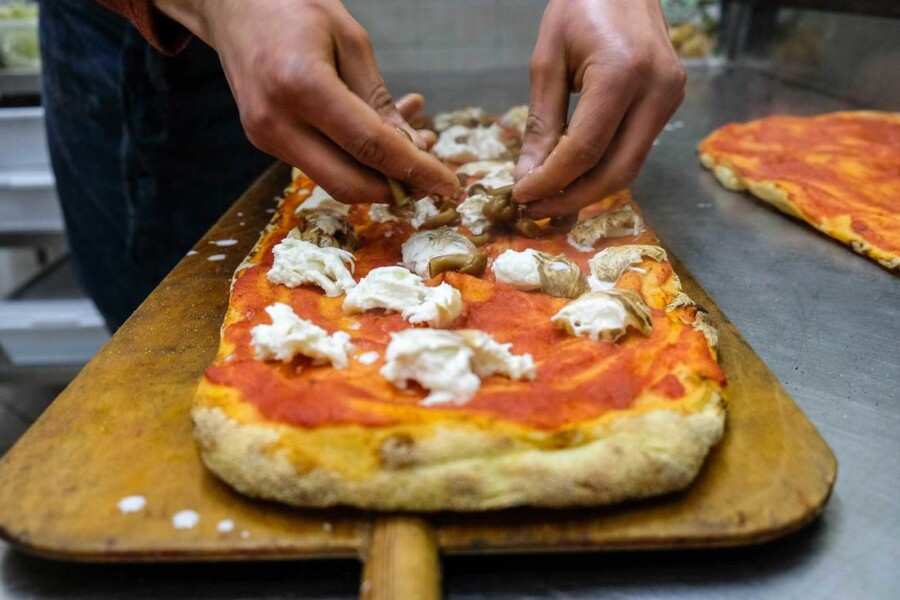 It began with the love story between Marco and Elena, classmates at Bologna University and.
They found PizzArtist in 2012, together with a friendly and kind staff.​ In 2020 they've changed its name in Certo!.

It's the classic roman style pizza, thin and crunchy, simple, real, good like the owners.
​
Their pizza is savoury and light as the natural 48h rising allows the dough not to weigh down. There are many options about the toppings, original and constantly new matches, including many for vegetarians.

Recommended pizza
Zucchini flowers and anchovies

Price
8€ for lunch

Info
Via Marsala, 35/A, 40126 Bologna
Tel. +39 051 587 2755
certo.pizza
Bianco Farina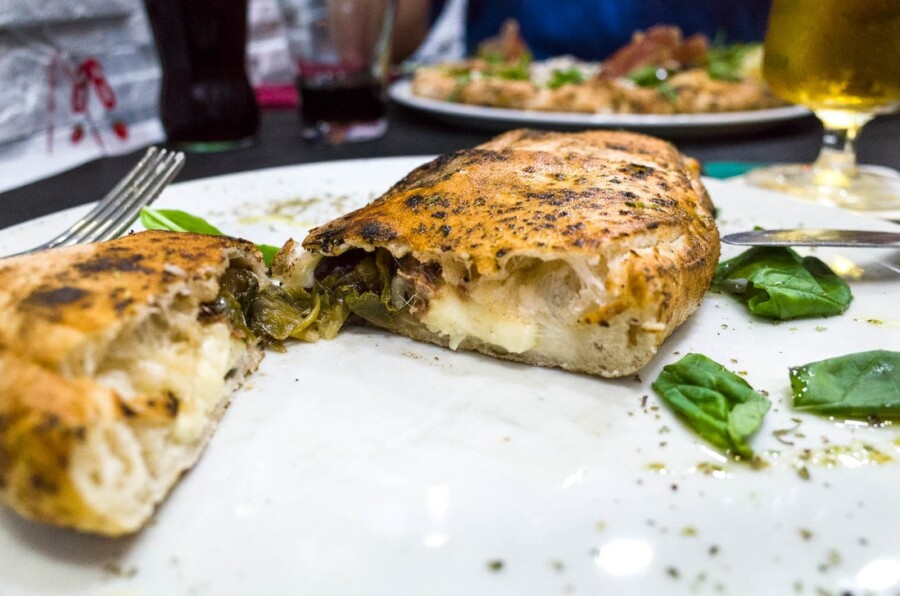 Pasquale Penne has a red rose tattoo on his right arm. But not only flowers grow from his hands.

Opened in November 2017, Bianco Farina is a small pizzeria in Bolognina, a workers neighbourhood behind the train station (the same as #1 restaurant on Tripadvisor Trattoria di Via Serra). It's not the most romantic place to propose to your girlfriend but...what a pizza!

2 days of leavening, 70% hydration, only 2 pizzas at a time in the wood oven to keep the temperature. If you love Napoli style pizza you must go.

Recommended pizza
Borgo vergini: stuffed with endive, taggiasche olives, Salina's capers, Cetara's anchovies and smoked provola

Price
15€ for pizza and beer on tap

Info
Via Domenico Zampieri 36, 40129 Bologna
​Tel. +39 346 611 2769
Forno Brisa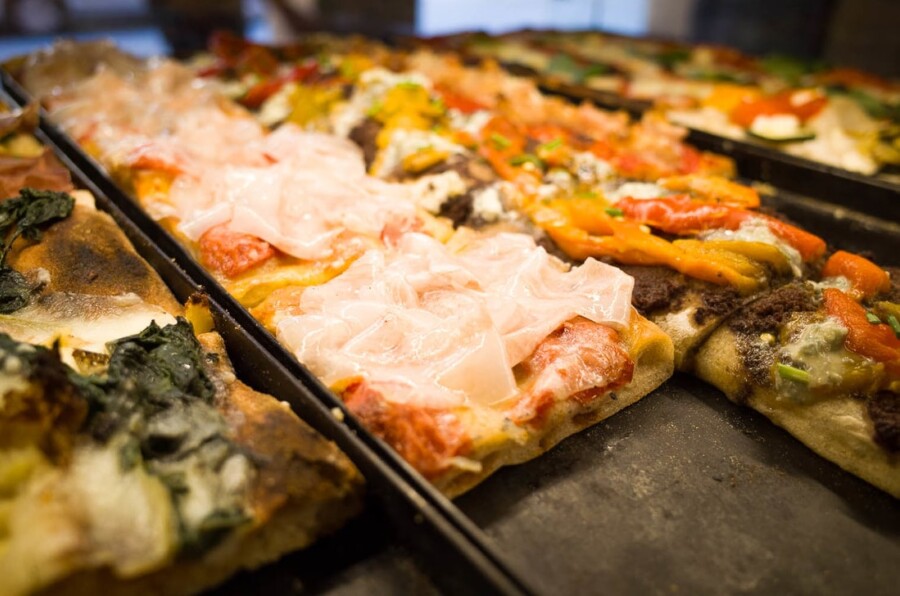 Forno Brisa isn't only one of Bologna best bakeries: it's a project about the production of bread with the aim to bring to Bologna a tasty and healthy bread.
The first shop opened in Via Galliera where you can also find roman style pizza and cakes.​

They only use untreated organic stone-ground flour, such as Sicilian tumminia, and starter.
Great rising and right baking with top quality ingredients, a quality confirmed by the easy digest and by the unique taste and variety of the pizzas.

Forno Brisa could be an original meeting point for a different aperitif or for a healthy lunch break.

During Christmas time they also produce panettone, one of my favorites is with marron glacé and cacao bean.

Recommended pizza
Violet potatoes and gorgonzola cheese

Price
15€ for lunch with pizza and beer

Info
Via Galliera, 34D, 40121 Bologna
Tel. +39 051 248556
​
Via Castiglione, 43, 40124 Bologna
Tel. +39 051 224621

Pizza Altero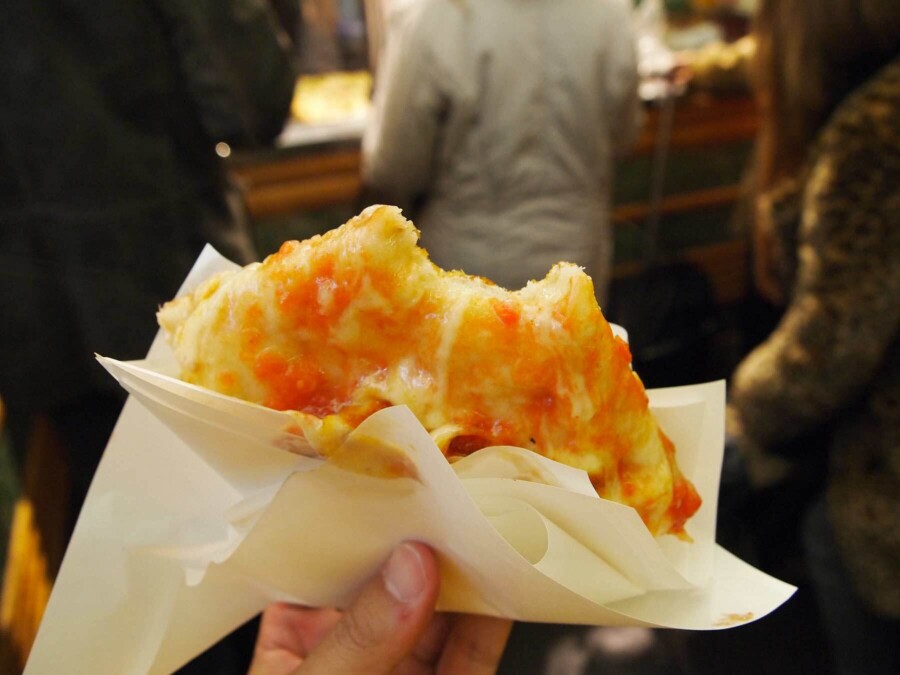 Ok, this is controversial.
This is not the best pizza in Bologna.
This is the pizza of Bologna.
Open day and night, it's probably the one and only street food of Bologna.
You don't go to Altero for delicious mozzarella, organic flour or glamour toppings. It's a square of volcano temperature simple pizza cooked in an electric oven.
But since 1953 generations of Bolognesi ended their sweet young nights there. You have to try it to come back and say you've been to Bologna.
Recommended pizza
Margherita

Price
3€ for a double Margherita

Info
Via dell'Indipendenza, 33, 40121 Bologna
Tel. +39 051 234758
---
---
---
Comments
Joel

I ate in Ranzani last night, I can confirm that their pizzas are truly delectable, the smoked mozzarella and salted provolone was heavenly. But the service was a bit tetchy due to them having a party of 50 booked for later that evening, ring in advance I'd say. Would like to have tried their beers but was'nt really given time! I'm now in the Green RIver pub sampling their long list of rare beers, moving on to Berbere later!

Andrea

I'm glad you're following my tips Joel ;)

Let me know what you think about Berberè, it's probably my favourite in town.

And if you love pizza like I do don't forget O Fiore Mio-> http://www.tastebologna.net/bl...

Jamie

Me and my friend are in Tonino after reading this blog.

We couldn't help but feel slightly underwhelmed with what we encountered.

The waiters were friendly, but came across as a little pushy. They recommended some pizzas, and we both ordered based on their advice.

Whilst the meal was not disastrous, we expected a little better after a long stroll into the outskirts of the city.

The dough was quite heavy and hard to digest, and the meat was extremely salty.

Also, the toilets were not of the required standard, the hand soap was totally out of bounds.

Certainly won't be returning to this place again, very disappointing.

Andrea

Hi Jamie,

Thank you for your comment.

I haven't visited Tonino in a while but

I went there a lot of times in the past (I only reccomend places that I know pretty well) and I never had any problems. The waiters maybe try too much to serve antipasti, dessert or coffee but I usually say "thanks no :)" and they were usually very polite.

Also the toilet was always very clean.

Anyway I do appreciate your comment, I'll sure go check soon if I have to update this list in the next weeks

Thanks,

Best

Andrea - Taste Bologna

Berivan

Hi Andrea,

We will be in Bologna nex week so I'm looking for some tips. Your site is really helpful.

We do not speak Italian, do you think it would be ok in these restaurants. Which one do you think would be the most welcoming? :)

Andrea - Taste Bologna

Thank you so much, I'm happy you appreciate :)

I think that both at Berberè and Ranzani 13 they both speak english. At Berberè there's also an English menù. I hope you will enjoy them!

Coco Pazzo

Does anyone do a GOOD pizza romana tonda in Bologna? Not pizza taglia, cf. Pizzarium and O'Fiore Mio.

Andrea – Taste Bologna

Yes, Pizzartist and Pistamentuccia both offer pizza romana. Not tonda but in teglia. Both really good even if I'm more into pizza napoletana.

Doug Williams

I second the vote for Pizzartist. You can find it easily by the crowd of locals gathered outside eating Roman style pizza slices. I am partial to crispy crusts so it is perfect for me. We sampled several different varieties and all were tasty. I seem to recall the marinara, margarita, and anchovy being particularly good.

Andrea

It seems I have to update the post again soon :)