It's time to talk about
pizza
. When I meet tourists during my
food tours
I'm always not sure if we have the same idea of pizza. It's an Italian product famous everywhere but this popularity has grown that much that most of the pizza you eat outside Italy (do I have to post a photo of the so called Chicago pizza?!) has nothing to do with our pizza.
And even in Italy there are a lot of different schools and tastes about it: "I want it slim and big" "I prefer it high and soft" etc.
So to choose the best pizza in Bologna I have to first say what is my idea of pizza. Pizza is
Naples style
. So my ideal pizza is quite small, soft in the border but not high as a focaccia. I love pizza with provola cheese, sausage and friarielli (a typical broccoli from Naples) or a simple margherita with bufala, mushrooms and rucola but I always like to try new combinations.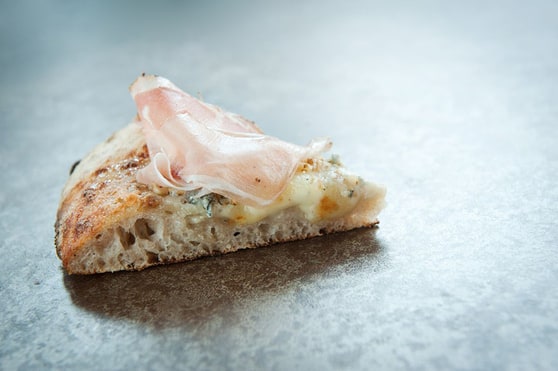 Call it
gourmet pizza
, pizza for foodies or whatever you like. It's a different way to eat the most known Italian food. First choice ingredients (seasonal and quality Slow Food Presidia), 7 different types of flours (wholegrain spelt, Kamut, Enkir, 5 grains etc.), slow ripening (up to 48 hours from sourdough born from an apple and a pomegranate) make it a very special pizza experience. The place is in the heart of university area, so a bit messy on Friday and Saturday night. If you like a craft beer after this amazing pizza try
Green River Pub
, just a few steps from it.
Reccomendend pizza
: the menu is seasonal, in autumn I reccomend the one with Trentino Speck, gorgonzola cheese, honey, walnuts and fiordilatte
Price
: High, 20€ pizza and craft beer, but I think you won't regret it
Smeraldino
Via Emilia, 96, Ozzano Dell'Emilia (BO)
051 798867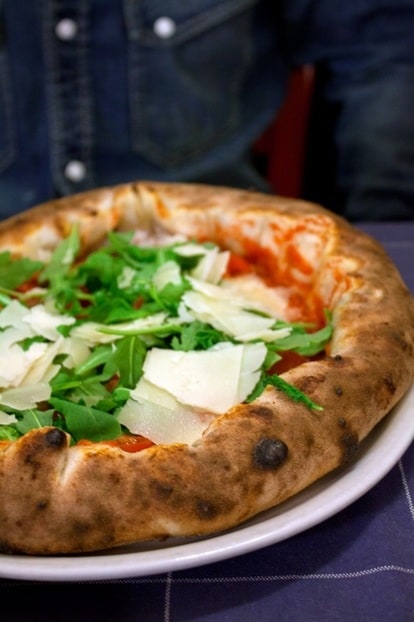 The only pizzeria outside of the city centre (Ozzano, about 15min by car) is a really funny and strange place. It's really colourful and extravagant so don't expect to have a romantic dinner there. But what I care in a restaurant is food. Pizza is Napoli style, high with a really soft border. Some people may complain about the hard digestion, for me is just joy. Try the tagliere to taste two different types of pizza.
Reccomendend pizza
: Bella Giò, with bufala cheese, bacon and red radicchio
Price
: Average, 13€ single pizza and beer, tagliere is a little more expensive
Caruso
Via del Parco 13, Bologna
051 531341
www.ristorantepizzeriacaruso.com
A bit far from the city centre you'll find a classic and reliable pizza restaurant. It's possible to ask for pizza with kamut or spelt dough (if you don't digest wheat) with 1€ extra or the high digestible 48-hour rising with 2,5€ extra.
The dough is soft and tasty, not heavy, and with quality condiments (like buffala Dop).
I absolutely reccomend their
tagliere
for 2.
The place is usually quite busy, so in the weekend booking is recommended. The also make
gluten free
pizza.
Reccomended pizza
: Verace, with sausage wild broccoli and 48-hour rising
Price
: average, 13€ pizza and beer
La Verace (Pizzeria Tonino)
Via Cairoli, 16, Bologna
051 588 2700
www.medition.it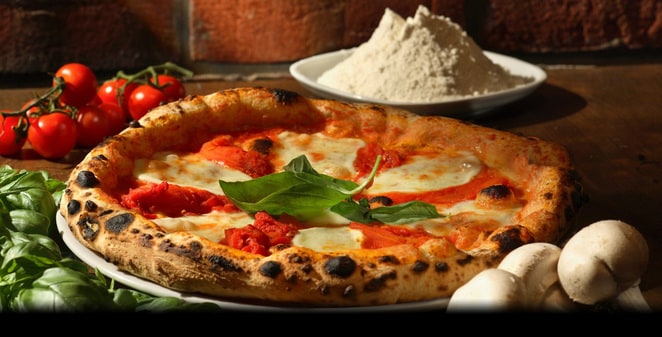 Classic and elegant pizza restaurant, the only in the city centre that is part of the association of real Naples pizza. Pizza is soft but slightly crispy and very digestible: try the classic margherita or the one with bufala cheese.
The staff is friendly and accommodating and the place has a lot of tables so you don't need to book.
Reccomended pizza
: Cafona, with sausage and friarielli (broccoli). In summer, when friarielli are not seasonal they use zucchini flowers, even better if possible.
Price
: Average, 15€ pizza and beer
I have to update this post because I recently discovered this place and it became one of my favourite pizza in Bologna. Organic flour for a pizza very easy to digest and selected ingredients like San Marzano tomatoes make Ranzani 13 a new landmark in town. Great selection of craft beers on tap from around the world. Their hamburgers are also remarkable (but check also
Well Done Burgers
for that)
Reccomended pizza
: Krotone, with zucchini, smoked provola cheese, bacon, salted ricotta cheese and pepper
Price
: Average, 15€ pizza and craft beer, and free amaro when you pay
So this is my list of the 5 best pizza in Bologna, all Naples style but very different from each other.
Have you tried any of them? Am I missing something?
---
You may also like