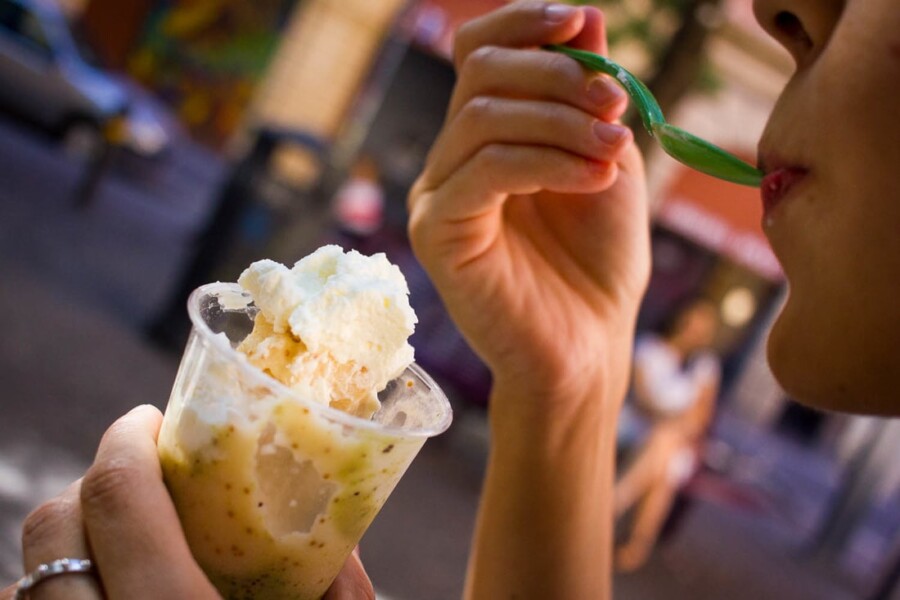 Bologna is really one of the best cities in Italy for gelato, we even have a gelato Museum and we finish with it all our food tours in Bologna.

The number of quality places is impressive: here is my shortlist of the ones you shouldn't miss.
Galliera 49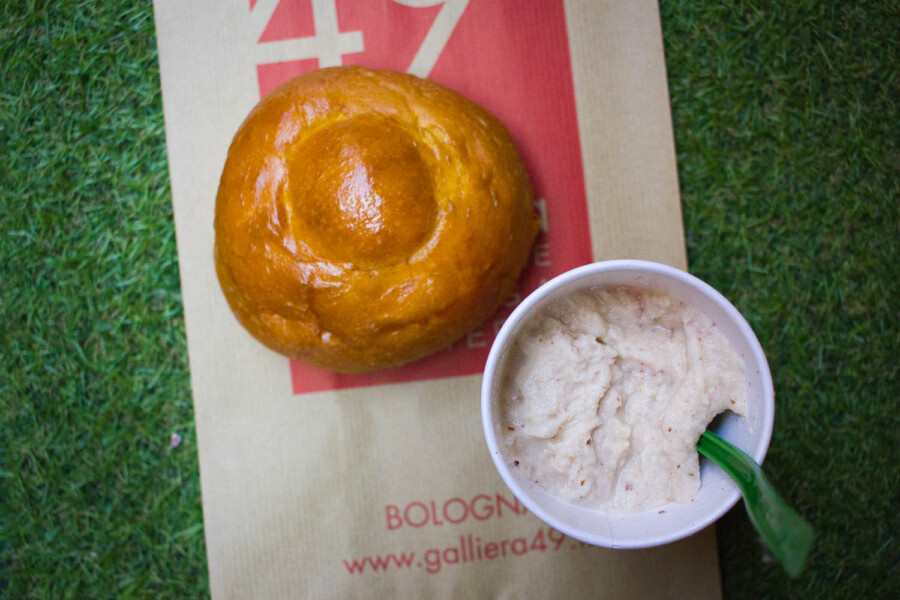 There are many reasons to visit the gourmet street Via Galliera.
Galliera 49 is the best one.
Seasonal and organic fruit flavours (you won't find melon in December) and great classics such as rum chocolate or Mediterranean cream.

​But if you're looking for their best, ask for granita.

Favorite flavors
Melon and figs granita

Via Galliera, 49/b Bologna
Tel. + 39 051 246736
www.galliera49.it
Cremeria Scirocco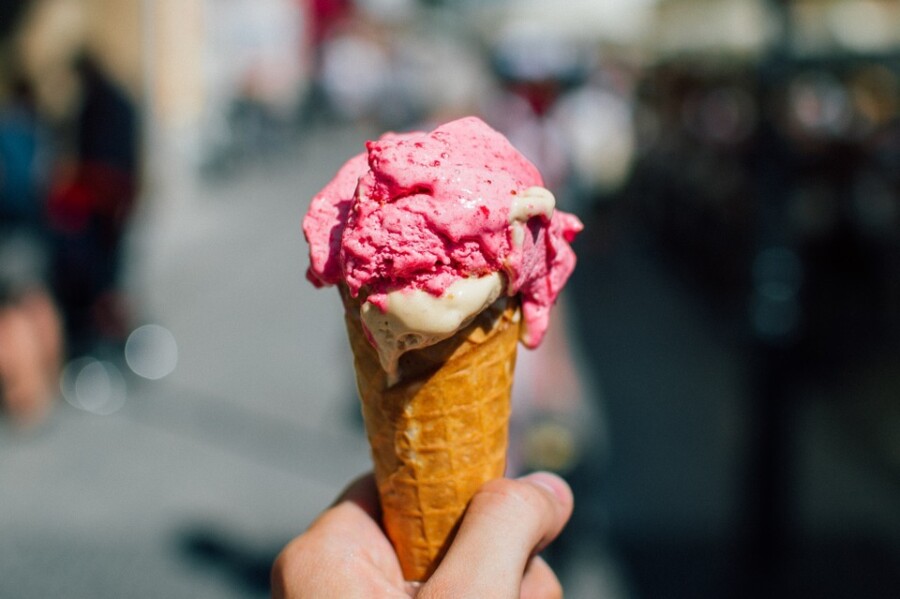 Far from Bologna city center, you need to catch the bus to get there but well deserves the efforts.

Born in 2004 by the mind of a software architect who discovered the perfect alchemy of gelato, has now one best references in Bologna (ask Gambero Rosso about it).

Stay on the classics (cream, chocolate sorbet) or try unexpected flavours (gorgonzola cheese and almonds may sound weird but believe me, it's just delicious).

Or go with Sciroccata: granita, ice cream and cream: pure pleasure.

Favorite flavors
Gorgonzola cheese and almonds

Via Agostino Barelli, 1 Bologna
Tel. + 39 051 6010051
www.cremeriascirocco.it
Cremeria Santo Stefano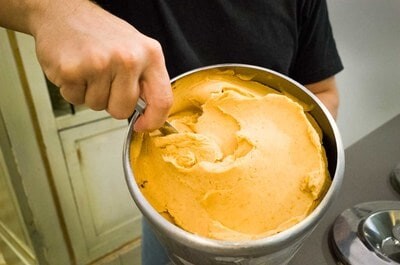 Imagine a small French patisserie where you can have the best gelato in Bologna and maybe in Italy.

This place is really tiny and charming: if you're lucky you could seat and taste the Crema 7 Chiese custard or Cioccolato del Baraccano chocolate or try the homemade ghiaccioli (ice sticks).

Since June 2016 they have had a lab next door where they produce brioche, focaccia and panettone.

Get focaccia with gelato but don't tell your doctor about it.

Favorite flavors
Crema libanese, caffè bianco, Spagnola

Via Santo Stefano, 70 Bologna
Tel. + 39 051 227045
Gelatauro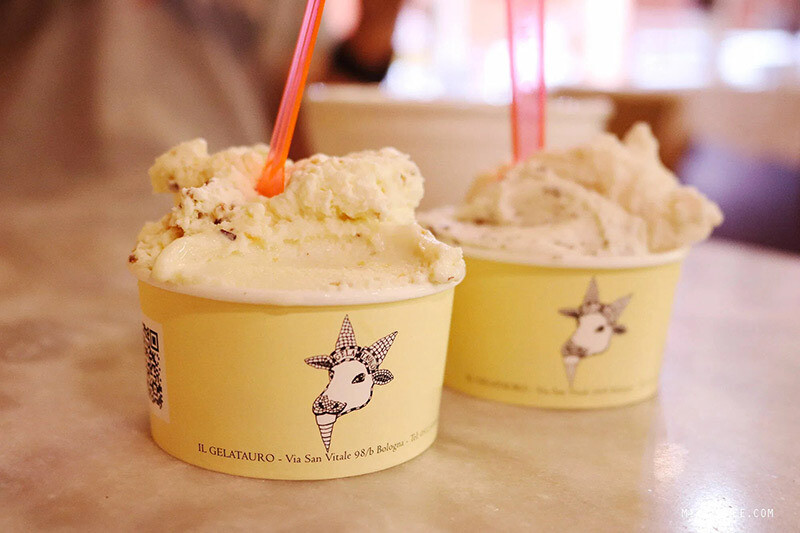 Strolling around Via San Vitale you can meet a gelato shop directly from the south of Italy.

At Gelatauro you taste pistachio or almond gelato like only in Sicily or Calabria you can have. The jasmine granita and the sweet manna (a resin that only grows from ash trees in Castelbuono) are unique.

​The place is cute and you can also have one of the best breakfast in Bologna there, trying some of their handmade cookies or (in winter) their hot chocolate.

Favorite flavor
Zenzero (Ginger)

Via San Vitale, 98 Bologna
Tel. +39 051 230049
www.gelatauro.com
Maritozzi e Gelato - Barbara e Renato
Barbara is not only an organic and vegan supporter but she's also a master at gelato.

She buys ingredients from local farmers and she produces almond milk by herself.

The result is a variety of delicious and fresh flavours, that you can taste while admiring the stunning Piazza San Francesco.

"Fiori del Sud" pistachio is stunning, but don't forget to try her granite. Almond and peach would be my choice in summer.

Favorite flavor
Not a flavor, but get the maritozzo. A soft homemade brioche to fill with 2 balls of gelato.

Piazza San Francesco, 1/b Bologna
Tel. +39 051 233230

Sure you know everything about gelato?
Great, so now you know where to eat the best gelato in Bologna.
But why Bologna is SO famous for gelato?
How do you choose a good gelateria just by walking past it?
What do you need to know to get a well-made gelato?
Learn this and more stories and details about Bologna food tradition in our Bologna food tour.
---
---
---
Comments
Constanze

Yippee! I've been looking for this kind of information for a long time, thank you for this post!

Andrea

Glad you appreciate Constanze

Julie

Love this post, would like to make a recommendation that you add a tool that allows easy pinning(pintrest) of your images so we can link back to your article for future reference.

Andrea

Hi Julie,
thanks a lot.
If I've understood your request, I think I already have the plugin for pinterest sharing. Have you tried to read the post with a laptop? Maybe it doesn't work on phones

Alfonso

There are at least three missing from your list: La Funivia(piazza Cavour), Sorbetteria Castiglione(via Castiglione), both inside "the walls" so very close to the city centre. And last, but absolutely not least, Dolce Agnese(Via Emilia Levante, 55) a small but cute place with the lovely Agnese, a lady from Romagna, serving a delicious gelato.

Andrea

Alfonso thanks for your suggestions.

I know very well Sorbetteria and Funivia, but for my personal taste they are too much rich. They're very good gelato, especially for the creme but just out of my top choices.

I haven't tried Dolce Agnese yet, but I will soon and keep the list up to date :)

Andrea - Taste Bologna