If I say
Michelin starred restaurant near Bologna
your first thought goes to Massimo Bottura's
Osteria Francescana
. And you're right because the #2 restaurant in the world is a worth-a-plane place. But it's not the only Michelin star that you should check if you are in Bologna. It took some time (and money) but here are 3 very different places that have more than a star in common. They're all places you won't forget easily.
Trattoria da Amerigo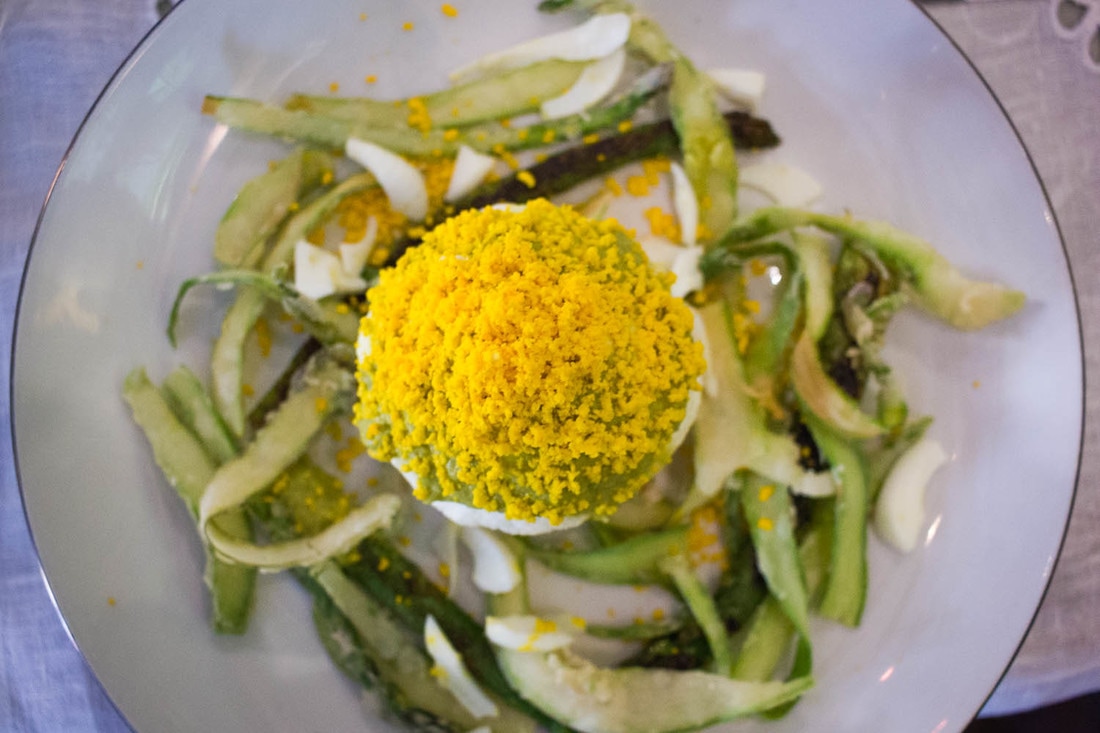 Amerigo's egg with asparagus
Savigno is a small town inside Val Samoggia, about 25min from Bologna, between woods and hills full of vineyards. Up there from 1934, Amerigo offer the best products of his land is a vintage style family trattoria created by Alberto Bettini's grandparents.
You won't find any fois gras or caviar there, but only the best local and seasonal products like mushrooms and truffles (black and white), river fish like salmerino of Corno alle Scale or deer in a cuisine that celebrate tradition looking forward.
​The location is very warm and cosy and you will be back to 1930's with vintage coffee machine and liquor posters on the walls. At the entrance there's a small shop to buy some products, I recommend their liquors (China China or Marasca) or Saba (cooked grape must).
You pay: 50€ a la carte, menu of 60€
My tip: on the first Sunday of each month Savigno hosts the antique market to bring home some vintage souvenirs
One dish not to miss: Amerigo's egg. A sort of soufflé, soft as a cloud usually served with truffle when available, I had them with asparagus
Via Guglielmo Marconi, 14-16, 40060 Savigno (BO)
Tel. +39
051 670 8326
Email:
info@amerigo1934.it
www.amerigo1934.it
Ristorante I Portici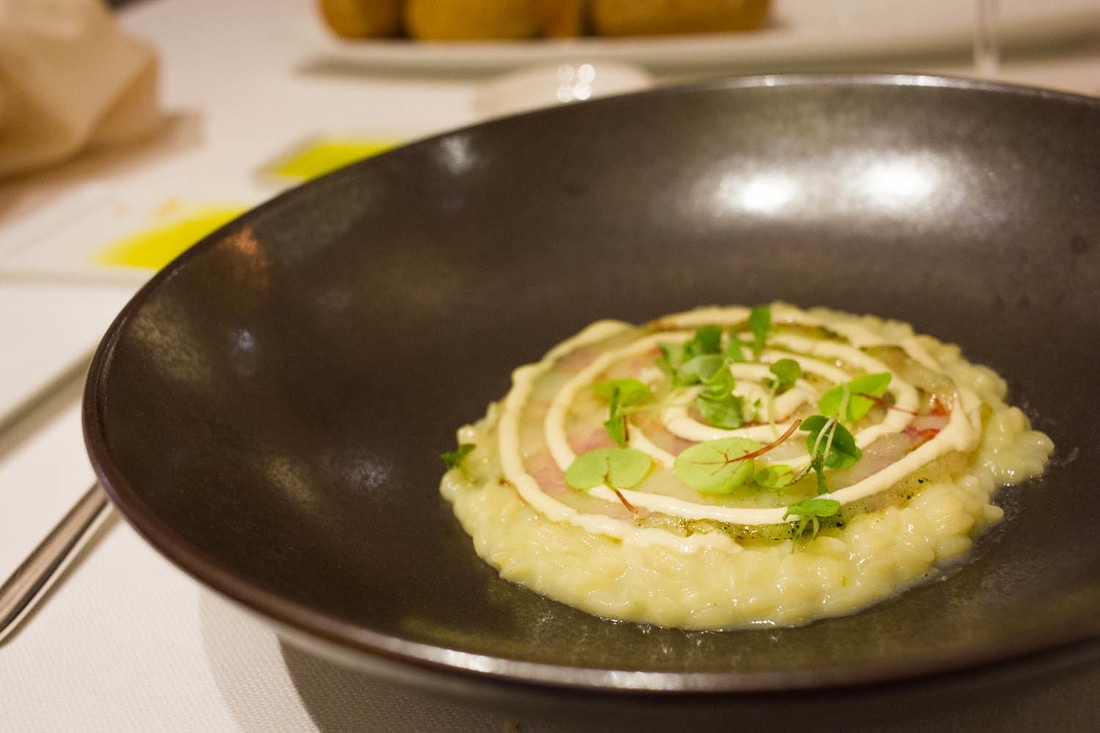 "Like spaghetti with clams"
Agostino Iacobucci is a Neapolitan chef who moved to Bologna in 2008 to bring the only Michelin star of Bologna city centre. The restaurant is set in the elegant location of an eighteenth century's caffè chantant, called Teatro Eden, renovated for the occasion. In Iacobucci's cuisine you can find his origins by the usage of prime quality ingredients, like Spaghetti of Gragnano or buffalo cheese, that look far from Bologna to innovate the tradition. His savory babà is a nice surprise and "Naples meets Emilia" (tortelli stuffed with neapolitan ragù, Parmesan foam, Piennolo's tomato coulis) is a dish who talks by itself.
Everything dish is a surprise at I Portici and even if 2017 just started, I can tell that I will remember this place for my top year ranking.
You pay
: 84€ (meat menu), 90€ (fish menu), 110€ (tasting menu).
Go straight to the menu
My tip
: ask to eat inside the old ice cave used by the pope. A wonderful and intimate location to eat at light candle
One dish not to miss
: Buffalo milk ice cream, peppers and raspberries with caper powder
Ristorante Marconi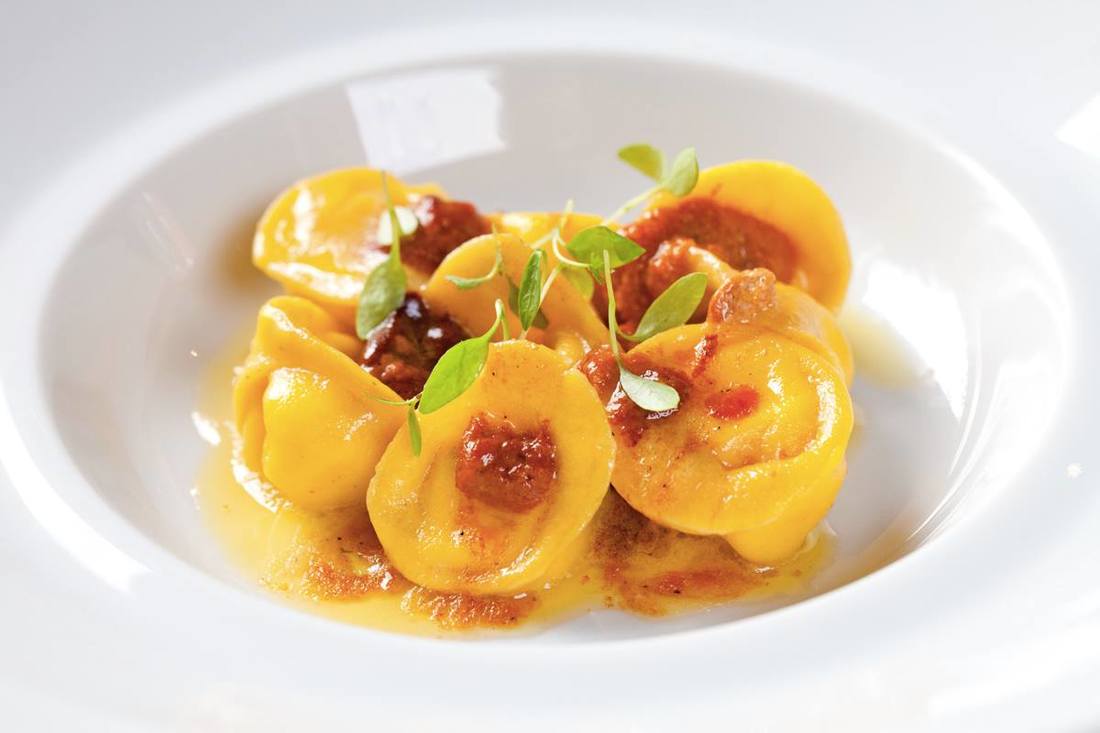 Ravioli with ricotta cheese, almonds and sea urchins
​It's not easy to find a woman chef with a Michelin star. With his brother Massimo (that will make you drink the best Pignoletto I ever had), Aurora Mazzucchelli is the only one in Emilia Romagna and she keeps her star from 2008 with firmness. The restaurant had been renovated in 2016 and now the style is modern and elegant but you will feel at ease. The combination of local ingredients and excellent products generates dishes like their famous Macaroni "al torchio", smoked eel, raw oysters and spinach or the turnip ravioli, goat cheese and balsamic bubbles so Aurora doesn't lack of bravery and skills.
You pay
: menu 65€ (5 courses) 85€ (8 courses).
This time again, go with that
My tip
: after lunch visit
Rocchetta Mattei
, an astonishing castle not far from there
One dish not to miss
: Parmesan cheese tortelli with lavender, nutmeg and almonds
Via Porrettana n.291, 40037 Sasso Marconi (BO)
Tel. +39 051 846216
E-mail: info@ristorantemarconi.it
www.ristorantemarconi.it
---
You may also like