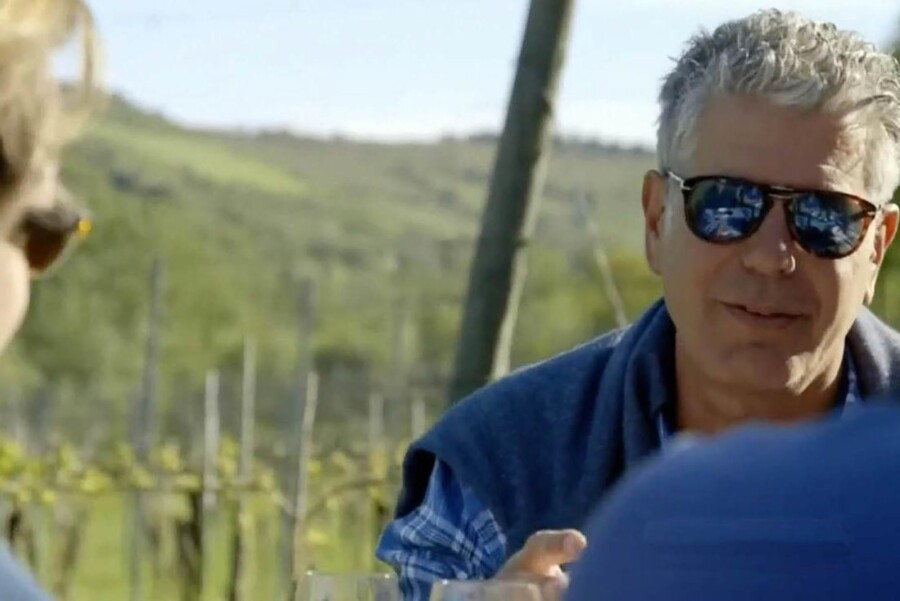 He hated brunch and loved Negroni.
He visited 120 countries and ate in the best and worst places on the planet.
He was a TV star, but he always said his truth about food.

Anthony Bourdain visited Bologna and Emilia Romagna in 2012 for his show No Reservations.
He won't come again but he left us a great document about the food of our land.

Let's track down the places he visited.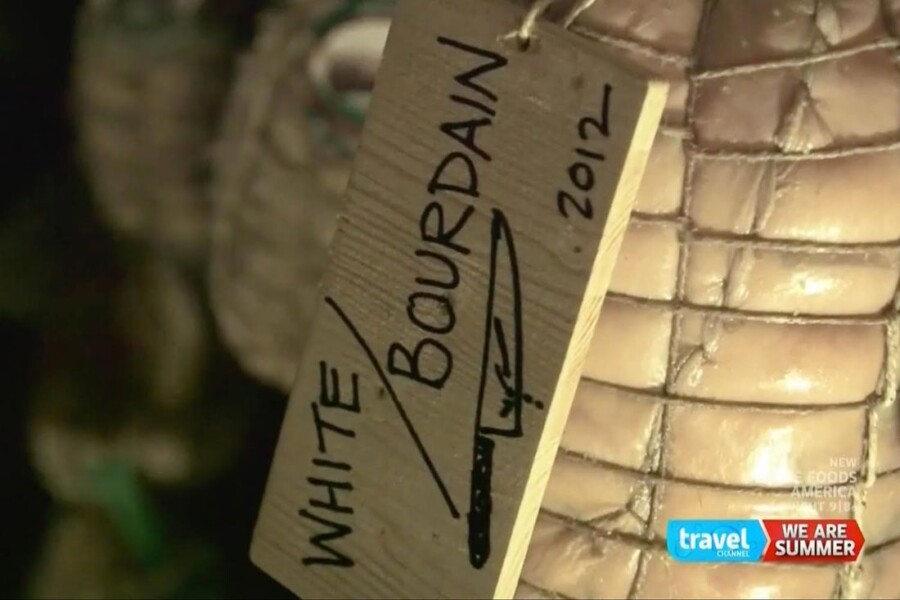 Ristorante San Domenico
Bourdain chose a special host to guide him around Emilia Romagna's food.
His Virgilio is Michael White, a chef from Wisconsin who trained at Ristorante San Domenico in Imola.

The show begins inside the kitchen of this Michelin Starred restaurant, opened in 1970. Gianluigi Morini and Nino Bergese, known as "the king's chef", for his past work with the royal Savoia family, were the founders.

They got 2 Michelin stars in 1977 and never let them fade away.
Michael began his career in San Domenico's kitchen, before flying back to the USA.
He shows to Bourdain the preparation of one of their most popular dishes: uovo in raviolo.

They come back at the end of the show for a full dinner.
Bourdain looks enthusiast about the duck press tool. And of the 1914 cognac they share with Mr. Morini.

Info
Ristorante San Domenico
Via Sacchi, 1, 40026 Imola BO
Tel. +39 0542 29000
www.sandomenico.it
Antica Corte Pallavicina
Massimo Spigaroli, the mastermind of Antica Corte Pallavicina, introduces Micheal and Anthony to the most valuable cured meat of Emilia Romagna: culatello.

A 700 year old court near Po River hosts the cellar of magic.
The air enters from an open window to cultivate sweet mould, raised by the moisture of the river.
White and Bourdain hang a culatello just near the one of Alain Ducasse and Prince Albert of Monaco to cure for 2 years.

I do hope they had the chance to come again to take it out of the wall and have it with a bowl of wine.

Info
Antica Corte Pallavicina
Strada Palazzo due Torri, 43010 Polesine Parmense PR
Tel. +39 0524 936539
​www.anticacortepallavicinarelais.it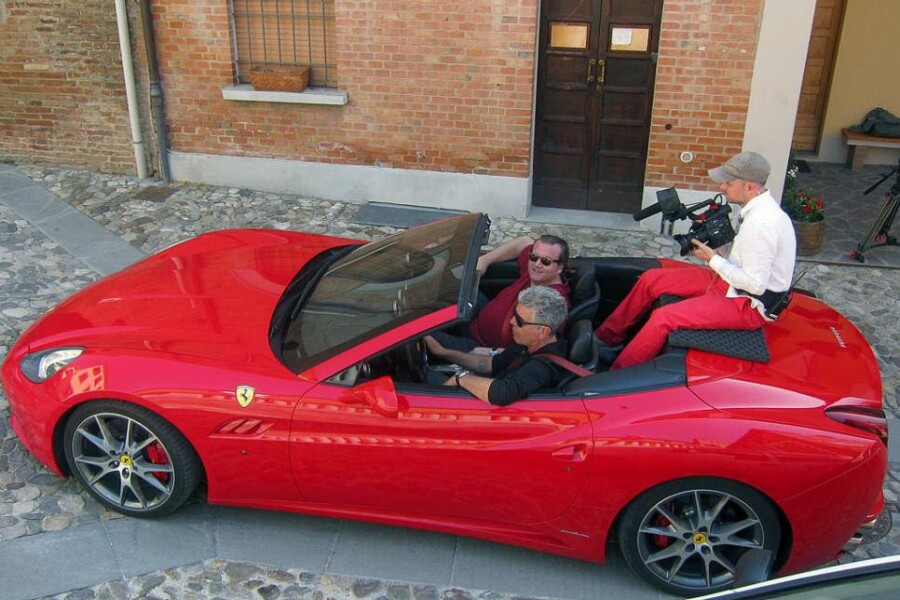 Acetaia Pedroni
It's no surprise that Bourdain loves Balsamic vinegar of Modena.
A man who respects real food. A food made by men of passion, far from marketing slogans and healthy trends that last a season.

Bourdain arrives at Acetaia Pedroni on "Sparky", his red Ferrari, but the charm of luxury cars is blown away by the batteria of wood-made barrels of Giuseppe.
Each Balsamic takes its name from the wide Pedroni family tree, starting in the 800's century after a lucky bet on lottery numbers.

I'm 100% sure that Bourdain respects and knows how to use Balsamic vinegar. But after the visit to the acetaia, he stops at Osteria di Rubbiara to taste Balsamic on Modena's traditional dishes.

This Osteria is not a place for #foodgasm (a term hated by Bourdain).
The old owner confiscates your phone as soon as you enter. There is no written menu and you're not supposed to leave leftovers on your dish.

Those rules may seem unpleasant and out of time, but they are a flashback in an area where food was work and effort before pleasure. Things that Bourdain well knows.

Info
Acetaia Pedroni
Via Risaia, 2, 41015 Nonantola MO
Tel. +39 059 549019
www.acetaiapedroni.it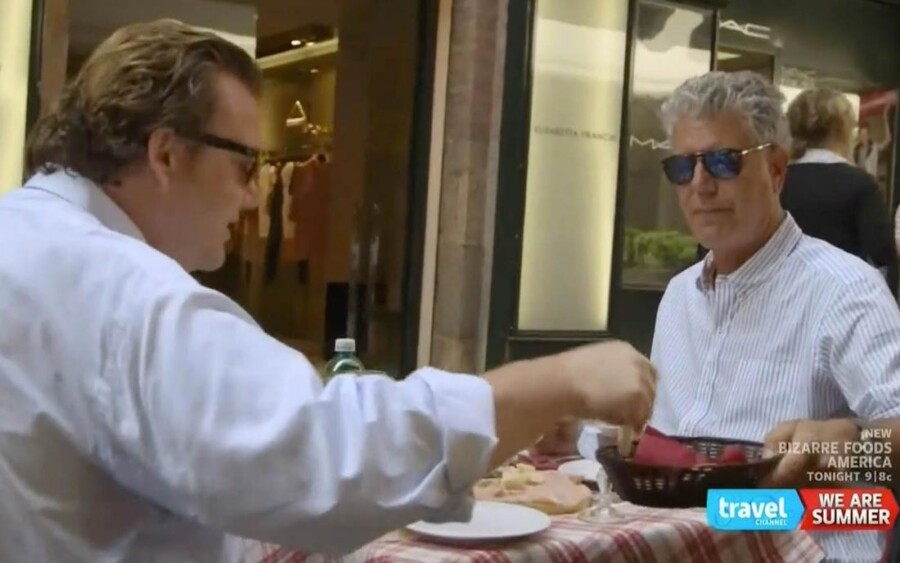 Quadrilatero

Despite some footage of market life at Quadrilatero food market, Bourdain spends only a few scenes in Bologna.

Sit on the tables of Il Calice in Via Clavature, he has a Negroni with Michael, sharing opinions about Italian style and filling "hot pancakes" (they're called tigelle Michael!!!) with mortadella.

They joke about Italian self-confidence in wearing red trousers and fanny packs, without caring about age and dress code.
It's a funny scene, but that's the only contact with Bologna.

And my biggest regret.

No leftover dishes like passatelli, no old Osterie who only sell wine on tap, no poor and tasty meat made with pork ears, tongue and heart (yes, we have it, and I put it on the table during our Classic Bologna tour).
Trattoria Fita
But Bourdain and Michael still have their authentic local lunch.
In Borgo Tossignano, near Imola, they have a real Romagnolo feast.
Vegetarians can skip this part.

Just 40min from Bologna, the cuisine of Osteria Fita already seeks to Florence. Starting with ficattola, local fried bread with squacquerone DOP cheese the main attraction is Fiorentina steak.

In his most famous article in the New Yorker Don't eat before reading this, Bourdain explains why never order well-done meat in a restaurant. Fortunately, Fiorentina can definitely be eaten.

Info
Trattoria Fita
Via Roma, 3, 40021 Borgo Tossignano (BO)
Tel. +39 0542 91183
www.fitaborgo.com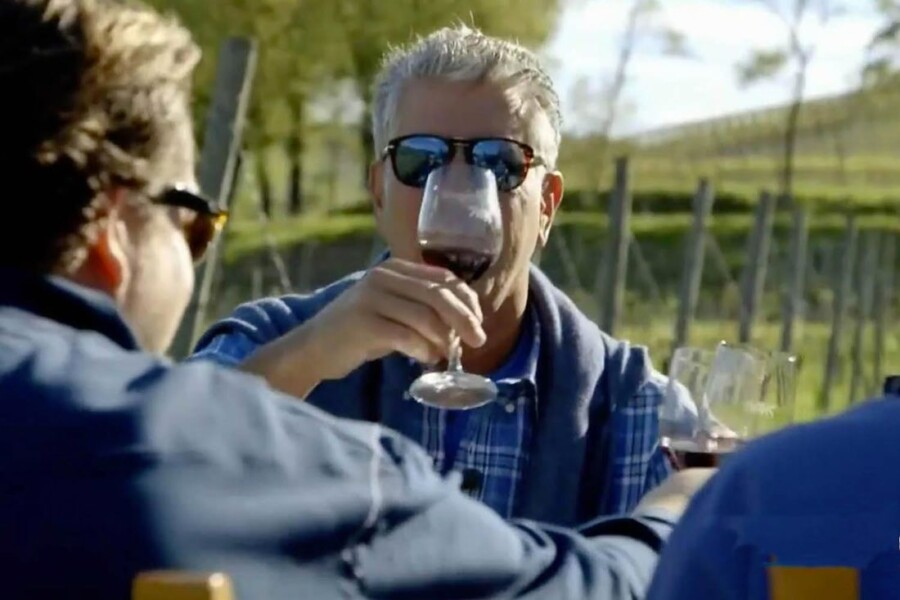 Tre Monti
At Tre Monti Vineyard Bourdain talks about happiness.

After admiring a sfoglina making
tagliatelle
, Anthony and Micheal sit in a vineyard on the hill with wine producer Vittorio and his father.
They eat pasta and cheer together with a glass of
Sangiovese red wine
called Thea, in memory of Vittorio's mother.
​After lunch, Bourdain says:
"We all work for this sort of a dream.
I mean, the fantasy is to be sitting in a table like this, eating freshly made pasta, drinking wine this good and looking at this.
This is what every sensible people in the world wants.
And you have it.
You're making me very happy."

Reading those words today can lead to different thoughts.
It's impossible to distinguish where fiction ends and reality starts.

I spent most of my teenage summers up on those hills, and I know how unique and beautiful they are.
​
My only wish is that in that vineyard, drinking wine and talking about food, he had some moments of peace.


---
---