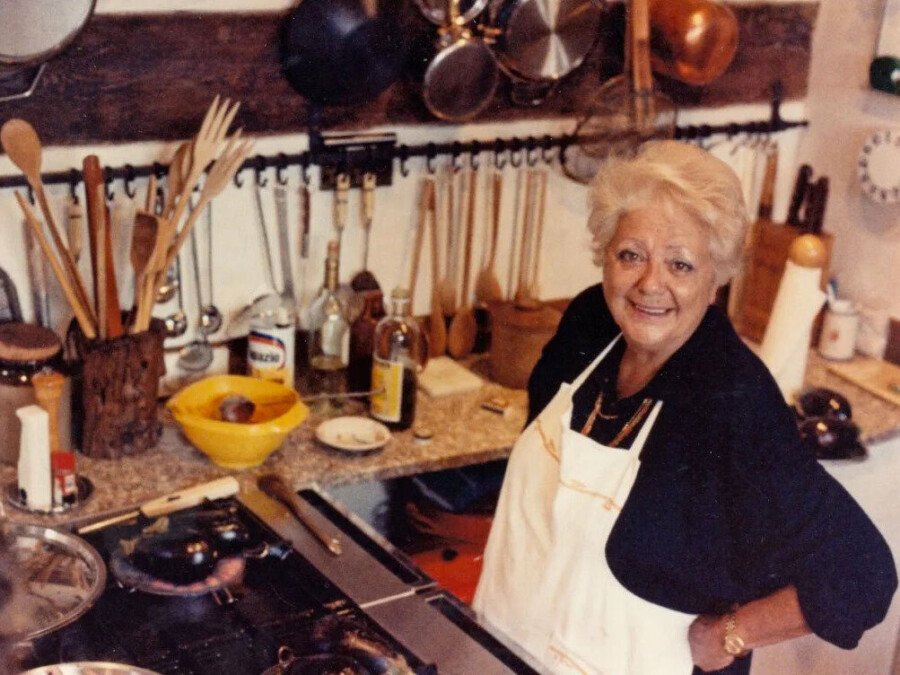 Marcella Hazan doesn't need a presentation.
If you browse her cookbooks you'll find a lot of Bologna between the pages.
Let me walk you through 8 of her legendary Bolognesi recipes.
Bologna is probably the only city in Italy whose name is instantly associated in the Italian mind not with monuments, not with artists, not with a heroic past, but with food.
Marcella Hazan - "Essential of Classic Italian Cooking", 1973
Ragù Bolognese
October 17th, 1982.

One of the few dates I mention during our food tour in Bologna.
The recipe for Classic Bolognese Ragù is deposited at the Chamber of Commerce of Bologna.
Marcella Hazan published her "Essential of Classic Italian Cooking" more than 10 years earlier.
But she well knows the boundaries to call ragù Bolognese:
Carrot, onion, and celery to start.
Not much tomato sauce.
No garlic.
Repeat with me: No garlic.
Ragù Bolognese is a recipe that everyone at home makes different. Different proportions, different ingredients, different cooking times.

So follow Marcella's correct guidelines, but it's not the Bible.
Make your changes, but don't change its name.
Mortadella
Imitation is the sincerest form of flattery but, in the case of mortadella, it has come closer to the character of assassination

That's how Marcella refers to the desperate efforts to replicate mortadella outside of Bologna.

She hell knows the real mortadella has nothing to do with "Baloney". And you don't have to find pistachios or truffles inside, only black pepper inside.

Marcella also suggests how to use mortadella in your kitchen.
Of course in the stuffing of tortellini, but also breaded and fried, or cut into small cubes at aperitivo.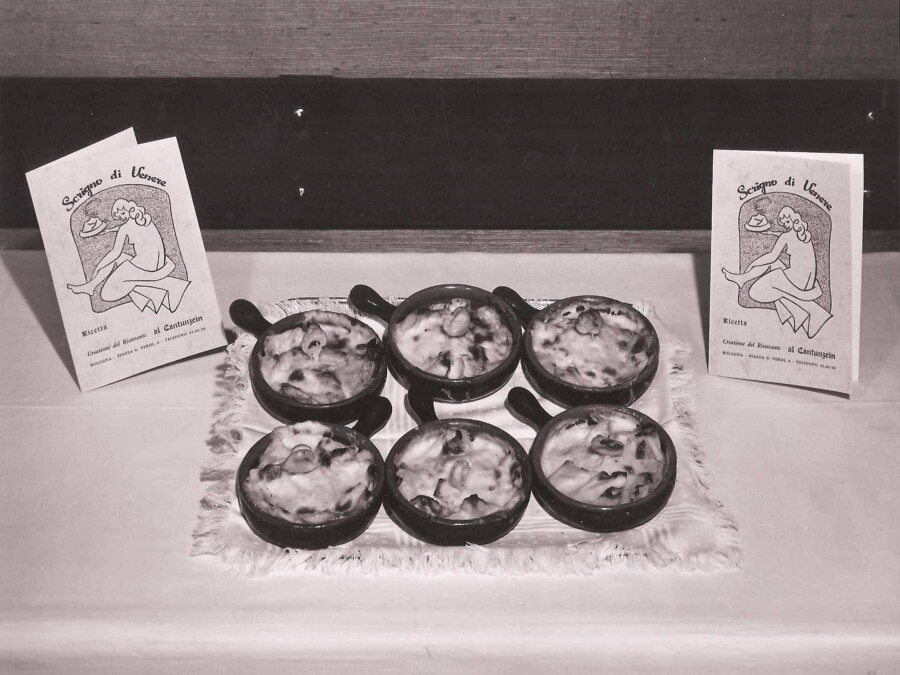 Scrigno di venere
I'm sure you don't know the story of Scrigno di Venere, Venus's jewel case.

The origin of this forgotten dish lies where today it is the heart of university life. In the 1970s in Piazza Verdi you could find the legendary Al Cantunzein, one of the many famous bourgeois restaurants, used to serving local and international celebrities.

The hands of his cook Maria Gaddoni gave birth to revolutionary dishes. Among which this small handkerchief-sized wrapper of yellow pasta pulled around a collection of edible "jewels": green tagliatelle, ham, wild mushrooms, and truffles.

Now only 3 places in Bologna make this atomic bomb of flavors and fat.
And to be honest, I think it's better to leave it in its glorious past.

You can better learn to make tagliatelle in our Bologna cooking class and bring home only this jewel.
Passatelli
Marcella was born in Cesenatico, a romantic marina on the Adriatico coast. She knows the differences between Emilia and Romagna. Attitude, friendliness but also food.

While it may bear a superficial resemblance to the Bolognese, [Romagna's cuisine] holds more dear such values as lightness and delicacy.

That's how she introduces the simple passatelli soup.

She doesn't mention the way to serve it as pasta.
But she recommends putting great attention in the preparation of broth where"no commercial substitute should be used."

Oh Marcella, we agree on so many things.
Piadina
Thin, flat, chewy, tender and not brittle.
These are the adjectives that Marcella uses to describe piadina.

This bread once was the everyday bread for Romagna's farmers, but now is the lifesaver for empty fridges.

It used to be cooked in a terracotta slab called testo, but like most Italians you can use a traditional pan to prepare it.

Or even better, join us on our Ravenna tour where we have piadina under the frescos of an old osteria.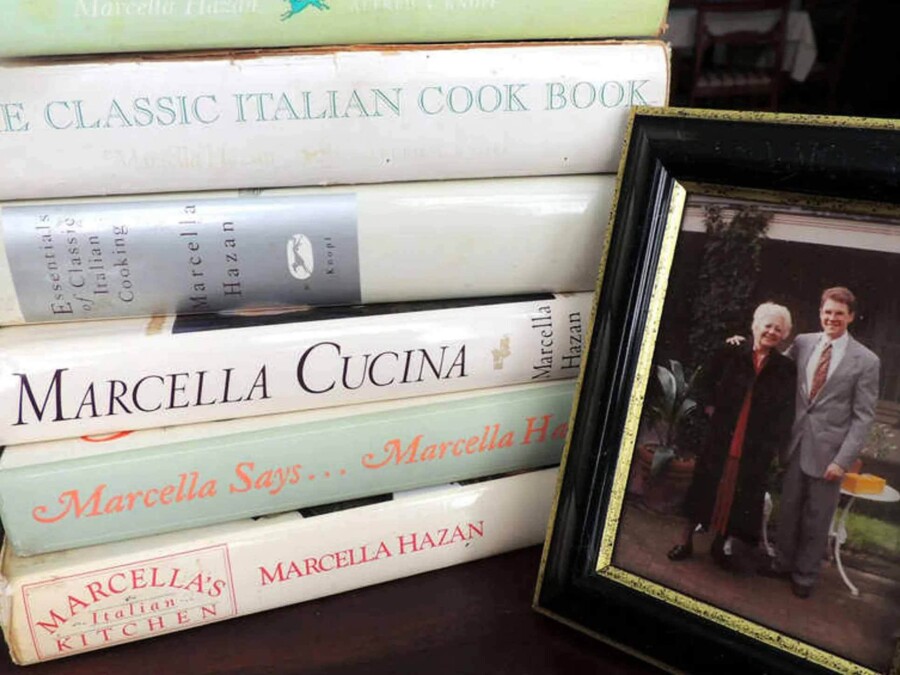 Rice cake
Every single bakery in Bologna makes torta di riso, rice cake.
And I promise you that every single one is different from the others.


Marcella shares the recipe she got from the Simili sisters bakers, who unhesitatingly assured her theirs was the most delicious and authentic version.

Of course.
Now the challenge continues. And once you've tried a bite, I'm sure you'd like to be the judge.

Egg custard gelato
I know no finer version than this one which comes from Bologna's great classic restaurant, Diana.
Ehi, ehi Marcella, slow down.
We take gelato pretty seriously in Bologna.

We have a Gelato Museum, countless stunning gelato shops and it's not a coincidence that we end our Bologna food tour with gelato.
After a century Diana is still there under the portico of Via Indipendenza, but I would've loved to walk with you to make change your mind.

And to thank you for bringing the taste of Bologna over the ocean.
---
---