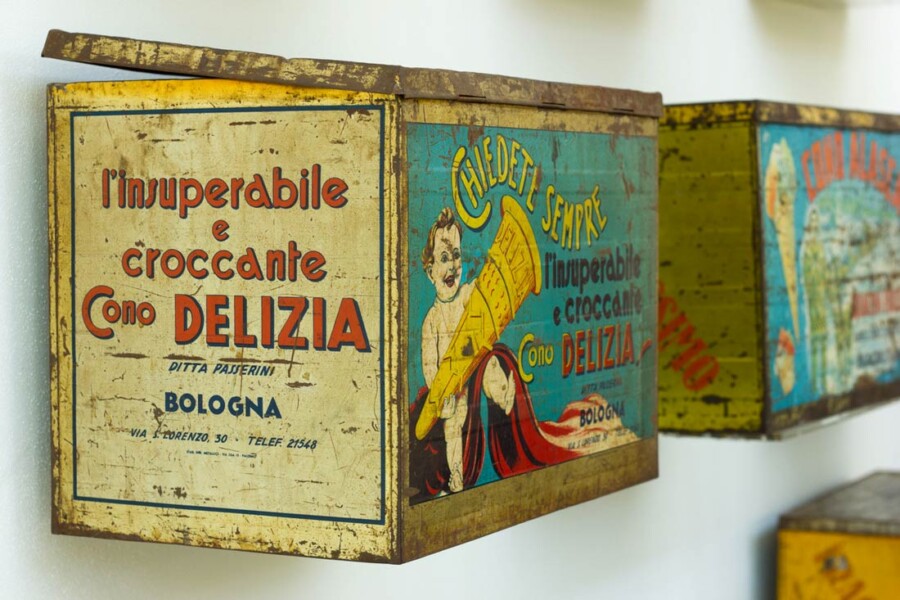 What's life without gelato? Not much if you ask me. So when I found out that just outside Bologna there's a full museum dedicated to gelato, I set there my heaven on earth.
Why a Gelato Museum?
Served with a few drops of
Balsamic vinegar of Modena
or in our typical cialda in one of my favorite
gelato shops in Bologna
, gelato is a popoular food with a hidden story.
Bologna Gelato Museum opened in September 2012 inside
Carpigiani factory
in Anzola (15km from Bologna) to unveil the history of gelato: where it was born, how it grew up and why it became such a wonderful gastronomic product. ​
​Carpigiani is the world leader in the manufacturing of gelato machines.
Two brothers, Bruto and Poerio, founded it in 1946 and licensed the first prototype of gelato making machine.
So it's not a coincidence that the gelato museum has been established inside it.
Cono machine inside Gelato Museum in Bologna
What you find at Gelato Museum in Bologna
At Gelato Museum you can discover the
evolution of gelato
.
At first, Arabs created shrb, a sorbet made with water, sugar, fruits and spices.
Then during Renaissance a Sicilian gelato maker, Francesco Procopio, started to sell gelato at
Le Procope café
in Paris.
It was the beginning of a long story that you can relive in the museum through video, infographics and old relics. ​
Inside the Carpigiani gelato museum in Bologna, you can also see the first wooden made
machines
and all the products still in use to make gelato.
But you can also see how gelato was served and sold, like the beautiful
cono tin-plated boxes
of different Italian producers.
There's even an amazing gelato tricycle, popular in Italy from the 1960s, for your selfie of the year.
The history of gelato in old photographs
A detail of an old gelato tricycle kept at Gelato Museum
Old tin-plated cono box
Hands-on: Gelato Lab and School
If you want to make your friends envy about your handmade gelato, you can try Gelato Emotions: different workshops to learn to make gelato at home without any machines.
You can see the result of my work in the photo. Not too bad, uh?

Want to make your kids happy? During Gelato School, they can train during labs and learn gelato science and culture.
So even if it's a bit outside the city centre, I really recommend going and checking this small but really well-made museum.

How to make gelato at home without a gelato machine
The final result of our lesson: strawberry gelato cup
Info
Gelato Museum
Via Emilia, 45 40011 Anzola Emilia (Bologna)
Tel +39 051 6505306
Info and reservations:
[email protected]
Website:
www.gelatomuseum.com
The museum is open from Tuesday to Saturday from 9am to 6pm. All visits are guided and reservation is required.
How to get there
By bus: Bus n°87 from Central Bus Station (in front of the Railway Station). Stop 'Via Magli' in Anzola
By taxi
---
---