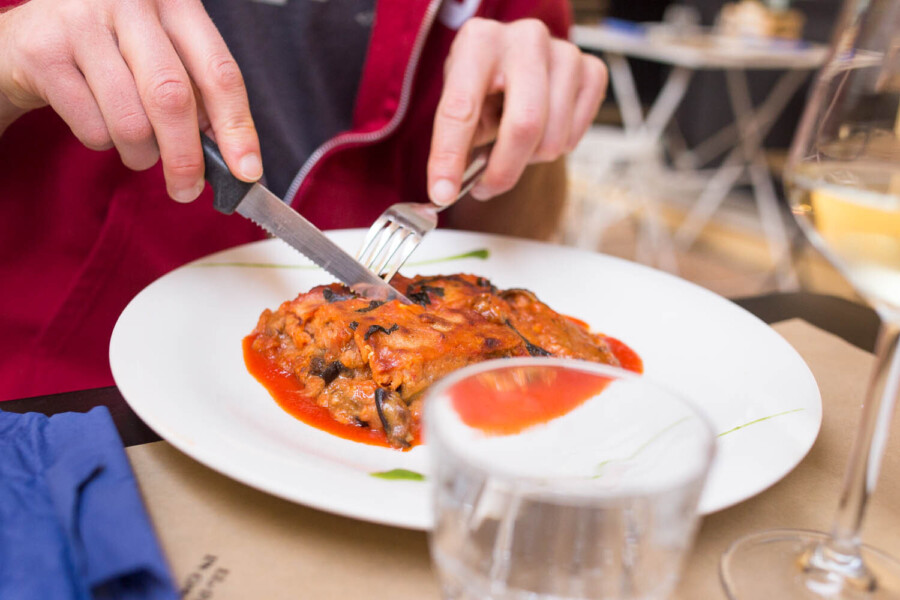 Bologna culinary tradition is mostly based on meat. But the mood is changing pretty fast.
Here's a list of great fish and seafood restaurants in Bologna city centre that you should visit.


1. Scacco Matto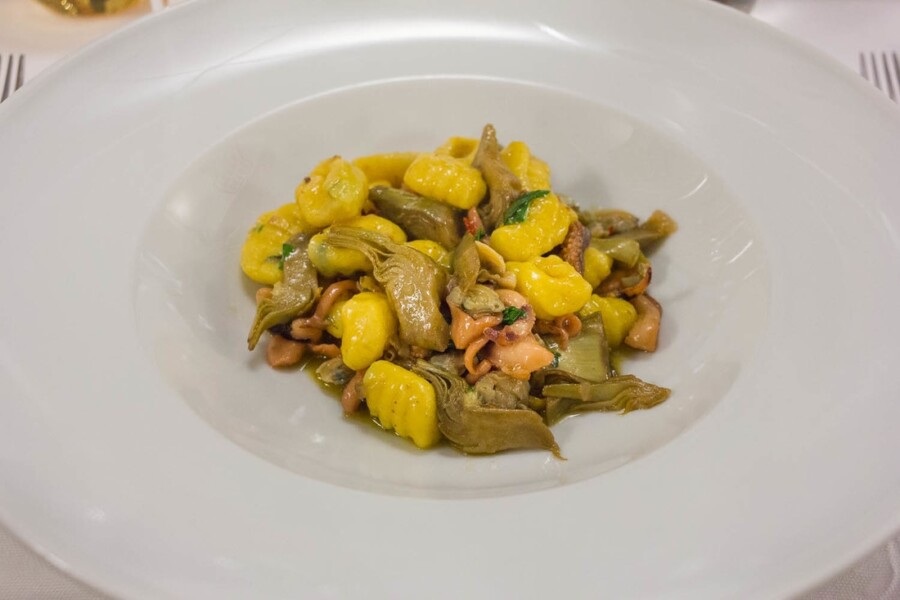 Do you believe in love at first sight?
Enter this small restaurant in the beautiful Via Broccaindosso, watch the frames with vintage card games on the walls and enjoy Mario Ferrara's cuisine.
I recommend the fish menu (50€) with 5 different dishes because it's the best way to discover the different sides of Scacco Matto.

The chef is from the south of Italy (Basilicata) and arrived in Bologna 30 years ago after inspiring travels in Japan and Brazil.
This open mind is reflected in his dishes with the usage of unusual ingredients (like raphanus) and combinations (gnocchi with squid artichokes and periwinkle were amazing).

​Gelato is made by Andrea Bandiera of Cremeria Scirocco, one of my best gelato in Bologna.

During summer, Scaccomatto moves inside a beautiful garden called Orti di Via della braina. Scaccomatto agli orti, this is the name of the event, offers a fixed menu that changes every night.

​My favorite dish
Raw fish antipasto with squid, prawns and sardines

Info

Via Broccaindosso, 63, 40125 Bologna
Tel +39 051 263404

​Price: 55€

Open every day but Monday lunch

www.ristorantescaccomatto.com
2. Osteria Bartolini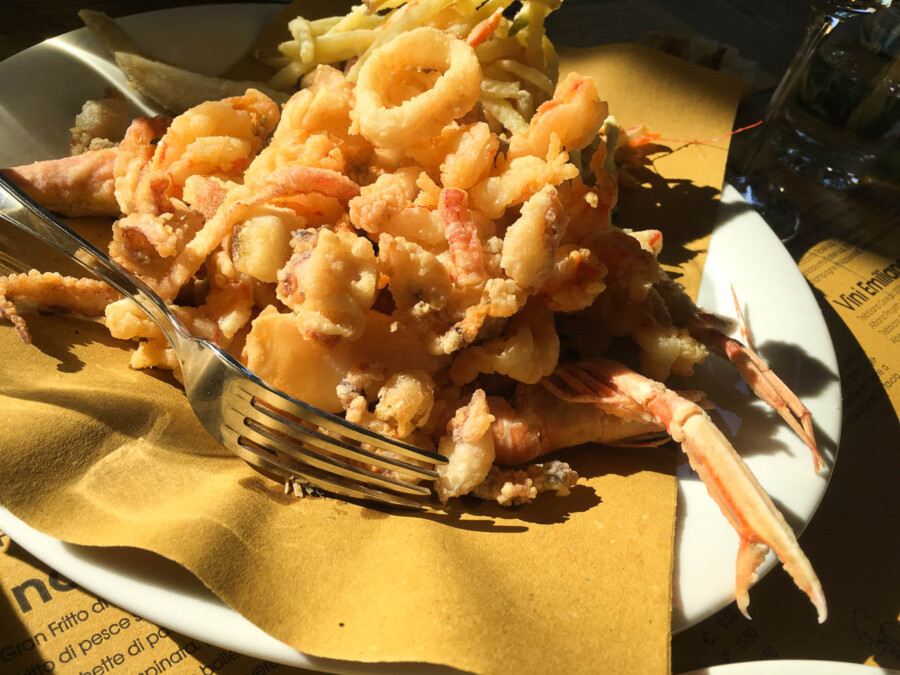 It's the newest on the list and already a reference.
The renovated Dondini Ghiselli palace hosts more than 200 people and in spring you can eat on a wonderful terrace in the shadow of an old plane tree.

The owner, Andrea Bartolini, already has a Michelin star restaurant in Cesenatico (La Buca), but here the concept is different.
Simple dishes of maritime tradition with daily fresh fish only of Adriatico sea.

Their fried fish, absolutely with no lemon!, is a must-try.
If you prefer pasta, spaghetti alla chitarra with clams will do for you, or ask for passatelli if available.

Grilled sardines or shrimps are always on the menu. Or try daily dishes like rumble fish or sole, according to fishermen's catches.

Wines list is not wide, most of the selection comes from Emilia Romagna, like Pignoletto or Albana, but you can find a few Franciacorta brut or rosè.

​
My favorite dish
Cartoccio of Adriatico sea fried fish​

Info

Piazza Malpighi, 16, 40123 Bologna
Tel. +39 051 262192
Price: 35€

Open Tuesday - Saturday 7:30 pm - 10:30 pm. Closed on Sunday, Monday
3. Banco 32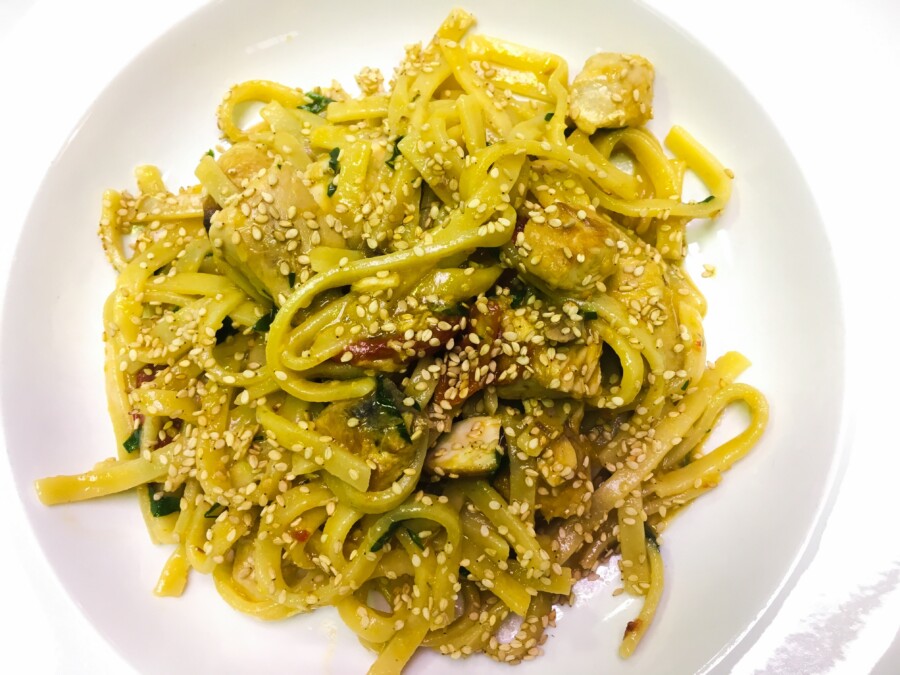 ​Inside Mercato delle Erbe, one of the landmarks of our food tour in Bologna, stands this small bistrot that reminds me of the mood some stalls of Barcelona's Boqueria market.

The few tables are just in front of the market's fish stall where the chef chooses every day the best fish to cook.

The menu changes daily and has a short and selected list of fish dishes which usually includes salads, like octopus with potatoes and olives, a few pasta like scialatielli with palamita, confit tomatoes or fish lasagna and some secondi like rolled swordfish with aubergine.

The cuisine has different influences, from France to Sicily, and the use of spices and herbs is perfectly balanced.
When British chef Rick Stein was in Bologna, he followed my suggestions and fell deeply in love with this place and its stuffed squid with spinach and capers.

​Arrive there early otherwise you have to queue, especially on weekends.

​My favorite dish
Hard to say, go with the daily pasta and you won't be wrong

Info

Via S. Gervasio, 3/A, 40121 Bologna
Tel. +39 051 269522

Price: 30€
Open Tuesday - Saturday 12:30 pm - 2:45 pm and 6:30 pm - 11 pm. Closed on Sunday, Monday

www.banco32.it
4. Ittico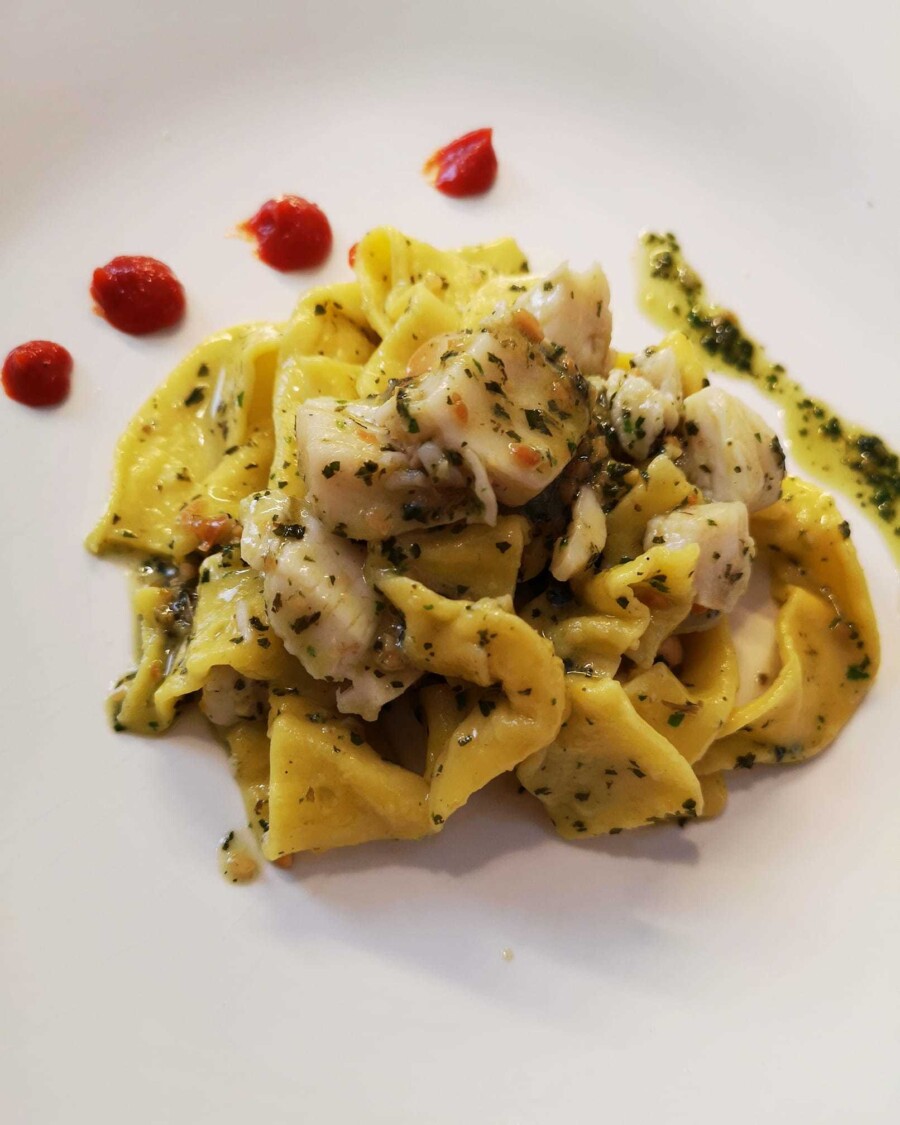 Via San Felice, a street of old taverns and small clothes shops.
A small door opens the ocean.
You cannot start without raw French oysters and red Sicilian shrimp.
Then go straight to the Balik salmon tartare: smoked in the same way since the 1980s it's the top-notch of salmon.
If you like pasta, try their spaghetti with bottarga and sea urchins.
Apricot and cardamom sorbet for dessert, or just walk under the portico to get a great gelato in Piazza San Francesco.
My favorite dish
Salmon tartare with French butter
​
Info

​Via S. Felice, 38/a, 40122 Bologna
Tel. +39 051 014 7075
Price: 60€

Open every day for dinner, Saturday and Sunday also for lunch

itticobologna.it
5. Pane e Panelle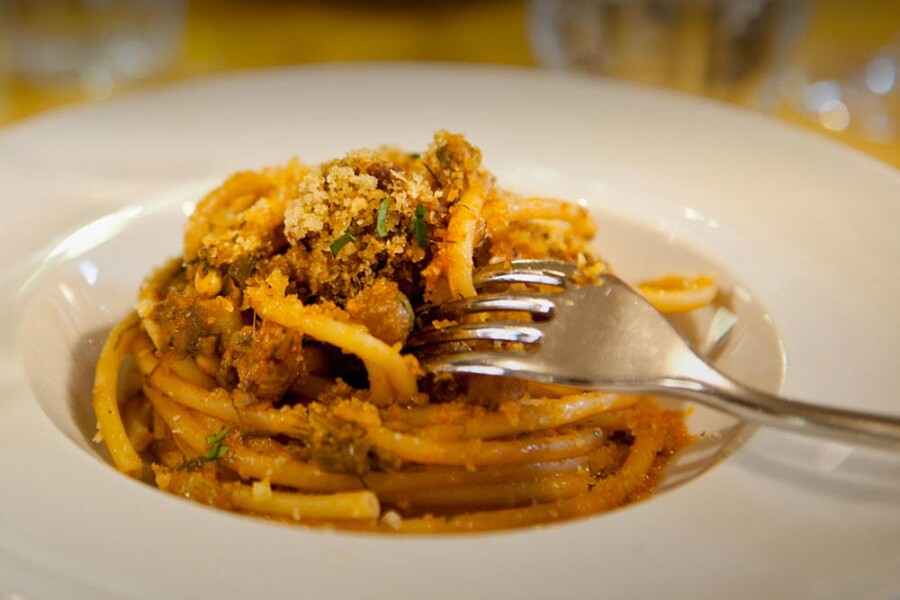 We're under the portico of Via San Vitale, a street that cuts Bologna like a knife. On one side the melting pot of the
University area
, on the other the elegance of Strada Maggiore.
Isabel opened Pane e Panelle in 2009. The formula has changed over the years, but not the quality.
Just in time to wear your napkin and a gentle waitress serves you
panelle
(fried chickpea cake) to warm your mouth.
A short and selected menu to choose from, based on fish and seasonal vegetables.
Start with raw orata with orange and onion or
fried sardines
if you are in the mood.
Then pick a
pasta
.
Hard decision but you can't go wrong. Hidden fishes like palamita, ray or shark are perfectly cooked by the Sicilian chef Luca Pappalardo.
Ask for a craft Bolognese beer, especially made for them by the local microbrewery Birra Cerqua (one of the best
craft beer of Bologna
). Or
Sicilian wines
like Grillo or Catarratto.
Don't leave the table without a cannolo.
My favorite dish
Pasta con le sarde (pasta with sardines, saffron, pine nuts, raisin, fennel)


Info
Via S. Vitale, 71, 40125 Bologna
Tel. +39 051 270440
Price: 35€
trattoriapaneepanelle.com
6. Pescheria San Gervasio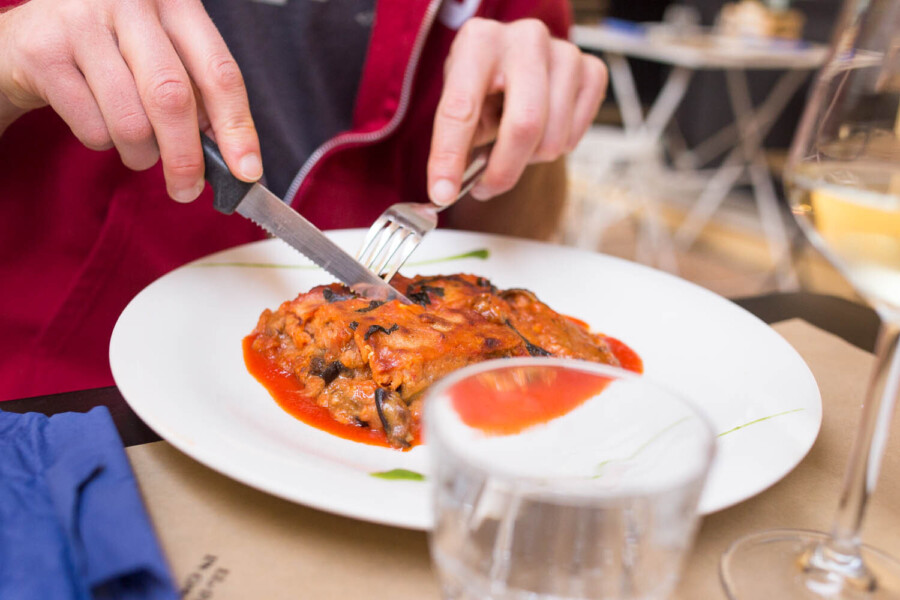 You're inside the district of food: just next to Bar Senza Nome, and a few steps from one of the best food markets in Bologna.

Pescheria San Gervasio, is there, under the portico.

The idea is simple. A blackboard with a short menu of well-selected dishes and a few daily dishes.
If you're lucky ask for the green oysters from Marennes Oleron. They're only available in winter win a unique color and flavor due to algae.
Then don't hesitate and order tagliolini cacio e pepe with shellfish, lime and pistachio. Yes, fish and cheese usually don't stay together. Here they do, trust me.
Their fried mix includes squid, shrimp, courgette and cod.

If not enough, end with mascarpone and remember that life is beautiful.

My favorite dish

Tagliolini cacio e pepe with shellfish, lime and pistachio
Info

Via Belvedere, 13d, 40121 Bologna
Tel. +39 051 262189
Price: 25€
Open Tuesday to Saturday lunch and dinner, Sunday only for lunch
7. Acqua Pazza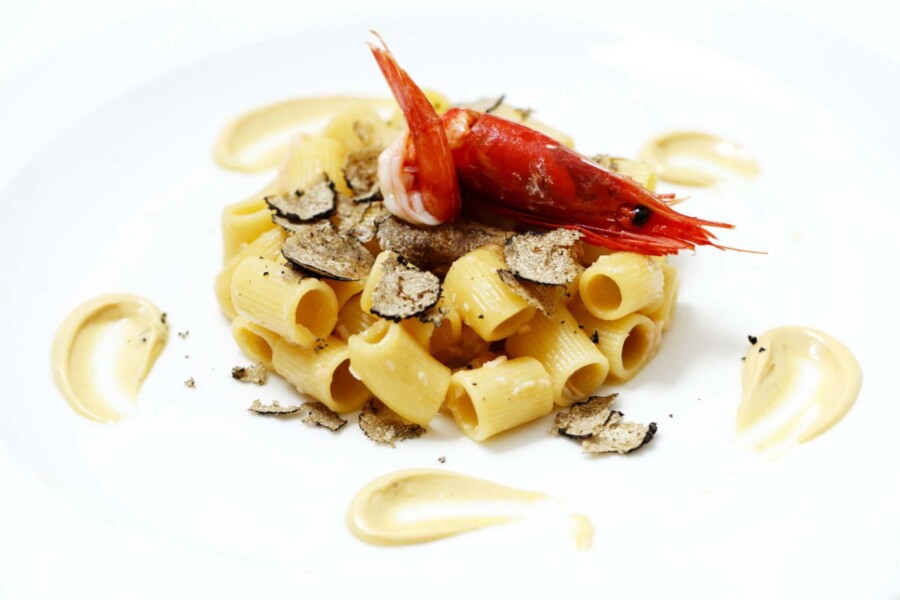 Ok, this is for REAL fish lovers.

You don't go to Acqua Pazza by chance.

Francesco Carboni's kingdom is a reference for quality and innovation in Bologna since 2008.

Don't even look at the menu, ask the kind waiter for the 8-course tasting menu (80€ in 2022).
Only choose to start with the raw shellfish and tartare or the 3 inspired starters.

Then stop for a second and think about your idea of tortellini.
Erase it.
It's time for something new and unexpected.
The shape is the classic, all the rest is pure joy, with ray and Cantabrian anchovies in the filling, butter, truffle and turnip gel all around.

With this dish he even won the Tortellino Festival back in 2015.
You will spend some money, but life's one and fish and skills have a price to pay.

My favorite dish
Tortellini stuffed with ray and Cantabrian anchovies, creamed with butter, truffle and turnip gel
Info
Via Murri, 168c, 40137 Bologna
Tel. +39 051 443422
Price: 100€
---
---