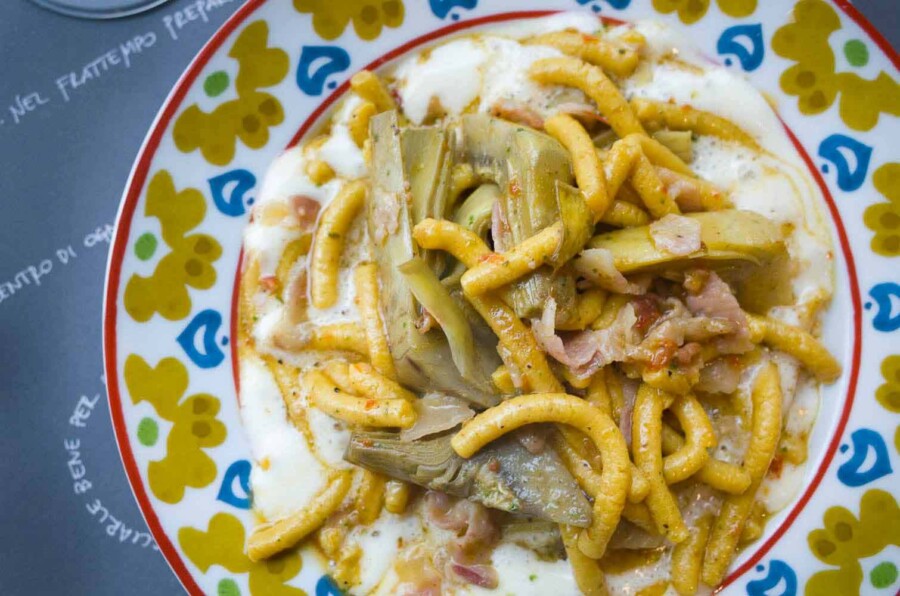 Mosaics make you hungry, I know. So it's better to know the best restaurants in Ravenna to eat well and relax in Romagna style.
Cucina del Condominio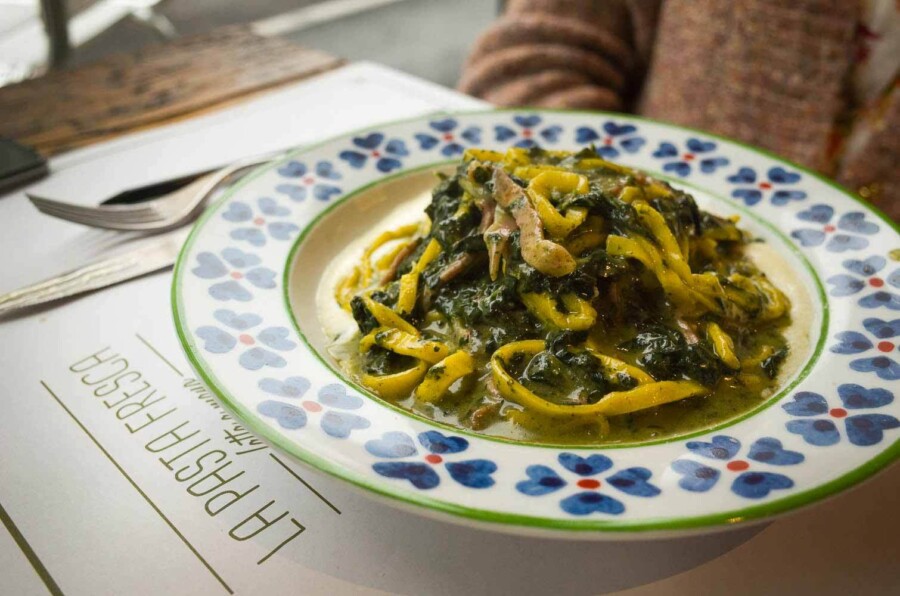 What would you expect from a place literally called "flat kitchen"?
Friendly atmosphere, genuine cuisine, portions of pasta big enough to serve a full flat.

That's exactly what you get in this cosy restaurant in a residential district of Ravenna.

Colomba and Paola are the sfogline who make fresh pasta like passatelli, cappelletti (don't ask for tortellini here, we're in Romagna!) or tagliatelle. They're served with the classic sauces, but also with a sprinkle of creativity.

Like this passatelli with artichokes and cheek lard, served on a mousse of 24 months Parmigiano Reggiano.
They sing of joy, don't they?
Info
Via Guglielmo Oberdan, 36, 48121 Ravenna
Tel. +39 327 6803847
cucinadelcondominio.it

Osteria dei Battibecchi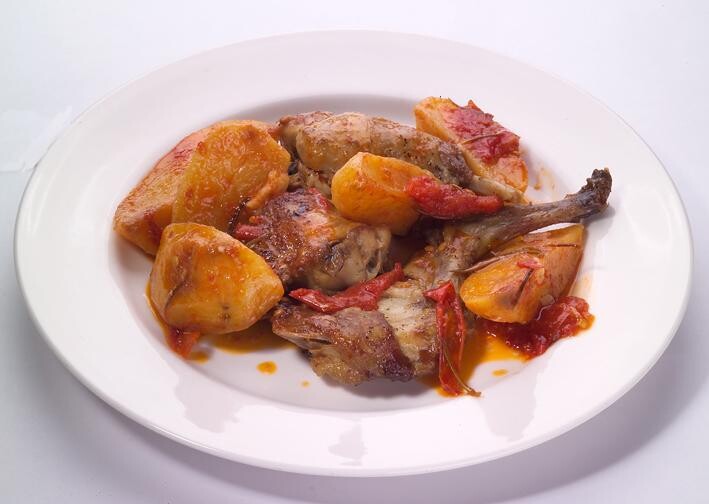 Welcome to the world of Nicoletta.
Yes, she's the redhead azdora in control of this tiny place next to Dante's tomb.

Genuine, like her cuisine.
At Osteria dei Battibecchi you won't find fancy dishes or extreme plating. You go there for the home tradition.

So rabbit with red potatoes, recipe learned by her grandma Teresa.
Passatelli, in brodo of course.
But also tripe, pasta e fagioli and all the simple dish that makes Romagna cuisine authentic and warm.
Info
Via della Tesoreria Vecchia, 16, 48100 Ravenna
Tel. +39 0544 219536

Osteria del Tempo Perso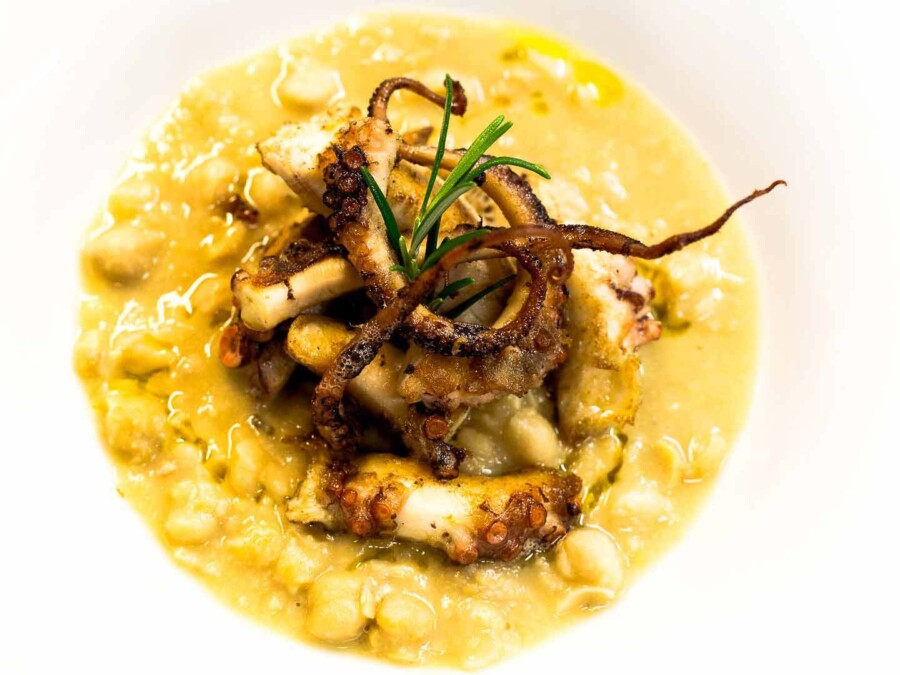 Sit down, relax, take your time.
The spirit of Osteria del Tempo Perso is slow.

Start with fried shrimps in pasta Kataifi to remind of the Byzantine emperor.

Then keep going with the flavoury beetroot tagliolino served with aubergines and swordfish.

Finish your journey with a fritto misto, to keep a good memory of your slow time in Ravenna.
Info
Via Gamba, 12, 48121 Ravenna
Tel. +39 0544 215393
osteriadeltempoperso.it
L'Acciuga
In case you wonder what to eat at L'Acciuga, the feeling of being on a bridge of a ship, would dissipate them all.
The menu changes every 2 weeks but some landmarks remain. Anchovies obviously can't miss, served with whipped butter and toasted bread.

If you love raw fish you can find scallops and Adriatico sea mantis shrimp. And Breton, Norman or Sardinian oysters.

Anchovies also make a comeback among the first courses, with spicy lemon and panfritto spaghetti.
If you're curious to jump around, try the tasting menu with 5 or 8 dishes.
And don't forget to raise the anchor before your leave to a new shore.
Info
Viale Francesco Baracca, 74, 48121 Ravenna
Tel. +39 0544 212713
Osteria della Zabariona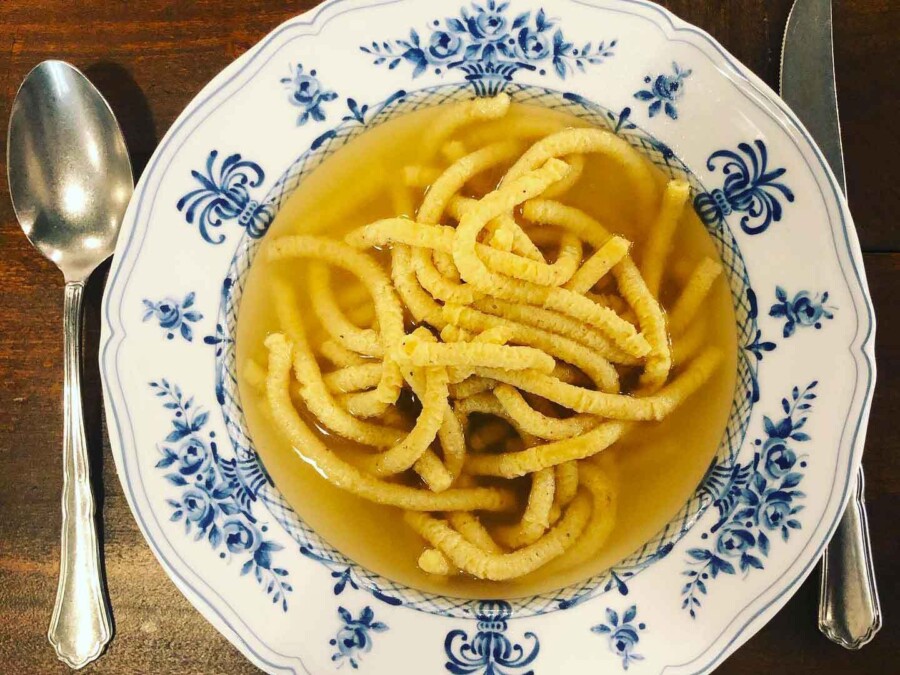 You'd never choose a restaurant in from of the Colusseum or Trevi's fountain. That's where the tourist traps stand, right?
But Ravenna is not Rome.
So it happens that just in front of San Vitale Basilica you can eat great food, welcomed by friendly people and not spend a fortune.
Osteria Della Zabariona is a newborn in the Ravenna food scene, but already a landmark.

Fresh pasta wait for you after the door, to be clear. Passatelli, curzul, cappelletti, all handmade and served fish what Adriatico sea has to offer.
So I can't tell you to order passatelli with black goby or curzul with squilla mantis or fried sardines.
But I can promise you'll leave Osteria della Zabariona smiling and with the desire to come back soon.
Info
Via Giuliano Argentario, 19, 48121 Ravenna
Tel. +39 327 897 6596
osteriadallazabariona.com

Time to dig deep into Ravenna
Great so now you know my favourite places to have a fantastic dinner in Ravenna.
But you are in the world capital of mosaic, would you miss them?
Enjoy San Vitale and Galla Placidia's tiles of beauty and mix them with Adriatico seafood and piadina in the best osteria of the city.
---
---