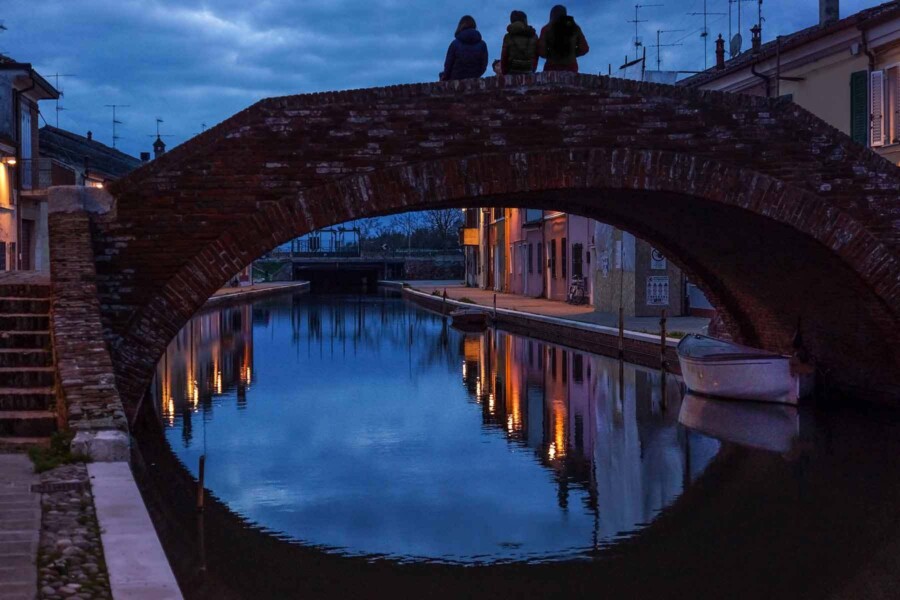 How many "little Venice" have you heard about?
Comacchio is close to it, has canals, bridges and Burano-style coloured houses.
But it has its own story and spirit.
Read my suggestions to plan your visit and get ready to meet the queen of the lagoon.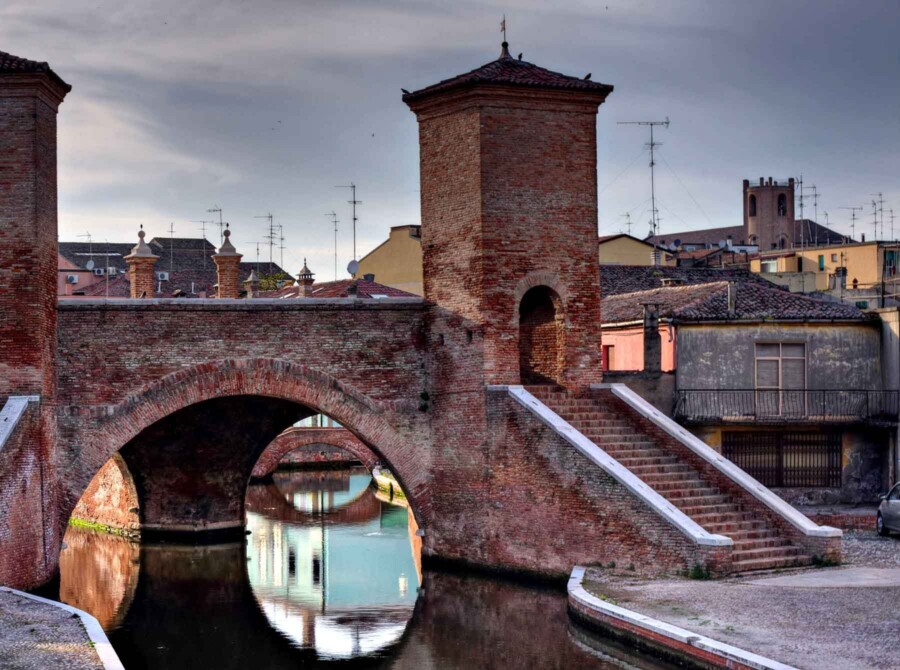 Comacchio: the city on the water
You're immersed in the fog of the Po river delta lagoon.
On a small old boat moved by an oar, like a gondola.
The only sound is from the seagulls singing and frogs jumping.
The water is still and over the fog, you glimpse small houses and a bridge.

Comacchio it's a small town on East side of Emilia Romagna, not far from Ferrara.
The longest river in Italy, Po, ends here in its delta.
Comacchio is a sort of island on the edge of the mainland, with its own language, its community of people, its work.

Its name may come from Greek "Kuma", wave. Or from "Commeatulus", group of boats or hills, as the city was born on a group of 13 small islands on the VII century AD.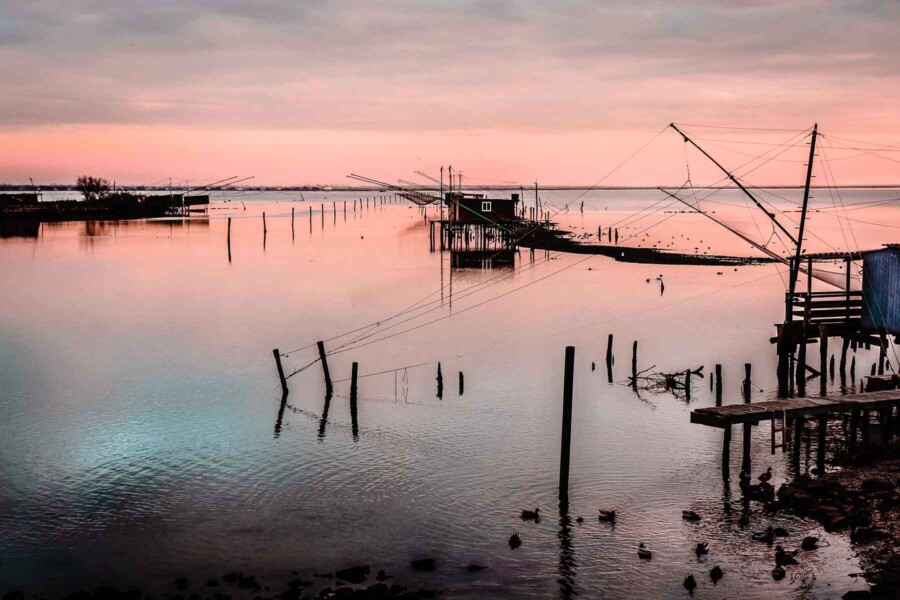 What to visit in Comacchio
Need ideas for a day trip from Bologna or from Venice?
Comacchio is perfect, with many things to visit, unique food and calm nature.
Here's a list of landmarks to plan your itinerary.
Trepponti bridge
Start your visit from Trepponti (literally 3 bridges), the symbol of Comacchio and an entrance gate to the city.
This unusual bridge, designed by Luca Danese in 1638, connect together 4 canals and 5 streets.
Admire the view and read the poetic inscription by Torquato Tasso on one of the towers.

Walk around the canals
Cross the bridges. Walk near the canals. Admire the coloured walls.
In one word: explore.
That's the best way to visit Comacchio.
During your wanders, stop for a coffee under Loggia dei Mercanti, the former public granary. It has a nice portico with marble columns and brick arches.
Make a stop in front of Ponte degli Sbirri (cops bridge).
It's named after the facing prison, that used to detain the so-called fiocinini: people who illegally fished eels in the fog of the lagoon.
Museo Delta Antico
An archaeological museum to learn the Etruscans and Romans origins of Comacchio. Museo Delta Antico even hosts the cargo of a wrecked Roman ship with amphorae of fine wines still intact.
Loggiato dei Cappuccini and Manifattura dei Marinati
Walk away from the canals to meet another fascinating place: Loggiato dei Cappuccini.
A long portico built to protect passengers from the north wind.
At the end of it, you find a sanctuary that houses the icon of the Madonna del popolo.
In the middle of the Loggiato you can enter Manifattura dei Marinati (Marinated Manufactory). Half museum and half factory still in use, there you can learn everything about Comacchio eel tradition.
UNESCO heritage lagoon on Parco del Delta del Po

A water labyrinth with secular woods, pine groves and oasis.
You can join a boat excursion to visit the lagoon, practice birdwatching, rent a bike or just walk.
Po Delta is on the UNESCO heritage list, can you miss it?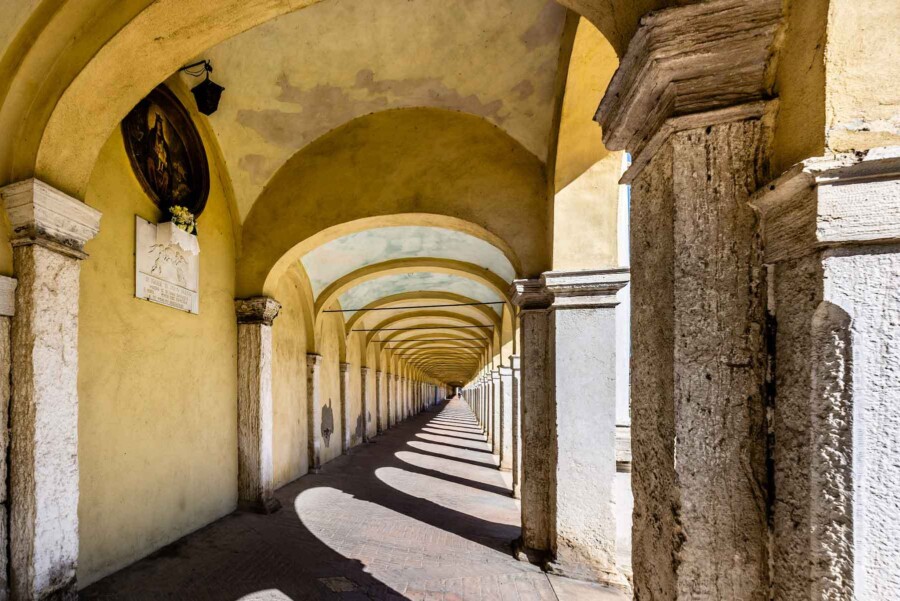 Comacchio: the land of the eel
There's one food you have to try when you visit Comacchio.
The eel.

It's in this area that every autumn the eels migrate from the Sargasso Sea to reproduce. But when the moon is dark, bora wind blows and the tide is rising, the men of Comacchio lower the locks.

It's a centuries-old tradition that gave work and food to families of this land. Locals call it the queen of the valley.

To preserve the eel during the year, it's cooked in a wood-fired oven and marinated with vinegar.
You can buy a tin of marined eel to bring home: its vintage packaging makes it a great souvenir.
Where to eat in Comacchio
For a short break and more food shopping, stop at La Bottega di Comacchio.
There you can take away a sandwich with marinated or smoked eel.

Or try topino, a Slow Food dessert with the shape of a mouse.
You can then fill your bag with melon honey and rice produced in the lagoon.
If you prefer a full taste, here's the list of my by best restaurants in Comacchio:
Trattoria Vasco e Giulia
Eat on the canal in this small and simple osteria. Start with gratin scallop or a clam stew, then go straight to the eel. Grilled, with risotto, marinated or with savoy cabbage: it's always delicious.
Via Ludovico Muratori, 21, 44022 Comacchio
Tel. +39 0533 81252
www.vascoegiulia.it
Antica Trattoria la Barcaccia
Another traditional restaurant in Comacchio city centre. Classic menu where eel is the king, with some unusual varitaions.

Piazza XX Settembre, 41, 44022 Comacchio
Tel. +39 0533 311081
trattorialabarcaccia.com
Al Cantinon
Eel with a view in this former canteen in front of Trepponti. 3 brothers opened it in 1995 and now it's a reference for eel in Comacchio, with a full menu dedicated to it.
Via Ludovico Muratori, 44022 Comacchio
Tel. +39 0533 314252
www.alcantinon.com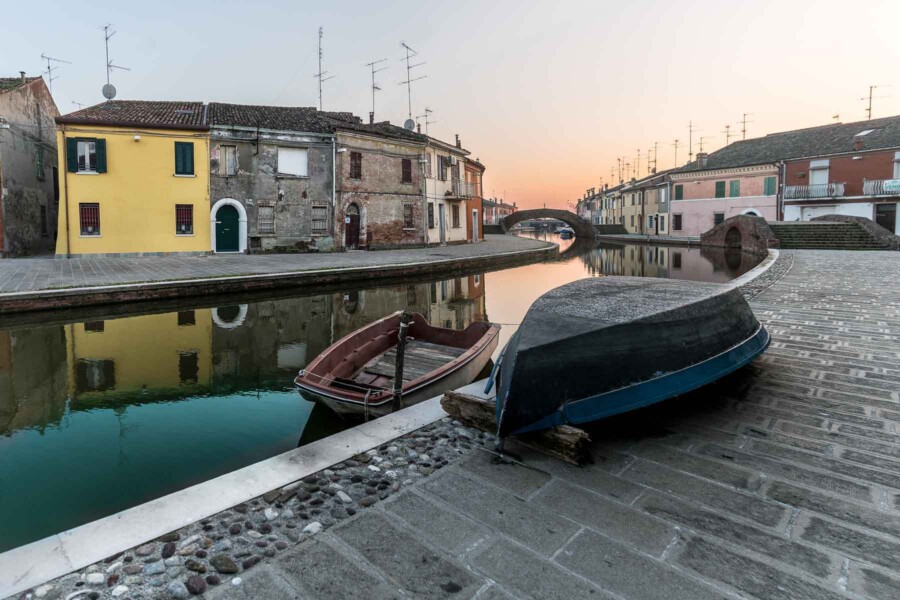 The best way to arrive in Comacchio
The best option to arrive in Comacchio is by car.
From Bologna
Get autostrada A13 highway (paid) direction Padova.
Exit in Ferrara then follow Raccordo Autostradale Ferrara-Porto Garibaldi and exit at Comacchio.

Approx time: 1h and 15 min
From Venice
Take Strada Regionale 11 Padana Superiore to Strada Statale 309 Romea/SS309.
Follow SS309 to SP58 in Comacchio
Approx time: 1h and 45 min

Other interesting places to visit near Comacchio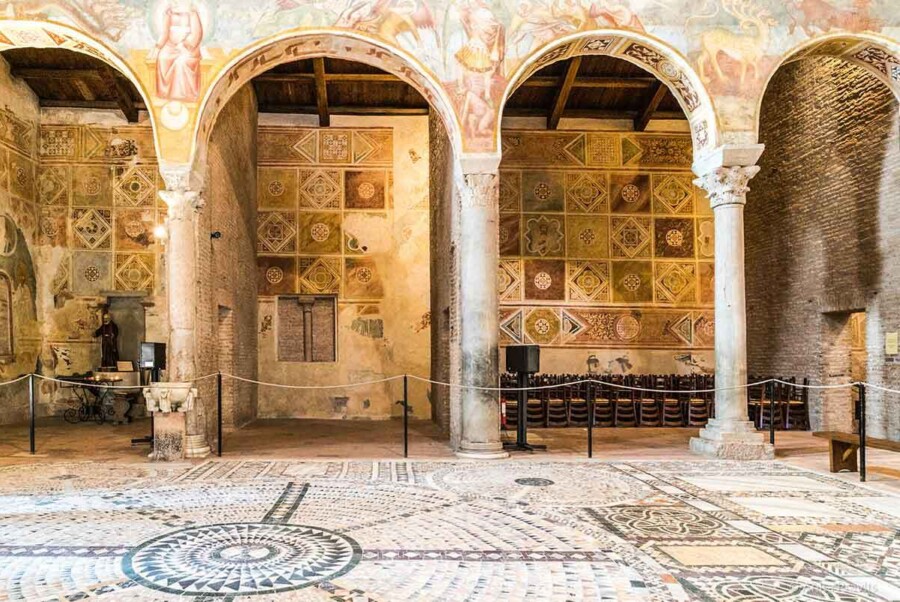 Tresigallo
Also called the metaphysic town, Tresigallo is a sort of rational utopistic city born in the 1930s. Be sure your camera is fully charged.
30 min from Comacchio

Abbazia di Pomposa
A Romanic-style abbey with mosaic floor and frescos on the walls.
If you love this, don't miss our new Ravenna food and mosaic tour for other stunning pieces of art.
20 min from Comacchio
Casa Museo Remo Brindisi
A Bauhaus style museum that hosts a mix of Italian art, sculpture and design of the 20th century.
15 min from Comacchio
Photo Credits: Vanni Lazzari, Stefano, Anita Pravits
---
---