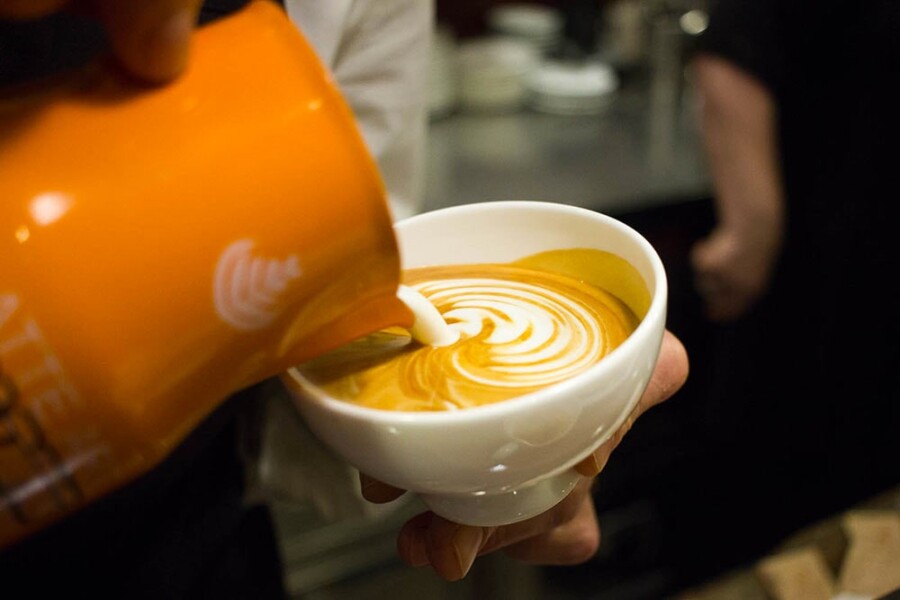 Doctors give many rules, which I'm not always happy to follow. But when it comes to breakfast, I totally agree with them: in the morning it's better to eat well.

Here in Bologna we usually treat ourselves with one or two buttery and creamy croissants and a great cappuccino, naturally.
Here are the places where I usually go to start the day with a twist of taste.
Aroma Caffè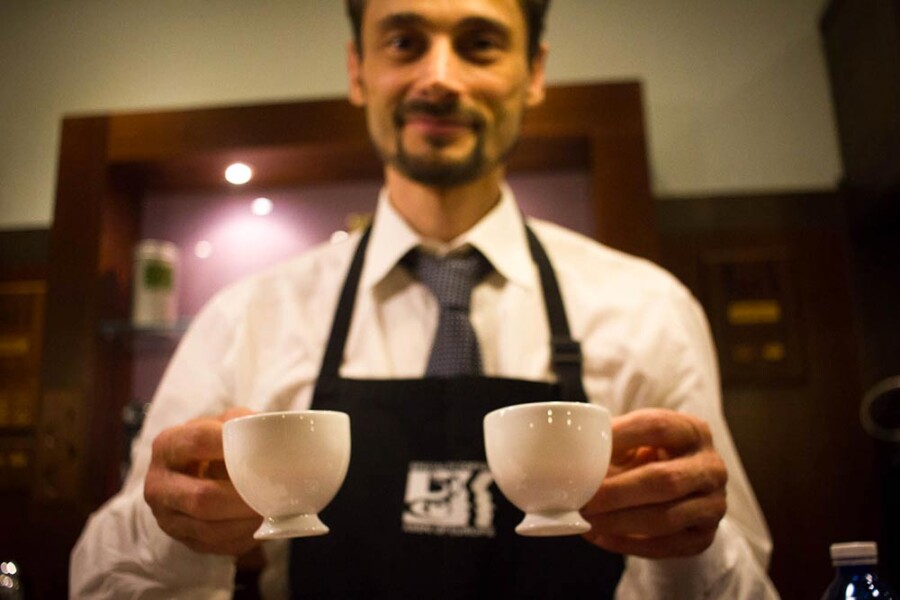 Since 2001 this small shop in Via Porta Nova is the haunt of every coffee lover in Bologna.
Behind the counter, Alessandro dances with his coffee machine, and Cristina assists people in choosing their favorite coffee a la carte.
​
When Rick Stein was in Bologna fell deeply in love with them and it's not hard to say why.

With Alessandro Galtieri and Cristina, more friends than working partners, we've also created an unconventional coffee lesson. A compass to navigate amongst the varieties of beans, provenances and processes of toasting and filtering.

​Or just to enjoy one of the best cappuccino of your life in their intimate living room.

My tip
Ask Cristina to choose for you on the coffee list. She's never wrong.

Info
Aroma Caffè
​ Via Porta Nova 12/b, 40123 Bologna BO
Tel. 051 225895
www.ilpiaceredelcaffe.it
Caffè Terzi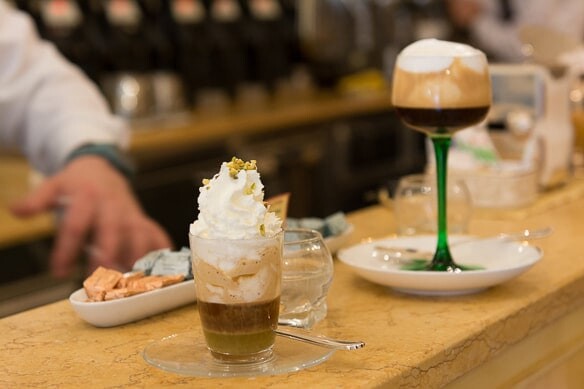 Small shop, great selection of coffee.

Manuel Terzi is one of the few pioneers who started to take care of every single step from the beans to the espresso. So every coffee has a signature and you can't go wrong.

​Find your spot at the counter and choose amongst the 6 blends or single-origin coffee: from the elegant Turkish Arabica to the intense Indian Robusta.

My tip
Caffè pistachio is more than a coffee. A delicious start to your day.

Info
​Caffè Terzi Via Guglielmo Oberdan, 10/d, 40126 Bologna
Tel. +39 051 034 4819
www.caffeterzi.it​
Regina di Quadri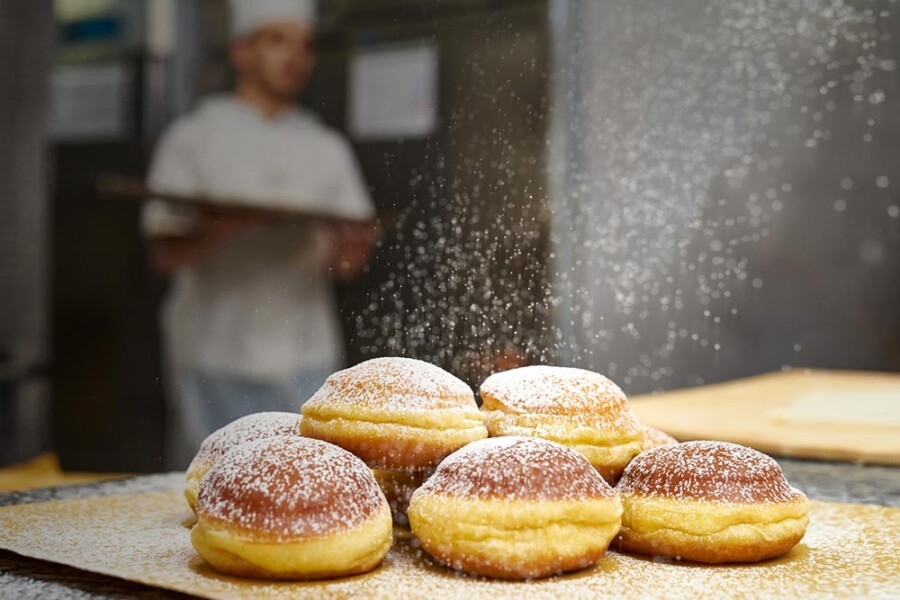 The name means "Queen of Diamonds", and once you step into the café, you'll truly start feeling like in Wonderland.

The small pastries are bites of every European sweet tradition: Lemon Meringue Pie from France, Sachertorte from Austria, Black Forest from Germany. And of course the Italian ones: Neapolitan babà, Sicilian cannoli and the super-local Bolognese rice cake.

​All made by the hands of Francesco Elmi, not just another pastry chef.

​My tip
Try the fluffy puff filled with custard cream, lightly fried and covered in sugar. Then walk up to San Luca to atone for your sin.

Info
Regina di Quadri
Via Castiglione, 73/A, 40124 Bologna
Tel. +39 051 644 6201
www.pasticceriareginadiquadri.it
Forno Brisa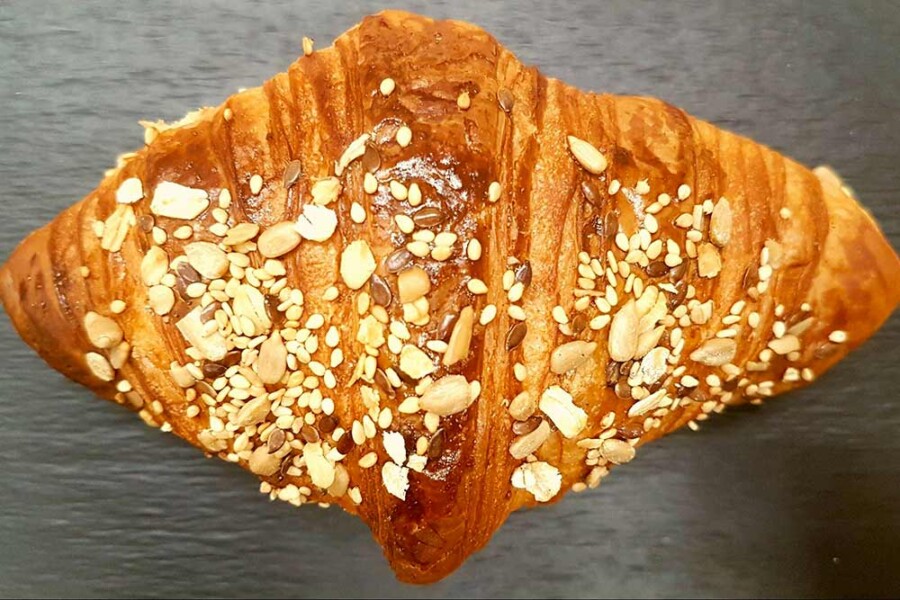 Baseball caps, sneakers and a t-shirt that says: "Fuck the diet!".
You can't expect fancy waiters at Forno Brisa. It's more like your foodie roommates from college opened a bakery - and it's pretty much how the story has gone.

And it works, it definitely does.
These guys started a few years ago with amazing bread, then the pizza came, and lately the specialty coffee.

Now they run 3 shops in Bologna and lead a team of young boys and girls, always ready to unveil every secret of sourdough and Aeropress. Perfect for tasting a croissant wondering what's coming next.

My tip
Did someone say pizza?

Info
Forno Brisa
Via Galliera, 34d, 40121 Bologna
Via San Felice, 91A, 40122 Bologna
Via Castiglione, 43, 40124 Bologna
Tel. +39 051 248556
​​www.fornobrisa.it
Gino Fabbri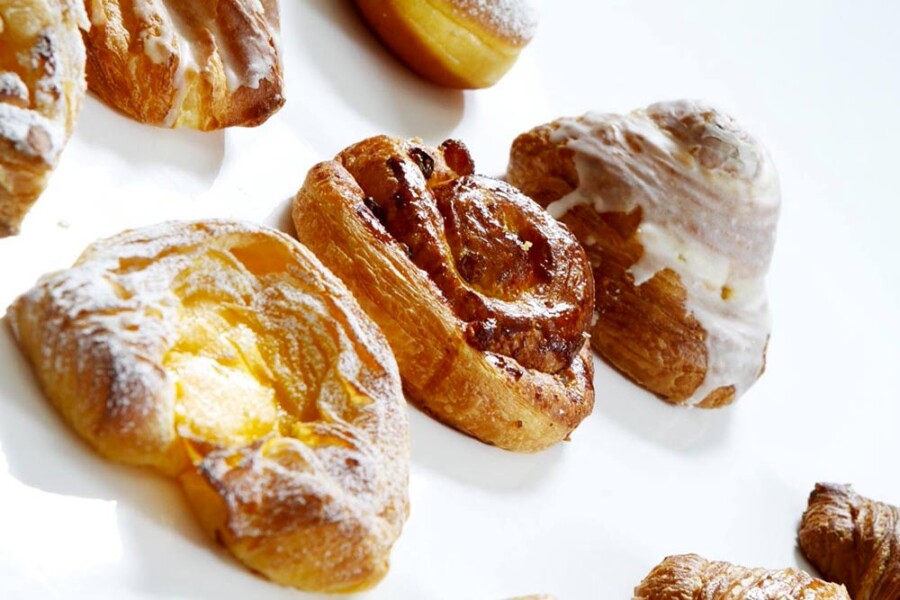 Bad news first: it's not properly in the city center and you need to take a taxi to get there. Good news: it will be worth every second of your trip.

Gino Fabbri is the best pastry chef in Bologna, no doubt about it. All he does is give you first-quality butter, milk, flour and vanilla. He learned how to combine them after many years of practice.
Plus, he looks like the Bolognese cheerful grandfather.

The only problem is that you can't eat the whole selection displayed on the counter.
​You need an offensive strategy: focus on a croissant filled with custard cream and attack in the flank with some mignons.

My tip
If you are in Bologna during Christmas time, you have to eat Gino Fabbri's panettone.
​4 versions: classic, nuvola (with candied apricots and almond), delizia (with a soft citrus paste) and divino (with milk and strong chocolate drops and orange). Do I need to say that is amazing?

Second tip
I like to give tips, sorry. You can find his focaccia at Galliera 49, one of the best gelato shops in Bologna. Fill it with gelato alla crema and think about your sad colleagues in the office eating salad.

Info
Gino Fabbri Pasticcere
Via Cadriano, 27/2, 40127 Bologna
​Tel: +39 051 505074
www.ginofabbri.com
Cafè Pasticceria Gamberini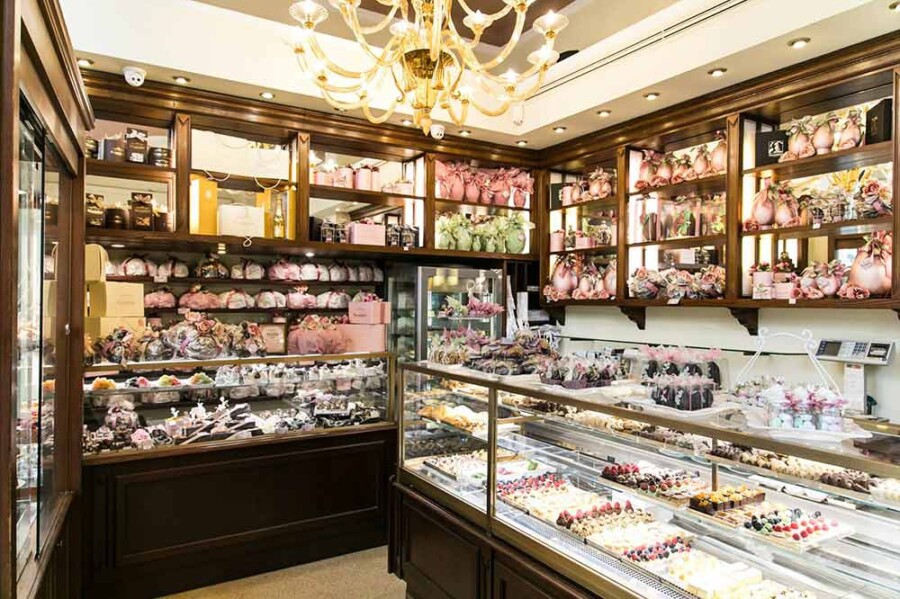 This fancy café with sparkling chandeliers has been working since 1907. Not one of the oldest cafes in Italy, but almost.

Breakfast here is a metaphor for life. You struggle to get what you want - in this case, a coffee in an always busy place - but in the end, you get your reward.

At Gamberini it's a heavenly perfect mimosa mignon with wild strawberry.

My tip
Follow your eyes and get the most colorful tart, all pastry is outstanding.

Info
Café Pasticceria Gamberini
Via Ugo Bassi, 12/R, 40123 Bologna
Tel. 051 2960467
www.gamberini.eu
Lampadina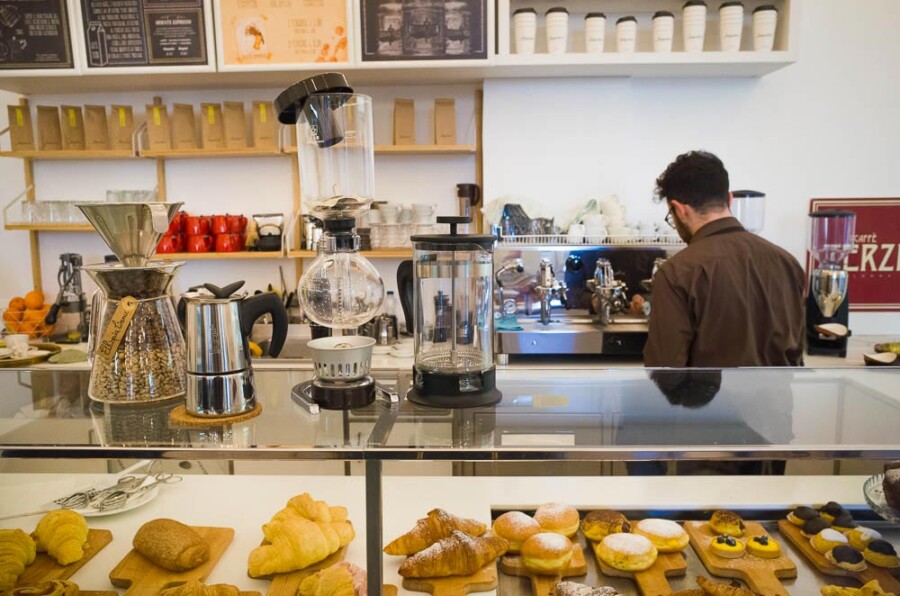 Italian folk wisdom says: if you need to flavor a cappuccino, it's not a good cappuccino. This new and modern bar near Piazza Malpighi breaks the rule.

​They call it lampuccino, and there's a new recipe every month. Choose between cappuccino with hazelnut, Orient Espresso with ginger and cinnamon, or La Rosa nel Bosco, with blueberries and rose petals.

You can also find pancakes, panini and avocado bagels, although they don't mess with traditional breakfast.

​Lampadina looks like a place you can find also in London, Madrid or NYC. But the coffee is great and this is good news.

My tip
During summer ask for a refreshing and tasty cold brew.

Info
Lampadina
Via Barberia, 34, 40123, Bologna
Tel. ‭051 0064196‬
​www.lampadinacafe.it
Bar Billi 1883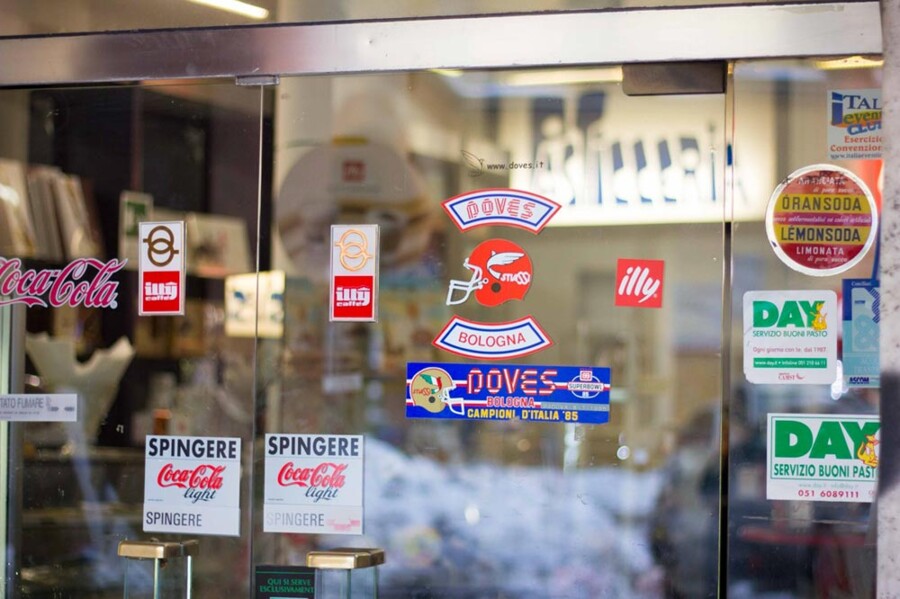 No Facebook page, no website and definitely no Instagram profile.

Nevertheless, everybody knows
Bar Billi
. It's one of the few - probably the only one - really
authentic bars
still remaining in Bologna.
It was founded in 1953 by Giuseppe Billi and it's still the same after more than 50 years of coffees, brioches, amari and jokes among regular customers.
1953 was probably also the last time they let a 'graphic designer' step into the bar, too.
You can tell it by the signs and the super-vintage box of the most popular cake they produce, the truly local
Panspziêl
, with almonds, candied fruits and chocolate.
Even the location is quite
old-fashioned
: it's outside the glamorous city centre, a few meters far from the beginning of the average Sunday walk -the path to San Luca Sanctuary, close to the monumental part of the
Certosa Cemetery
, and not to mention, just outside the entrance of the football stadium.
My tip
Don't think twice: order a coffee with Sambuca, chalk your pool stick and join the game.
Info
Bar Billi 1883
Via Pietro de Coubertin, 1, 40135 Bologna
Tel. +39 051 614 2225
Sebastiano Caridi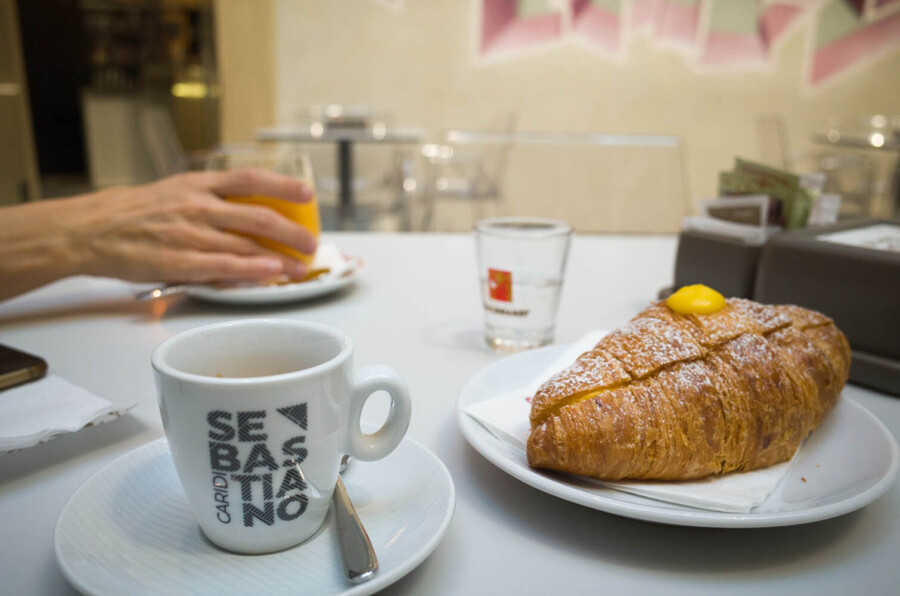 Okay so now you know where to start your day in Bologna with an amazing breakfast.
But what about the rest of your stay?
Do you want to avoid tourist traps and eat only great food without wasting time (and meals) on trial-and-error?
Read our +400 5 stars reviews on Tripadvisor, trust Phil Rosenthal, The Guardian and Rick Stein who joined us in the past and book a food tour!
---
---