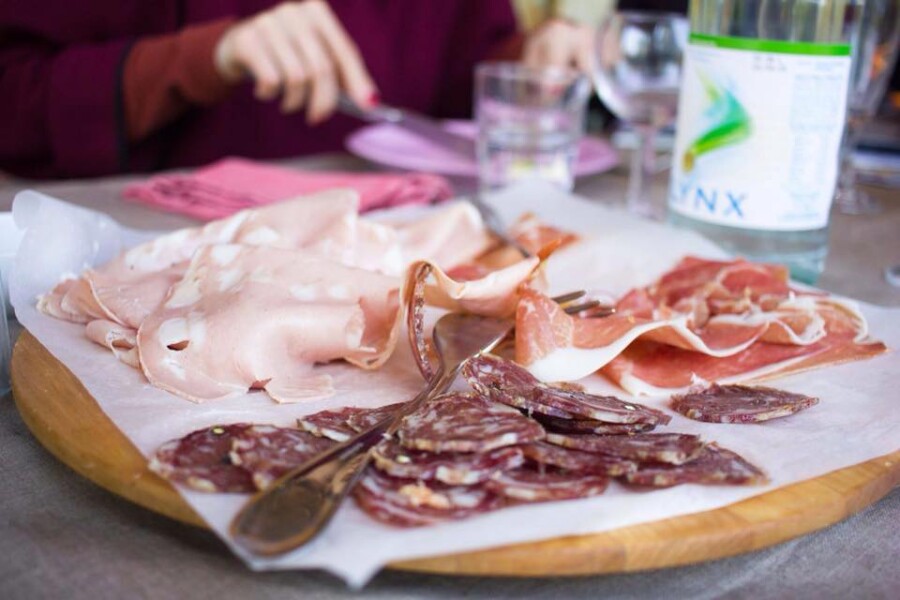 It's easy to fall in love with Bologna.
It happens to me every day: under a portico, wandering at night in Piazza Maggiore or riding fast through my secrets streets.

​​To live Bologna without a hitch, however, there are a few helpful things to keep in mind.
1. Bologna is the perfect location to visit Northern Italy
Bologna has always been in a strategic position. In the past to trade, now to travel.
​
You can
use Bologna as a basis
to visit some of the greatest cities of Northern Italy.
With high-speed trains
Florence
(40min), Milan (60min) and
Venice
(90min) are just next doors.
But a popular Italian proverb says that
the good wine rests in the smallest barrel
.
So Italy's best is hidden in
small gems
like the
coloured town of Dozza
, the secret castle of
Rocchetta Mattei
or the unique art you can enjoy on a
Ravenna mosaic tour
.
My suggestion
Rent a car or use local trains to explore the most you can around Bologna.
2. Time of the year can have an impact on your visit
The idea you get of a city can be influenced by the season you visit it. Not only for the weather.

Keep in mind those Italian holidays, because most of the shops, markets and restaurants can be closed:
- January 6th
- April 25th
- May 1st
- June 2nd
- August 15th
- October 4th (only in Bologna)
- November 1st
- December 8th
- December 24th to 26th
- December 31st

Bologna has something special in every season, but in July/August it could be very very hot.

During the central weeks of August Bologna falls asleep. Students come back to their families, locals go on holiday and even if it could be a fascinating atmosphere, most places will be closed.

Christmas instead is not a popular time for tourists, but a great time for food: cold temperatures are perfect for a hot dish of tortellini in brodo.

My suggestion
Avoid hot summer months and don't worry about the rain: we have porticoes.
Read a full post about the best seasons to visit Bologna.
Vegetable stall at Quadrilatero market. In every season you can find a wide range of fruits and vegetables
3. In Bologna is easy to get a ticket
If you arrive in Bologna by car you have to pay a lot of attention. Most part of the city centre, inside the old walls, is forbidden to cars from 7 am to 8 pm.
It's called ZTL,
traffic limited zone
, but it's not that easy to understand where it starts.
​It usually happens too late, even for Italians.
The good news is that Bologna is small enough to be covered by walk or by
bike
.
Here's a map of the forbidden area you mustn't cross. ​
Traffic limited zone of Bologna. Be sure not to enter the green area with your car
My suggestion
​Leave your car in a garage and let it rest (here my suggestions about
where to park in Bologna
). Consider it as an incentive for an extra portion of tortelloni.
4. It's not always time for cappuccino
I'm sure you already know this, but it's always good to remind.
In Bologna and Italy, we only drink cappuccino until 10/11am.
Not for lunch, not for aperitivo, not for dinner.
Breakfast in Italy is usually sweet
and a hot cappuccino is the perfect fit for a brioche.
If you ask a waiter a cappuccino at the end of your lunch he won't say no. But if you'd like to live your time in Italy as an Italian, just order a simple espresso, maybe macchiato (with milk).
My suggestion
Enter one of the
best breakfast bar in Bologna
saying: '
Buongiorno, cappuccino e brioche per favore'.
Have them at the counter, like if you were in a rush even if you are not at all.
Pretend to read the sports page on local newspaper like Il Resto del Carlino and seem disappointed.
There you go, you're bolognese!
5. Great food is everywhere, but don't just scratch the surface
Bologna is not Florence or Venice.
Yet.
Fortunately.
But still you can see electric trains for tourists, restaurants with
spaghetti bolognese
on the menu or mountains of gelato that doesn't melt even in summer with 40°.
​
Nevertheless, it's easy to find great food in Bologna. But
just
don't stop at tagliatelle al ragù
or tortellini in brodo.
​
There's a lot out there to unveil:
leftover dishes
like
passatelli
, poor and delicious meat, like coppa di testa and the amazing world of
Aceto Balsamico of Modena
.
​During our
Bologna food tours
we try to dig deep inside, but even if you haven't enough time to join us, try read, learn and taste as much as you can.
Via del Pratello: a great street for a beer at night, maybe not the best if you're looking for a relaxing accommodation
6. Bologna is not dangerous, but choose carefully where to sleep
Near the train station to spend less time dragging your bags?
Close to Piazza Maggiore to live the square day and night?
Or outside the walls for a cheaper price?
The
choice of your hotel or apartment in
Bologna can have a huge impact on the result of your trip.
A few suggestions from someone who grew up here:
- Avoid the
University area
(Via Zamboni, Via Petroni, Piazza Verdi). It can be very noisy at night.
- Choose a hotel near the
train station
only if you need to get lots of trains. Stazione Centrale area is quite safe, but not the most fascinating of Bologna.
- The southern area of Bologna, close to the hills, is beautiful and quiet.
Via Santo Stefano
, Via Castiglione, Via Sant'Isaia, Via Saragozza and all the small streets around them are perfect to start your visit during the day and relax at night.
My suggestion
Read my list of
Bologna's best Airbnb
or my
hotel suggestions
and choose first the location, then the place.
---
---
---
Comments
Melanie Andrade

Is the first week of September good to travel to Bologna? Will restaurants and cafes be open again? We have three days in hand and will be coming from Rome.

Thanks

Andrea - Taste Bologna

Yes Melanie, it's perfect. All the places will be open again after holiday, it's a very good week to come!

See you soon in Bologna,

Andrea

Joanna Marta

Excellent tips! I am going to spend two weeks in October in Bolognia and neighberhoid (Modena, Dozza and Commachio) for my wedding trip. What do you think about this time to visit the city?

Andrea - Taste Bologna

It's one of the best Joanna.
In the last years October has been always like a summer ending.

Just book in advance your hotel or apartment because it's a busy time, with lots of events and fair.

See you soon then!

Marcus

Spending my birthday in Bologna mid February. Our first visit. Looking forward to exploring (and eating great food!). What is the best time to book dinner on Thurs/Fri/Sat eves? Do locals eat later?

Andrea - Taste Bologna

Hi Marcus,

happy you decided to celebrate in Bologna :)

Usually we go for dinner between 7:30pm and 9:30pm. If you want to eat earlier you can have aperitivo. I've written a post about it.

See you soon in Bologna!

Andrea - Taste Bologna