A walk under the sun in July? Too tiring? And if I tell you that you can drink and eat delicacies prepared by some of Bologna's most famous chefs, made with prime ingredients, and walk and rest between lavender and wheat fields and old farmhouses? I bet you've already changed your mind.
It's quite common to see landscape like this during Mangirò
The master of bread
Forno Calzolari bakery opened in 1956 and is now managed by Matteo Calzolari, son of the original owner and partner of our
food tours in Bologna
.
The usage of almost
disappeared kinds of wheat
, the quality and innovation of their bread (there's a monthly bread with seasonal ingredients) and the will to create a quality network of restaurants and producers make Calzolari one of the
best bakeries in Bologna
.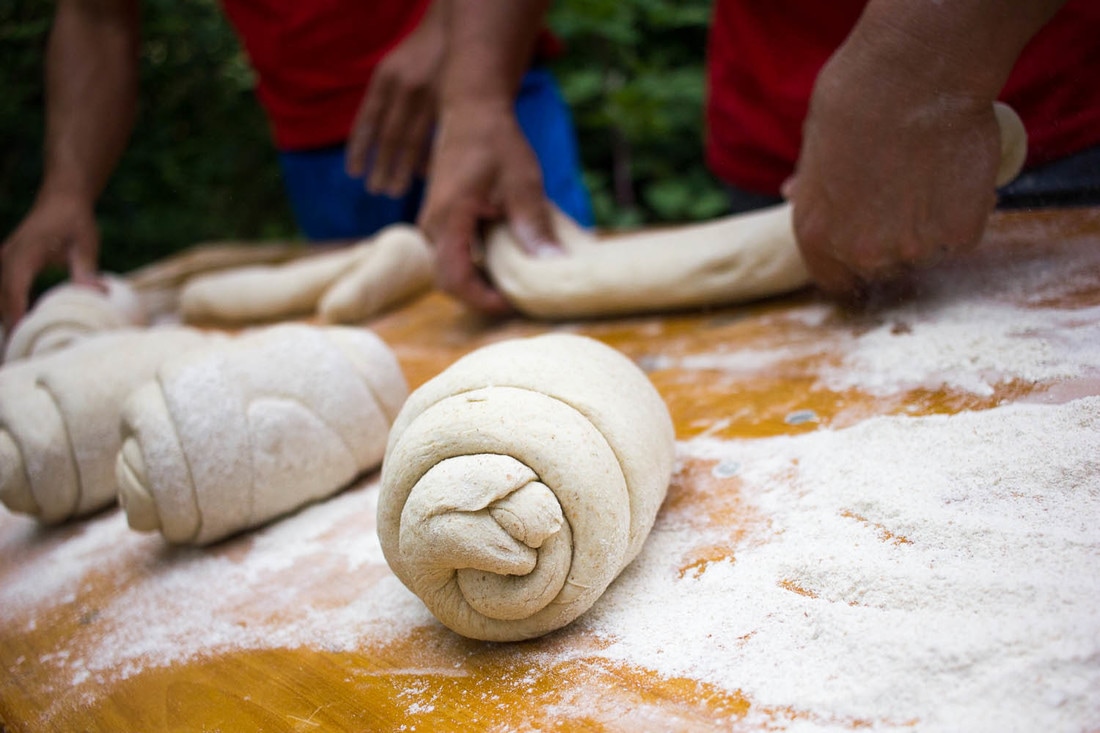 Matteo Calzolari prepares fresh bread
What is Mangirò
​Mangirò is a 15 km gastronomic walk between the hills of Monghidoro, in the countryside of Bologna, created 11 years ago by Matteo. The idea is simple:
1. take some of the best chefs and patissiers of Bologna
2. ask them to prepare original dishes based on bread
3. place them in natural frames between woods, fields and small hamlets around Monghidoro
4. create a caravan of passionate foodies who would like to spend a funny Sunday together among food, wine and nature.
Pizza with vegetable minestrone by Berberè
What happened this year
My first Mangirò was together with part of Taste Bologna's team. Some people call it team building, for me is a way to share our passion and spend time together with people who I appreciate. I'd rather call it '
food building
'.
After being divided in two groups, coupled with two different menus with dishes based on bread, we started our walk with just one rule: share. Not only the heat, the path and the laughter but especially the food.
After breakfast with fresh milk, bread and jam, we started to discover a complete menu served directly by the chefs, hidden in six small villages.
Gino Fabbri
, the best pastry in the world 2016, offered a croissant at Cà del Tosco. Then Daniele Reponi, the master of Panino in Modena, prepared a crescenta with cooked ham, apricot and confit tomatoes to start our walk with the right amount of strength. The antipasti served at Fradusto and Cà di Morandone were made by Da Francesco and Quanto Basta, some of the places recommended in our
foodie map of Bologna
.
During the walk between woods, lavender fields and farmhouses, we stopped under the trees to listen to
live music
played by Orchestra Senza Spine, an association of young professional musicians.
The main dishes were prepared by 2 of my favourite chefs: Mario Ferrara of
Scaccomatto in Bologna
and Max Poggi.
Local wine and beer at every stop made the atmosphere even more relaxed and cheerful.
Some
secret photos
of me and Caterina with Poggi's burger (bis and tris) are already part of Taste Bologna's history.
Mangirò is also music, this year with Orchestra Senza Spine
Why go
To spend a beautiful Sunday with friends, discovering a part of our land outside the tourist routes, finding out where food really comes from, tasting simple and delicious dishes served by the hands of the chefs with no regrets (you can pretend that at the end of the day the balance: eating + walking = 0).
Tunaburger by Quanto Basta restaurant
Info
Mangirò takes place every year on the first Sunday of July.
Starts at 10am at Via del Mercato, 2 Monghidoro (BO)
Total walk: about 15km
Tickets: Adult 35€, Kids 18€
Info +39 051.6555292 - +39 333 8366838
Reservations:
www.fornocalzolari.it
---
---