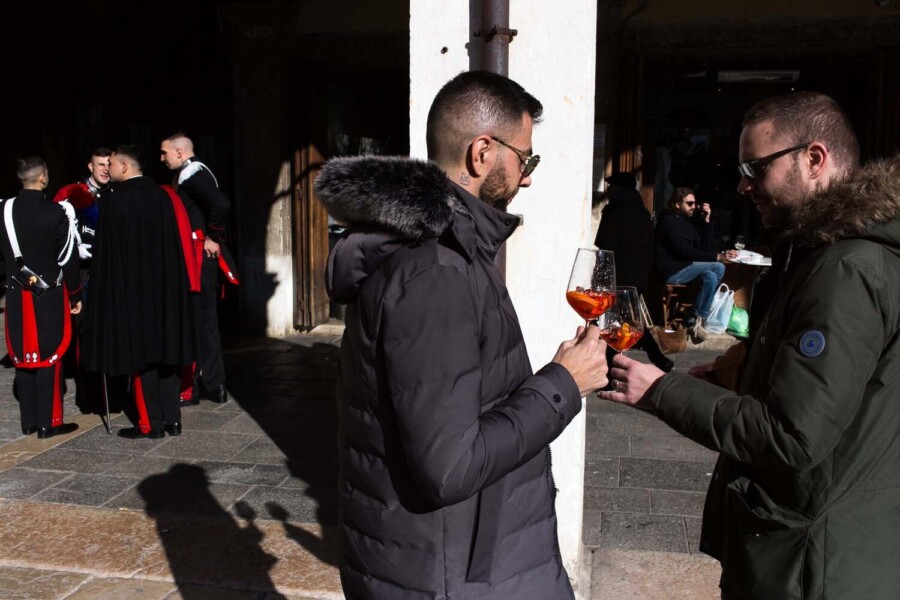 I've waited a long before writing about where to eat in Venice.
What can I add to the thousands of reviews, videos, guides and books already out there?

Not much, so I'll make it short.
I will give you only 2 names for every meal, perfect for a weekend.

Breakfast
Pasticceria Dal Mas
My favorite pastry shop in Venice is where it shouldn't be.

Pasticceria dal Mas is 50 m from the train station. In the street where I'd never suggest anyone to get the wallet out of the pocket. Between a fake plastic gondola shop and in front of a "please don't call this gelato" one.
What to get there?

Follow this rule: find the lady with the dog (everyone who still lives in Venice has a dog) and look what she orders.
During Carnival time it'd be fritoe, fried balls of dough covered with sugar. You can find it empty or filled with zabajone custard. Or just a croissant or one of the many cookies and cakes you see on the window.
If the queue doesn't cross the door, you'll still have your chance.
Info
Rio Terà Lista di Spagna, 150, 30121 Venezia
Tel. +39 041 715101
Pasticceria Tonolo
More hidden, not less famous, still delicious.
Enter Pasticceria Tonolo with a word in your brain: Crema Chantilly. And don't go out without having tried it.
This place opened in 1886 in Mirano, between Padua and Venice, where still is its headquarters.
For my personal fritoe-challenge I had to try 2 here, and the one with Chantilly was second to none.
Info
Calle S. Pantalon, 3764, 30123 Venezia
Tel. +39 041 523 7209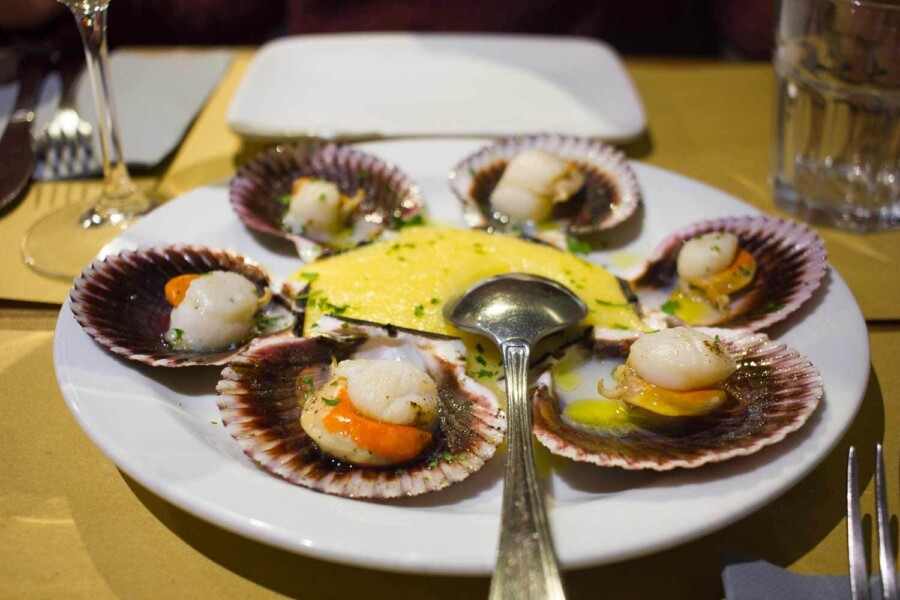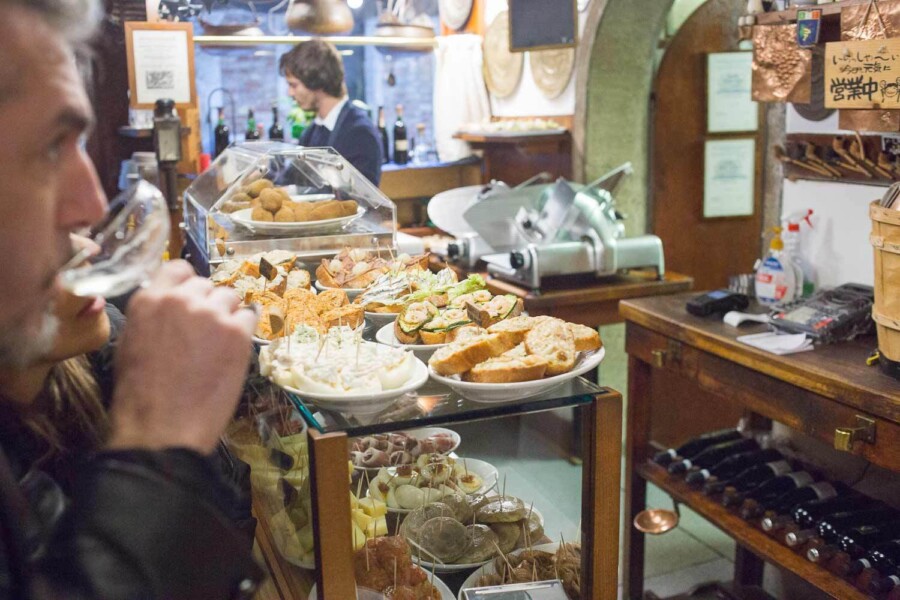 Lunch
All'Arco
Lunch in Venice has to be fast: too many exhibitions to visit, photos to take, boats to jump in. Wait, I've said fast, not fast food.
A tramezzino and some cicchetti near Rialto is my ideal choice. If you haven't been to Venice yet, cicchetti is the name of different small bites to pair with a spritz or a glass of wine. It could include small tramezzini, baccalà mantecato, sardines in saor. It depends on where you are.
All'arco is the best place I know for cicchetti so far.
And if in winter you read the word MUSETTO on a boiling pan, order it and think about me.

Info
S. Polo, 436, 30125 Venezia
Tel. +39 041 520 5666

Cantina Do Spade
A few steps from All'arco, a tiny place full of students, locals and tourists.
Always packed, don't even open the door of Cantina Do Spade without a reservation unless you're ok with eating scallops sitting in front of a canal next door.
That is exactly what I did last time.
You can also sit for a proper lunch.
And join the real squid game: don't mess up your shirt with the ink.

Info
San Polo, 859, 30125 Venezia
Tel. +39 041 521 0583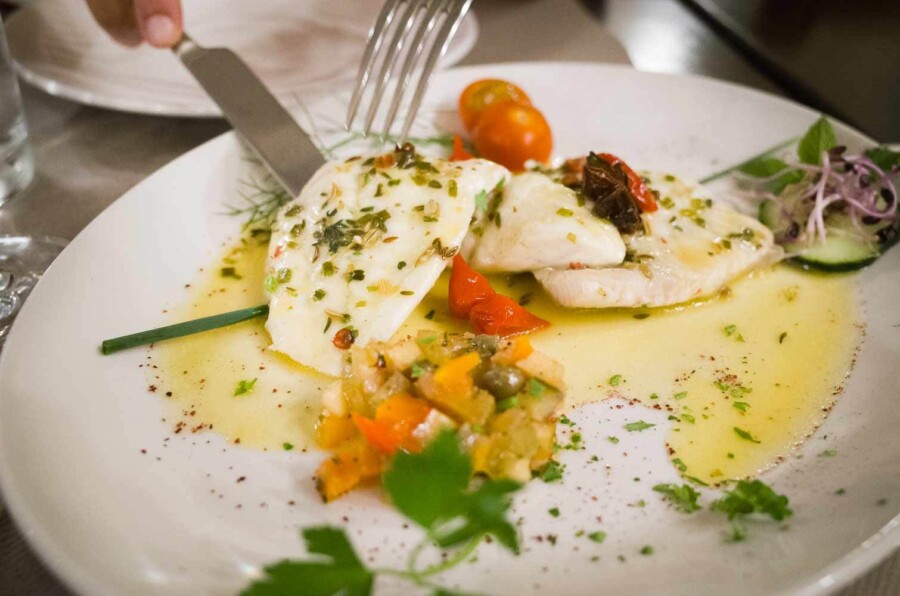 Dinner
Osteria Alle Testiere
A dear friend recommended Osteria Alle Testiere and he'd rather sit in one of its 22 seats than at Osteria Francescana.
I know it's not a "hidden gem", every guide and TV shows have been here, but are there still any left? And most of all, is that important?
Yeah, you have to book 3 weeks in advance, but that's true for all the good and small places, especially in Venice.
I don't tell you what to order, Luca will and you should follow his advice.
Don't even open the menu. All the food you'll get will be just wonderful.
Info
Calle del Mondo Novo, 5801, 30122 Venezia
Tel. +39 041 522 7220
CoVino
Covo restaurant should be on this list, from what I've been told.
The problem is I've always found it closed for holiday/booked out so here's his little son with nothing to envy.
If Alle Testiere sounded small, compared to CoVino is Versailles.
7 tables. Stop.

For food lovers, it's a dream.
You sit in the kitchen with a view of everything you'd get to eat. Never seen anything like this in Italy, only in Japan.
For wine lovers, a dream too.
Because you'd get only natural local wines picked by Andrea.
Speaking of Andrea, he looks nuts and he probably is. But he well knows what's talking about and everything you get from the menu (don't order a la carte) is amazing.
Info
Calle del Pestrin, 3829, 30122 Venezia
Tel. +39 041 241 2705
---
---