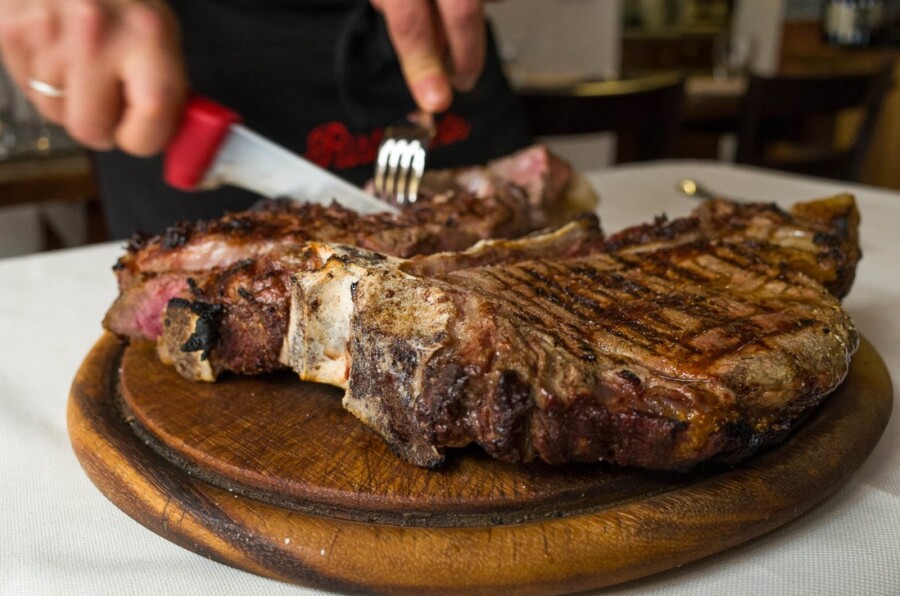 We call it zingarata.
It's a day trip. Men only, usually.
By train so we can come back from Florence without being arrested.
One aim: eat and drink.

After a bunch of them, here's a list of our favorite places. Mostly market, street food and quirky places.
Fiorentina at a butcher in Sant'Ambrogio market
Get a map of Florence.
Point to the 5 most famous landmarks.
Draw a circle of 500m around all of them.
To eat in Florence you have to stay away from those areas.
To start: coffee and an unusual street food
What's better than a coffee to start your day?
​
At Ditta Artigianale is not one of the
oldest and historic cafes in Italy
. It's a young and cool place where you can have
super
quality espresso
.
​Single-origin blends or filtered.
Don't know what I'm talking about?
Join our
Bologna food tour
and then we can talk.
Coffee makes me hungry and in Florence, you can't stay hungry for more than 30 minutes. That's why they created an awesome
street food called lampredotto.
Vegetarians can skip to the next paragraph.
What's lampredotto?
It's one of the three stomachs of cows. It's boiled, cut and served in a panino with a green sauce made with parsley and garlic. Or in a plastic bowl, maybe with potatoes.
Is it good?
I can only say that there's never a zingarata without lampredotto.
My favorite stalls are
Sergio Pollini,
in front of the famous Cibreo restaurant, and Chiosco del Lampredotto, near Porcellino's fountain.
Lampredotto with potatoes at Sergio Pollini
Addresses
Ditta Artigianale
Via dei Neri, 32/R, 50122 Firenze
Tel. 055 274 1541
Via Dello Sprone 5r
+39 055 045 7163
www.dittaartigianale.it
Sergio Pollini
Via dei Macci, 126, 50122 Firenze
Tel. 334 778 2350
Chiosco del Lampredotto
Via Val di Lamona, 1R, 50123 Firenze
Ribollita or fiorentina for lunch?
Sant'Ambrogio - One the most authentic food markets in Florence
I love
food markets.
They explain a lot about the culture of a city (like the
food markets of Bologna
) and are usually good places to eat.
Mercato Sant'Ambrogio
is still an authentic indoor local market.
It hosts Trattoria Da Rocco. A few tables that you share with other attendants. Red wine on consumption. And a funny old man with a mustache that will joke with you as soon as he understands that you're not from Florence. Food is simple and cheap. Try the classic soups: pappa al pomodoro or ribollita.
Not far from that stands
Natalino
.
A classic restaurant with a wall of portraits of music and theatre stars who sat at their table. It's the place to order fiorentina steak, but please don't ask for it well done.
On the other side of the Arno river, in the San Niccolò neighborhood, you find
Zeb
. Half a food shop, half a restaurant, takes its name from
zuppa e bollito
(soup and boiled meat). So you already know what to get. Good care of wine too.
Another food market. This time for tourists. But Florence is Florence.
Mercato Centrale
was built in the late 1800s when Florence was still the capital of Italy.
Designed by Mengoni architect, the same as Galleria Vittorio Emanuele in Milan, it's a fascinating structure divided into 2 floors.
The ground floor is a food market with butchers, fish shops and delicatessens. It reminds Albinelli Market in Modena, one of the
best food markets in Italy
.
On the first floor instead you find a renovated modern area with stalls to eat.
A few mentions for the amazing meat of
Savigni
and the Naples-style pizza of Pizzeria Sud.
Panino al lampredotto - You can't leave Florence without it
Addresses
Mercato di Sant'Ambrogio
Piazza Lorenzo Ghiberti, 50122 Firenze
Tel. 055 234 3950
www.mercatosantambrogio.it
Ristorante Natalino
Borgo degli Albizi, 17r, 50122 Firenze
Tel. 055 289404
Zeb
Via S. Miniato, 2/r, 50125 Firenze
Tel. 055 234 2864
www.zebgastronomia.com
​Da Rocco
Mercato S.Ambrogio, Piazza Ghiberti, 50122 Firenze
Tel. 339 8384555
Mercato di Santo Stefano
The sweet side of Florence
Gelato at Carapina - one of my favourite in Florence
Bad news.
If you've been to Bologna and you expect to eat in Florence a better gelato you will be disappointed.
First, you have to run away from all those places with mountains of
bright gelato
with a piece of fruit on the top that doesn't melt. Never. Even in summer with 40 degrees.
Gelato in Bologna
is different, but to find a real one in Florence you need to walk to
Carapina
.
It takes its name from the iron barrels where gelato should be stored to keep its temperature constant and avoid sunlight. You don't see gelato but it doesn't see you. Trust distance love.
The dessert to buy in Florence is
cantucci
.
Raw cookies with almonds to sip into a sweet wine called vinsanto. At Il Cantuccio di San Lorenzo you find the classic ones as well as variations like figs and orange zest, or chocolate. They are amazing, not cheap (26€/kg) but a great souvenir for your return trip.
Cantucci and vinsanto - A must dessert in Florence
---
---