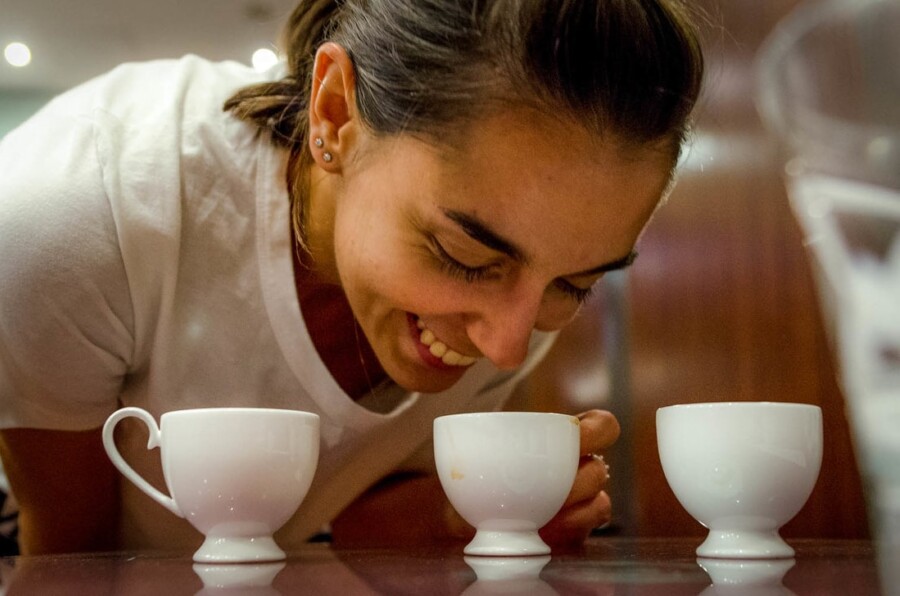 There's a new
coffee course in Bologna
.
A course about what?
Italian Coffee
?
Why should I take a course about it?
I already know everything I need to know: my favorite barista just in front of the office, the volcano when I prepare the
moka
at home, the glass cup to serve it hot as the sun, the Arpeggio for my Nespresso machine etc.
There are lots of myths and clichés about coffee, especially in Italy, but in a small cup, there's also a huge world to uncover. And I know
passionate people
who'd like to share all its secrets.
Why a course about Coffee?
Italy for many years had been THE PLACE for coffee. Lots of people come here and think to drink a well-made caffè at every corner.

Unfortunately, that's not true anymore. Most of the bars you encounter don't clean their tools, don't select quality coffee and store it properly, don't flush water before serving it etc.

Alessandro Galtieri
of
Aroma Caffè
is a member of the
Specialty Coffee Association
, wrote 3 books about the skills of barista, but most of all he loves coffee and knows everything about it.
He and his passionate wife
Cristina
​(remember her when
Rick Stein was in Bologna
?) have been my partners almost since I started Taste Bologna, probably because we both share the same passion for offering the best quality experience we can.
So while we were sipping a pure Arabica from Guatemala, we said to each other, why not making something together?
How it is
Our idea is to offer a short but intense jump into the world of Italian coffee.
The Art of Espresso is a basic course, not intended for a professional barista, with the aim of shedding light on the key principles and techniques of Italian caffè.
​
After an introduction about the culture of coffee in Italy, we learn to taste the differences: how do we judge a good cup of coffee? How thick has to be the crema? Is that bitter taste is due to poor quality ingredients or is it a distinctive characteristic of a Robusta coffee?

Alessandro and Cristina alternatively share a lot of tips you can't find in books or Wikipedia and to finish...a sweet surprise to say goodbye.
This is for you if
If you can't start your day without a cappuccino or an espresso
If you'd like to know why coffee in Italy is an institution, why we serve it at the counter and why moka is in every Italian kitchen
If, when you enter a bar, you'd like to know immediately if they care about coffee or it's better to order just a bottle of water
If you're curious people like me, and you'd like to discover why that Arabica from Guatemala tastes different than that one from Brazil, and that crema on the Robusta looks thicker than that blend
If you'd like to meet passionate people, who are happy to open their doors to host you like friends and share their love for coffee (pay attention, it's contagious!)
---
---