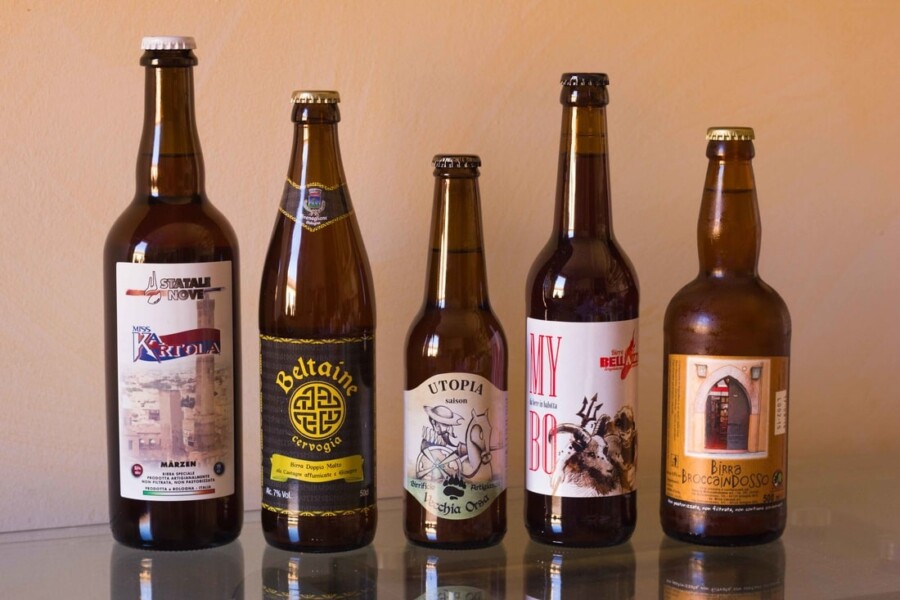 Life through beers?
You start at 15 with a Bud and get drunk at 20 with a Weisse. At 25 you find out that Guinness is not that bitter. Around 30 you go deep inside the beautiful world of microbrewery.

Bologna has never been a city for beer lovers, but over the last few years, I've been witness of an explosion of microbreweries working with passion.
​Here are my 5 favourite craft beers produced in Bologna.
Birra Cerqua
The first
brewpub
in Bologna where the beer is produced in the same place where it is consumed. In fact, it's common to see the brewer curing his creations during the orders.
Among the different productions, I suggest you PorQua (porter 6.5%) and Lu.Bo, slightly bitter amber beer (5.6%), which is also the first beer completely produced in the area of Bologna and made with hops grown in the territory.
Finally, ask for
corteccia
(bark), a bread prepared with sourdough and malt. Read
where to get the best bread of Bologna.
www.birracerqua.com
​Via Broccaindosso, 5 - 40125 Bologna
Beltaine
Beltaine beer takes its name from 'Bell Fires', a Celtic spring festival set in Granaglione, the most southern town in Bologna's province, where it is produced.

Andrea, Filippo and Marco wanted to create a beer deeply connected with their birth area.
So why not start from fruit that until the '50s was the staple food of peasant families?
Chestnut.
They use two types of chestnuts: smoked (for Double Malt Beer with smoked chestnuts and Juniper) and dried (for Chestnuts and White Beer).
Beers are entirely homemade and they are produced by 2 fermentations through the use of selected raw materials. All of them are rich and textured, with flavours of spices and fruits.
​They're also planning to make a gluten-free beer very soon. In the meantime, if you are celiac check
how to eat gluten-free in Bologna.
www.beltaine.it
​Via Guglielmo Marconi, 4 - 40045 Granaglione Bologna
Vecchia Orsa
A good beer can help people in different ways.
Founded in 2007 by two friends, Vecchia Orsa has the aim to promote a homemade quality beer by a group of
people with
disabilities
guided by a master brewer.
An
earthquake
hit Modena in 2012 and the production site was seriously damaged.
Giving up? Not at all.
It gave the impetus to create a new, larger facility with tasting area and shop, and the Magnitude Blonde: a new beer symbolizing the determination to move forward over difficulties.
Now they produce 10 different beers including Biolca, the
first certified organic beer in Emilia
, and Utopia, awarded by Slow Food as 'Italian Beer of 2015'.
www.vecchiaorsa.it
​Via Cristoforo Colombo, 5 - 40017 San Giovanni in Persiceto, Bologna
Statale Nove
In 2006 Filippo left a safe job to follow the adventure of Statale Nove.
Its name comes from SS9, the ancient
Roman street
that connects all the cities in Emilia Romagna and that is just in front of the brewery. A small production of 600hl/year to create 17 different types of beers with the all-grain process.
At their brew-pub you can taste all of them, using different temperatures and glasses, in combination with a selection of seasonal dishes.
​My favourites are J&B, a double bock dedicated to Filippo's son Jacopo whose birth date is printed on the label, and the amber Miss Kartola, a slang word that in Bologna means cool.
www.statalenove.it
​Via Cassoletta - 40056 Crespellano, Bologna
Birra Bellazzi
A chemist along with an engineer together to make a dream come true.
It's not the beginning of a new imitation of Breaking Bad but the history of Birra Bellazzi beer.

After the first home experiments and a crowdfunding campaign they created a real microbrewery. Beers are all unfiltered and unpasteurized, making them richer in taste and aroma.

Among my favourites there are My BO, spiced and inspired by amber german bock, and Vor, a stout with a light licorice flavour.
In 2016 Birra Bellazzi opened a small shop in San Lazzaro to buy and to taste their crystal beers.
www.birrabellazzi.it
Via Fondè, 21 - 40068 San Lazzaro di Savena, Bologna
Have you tried one of these beers? Am I missing something?
You can look for these beers in the
best beer pubs of Bologna
. I'd love to hear your favourites, don't be shy.
---
---