Giuseppe, one of my dearest friend, is celiac. It's a
quite growing
desease but it's still not easy to find many restaurants where you can have a great
gluten free
dinner without worrying too much about what's inside your dish. A good tip is to always ask the waiter if they serve "
piatti senza glutine
" but many places will just offer you a green salad or boiled rice.
So after a lot of attempts, these are my five best restaurants in Bologna that offer gluten free dishes (i'd like to add the 6th,
Zenzero Bistrot
, but I've talked too many times about it, so Nadia forgive me this time).
Casa Monica
Sea bass tartare (with apricots, green chili peppers, thyme and red pepper from Madagascar)
It's one of the restaurant I usually suggest when tourists ask me where to have great italian food in an
intimate
and beautiful location. Italian cuisine with different influences and attention to the ingredients like pasta (Benedetto Cavalieri), balsamic vinegar or Parmigiano Reggiano (from Pavullo). They prepare some dishes with rice flour just for celiacs and serve
gluten free pasta
with the same sauces of the standard menu, trying to cook it avoiding contamination. They also offer crackers instead of bread so you can really enjoy a full dinner without worrying, like "at home".
Price: 35€
Tel: 051 522522
Address: Via San Rocco, 16, 40122 Bologna
Delogo
Roasted octopus, a typical greek fish dish ideal for celiacs
If you're in Italy you probably want to taste Italian cuisine but
our cuisine is mostly based on pasta, bread and pizza so it's not a bad idea to look around for other cuisines. For example Bologna has a huge greek community which expresses itself in a couple of amazing
greek restaurants
like Delogo or To Steki. There you can try many fish and meat dishes with rice or a greek salad which is one of my favourite summer's dinner preparation, so a great dinner with lot of gluten-free choices. Reservation is a must.
Price: 25€
Tel: 051 245734
Address: Via Zaccherini Alvisi, 19, 40138 Bologna
Osteria Broccaindosso
Gluten free tagliatelle with bolognese ragù
Osteria Broccaindosso is the demonstration that you can eat bolognese cuisine even if you're celiac. It's a popular Osteria in town, famous between locals for its "
sweets trolley
": for 13€ you can order this trolley full of all their desserts and eat as much as you like (three of them are gluten free). But I recently found out that they really know how to make celiacs confortable at dinner. They offer a gluten free version of
tagliatelle al ragù
(12€) and they provide crackers if you order ham or other cured meat or cheese for antipasto. Also portions are generous and the antipasti and secondi, like tagliata are really well made. Booking is recommended because the place is small and well known.
Price: 30€
Tel: 051 234153
Address:
Via Broccaindosso, 7, 40125 Bologna
Yuzuya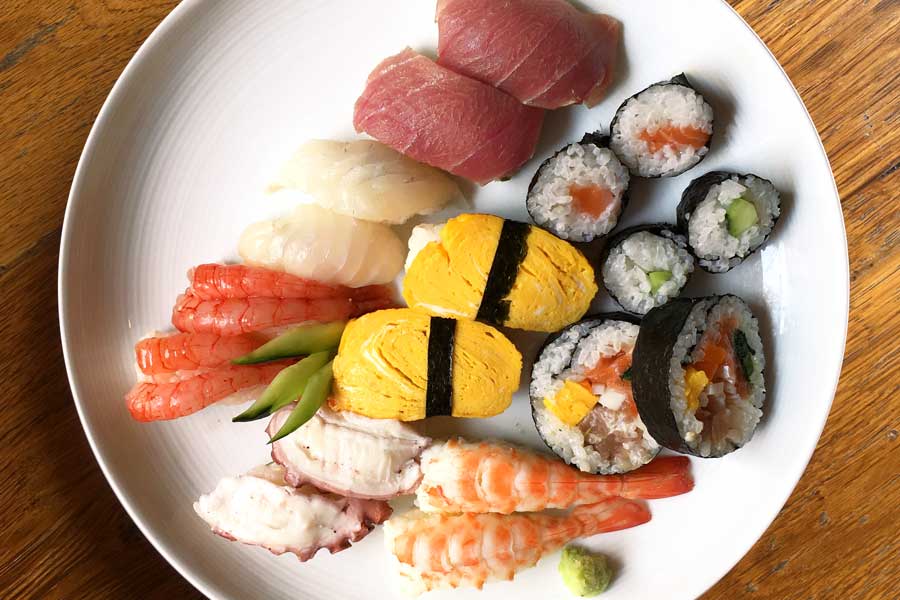 Sashimi selection
Just in front of the new entrance of the railway station stands the first
real japanese
restaurant of Bologna. In fact you can find hundreds of former chinese restaurants converted to the "all you can eat sushi mania", but we're not interested in that. Yuzuya is owned by Tsuruko and Takako,
two japanese ladies who want to share their knowledge of japanese food culture. So not only sushi, but also o
konomiyaki, miso soups, takoyaki, ramen, tofu salad and lot of daily meal with selected ingredients.
Price: 35€
Tel:
051 0415021
Address: V
ia Nicolò dall'Arca, 1/I-L 40129
Bologna
[Photos: Klearchos Kapoutsis, Jessica Spengler]

​Update Nov 2016
---
You May Also Like