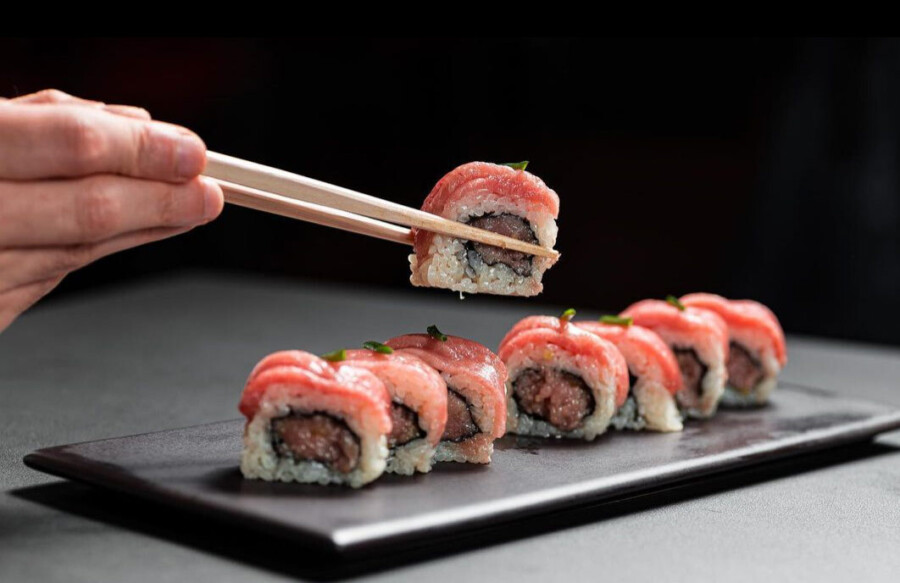 Tortellini, ramen, moussaka, lasagne.
Do you find the intruder?
There's no one there, they're all great food you can find in Bologna. Some my grandfather ate, others my grandson will eat.
This is my list of the best international food (don't call it ethnic, please) restaurants in Bologna.

And no, you won't find any all-you-can-eat here.
Sicilyn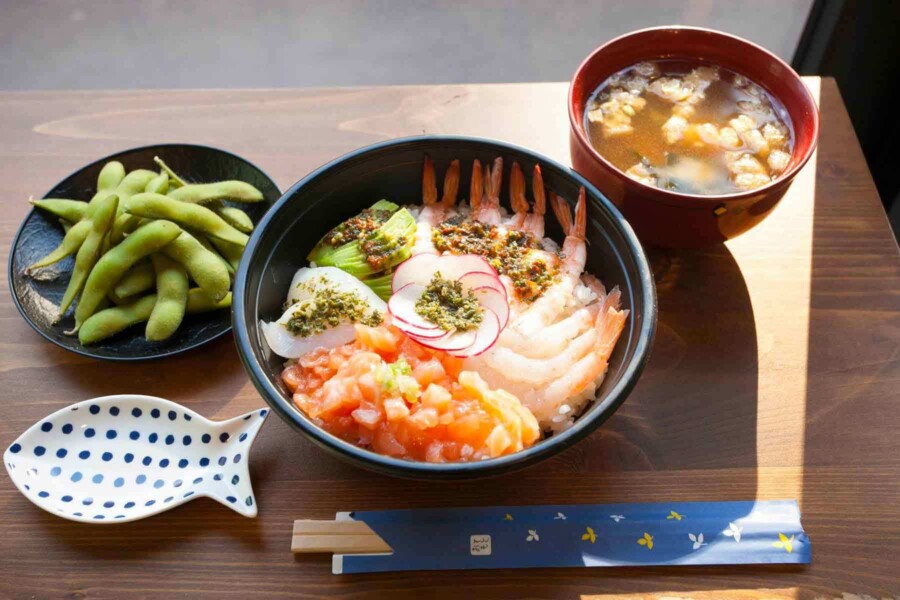 Shake together a pure Japanese cuisine with a sprinkle of hot Sicilian flavour.
The rice meets the Mazara red shrimps.
The scallops fall in love with almonds.
The chirashi dates capers and extra virgin olive oil.
A tiny Tokyo-style place with a couple of tables, perfect to eat fast or take away.
That's Sicilyn.
Japanese translation: minchia buonissimo!!!

Cuisine
Japanese/Sicilian
Info
Via Giuseppe Massarenti, 54, 40138 Bologna BO
Tel. +39 370 343 5579

sicilyn.com

Seta SushiLab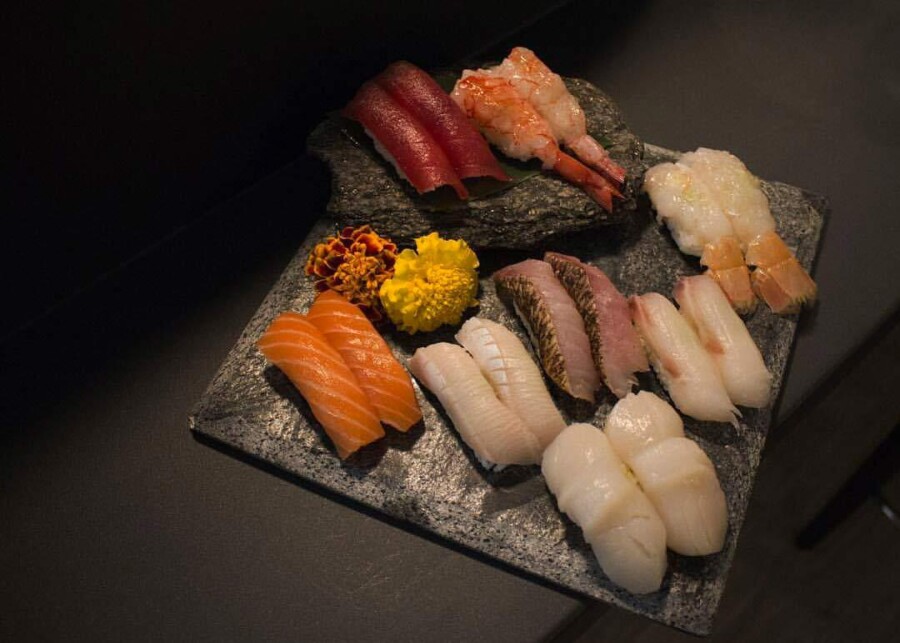 Refined and elegant, like silk.

That's Seta Sushi Lab, in the magnificent Corte Isolani, near Piazza Santo Stefano.
Like the name suggests you go there for 1 reason: sushi.
Toro tuna sashimi if you're lucky, black codfish with miso sauce.
Just sit at the counter and follow the lead of Chef Glen Cueto.

Prices reflect the quality and place, so don't expect to spend less than 30/40€.
Nikka whiskey to close a special night.
Cuisine
Japanese

Info
Corte Isolani, 2, 40125 Bologna
Tel. +39 051 003 9367
Sentaku Ramen Bar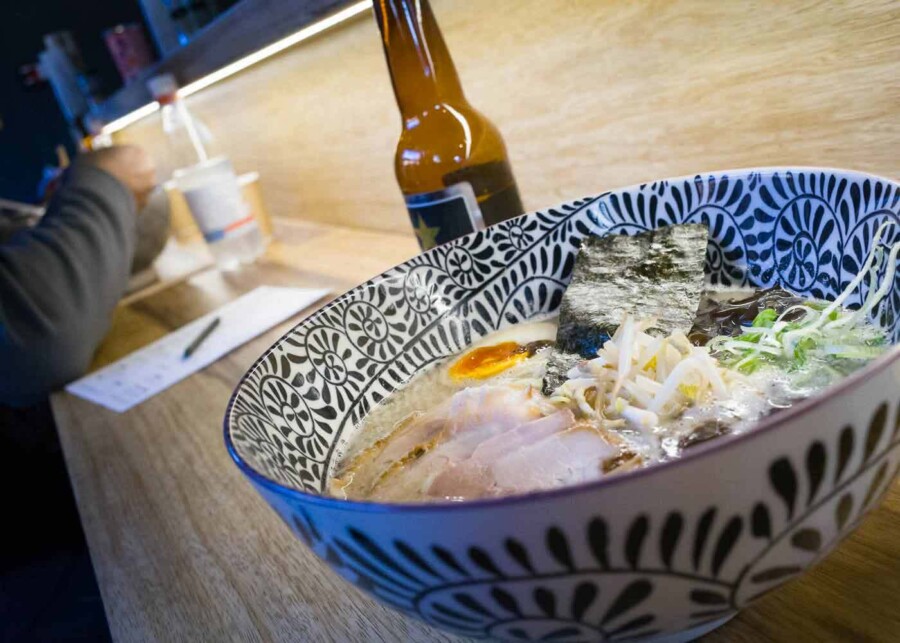 Japan, again.
But don't think about sushi for a while.
Sentaku is the place of ramen.
Go for the Kinoko Paitan with fried tofu and mushrooms if you like it veggie.
Fans of Joy Division? Try the New Wave Shio with chicken chashu (I had to google that), fried leek and yuzu.
You didn't join our Bologna food tour and you're so hungry? Get some extra gyoza to fill the space.

If you'd like to taste how a broth can live without tortellini, this is where to go.

Cuisine
Japanese, Ramen

Info
Via delle Lame, 47/c, 40122 Bologna
Tel. +39 051 498 2544
Yuzuya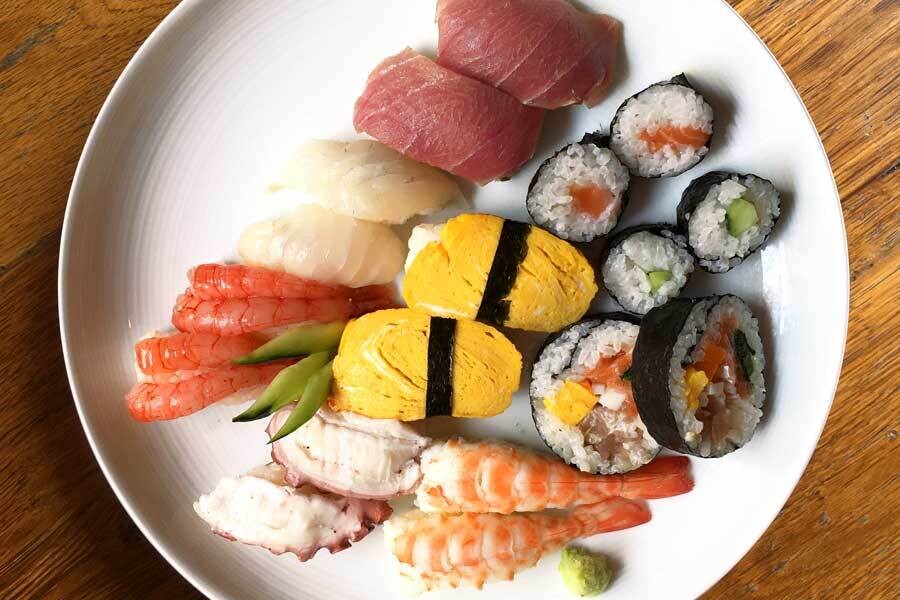 The last Japanese place, probably the most authentic one in Bologna.
Two ladies in the kitchen with Washoku philosophy in their mind: seasonal ingredients, small portions, rice always, a soup to warm your soul.
Don't think to eat there without reservation.
The view is to San Luca and not to Mount Fuji, but if you've been to Japan you'll find Yuzuya familiar.

Cuisine
Japanese
Info
Via Nicolò Dall'Arca, 1/i-l, 40129 Bologna
Tel. +39 051 041 5021
Kabulagna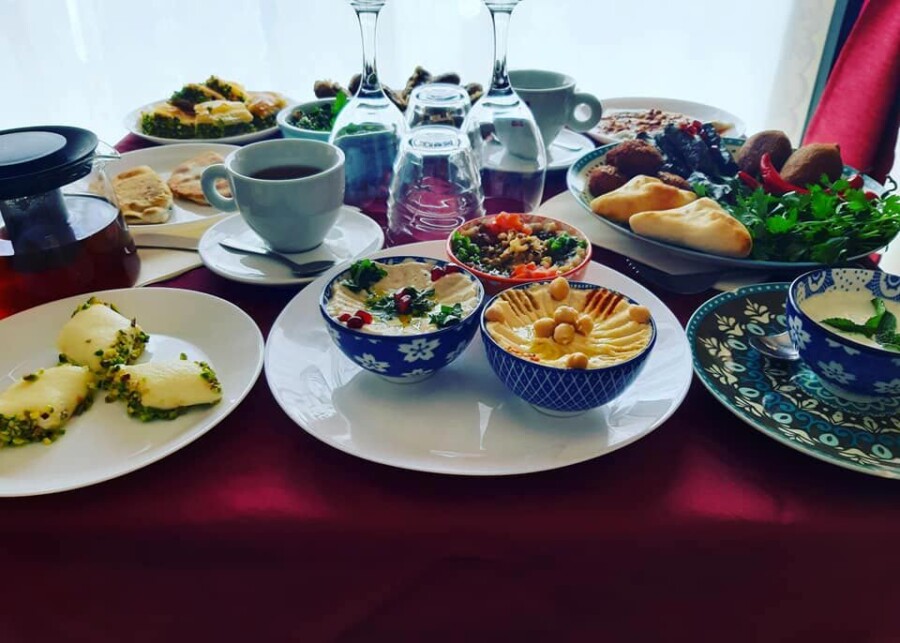 The story of Jan and his Kabulagna would deserve much more than a few lines in a list post.
The best I can do is telling you how great his food is, and it will be him to talk about it.

So take a bus and stop for Qabuli, a large part of rice with lamb, raisins, carrots and spices. You could eat just with that, but Mantu ravioli is delicious, as the aubergine sauce with tahini.
You can end with the sweetness of firni, a milk pudding with rose water and saffron or...wait...Is that tortellini on the menu?

Cuisine
Afghan

Info
Via Aurelio Saffi, 81/c, 40131 Bologna
Tel. +39 327 360 5518
Baba Turkish Restorant & Kafe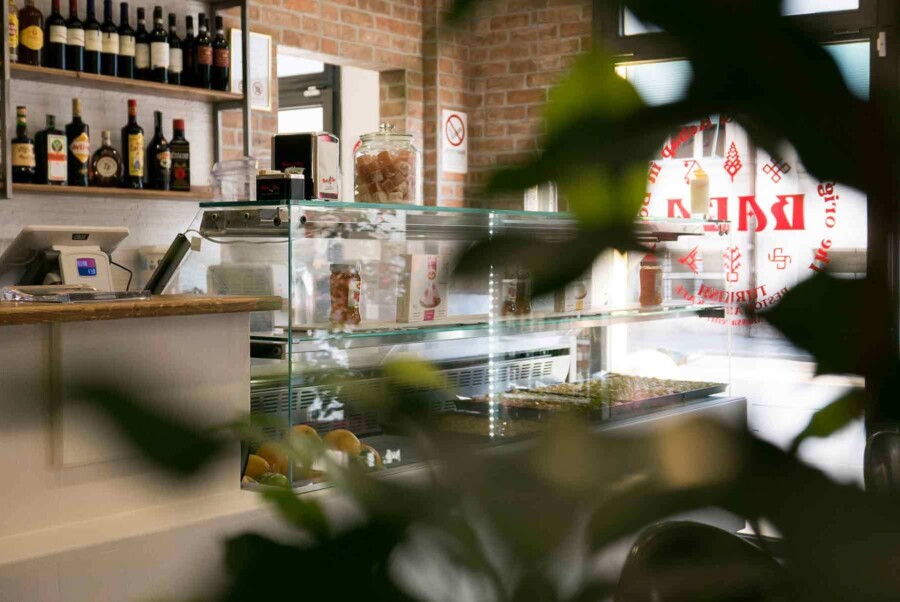 When I first read that a Turkish restaurant opened in Bologna, my heart skipped a beat.
Yeah, we have hundreds of Kebab places that stuff a cheap bread with meat, fries and ketchup, but if you've been to Istanbul, you know.
Baba is a new opening, in the same street as Sicilyn and other international food places.
Sit and enjoy kofte meatballs, lamb skewers, Turkish cheese and olives with bulgur. Ayran to drink and baklava to finish.
Look at the towers now, Galata is not that far from them, isn't it?

Cuisine
Turkish

Info
Via Giuseppe Massarenti, 10b, 40138 Bologna
Tel. +39 051 095 4891
Pane Georgiano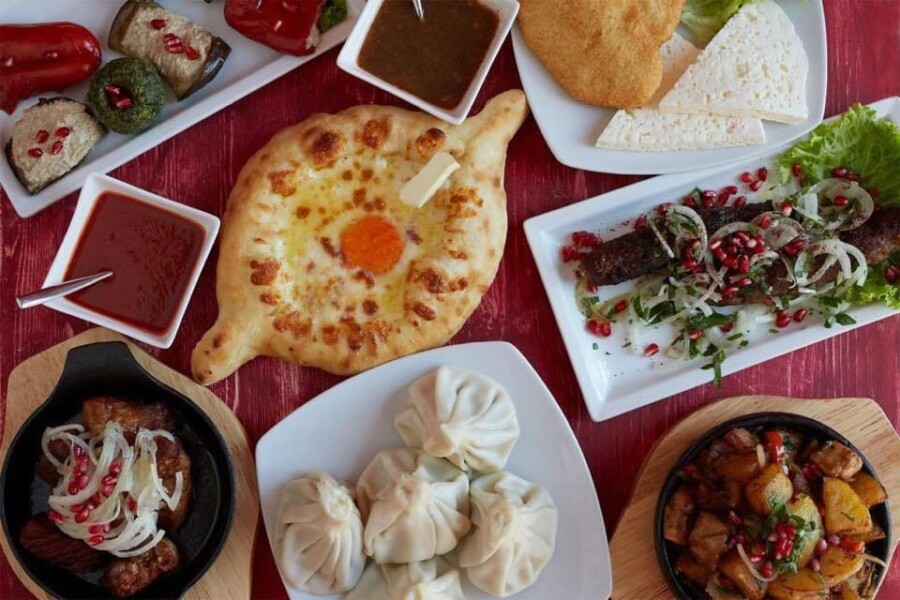 The name speaks for itself.
Pane Georgiano, Georgian bread.
Shorena and Kakhaber opened the first and only Georgian restaurant in Bologna with a clear idea. Bring authentic flavours from home to Bologna.

They asked a Georgian blacksmith to build their own oven and even the water comes from their land.

You have to order khachapuri, the famous boat-shaped pizza served with egg yolk and butter. But don't tell your doctor.
You can't eat in a Georgian restaurant without trying the wine. The grapes are macerated with their skins in the terracotta amphorae and then buried.

Cuisine
Georgian
Info
Via Sebastiano Serlio, 32 A/B, 40128 Bologna
Tel. +39 051 468 4366
Pars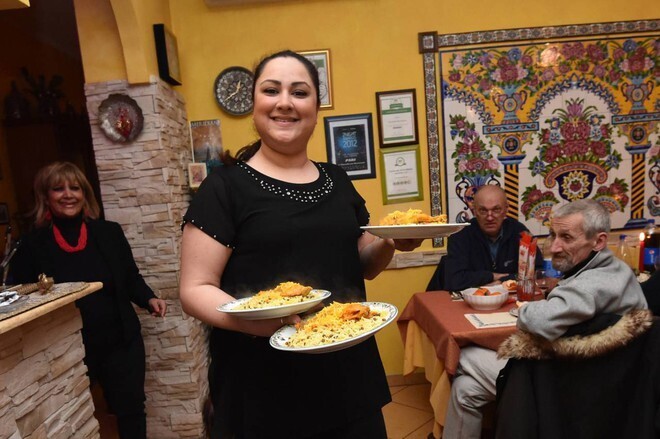 When you go eat at your parents' you don't browse the menu and then order.
They know your taste, they've fed you for all their lives.
At Pars, the same.

Sohyla, Farshid and Raha from Shiraz, the pearl of Iran, are your host.

You sit, relax, and in a while, you won't find space on the table to put your phone. Several kinds of saffron rice with mutton skewers, lamb filet, chicken nibbles. Then dolmeh, lentils soup, smoked aubergine.
I've never felt so welcomed in a restaurant as here.

Cuisine
Persian

Info
Via Pietro Lianori, 16 A, 40128 Bologna
Tel. +39 051 498 2302
Delogo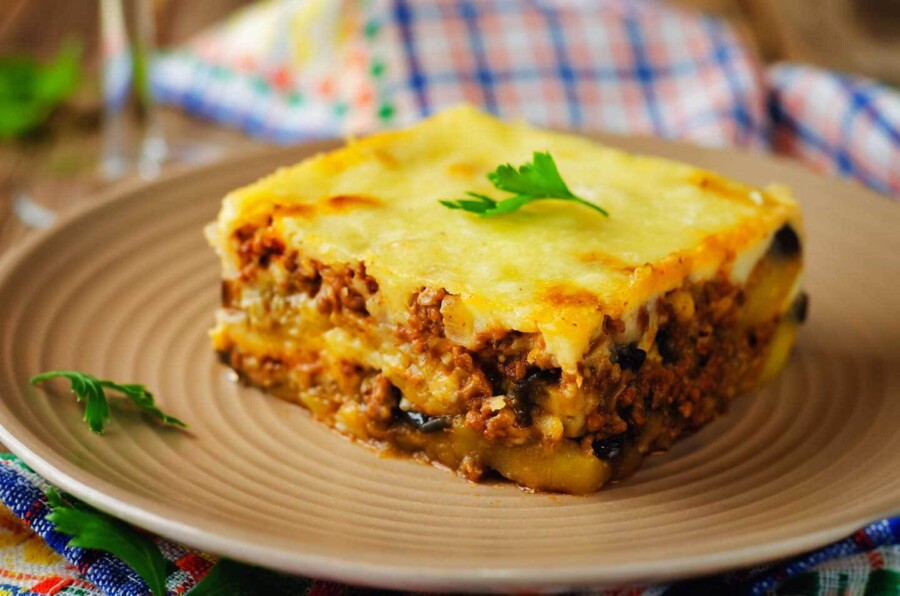 Bologna and Greece are less far than what you can expect. Nah, it's not just Ryanair.
There's a large Greek community in Bologna and this translates into many restaurants.

Delogo, from Crete, is my favourite.
Start with fried meatballs, baked feta with tomatoes, dolmadakia and fava beans pureè.
Forget the fish and go straight to the meat dishes.
Pork souvlaki, beef kebap, or lamb stew with artichokes (in season) and ouzo sauce.
Or moussaka, if your blood tests are better than mine.
Go easy with ouzo and raki, you could end up dancing sirtaki in Piazza Maggiore.

Cuisine
Greek

Info
Via Zaccherini Alvisi, 19/d, 40138 Bologna
Tel. +39 051 245734
Ciao Kebab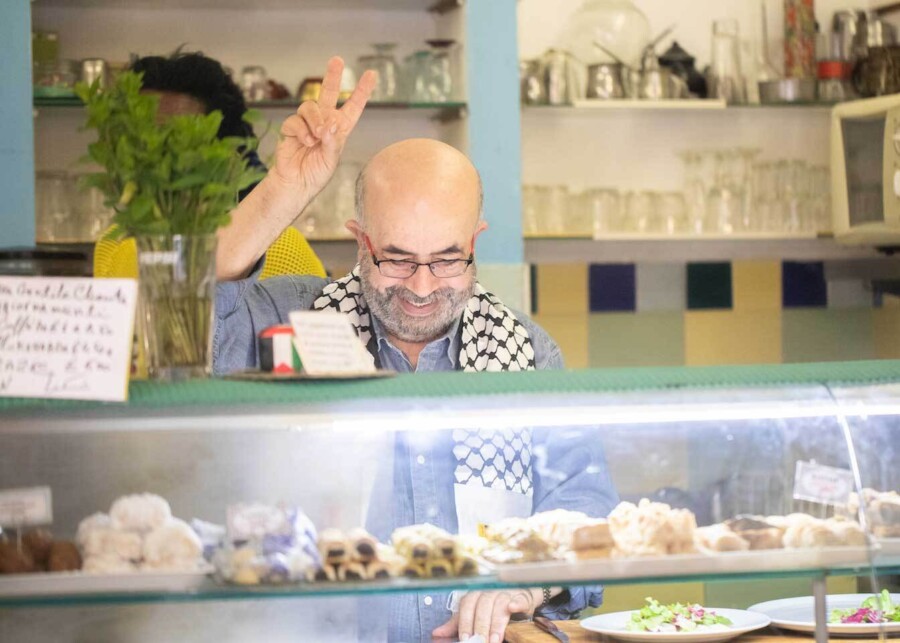 Another place where I've left my heart.
Another place more authentic than the many serving "Bolognese" in the Quadrilatero food market.
Jamil was his soul.
He arrived in Bologna in the 1990s with a pharmacy degree.
But falafel and shawarma were the medicines that made happy students and locals in Via Centotrecento.
Jamil left us in September 2021.

His son Omar with Lorenzo Costa of Oltre will keep alive this landmark of Bologna gastronomy.

Time will tell if falafel will be the same.
But I'm sure the spirit of the place and the wifi password won't change (FINDOBICCANDE, literally fake spicy with some typos).

Cuisine
Palestinian

Info
Via Centotrecento, 24, 40126 Bologna
Tel. +39 051 244173
Babilonia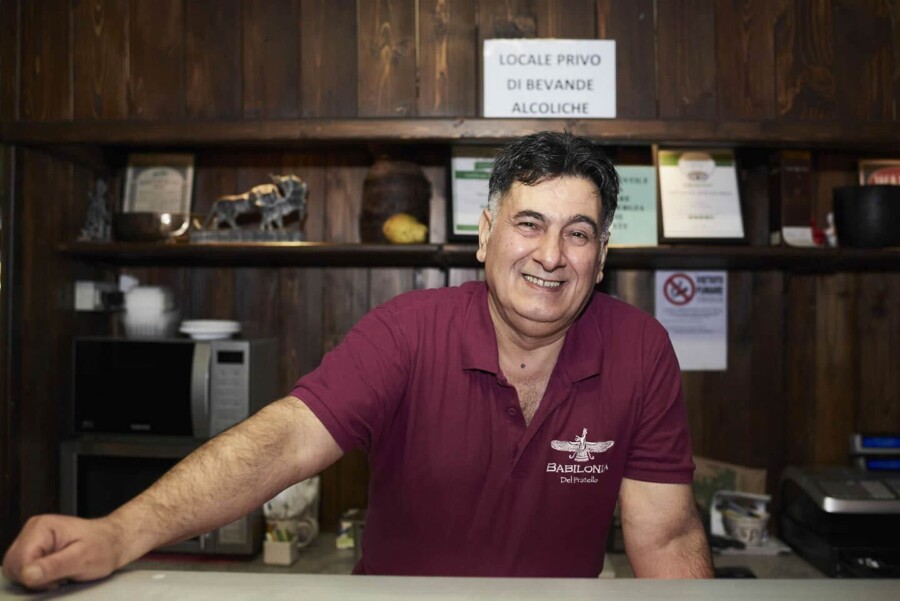 You've climbed Asinelli tower.
You've visited the 7 churches of Santo Stefano.
You've looked through the window of Via Piella.
Yet you can't say you've been to Bologna if you haven't tried Babilonia.
Via del Pratello, late night.
After a few beers in Piazza San Francesco and a couple of amari, there's that little hole in your stomach.
When the ancient wonder of Babylon opens its doors you'll get your reward.
A pita stuffed with gyros to eat under the portico.
Heaven has never been so close.

Cuisine
Greek/Persian street food
Info
Via del Pratello, 17 A/B, 40124 Bologna
Tel. +39 346 731 7116
Moghul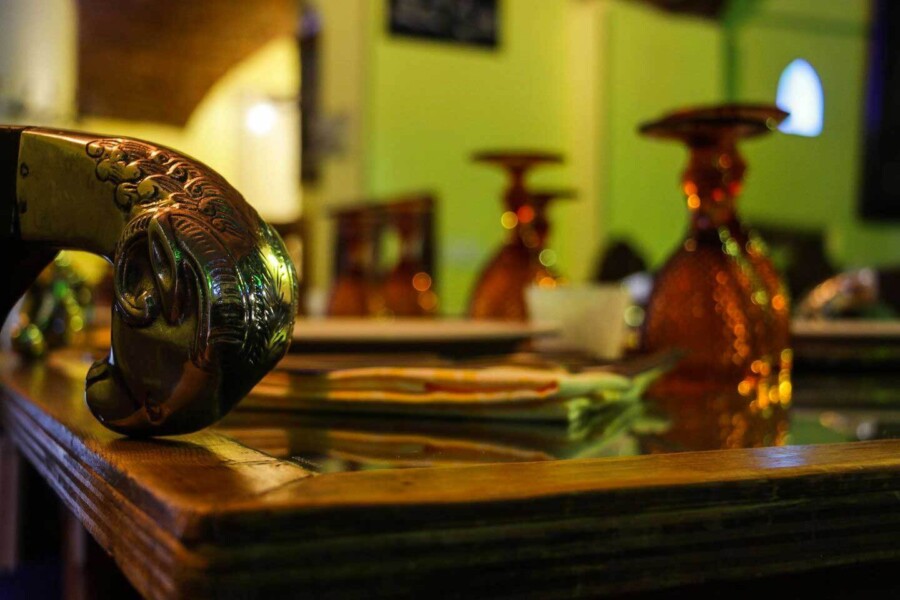 Who said that romantic dinner in Bologna has to be traditional?
Moghul is a cosy cave between the small streets of the former Jewish ghetto, near the 2 towers.
It's one of the first Indian restaurants in Bologna, and for me, the best one.

Start with fried pakora or pappadum snack.
Then jump between Biryani, Tandoori and Mughlai specialities.
How to choose?
Easy, order many and share.
With the chicken dishes you can't pick wrong, but don't forget the mutton stew.
Get the bread with cheese but leave the garlic one, your partner will appreciate it.

Cuisine
Indian
Info
Via dell'Inferno, 16, 40126 Bologna
Tel. +39 051 232911
---
---