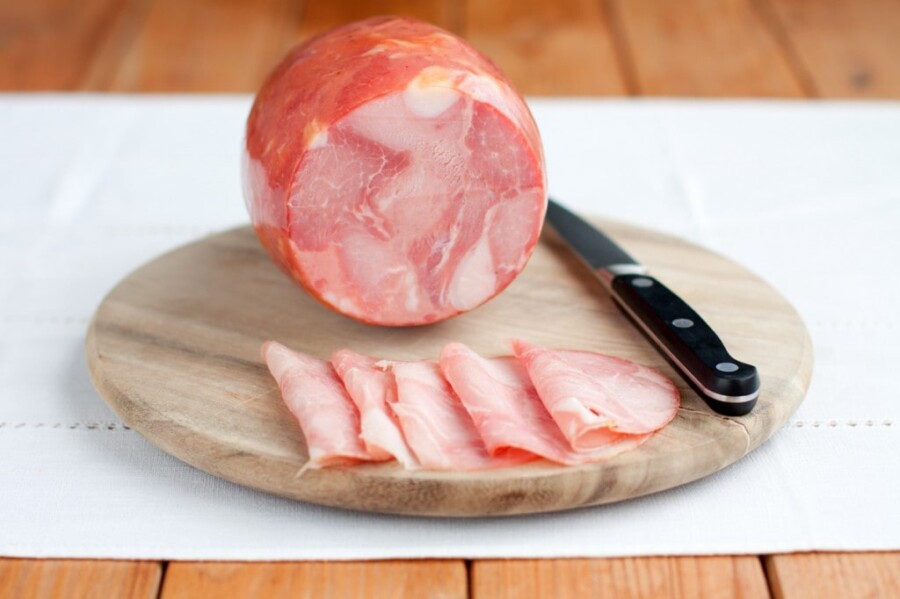 Everybody knows about mortadella.
​It's called 'Bologna' or 'Boloni' all around the world except in Bologna. It's delicious and it represents our city. But there's another meat, similar to mortadella, that deserves to be known. It's called salame rosa.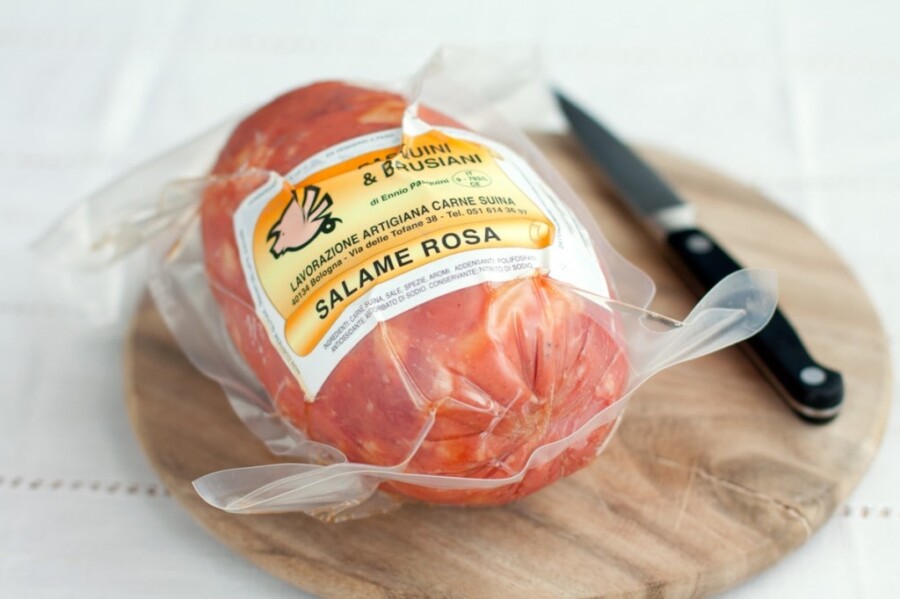 What is salame rosa?
Salame rosa (pink salami) is less famous then mortadella and nowadays is almost disappeared.


By the end of the XIX century and until the first half of the XX century, the consumption of mortadella and pink salami in Bologna was the same.
The ingredients are quite similar: pork shoulder with the addition of lard.
​But while in the mortadella everything is chopped except lard, in pink salami only the muscle is ground. The rest is worked with a knife, so that the slice resembles a marbled mortadella.
​
​Only the parts corresponding to the long muscles are used in order to maintain the characteristic light color during its cooking and in the final product (hence the name 'Salame Rosa'). The fat part is derived exclusively from the cheek lard, cut into cubes and mixed with salt, garlic and pepper.
Then the salami is cooked in a dry oven for 15-24 hours.

You won't find any recipes with the use of salame rosa. Just take a slice of it and eat it with one of the best bread of Bologna.
Where to buy salame rosa
It has been produced for a long time only by Pasquini e Brusiani, a Bolognese artisan butcher opened from 1957 to 2017.

Today you can find it in the most qualified butchers and delicatessen of Bologna in Bologna food markets like:
Simoni
Via Drapperie, 5/2a, 40100 Bologna BO
+39 051 231880
www.salumeriasimoni.it
Artigianquality
Via Santo Stefano, 88, 40125 Bologna BO
+39 051 341494
www.artigianquality.com
Or you can taste Salame Rosa during our Bologna food tours, it's a must we never miss :)

[Photos courtesy of cucchiaio.it]
---
---