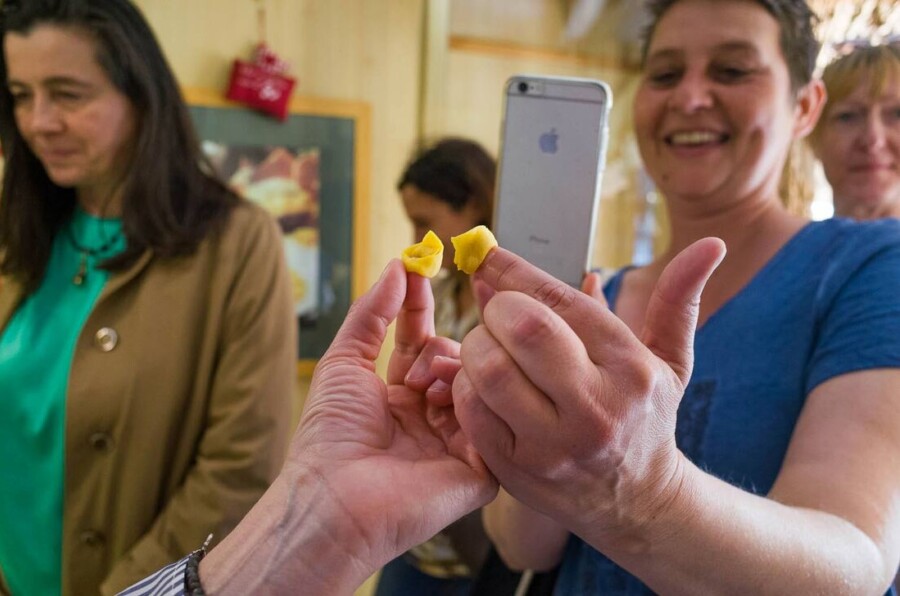 You landed in the Italian food capital but you have only one day to spend there?
Don't panic. It's possible to get the best from Bologna in one day if you know how to mastermind distances, sightseeing and - of course - carbs.

Here's my recipe to have the perfect day in Bologna: amazing food, a bit of culture and something unexpected.
9 am: Start with a king breakfast
A whole foodie day awaits you.
The temptation to skip breakfast can be strong, but don't fall into it.
​
Since Italians eat a little in the morning, it will take only a few minutes, but you're definitely going to need those energies!
There's a full post about the
best breakfasts in Bologna
with the addresses you shouldn't miss.
My tip
Sit at the counter, order a cappuccino and a
savory croissant
(we call it "La Salata"). It's light, fast and with enough butter to start the day with a big smile.
Start your day with a good breakfast: coffee and brioche
10 am: Explore the food and culture around the markets
Bologna is the perfect city to spend all morning looking at the shops in the
food markets
.
Especially if you were wondering how many different ways pork can be cooked (Spoiler: soooo many).
Our
Bologna food tours
can save you time and bad tastes, but if you prefer to go on your own walk around
Mercato di Mezzo
.
The medieval Piazza Maggiore, the two towers and the intricate complex of
Basilica di Santo Stefano
are just a few steps away from the mortadella.
My tip
Is it noon-ish? Get inside the Basilica of San Petronio and see the
longest sundial in Europe
working.
It happens only at noon, but it has to be the astronomical noon. How to know when it is exactly? Play with maths or just look at the chart next to the entrance of Bolognini Chapel.
12.30 am: Time to work hard, it's lunchtime
Make sure to take your time for lunch, it will probably be your most vivid memory.
The best way to experience the living culture of the town is to put your legs under a table, grip a fork and relax.
At
Sfoglia Rina
, the menu is written on a blackboard on the wall, and - apart from the very traditional unchangeable dishes - it's renewed every week.
Pasta
is the freshest you can have, and they have special attention to the details.
My tip
Since you have one day, but unfortunately only one stomach, focus on the fab four:
1. Tortellini in brodo
2. Tortelloni with ricotta and parsley
3. Lasagne alla bolognese
4. Tagliatelle al ragù
Impossibile choice?
​Try one and learn to make the others during our
cooking class in Bologna
, because new cooking skills are the best souvenir you can get here.
Fresh egg pasta at Sfoglia Rina
2 pm: Meet the oldest and weirdest University
Bologna isn't only famous for tortellini.
The University here was established in 1088 and it's the oldest in the western world.
Palazzo dell'Archiginnasio
had been its venue for almost three centuries. You can read the students' names in the 6000 coat of arms painted on the walls, and try to guess which country in Europe they came from.
Don't miss
Teatro Anatomico
on the first floor, with its wooden stands around the marble table for the human bodies dissections.
My tip
Dig into the weird old studying methods at
Museo di Palazzo Poggi
. Anatomical waxes, optical experiments and old maps will make your day.
Plus, it's in the southern part of the city, so you can have a nice walk through the former Jewish ghetto to get there.
6 pm: Feel thirsty? Aperitivo time can fix it
Too early to go to dinner, too late to visit anything else: it's time to have aperitivo.
During the summertime, relax at
Le Serre
inside the
city's most lovely park
: Giardini Margherita.
Besides the cool location, with trees and light bulbs everywhere, the menu is getting more and more interesting every year.
Plus, they have an exciting program of live music and new-wave cinema, a nice way to keep you thoughtfully entertained while you're sipping your freshly minted Hugo.
When it's too cold to drink outside,
MamBo
(Bologna Museum of modern art) is one of the
best aperitivo in Bologna
.
My tip
Aperol Spritz is the king of aperitivo.
Craft beers, natural wines or a tailor-made cocktail work pretty well too.
8 pm: Dinner, music and night beauty
If you just one night in town, you should go for something really traditional.
At
Cantina Bentivoglio
, they kept the vibes of the old restaurants and the recipes of the grandmothers. Their tortellini in brodo is legendary. After dessert, you could listen to some
jazz music
coming out of the cellars.
If it happens, stay and enjoy: their concerts are worth every penny.
My tip
Bologna is a perfect city to walk. Its almost 40 km of
porticoes
will cradle you around.
​It's even more fascinating at night when the red light turns on and the music comes out of the windows.
---
---