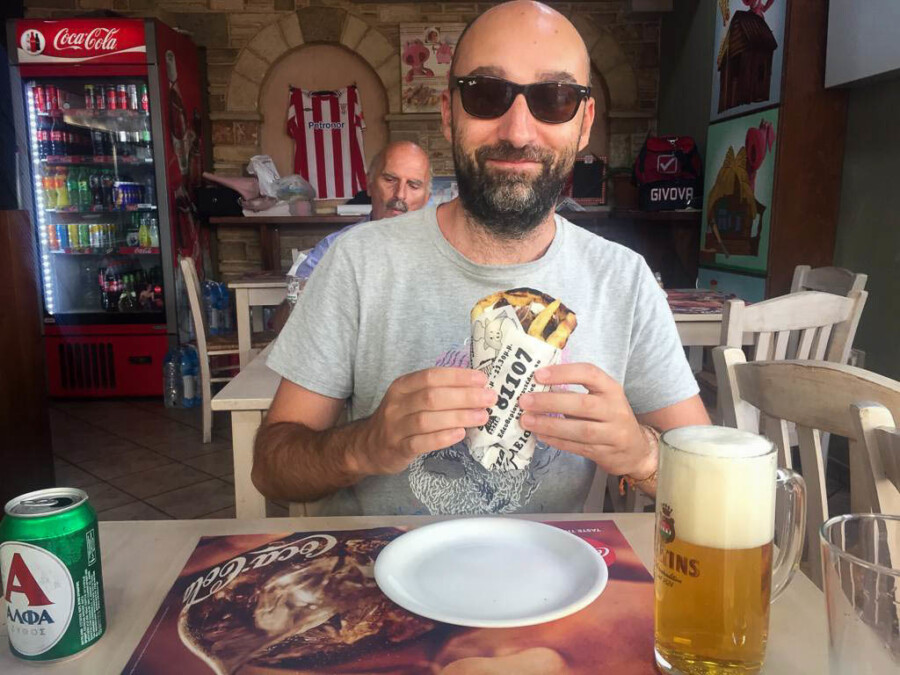 Writing about the best foods of the year is a way to speak about places and people that left a mark in the memory.
Here's the list of Taste Bologna's best foods of 2019 and if you're new here, read what happened in 2017 and 2018.
#5 Everything @Kitchen Raku Raku, Kyoto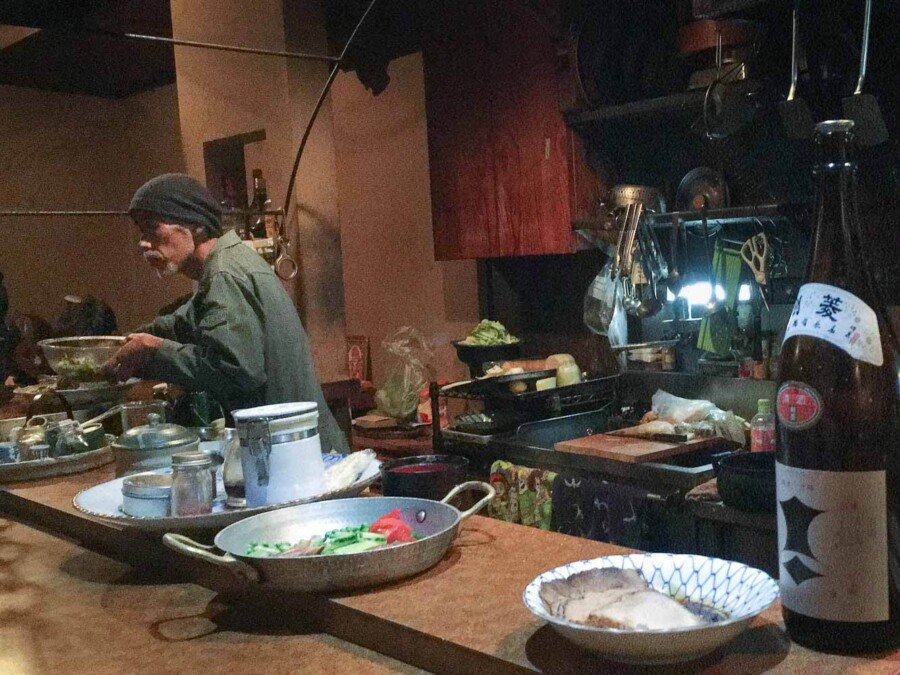 "Here: slow" replied Akira to my request for a beer.
Set in the temples area of Kyoto, Japan, Raku Raku is itself a temple with its rules and rituals.
You sit at the counter.
A man behind it, dressed as a mechanic.
No menu.
Reggae music.
Akira, 64 years old, doesn't speak much, but watches, asks, listens and cooks. A lot, but slowly.
You can call it obanzai cuisine: "made of cheap, nourishing, healthy and comforting dishes", says the definition.
For me, it was like visiting an old friend with a Mary Poppins' fridge where he takes out, combines, fries, and plates up an impressive mix of foods.
Chef's table or Ugly delicious haven't been there yet.
I did and you should too.
Info
Kitchen Raku Raku
2-3 Hanazonoinokecho, Ukyo Ward, Kyoto, 616-8037
Tel. +81 75-462-9156
#4 Anolini @Osteria Virgilio, Parma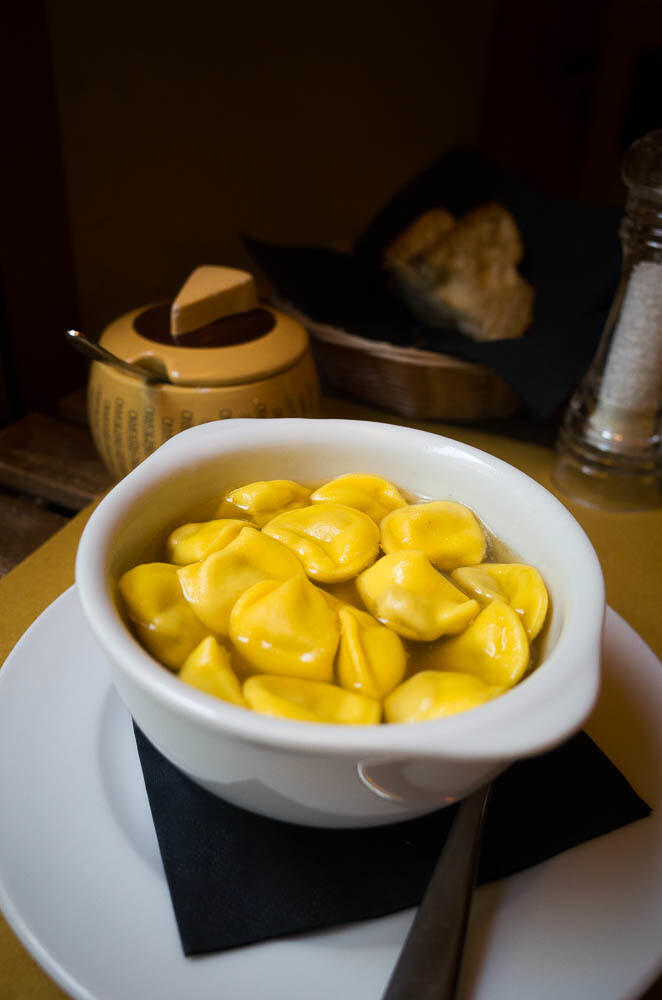 How could I not know it?
I've lived 30+ years only 1 hour from Parma and I had never heard about anolini before putting my head inside our food tour in Parma.
This round semolino raviolo filled with blended beef stew and served in meat broth is the pride of Parma's pasta.
Order it at Osteria Virgilio, a vintage place where osteria keeps its original meaning. Set in the heart of Oltretorrente area, it's rough and genuine as only the people of this land can be.
Info
Osteria Virgilio
Str. Giovanni Inzani, 3, 43125 Parma PR
Tel. +39 0521 199 9966

#3 Pistachio-crusted tuna @Ristorante Da Ercole, Crotone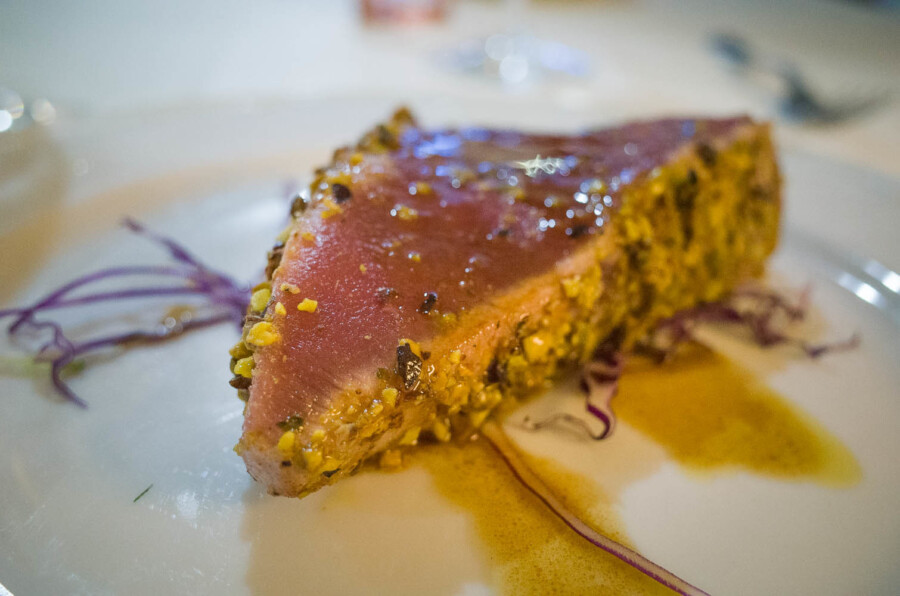 Hercules: hero and demigod of Greek mythology born in Thebes and endowed with superhuman strength.
Pythagoras: mathematician, thaumaturge, astronomer, scientist, politician and founder of the most important school of thought in Crotone.
Strange to tell, but these 2 smart guys meet in a fish restaurant. It's called Ristorante Da Ercole and it's set on Crotone's seafront.
Our Hercules (Ercole) is a chef since 1985. He learned skills and Calabrian tradition by watching her mother in her restaurant Pitagora. One dish made him popular: carbonara pitagorica. It looks like carbonara, but has a sauce of white hake and sea bass eggs. A good start.
Then I followed my #2 rule when I visit a restaurant: talk to the waiter. Like a hungry Sherlock, I ask questions, looking for tips or gaps in his body language to show me the way.
He suggested pistachio-crusted tuna. I almost never order tuna, but I followed his advice. Sorry Japanese friends: this was the best tuna of my life.
Info
Ristorante Da Ercole
Viale Antonio Gramsci, 122, 88900 Crotone KR
Tel. +39 0962 901425

#2 Salame Verdiano @Antica Corte Pallavicina, Parma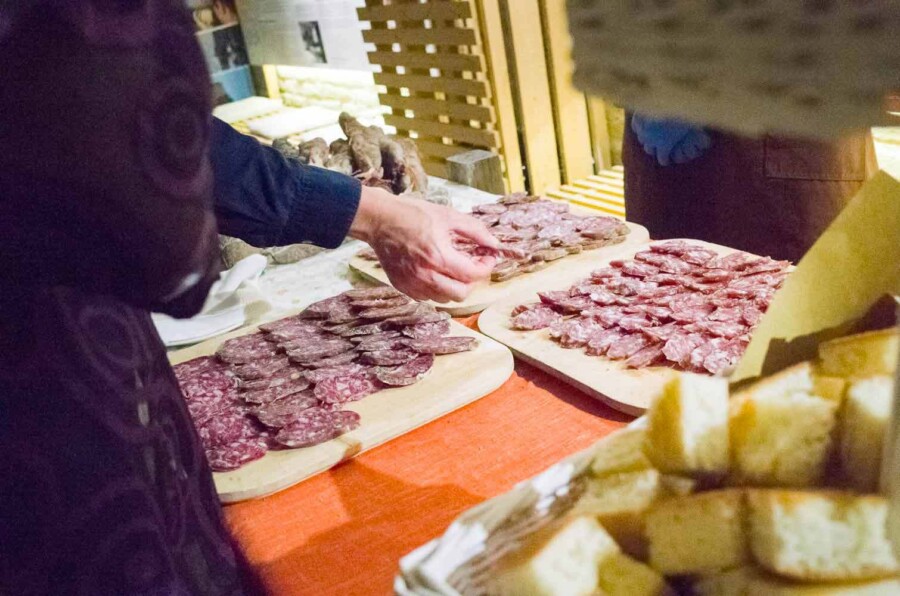 You know how much I'm into cured meat.
I grew up with lard in my feeding bottle, sausage as pacifier and cubes of mortadella like Lego.
So it's hard for me to be surprised by a salame.
But since I entered the gate of Antica Corte Pallavicina my wall of prejudices collapsed.
Yes, you go there for culatello, that is great and bla bla bla.
But it's Salame Verdiano that my mouth is still asking my brain for (or vice-versa).
It takes its name from Giuseppe Verdi that was a huge fan.
The secrets?
Black pigs bred in their farm; the minimum amount of salt for conservation; black pepper roughly minced and rightly dosed; tanning only made by garlic pounded in a mortar and then dissolved in Fortana red wine; a 4 months seasoning in the foggy lowlands near Po river.
Info
Antica Corte Pallavicina
Strada Palazzo due Torri, 3, 43016 Polesine Zibello PR
Tel. +39 0524 936539
#1 Bread @Camini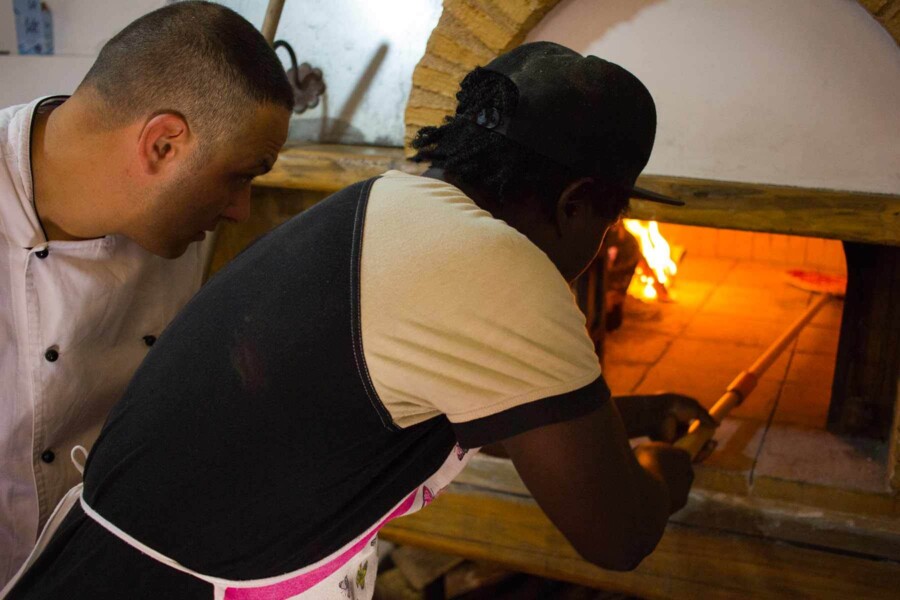 Camini is a village on the hills near Calabria East coast.
It takes its name from the Greek word kaminion, which means chimney, due to the huge amount of furnaces of its land.
From a distance, it looks like one of the many Italian borghi made of rocks that you can find on a vintage postcard.
Abandoned by most of the youths, until a few years ago Camini was a dormant volcano about to die.
But it just needed a spark to ignite a new burning fire.
It's a warm home fire, made by families of Syrian and African refugees that now live and grow their families, which makes Camini more alive than ever.
They study Italian, learn new jobs, rebuild old houses, play football and Playstation with Italian kids.
And they cook, of course.
Just next to the main square there's a tiny bakery that every day teaches to make bread and pizza.
In late June I spent a week in Camini with a group of friends and photographers of Witness Journal magazine. Here you can see the result of our work.
Camini is not a dreamland, but a community of people with its contrasts and problems.
But in a world full of rising fences that is getting lonely, Camini well knows that together is better than alone.
And the flavor of the bread has never been that good.
Staff's picks
And here's our food tour guides favorites:

Benedetta

Tagliatelle with Stridoli at La Cantina in via Firenze, Forlì.
The egg pasta is handmade and cut with a knife that goes well with a poor but unmistakable sauce of the tastiest of wild herbs: the stridolo of Romagna.

Sacha

The oysters I had in Santa Caterina, Brazil, in a little place on the ocean managed by the legendary Dona Zenaide, called 'a capitana', an 80-year-old lady who still runs the kitchen with great energy. Practically an institution of the place.

Caterina

Tuna ceviche at Tapabento, Oporto: moving.
Paola

Filippo De Cecco pasta factory macaroni with 3 kinds of tomatoes and king crab at Bellevue Syrene, Sorrento.
Apparently so simple, I tried to cook it at home but it will never be the same. Missing ingredients? A sea view, a volcano, and a summer feeling.

Naima

Full English breakfast at Barone Cafe, Roman Road, London

Barbara

All the meat dishes at the nice and elegant The Pantry, Amsterdam.

Sara
Elisabeth's chocolates in Bruxelles: I was skeptical yet very curious while buying pink pepper or laurel flavored chocolates. But when I tasted them I had the most amazing experience: flavors were so surprisingly balanced!
Elena

Although I managed to eat very little, I'd say breakfast at the Pakse hotel and restaurant in Laos.

[In the cover photo it's me eating a pita gyros on Chios island on my birthday. Out of the top 5 just for a little.]
---
---