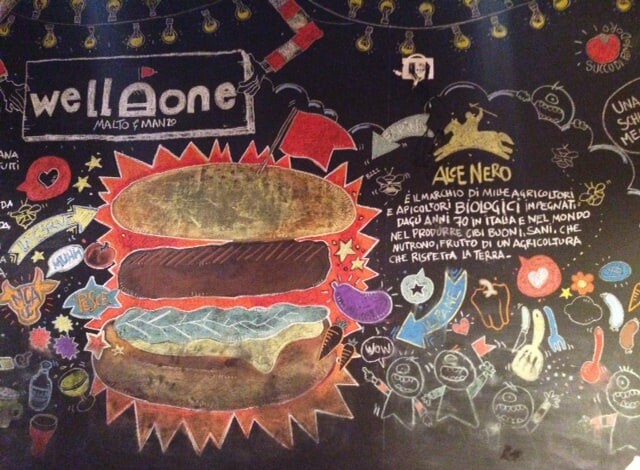 I'm not a hamburger fan, I have to admit it. I like it but I don't look for it. But in recent years hamburger in Italy, it's not only synonymous of Mac Donald's or Burger King. If you go to Turin or Milan you will find a lot of new places to eat the so-called
hamburger gourmet
.
What does that mean?
Well, it's basically a burger made with good and (often) Slow Food certified meat, organic vegetables and other tasty ingredients.

Since June 2013, also here in Bologna we've got our own gourmet hamburger: it's called Well Done and is located in the Bolognina area, just in front of the new Municipality building. The place is quite small but very nice: soft lights, wooden tables and menu are written down on a coloured blackboard.
The Well Done burger with roasted potatoes

But let's talk about food. The large blackboard points out that the meat comes from Tuscany and precisely from Pavana (Pistoia), where Savigni family has a farm and works the meat of animals reared in those lands.
The products used to fill the sandwiches are also those of the consortium
Alce Nero
: organic farmers and beekeepers who are committed to producing good foods with healthy farming methods that respect the earth.
Placement with the types of different bread available

You can choose between 9 different types of burgers, from the classic to the "Well Done" (150 gr meat beef and pork blended with blond beer and Worcestershire sauce, arugula, mayonnaise, candied onions, mustard black dotted wisdom and with Pienza pecorino cheese), from the cheeseburger (made with four Italian different cheese) or the "Spada"(with swordfish and tapenade). I tried the Well Done and my friend took the "AA" with bacon, asparagus and avocado cream.

With the burger, you can choose between fried or roasted fried (I tried both, take the fried).
You can also choose the sandwich bread between the classic, the Kamut, the Integral, or the "Malt", made with red beer, rye and oats.


Hamburgers change depending on seasons: so in autumn you can find 'Elfo' burger with Porcini mushrooms or 'Mantua' with pumpkin, taleggio and nuts; in spring you may find ingredients like asparagus or swordfish.

Also desserts need to be considered. Such as the Robiola cheesecake with fresh strawberry puree or the Ice Cream Burger, with two iced cookies with chocolate and chopped hazelnuts which enclose a fior di latte ice cream.

For drink forget about the classics sugar drinks, they don't sell them (great choice in my opinion). But preference to juices, lemonades, smoothies and craft beers of excellent quality like Leffe, Hoegaarden, or Statale Nove from Bologna.

You will spend about 15€ for a hamburger with fries and a beer but if you're really hungry you'll probably need an extra refill…so the prices are average if compared to other gourmet burgers I tried in Milan.


Well Done
Via Fioravanti 37 b/c Bologna
Tel. 051 0284823 - 342 0500348
Open every day for dinner from 6:00 pm to 12 pm, at lunch from Monday to Friday from 12 am to 3 pm
welldoneburger.com
---
---