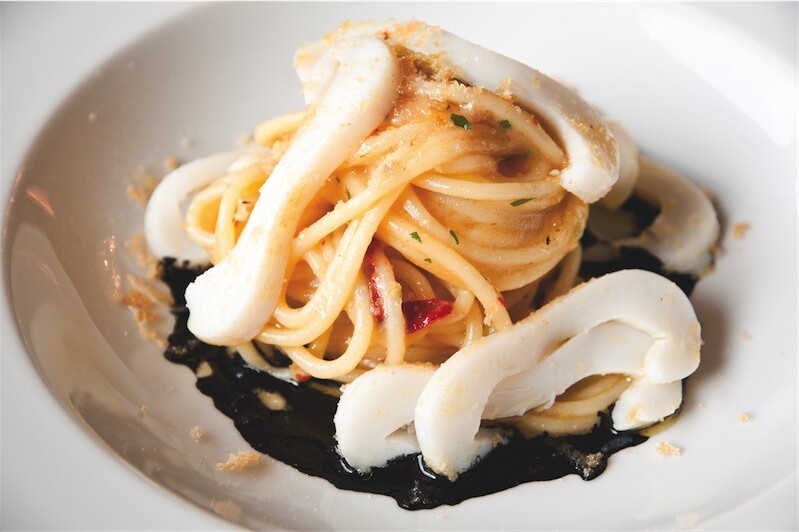 My first encounter with Uinauino restaurant was a short time ago in Castel San Pietro Terme, a leafy town near Bologna, at dinner. Smoked tuna with aromatic herbs served, aubergine, orange honey and peperoncino compote was my starter. Even 6 months after still I remember everything about that night.

The slightly smoky tuna was fresh and tender (I remember me saying: 'it tastes like meat') and the aubergine compote soft as silk.

Octopus skewer with potatoes stir basil, red onion with balsamic and chilli sauce is my second course. I still remember the octopus: its soft texture in contrast with the delicate crispiness of the onion, its natural flavour enhanced by the sweet acidity of balsamic vinegar, and finally a slightly tangy taste given by the chilli.
Back there a few days later at lunchtime, I was greeted like an old friend with a glass of wine and a slice of delicious ham.

On that occasion, we had the chance to talk about young people and how the intentions and the humble determination can make the difference. At Uinauino's there's no I, only We. People work as a real team and every single member, day after day, is committed to creating something real.
Chef Dmitri is a 25 years old guy, who likes to act rather than talking. Polite, humble-looking but determined: he knows what to do and how to achieve it. A young man that shows all his meticulousness even in small gestures, as he decided to change his jacket for a shot.

His idea of how cooking is clear:

​'Kitchen is like a factory. All the parts must work perfectly together, otherwise it's difficult to make things right.
The creative part is important, but perhaps not the most important component. You can't improvise, you need to study, understand how to balance, and most importantly, never stop trying.'
Smoked tuna with aromatic herbs served with aubergine orange honey and peperoncino compote

Then I met Michele, the owner, the other side of Uinauino. When talking to him, it's easy to notice this time we are getting to know a person with more experience and, probably because of his job, more at ease in handling public relations. Indeed, even for Michele things are cristal:

'My ideal restaurant is casual and still very dynamic. It can be a place where to have dinner with friends or a business lunch as well. Quality and respect for raw materials are the fundamental keywords'

Considering the actual Italian economy, Michele could be seen as a fool. Or, better, someone who goes against modern negative trends and decides to invest in young people, in their enthusiasm, passion and will to show their qualities.

Yes, because Uinauino'staff is almost entirely made up of under 30 who have so much to say and continue to learn with a smile on their face.
'Determination and perseverance are two essential qualities and should never be missed. Nowadays, there are few opportunities and it is important not to miss any. You have to knock on every door and always keep faith and trust in yourself'.

Because, I dare say, success and happiness, rather than a social condition, are a state of mind.
At Uinauino, and maybe in life too, the recipe for getting what you want is determination, quality, attention, care and humility.

So when from the crisis something good comes out, then perhaps it's not just all wrong. Every cloud has a silver lining, it's up to you to see it.
Awarded "GranTorino" ice cream

Uinauino
Via dei Mille 8
40024 Castel San Pietro Terme (Bo)
Tel. 051948464
Cell: 3492420001
Opening time: Thursday to Friday from 11.30 to 14.00 and from 17.30 to 23.30
Saturday from 10.30 to 14.30 and from 17.30 to 23.30
Closed Sundays and Mondays
Mail:
[email protected]
---
---