If you're lucky to work in the centre of Bologna you could have the chance to eat everyday in a different and amazing places like Eataly,
Zenzero Bistrot
etc. But you know, big companies are always outside town in the middle of nowhere, so for many workers the company refectory is the only opportunity.
I am lucky enough to have a small but really great place just at 5 minutes car from where I work: it's called
Sfoglia Rina
and it's located in Casalecchio, a small town in the close suburbs of Bologna. Sfoglia Rina was created by Rina (of course...) in 1963 as a
fresh pasta
shop, but only 40 years later his grandson Lorenzo decided to rethink the traditional fresh pasta laboratory as a bakery with restaurant, which are so fashionable in Northern and Central Europe.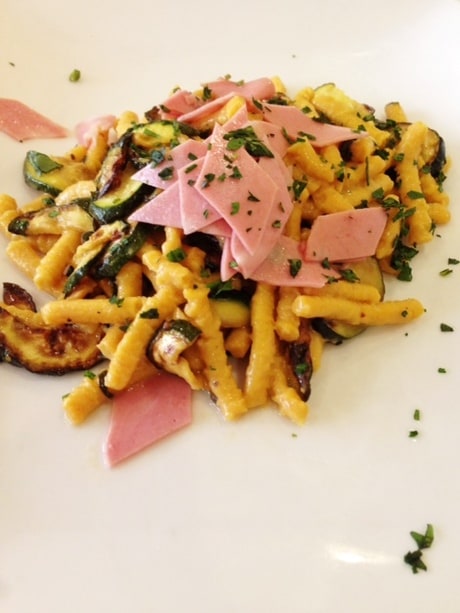 Passatelli with mortadella and zucchini
So if you just want to take home some fresh pasta you can visit the bakery (also suggested in Slow Food guide "
Il buon paese
"), otherwise if you're looking for a delicious lunch break then go to the main room for the restaurant service.
The menu, handwritten on a blackboard, changes weekly and it's divided between Emilia Romagna traditional dishes and more refined plates based on seasonal products. So you can choose some of the most famous Bologna pasta like
tortellini
(with broth or with a mascarpone cheese cream), lasagne or tigelle with charcuterie, all made at the perfect way.
I usually pick from the weekly menu so in this period I had the chance to try fettuccine with porcini mushrooms, chestnut gnocchi with gorgonzola cheese, nuts and orange zests or tortelloni pumpkin and bacon.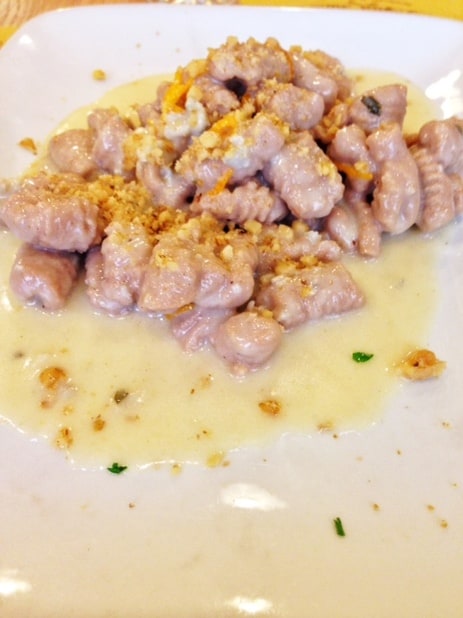 Chestnut gnocchi with gorgonzola cheese, nuts and orange zest
All the pasta dishes goes from 8 to 9€ and are served with a small bread and a vegetable side dish different every day.
Don't fogert the desserts (3€): panna cotta, ricotta cake with figs or the delicious biscuits served with a glass of Malvasia wine. The coffee is made with moka.
You will spend 10-12 euro with dessert, with no charge for water and cover. Booking is highly recommended.
Sfoglia Rina
Via Francesco Petrarca, 11,
40033 Casalecchio di Reno, Italia
Tel. 051 6135389

You may also like