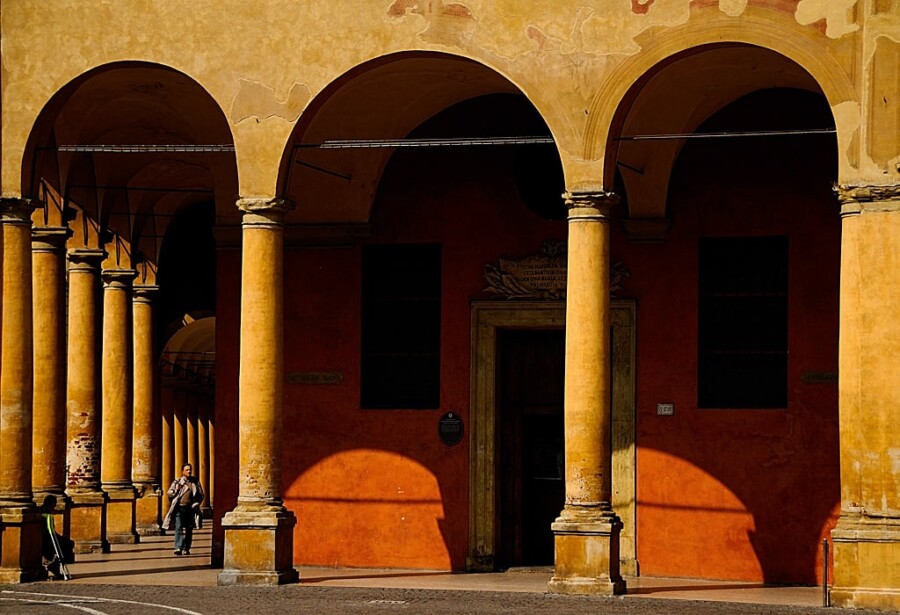 If you have to walk from Stazione Centrale (railway station) to Piazza Maggiore there are 2 options. You can take the famous Via Indipendenza and walk straight to the Square, and you can stop at Zara, H&M and all these S*** chains that are swallowing our historical cities, or you can take this less famous street called
Via Galliera
.
I always prefer the last option and probably Leonardo da Vinci thought the same, as it lived in this street in 1515 at Felicini Palace (some even argue that here he painted the Mona Lisa...).
If in Via Indipendenza your walk will be slowed down by the number of people under the porticoes, here you'll be distracted by the amazing shops that you can find. So after
Via Saragozza
, this is our second tour of the so-called 'Strade del Gusto'. Let's take a walk.
Food Shops
Macelleria della Pioggia
Via Galliera, 25, 40121 - Tel. 051 237833

December 29, 1244. Save the date. That's when 'Beccaria del Serraglio di Galliera' was born. Legend says that the famous painter Annibale Carracci worked here as a butcher. Now 'Macelleria della Pioggia' is owned by Giancarlo Montanari, 65 years old, since 1977. At that time in Bologna there were 500 butcheries, witnesses of the importance of meat in Bologna cuisine. Now you can find around 40, but in which other places you can find a 'colleague' of Carracci?!
Drogheria della Pioggia
Via Galliera, 27, 40121 - Tel. 051 223754
'Drogheria'. What's this about? Strange name, huh? Something to do with drugs? These old stores were somehow the forerunners of today's supermarkets, which had licenses that allowed to sell a limitless quantity of products, but specialized in the trade of drugs: spices that arrived in Europe by sea. Owned by Mr. Sarti since the 1970s, this shop seems to be in this square from the XVII century.
The shop is small but it's completely full of stuff. It reminds a bit of
Paolina's shop
, but without they don't sell fresh products. You can find there a limitless amount of candies, in beautiful glass vases with hand-lettered signs, chocolates, honey, jams and a lot of products for household cleaning. As in a grocery store, there's a wide selection of spices, coffee, and over two hundred types of leave teas.
GelatoGalliera 49
Via Galliera, 49/b, 40121- Tel. 051 246736
www.galliera49.it
It's one of the
best ice cream in Bologna
, and we already talked about it. Former known as 'Stefino' (if your travel guide is not up to date you'll probably find this name) is my absolute favourite for
granita
(peach, melon and almond are my favourite). Gelato is also recommended.
Open only from spring to autumn you'll recognize that you've arrived by the queue in the middle of the street.
OtherAntica Cappelleria Malaguti
Via Galliera, 32, 40121 - Tel. 051 224292
www.cappelleriamalaguti.com
I've been here for the first time a couple of years ago to buy a straw hat for summertime. I was so surprised to find such a quality place in my town. Cappelleria Malaguti begins his adventure in the world of hats in 1870, offering craftsmanship and a strict selection of the best brands to offer to every customer the right hat. In this historic hat shop, you'll find models for all needs, from the Basque to berets, from fedoras to bowlers.
Alongside the famous brands, you can find original craftsmen creations. Tailor service and customization are also available.
But the shop is not only hats but also accessories such as gloves, gowns, ties and coats.
Disco d'Oro
Via Galliera, 23, 40121 - Tel. 051 239145
www.discodoro.it
I love music. And I love vinyl. And I love record shops, of course. So living in a town with at least 5 GREAT record shop is like a dream for me. Disco d'Oro is the oldest of the town, opened in Via Marconi in 1976 and then moved to Via Galliera in the '80s, and began his long history with punk and underground music from UK and USA. Now it's one of the references in Italy for house and techno, with a lounge area for Dj set and aperitivi. It's a place I love so if you are in Bologna and you love music you can't miss it.
[Photos courtesy of Dario Lampa and Marco Rubini]

---
---