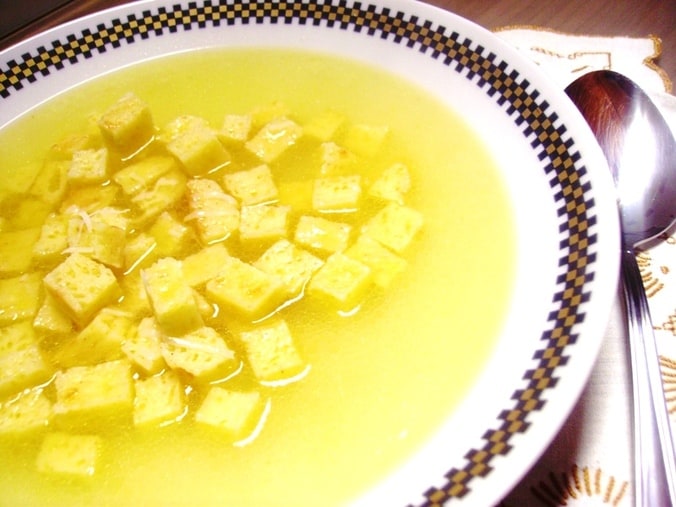 The autumn is here and Christmas is just around the corner so this is the time of the year in which Bolognese cuisine becomes more tasty than ever and we enjoy the traditional dishes at home with our full family.
I'd like to talk about a classic but hidden soup, much less known than the famous tortellini, that I usually show during our food tour in Bologna because it's really unusual.
It's called
Zuppa Imperiale
(imperial soup) but you can also find it called Minestra Reale (royal soup). In the showcases of
Paolo Atti
bakery or Le Sfogline it seems more like a cake cutted into small cubes than a soup. It's both of them indeed.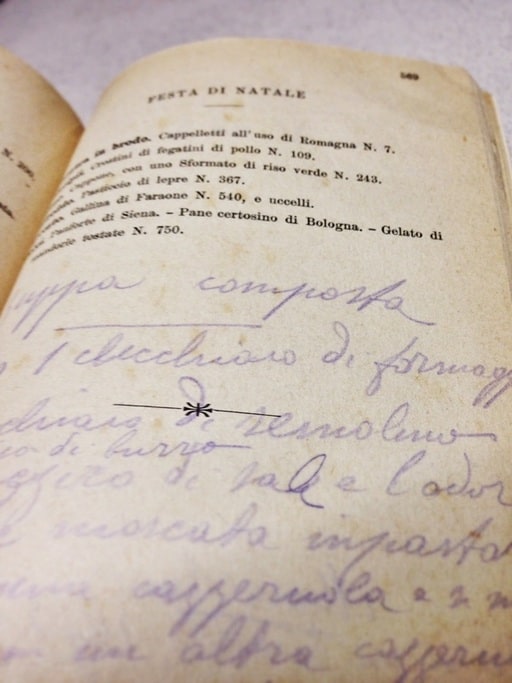 Zuppa Imperiale recipe handwritten in

my version of Pellegrino Artusi's book (around 1930)

.
The origin of this recipe is not well known as
Torta degli Addobbi
, but the name refers to a noble and upper class soup and we can think that could be true as some of the ingredients (like butter or Parmesan cheese) were really expensive in the past.
We know that
Pellegrino Artusi
talks about it in his book
The Science in the Kitchen and the Art of Eating Well
. Recipe number 15 in soup chapter is "Minestra composta con il semolino". He doesn't refer to Imperial Soup, which is the name we usually know for it, but the recipe is almost the same.
Ingredients
1 liter and a half of meat broth
8 tablespoons freshly grated Parmesan cheese
6 tablespoons of semolina
6 eggs
50 grams of butter
1 pinch of nutmeg
Black pepper
Salt
Method
Slip the eggs in a bowl, add the Parmesan cheese and semolina, begins to work the mixture and then add the salt, pepper and nutmeg

Melt the butter in bain marie and pour in the mixture when it is already cold

Whisk until everything is soft and fluffy

Line a roasting pan (35 × 25 cm) with greaseproof paper, pour the mixture and then stick the pan in a preheated oven at 180 degrees for about 20 minutes

As soon as it is golden brown, remove from oven and make it cool before cutting the dough into small cubes

Bring the broth to a boil, add the diced Imperial Soup and serve hot immediately (you can add some extra Parmesan cheese if you like)

One last tip: the dough can be baked in the oven a day in advance, or can be placed in special bags for food and then frozen. At the time of need must be put into the boiling broth still frozen.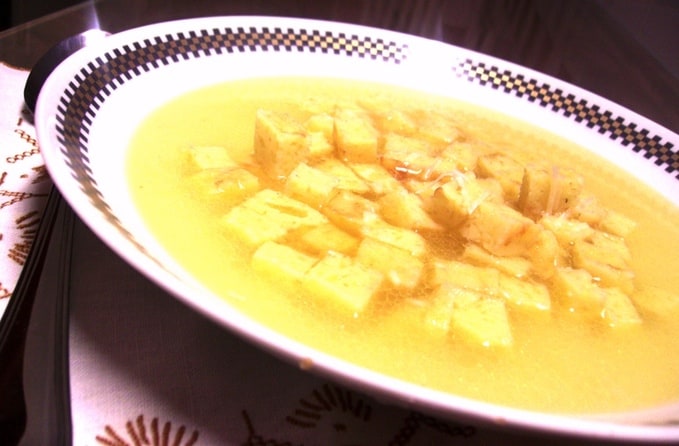 ---
You may also like