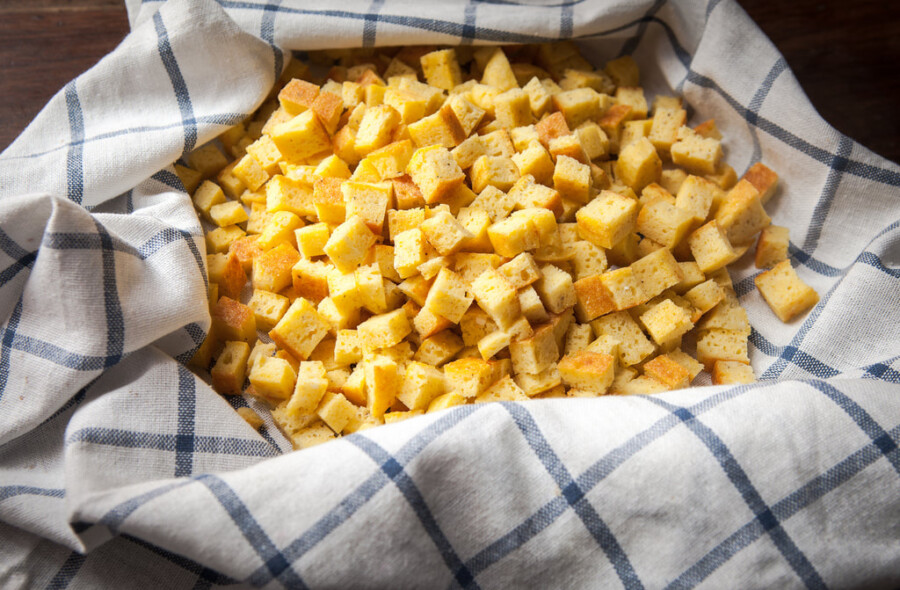 Christmas is the perfect time for Bolognese cuisine. What's better than a classic hidden soup, less famous than tortellini?
I usually show it during our food tour in Bologna because it's really unusual. It's called Zuppa Imperiale (Imperial soup).

In the bakeries showcases you can mistake it for a cake, cut into small cubes. But you're not that far from the truth.
Zuppa Imperiale recipe is handwritten in my version of Pellegrino Artusi's book (around 1930)
The origins of Zuppa Imperiale
The origin of this recipe is not well known as
Torta degli Addobbi rice cake
. Its name refers to a
noble
and upper-class soup, maybe because of some of the used ingredients (like butter or Parmesan cheese) that were really expensive in the past.
Pellegrino Artusi
, a monk and cook from Emilia Romagna, talks about Zuppa Imperiale in his book
The Science in the Kitchen and the Art of Eating Well
published in 1891.
Recipe number 15 in the soup chapter is 'Minestra composta con il semolino'. He doesn't refer specifically to Imperial Soup but the recipe is the same.


Zuppa Imperiale cubes
Zuppa Imperiale soup: the recipe
Ingredients
1 litre and a half of meat broth
8 tablespoons freshly grated Parmesan cheese
6 tablespoons of semolina
6 eggs
50 grams of butter
1 pinch of nutmeg
Black pepper
Salt
Method
Slip the eggs into a bowl, add the Parmesan cheese and semolina, begins to work the mixture and then add the salt, pepper and nutmeg
Melt the butter in a bain-marie and pour in the mixture when it is already cold
Whisk until everything is soft and fluffy
Line a roasting pan (35 × 25 cm) with greaseproof paper, pour the mixture and then stick the pan in a preheated oven at 180 degrees for about 20 minutes
As soon as it is golden brown, remove it from the oven and make it cool before cutting the dough into small cubes
Bring the broth to a boil, add the diced Imperial Soup and serve hot immediately (you can add some extra Parmesan cheese if you like)
Tip
The dough can be baked in the oven a day in advance or can be placed in special bags for food and then frozen.
When you want to cook it, be put straight into the boiling broth still frozen.
Zuppa Imperiale ready for the spoon
Where to eat Zuppa Imperiale
It's hard to find Zuppa Imperiale in restaurants, even the most classic ones. Here are a few suggestions to eat it (only in autumn/winter).
1.
Trattoria Di Via Serra,
Via Luigi Serra, 9/b, 40129 Bologna BO
2. Osteria Bottega, Via Santa Caterina, 51, 40123 Bologna BO
3.
Ristorante Cesarina
, Via Santo Stefano, 19/B, 40125 Bologna BO
​Otherwise, you can find it in almost all the bakeries of the city centre and prepare it at home with a warm hot capon broth.
Have you tried it?
Do you like it?
Let me know your opinion about this unique hidden soup.


[Photo credits Stefania Ricci Frabattista, Teresa De Masi]
---
---