Opened last Saturday in Piazza Malpighi
O Fiore Mio - Pizze di Strada, a new pizza restaurant that will be a great Christmas gift for all the foodies in town.
After Faenza and Milano Marittima, this is the third place to discover O Fiore Mio wonderful pizza. The style is quite similar to Berberé (one of the
best pizza in Bologna
in my opinion), so long fermentations (from 24 to 48 hours), extraordinary Italian and seasonal ingrediendts and Slow Food Presidi like Pomodoro San Marzano or Brisighella extra virgin olive oil.
But this time, instead of sitting, wait for the waiter and spend a full dinner tasting different pizzas, here the concept is to have pizza in a fast way, like a
street food
while you wait for the bus in the square upfront or during weekdays lunch break.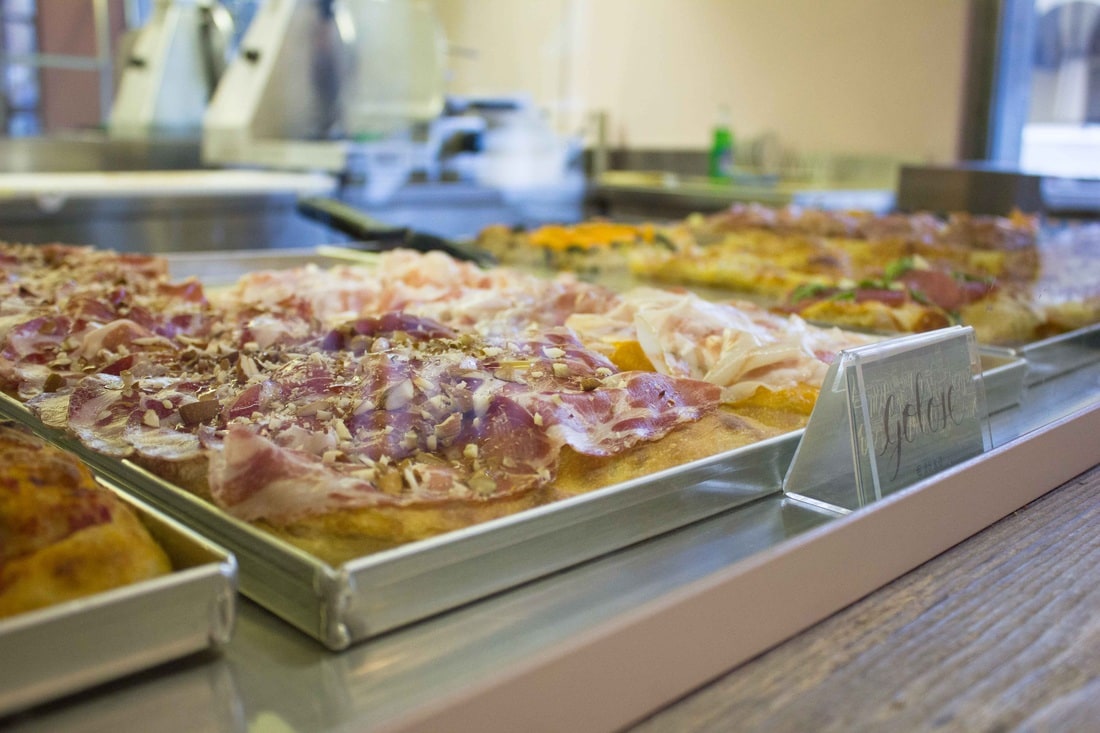 Pizze Golose: this one with Gorgonzola cheese, coppa, almonds and chestnut's honey

Pizza
O Fiore Mio pizza is "roman style", also called "pizza in teglia", served in square shape like the most famous Altero, but with the difference that this time you won't have problems to digest it: the dough in fact is soft inside but well cooked.

I went there last Sunday to take these few pictures and try the pizza to check if was astonishing as the one I had one year ago in their main restaurant in Faenza. I tried the Seasonal pizza with roman broccoli and coppa di testa and it was just perfect. The combination of rich flavours of the coppa matched perfectly with the sweetness of this typical italian broccolo.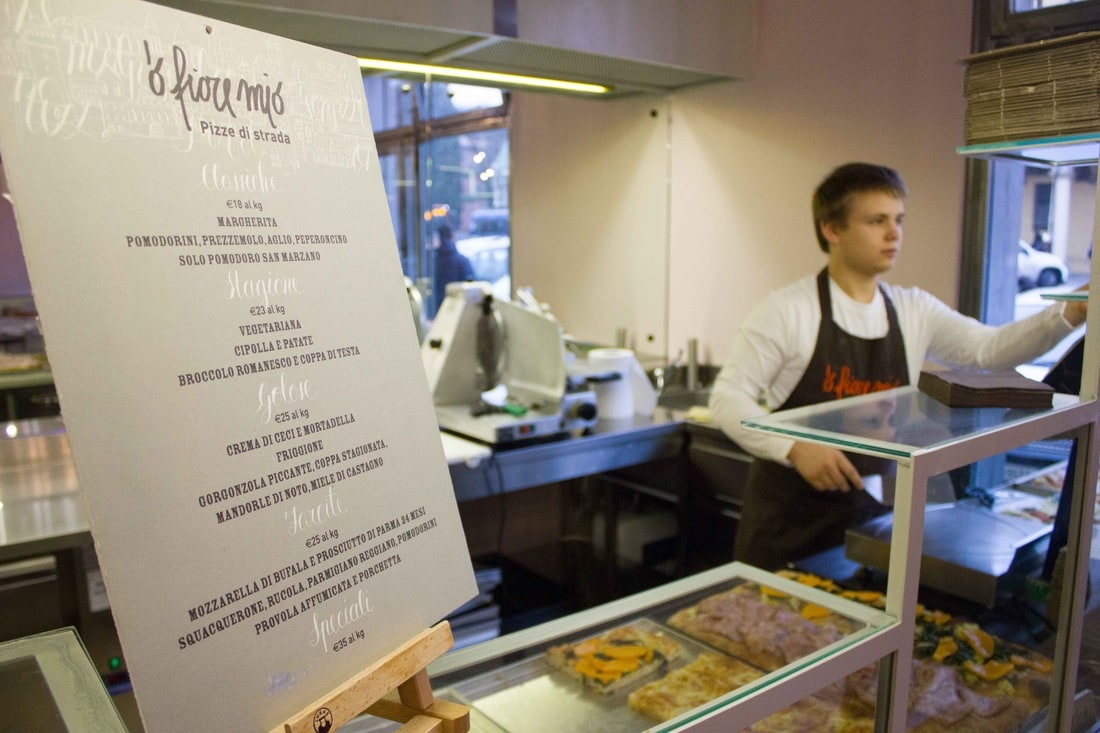 The Pizza Menu that changes seasonaly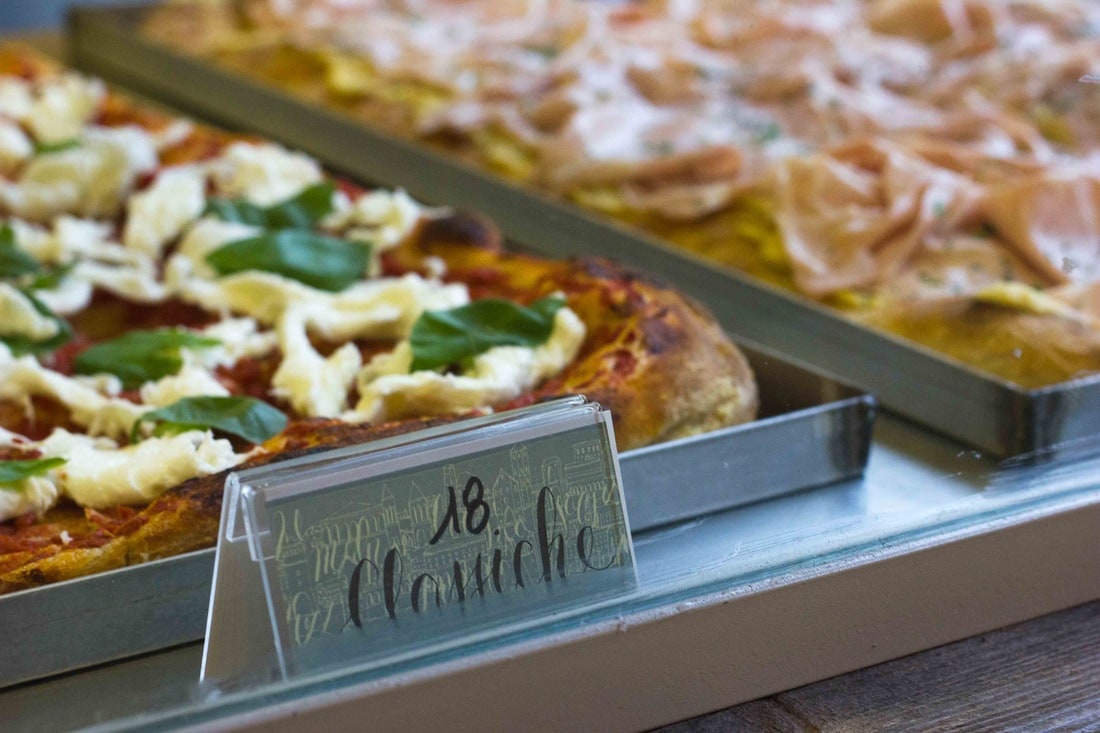 Classic Margherita Pizza
Drinks
Nice surprises also on the drinks side. Starting from "Bologna's beer" Ronzani, also called Oro del Reno from the name of the river that crosses the city, to the craft beers of
Birrificio La Mata
near Ravenna, you can also find
Chinotto Neri,
one of the best italian chinotto (a bitter soda obtained from a typical italian citrus tree). If you don't like those and you want just a coke ,you can find it there, as well as a small selection of wines.
Prices
Like the master of street pizza "Pizzazium" by Gabriele Bonci (which I visited twice this summer in Rome), prices are
per kilos
and depends on toppings: 18€/kg for the "Classics" like margherita, 23€/kg for the seasonals, 25€/kg for the "Golose" or "Farcite" and 35€/kg for the "Specials". The size of the pizza you'd like to have is up to you: the waiter cut it with scissors and warm it a bit in the oven.
For the two pieces of the photo below I spent 4,20€.
The place is nice and quite cozy. About 10 tables inside that probably next summer will become more using the space outside. A few products on the shelves and pending light bulbs.
But the strength of O Fiore Mio is not the aesthetics: don't get fooled by the fact that this new trend of gourmet pizza seems just a marketing strategy. I think that places like this or Berberè grow up not because is trendy to spend 2 more € on a slice of pizza but because the request of quality and attention on what we eat is growing. So if eating is a vote (
as Carlo Petrini of Slow Food said
), well this time I vote for O Fiore Mio without any doubts.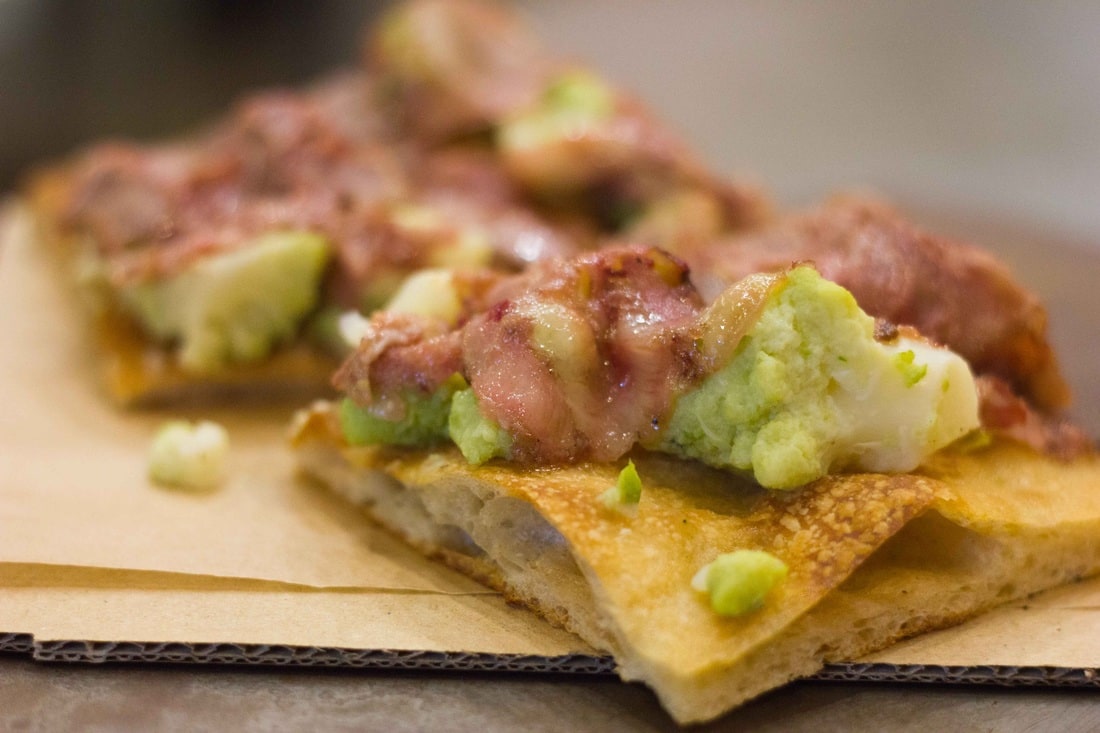 Pizza with Roman Broccoli and Coppa di Testa, my first choice
Info
O Fiore Mio - Pizze di Strada
Piazza Malpighi 8 d/e, Bologna
info@ofioremio.it
Open every day
9am – 11pm except Dec. 25th and Gen 1st.
ofioremio.it
---
You May Also Like